Thai tom yum soup is a classic Thai dish for a reason. It's delicious. And you can make it at home like they serve in restaurants.
It's really pretty easy. You might have to visit an Asian grocer to get some of the ingredients but after that you are making soup. And simple soup at that.
This is tom yum goong. That's tom yum with shrimp. But it's also tom yum kung. That's tom yum that has a clear broth. Maybe it's tom yum goong kung? I don't know. It's damn tasty. I do know that.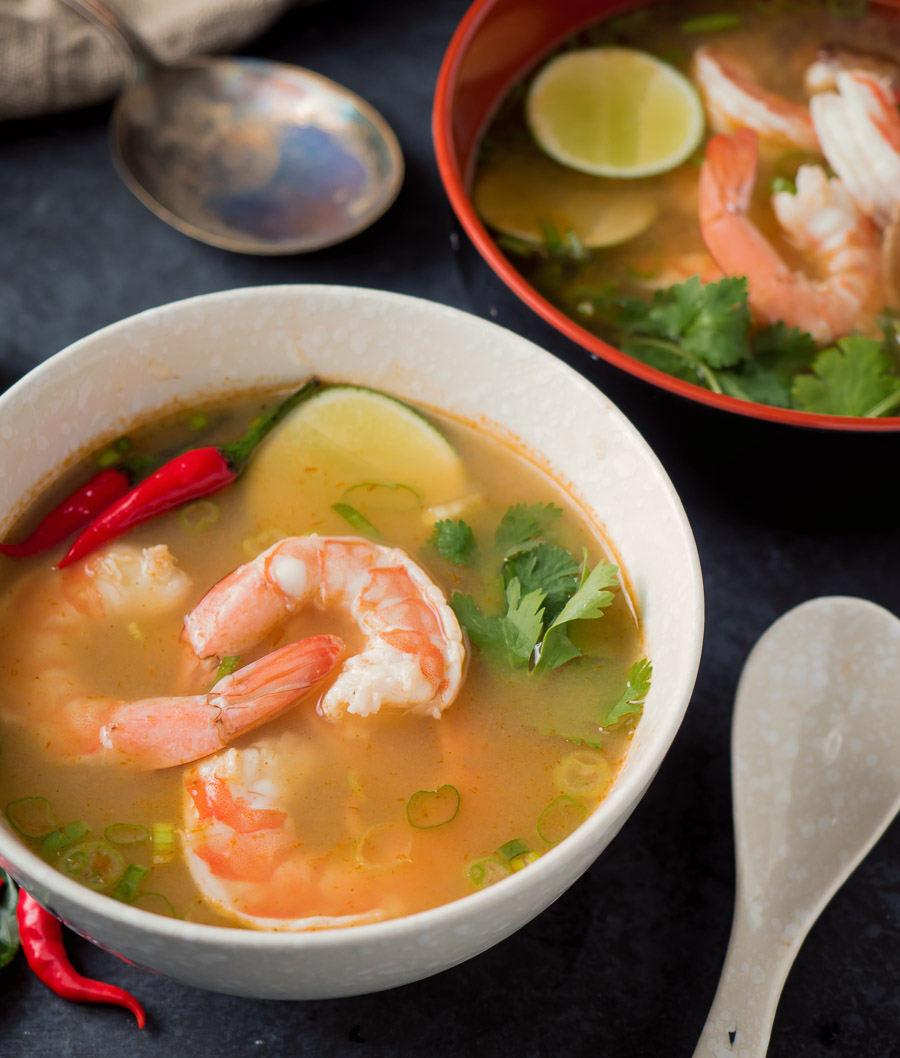 Tom yum paste makes this easy cooking
The base of this recipe comes to me from some Thai cooking classes I took about a million years ago. It's been refined with some glebekitchen technique. At the heart of it, it is still the way that Thai lady taught me in a community centre kitchen.
This isn't quite from scratch cooking. It uses some tom yum soup paste to jack the flavours. It still has the lemongrass and kaffir lime leaf so it runs with the authentic crowd. The soup paste adds something, though. Something I just like. So I leave it in.
I can make it more authentic. Easy. Just add some chili and galangal. And leave out the paste. Authentic tom yum soup. But I don't. Because I think this is better. And better is what this blog is all about. Life is too short for bad food.
Poach your shrimp ahead of time
Keeping the shrimp from overcooking. That is key to this dish. I borrow from America's Test Kitchen shrimp cocktail for that. Don't boil the shrimp to death.  Succulent and tender. That's good. Hard and rubbery. Not good.
Poach them gently. Submerge them in an ice bath to stop the cooking. Now they are ready when you are. On your schedule. Just warm them in the soup briefly when you are ready to serve. Perfect every time.
A quick shrimp stock makes great tom yum
I'm using the shells from the shrimp to make a quick shrimp stock. That's a court bouillon for those who study classic technique. It's an easy way to make great stock.
If you don't want to bother with the shrimp shells just use chicken stock. If you don't want to bother with the lime leaves and lemongrass just up the soup paste. It won't be as good. But it won't suck badly. Up to you.
If you want tom yum in 10 minutes add some soup paste to some chicken stock. Bring to a boil. Poach the shrimp and serve. That easy. Not as good but still probably good enough to impress your friends.
Thai tom yum soup. No big secrets. Easy enough. And now dinner party proof.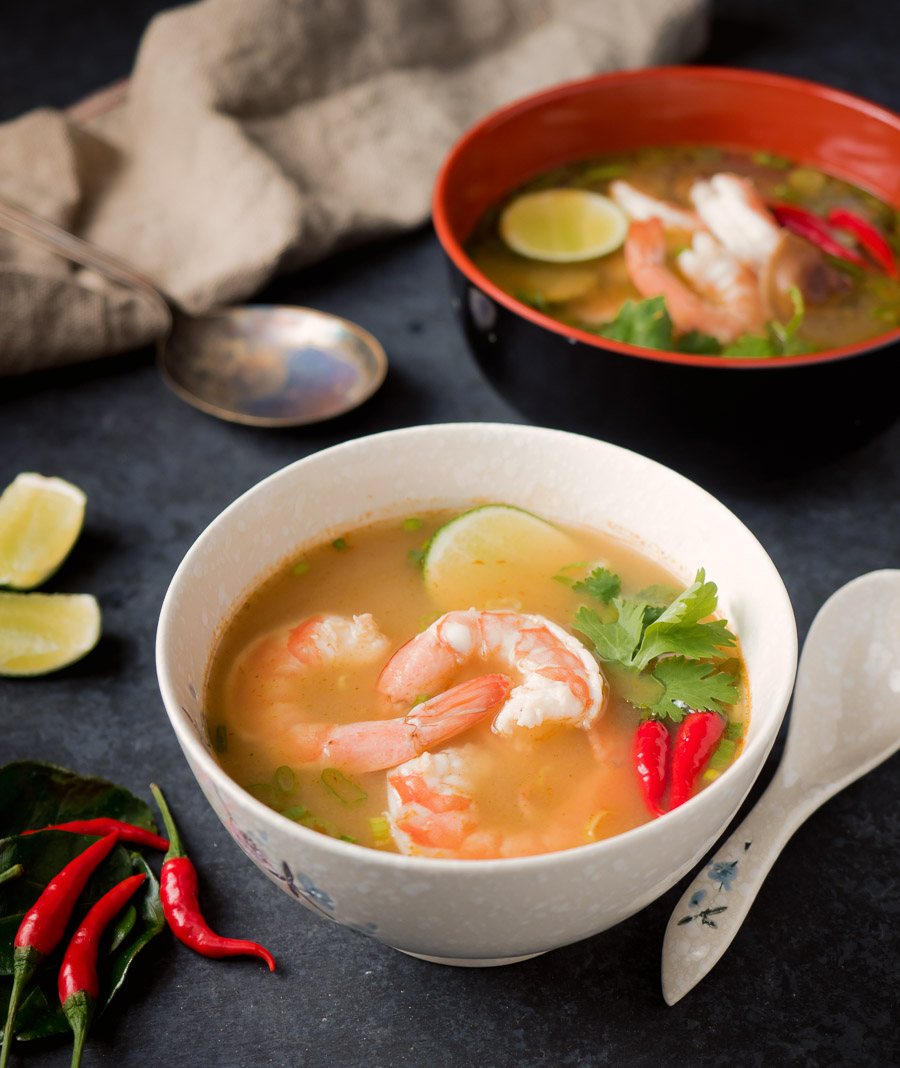 thai tom yum soup
Thai tom yum soup is a classic Thai dish and it's easy to make at home.
Ingredients
6

cups

water

1

lb

16-20 count peeled shrimp

- shells reserved

1

stem

lemongrass

- cut into 3 inch pieces and crushed

3

kaffir lime leaves

8

oz

mushrooms

- chopped. Your choice here.

3

tbsp

fish sauce

- or a bit more to taste

3-4

tbsp

fresh squeezed lime juice

- two good size limes worth

1

tbsp

tom yum paste

- available at Asian grocery stores

3-4

green onions

- cut into pieces

cilantro (coriander) leaves, red chilies, and additional limes for garnish
Instructions
Bring the water, shrimp shells, lemongrass and kaffir lime leaves to a lively simmer. Cover and simmer for 20 minutes. Strain the resulting broth and return to the pot. Discard the shrimp shells, lemongrass and lime leaves.

Bring to a simmer and add the tom yum paste, lime juice and fish sauce. Cook for 5 minutes.

Here's how you make sure your shrimp are perfectly cooked. Add the shrimp to the simmering soup. Turn off the heat. Set a timer for 8 minutes. Prep an ice bath (ice and water in a bowl). After 8 minutes remove the shrimp from the soup with a slotted spoon and drop them into the ice bath. This stops the cooking. Set them aside.

When you are ready to serve, warm the broth until it just starts to simmer. Add the mushrooms and cook for 5 minutes.

Add the shrimp back into the broth. They will warm through before you eat. Serve immediately. Don't let them sit in the hot broth. The second they hit that broth they start cooking again.


To serve, divide into 4 bowls and garnish with cilantro, green onions, lime and chilies. The chilies are optional. You have to want it really spicy... 
Nutrition
Serving:
4
servings
|
Calories:
155
kcal
|
Carbohydrates:
4
g
|
Protein:
25
g
|
Fat:
3
g
|
Cholesterol:
285
mg
|
Sodium:
2371
mg
|
Potassium:
347
mg
|
Sugar:
2
g
|
Vitamin A:
90
IU
|
Vitamin C:
10.9
mg
|
Calcium:
188
mg
|
Iron:
2.9
mg