Dal tadka is the one of the great Indian lentil dishes. Restaurants serve it everywhere for a reason. It is just really, really tasty.
And you can make it at home. It's not hard. You can even cook the lentils the day before and finish them off when it's time to eat. Great fast food.
They call this Dhaba style in India. Dhabas are restaurants along highways. Comfort food done restaurant style. Cheap and delicious. Guess everyone wants that on road trips. Yabba doo.
Two blasts of flavour make dal tadka special
The two stage flavouring is what makes them. First you make a masala. A combination of tomatoes, chilies, onions and spices. Cook it up and mix it into the lentils.
At this point it's already good. You could stop here and not care. Seriously.
Or you can hit them with an extra shot of flavour. Fried whole spices bloomed in a bit of oil. Drizzled over the lentils. A double blast. Mad scientist genius.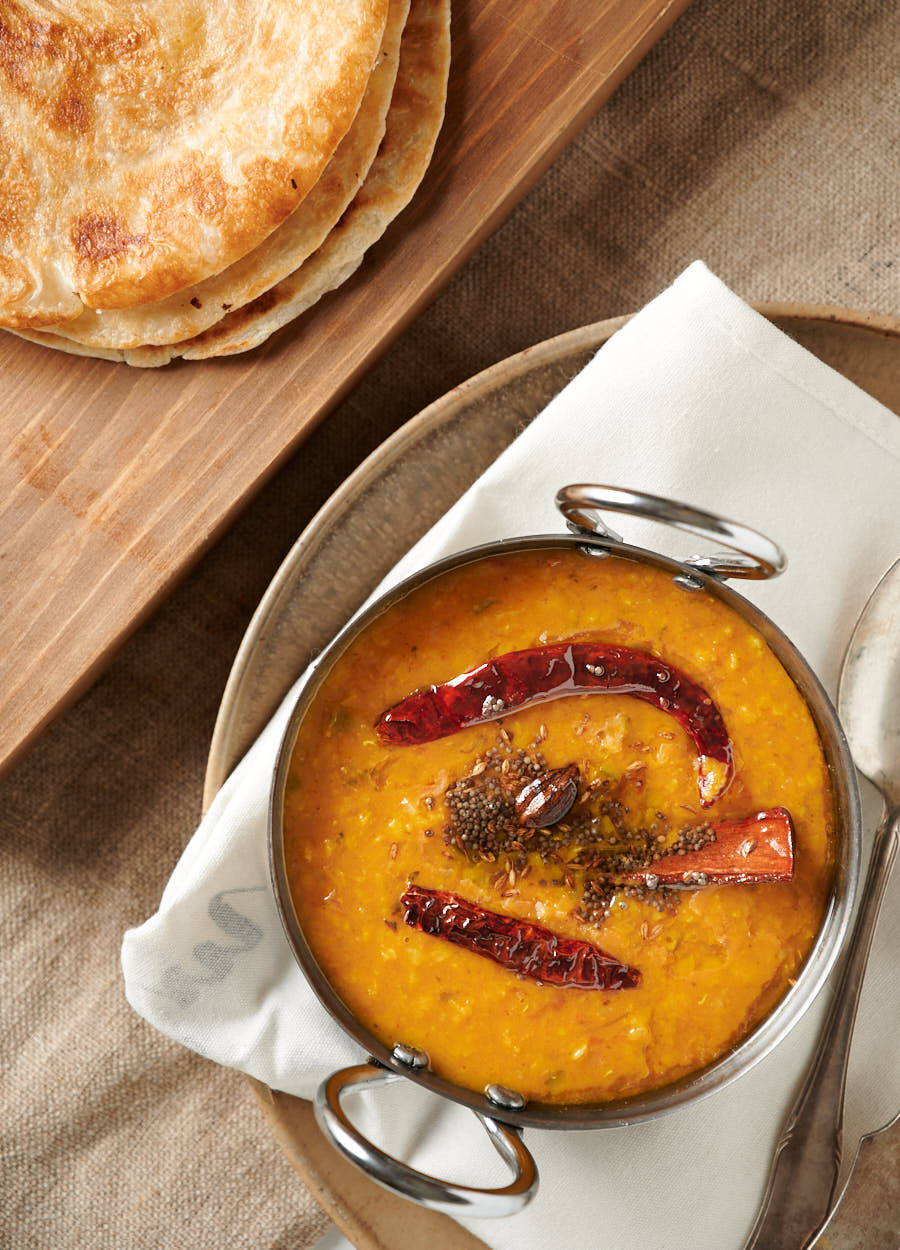 One little trick
The one blast of flavour I'm leaving out is charcoal. Dal tadka has an optional step. It involves using a burning piece of charcoal to infuse the lentils with a bit of smoke.
That's a bit over the top. Even for me. So I cheat. A couple black cardamom in the tempering. Adds a bit of smoky taste. Without burning down the house. Fair trade I think.
You may think otherwise. And that's OK too. I don't think there's a tadka dal police. But if there is I guess they are coming for me…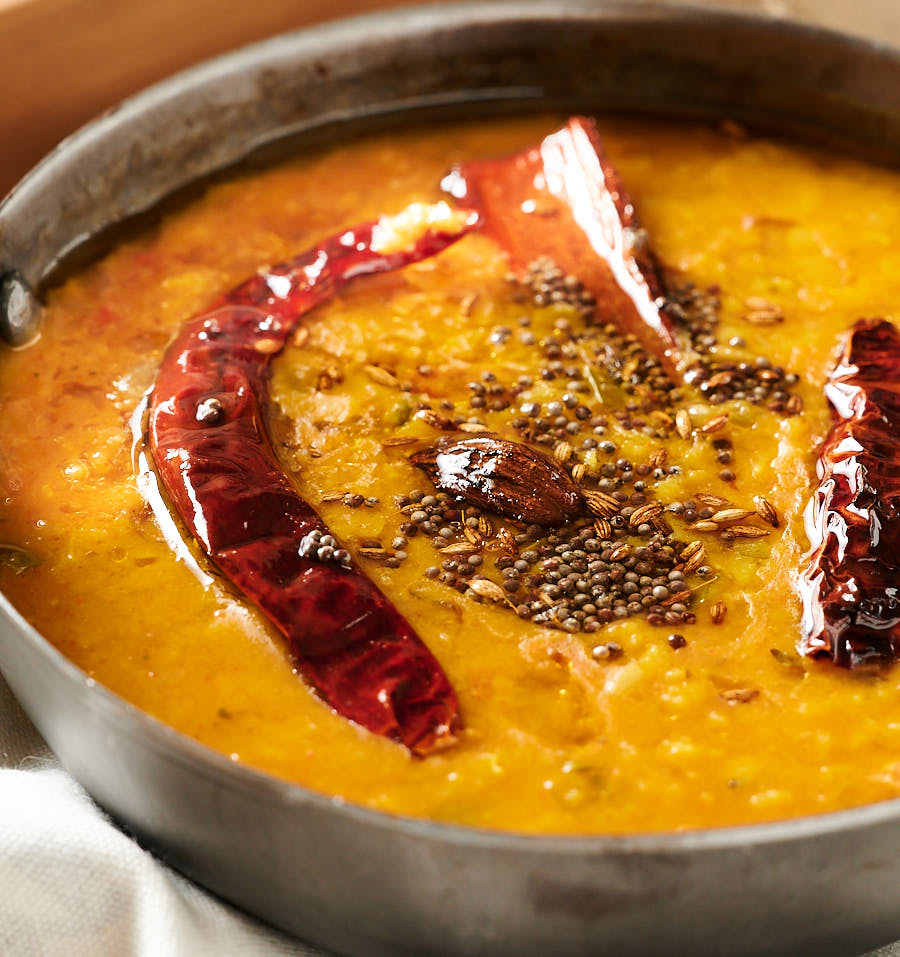 Lentils matter
The other great thing about dal tadka is the texture. It's soupy. The lentils are indistinct. Creamy even. I love that. It's one of my favourite things about Indian food.
There are two lentils that always work. Masoor dal is one. Those are the little split pink lentils you see all over the place.
Toor dal is the other. That one will take a trip to an Indian grocer. It is perfect for dal tadka. Worth seeking out. Great in sambar too. Buy a big bag. If you are an Indian lentil fan you will use them up.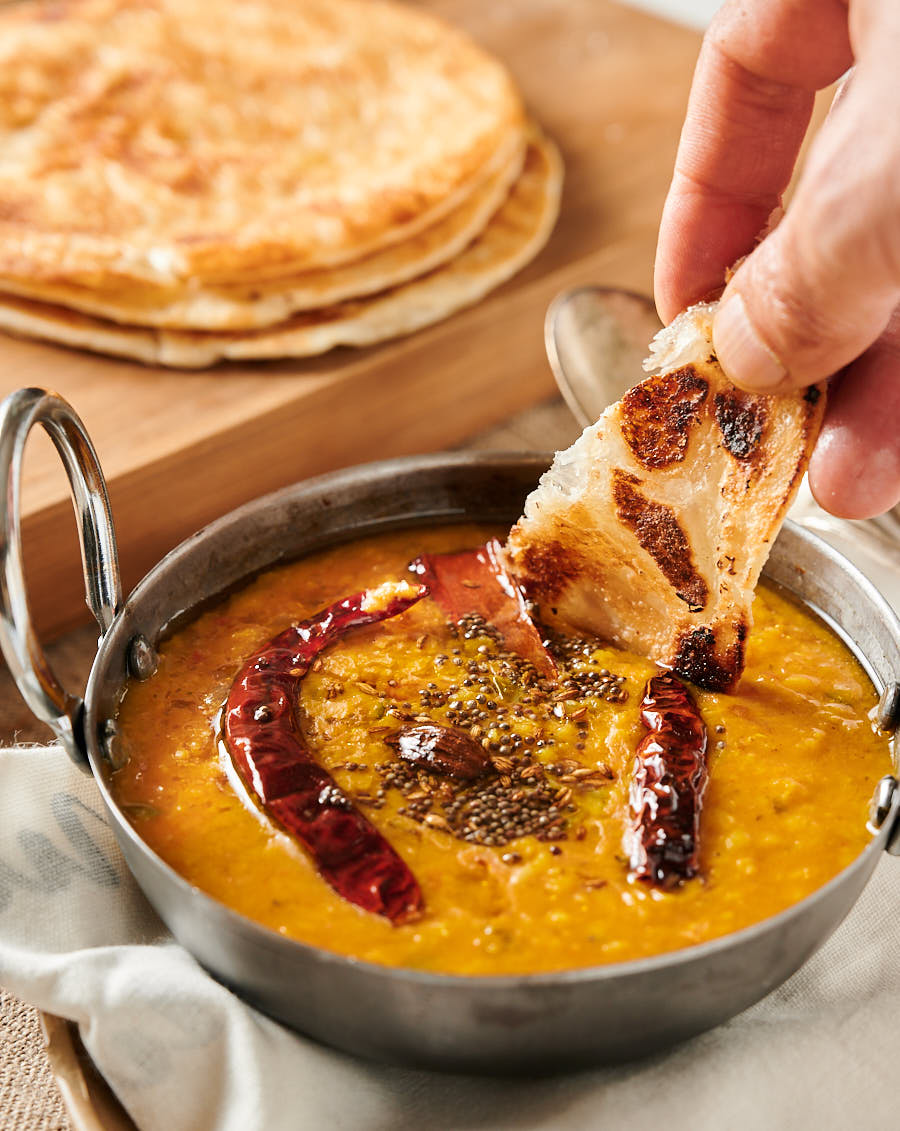 Dal tadka makes the meal
It's good enough to star as a main course in a vegetarian meal. Serve it with parathas or chapatis and you have a great dinner right there.
Or make it part of a larger menu. But if you do that make sure your other dishes are just as good. Or it will steal the show. Dhaba style dal tadka. Could be you've just met your new favourite lentil dish.
tadka dal
Tadka dal is a deeply satisfying and flavourful dish that's sure to become a family favourite.
Ingredients
The lentils
1

cup

toor dal

1

tsp

turmeric

1/2

cup

onion

3 1/2

cups

water
Dal tadka masala - the first flavour blast
1

cup

onion

- diced

2

tomatoes

- chopped

3

green chilies

- diced (or more to taste)

1

tbsp

garlic ginger paste

1

tsp

kasoor methi

2

tsp

cumin powder

1

tsp

kashmiri chili powder

1

tsp

kosher salt

3

tbsp

vegetable oil
Final tempering - the second flavour blast
3

tbsp

vegetable oil

1

tsp

mustard seed

1/2

tsp

cumin seed

4-5

red chilies

kashmiri

2

black cardamom

1

2 inch piece cinnamon bark
Instructions
Cook the lentils
Combine the toor dal, turmeric, diced 1/2 onion and water in a saucepan. Bring to a boil. Reduce heat to a simmer and cover. Simmer until the lentils disintegrate. This takes about an hour.
First tempering
While the lentils cook start your first tempering. Heat the oil in a saucepan over medium low heat. Add the onions and cook until they start to brown. Add the green chili and garlic ginger paste. Stir and cook another minute or so.

Push the onion mixture to the side of the pan. There should be some oil in the middle of the pan. If there isn't add a little more. Add the cumin powder, kasoor methi, salt and chili powder. Stir. Pay attention. You don't want your spices to burn. If it looks like the mixture is dry add a bit more oil. Cook for 30-45 seconds.

Add the tomatoes and stir to combine everything. Simmer until the tomatoes start to break down. Add a bit of water if it starts to get too dry.

Once the lentils have broken down add the first tempering to the lentils and stir to combine. Taste. Adjust salt as needed. You will probably need another half tsp or so. Simmer another 10-15 minutes.
Second tempering
Heat the oil in a saucepan (the same one as before if you've rinsed it out - why make more dishes) over medium low heat.

When the oil starts to shimmer add the black cardamom and cinnamon. Cook for about 30 seconds. Add the chilies and toast them quickly in the oil. Now add the mustard seed and cumin seed and cook for around 20-30 seconds. Watch the chilies. You don't want them to burn.

Transfer the tadka dal mixed with first tempering to a serving bowl. Drizzle the second tempering over top. Serve.
Nutrition
Calories:
249
kcal
|
Carbohydrates:
26
g
|
Protein:
7
g
|
Fat:
15
g
|
Saturated Fat:
11
g
|
Sodium:
506
mg
|
Potassium:
290
mg
|
Fiber:
7
g
|
Sugar:
6
g
|
Vitamin A:
770
IU
|
Vitamin C:
54.5
mg
|
Calcium:
44
mg
|
Iron:
2.1
mg