If you've never had grilled pork belly skewers you are in for a treat. Marinated pork belly. Big Asian flavours. And the kiss of smoke. Good living.
I love pork belly. In so many ways. Chashu pork in ramen. As the meat in a really good banh mi sandwich. In kimchi jiggae. And now in grilled pork belly skewers. Fast and easy. And delicious.
There's nothing not to love here. Big southeast Asian flavours. Lemongrass. A bit of bite from sriracha. Tart from the rice wine vinegar. It just works…
Lemongrass simple syrup to start
The backbone of this recipe is a lemongrass infused simple syrup. Water, lemongrass, sugar and a little cinnamon bark. Nothing to it.
You can use infused simple syrups all sorts of places. My favourite is cocktails. Ginger infused is great in a Moscow mule if you are into those.
Here it is just the first step towards a really tasty marinade. But it's a good lesson to learn if you don't make infused syrups. Fun in the kitchen. And then more fun at cocktail time.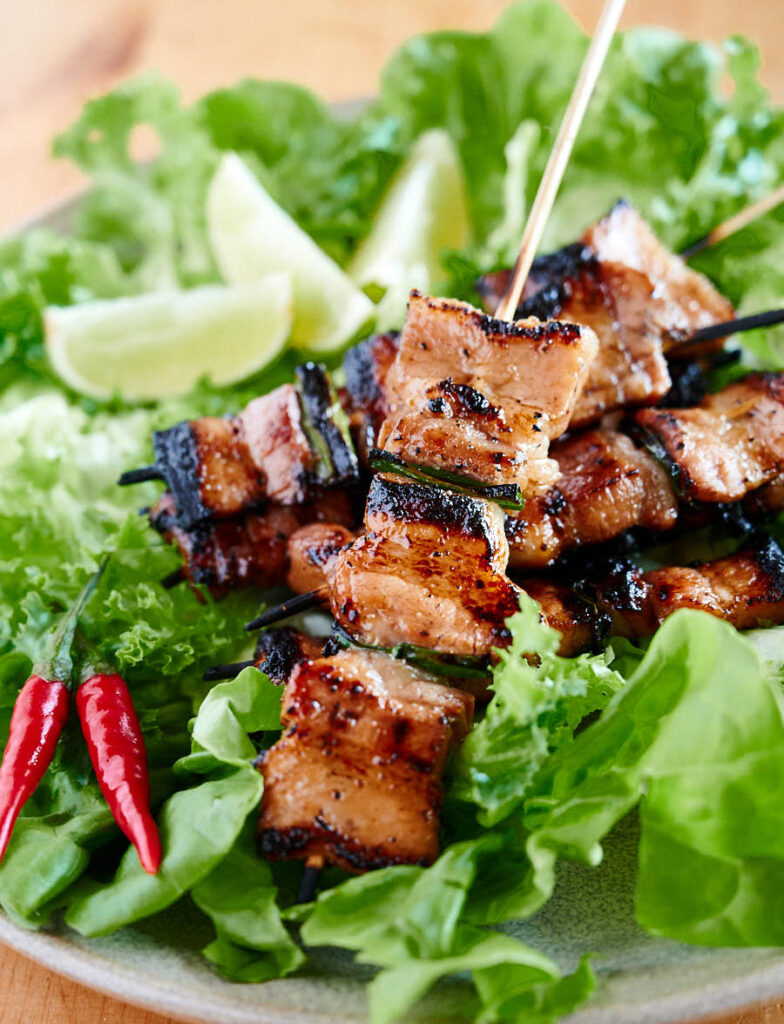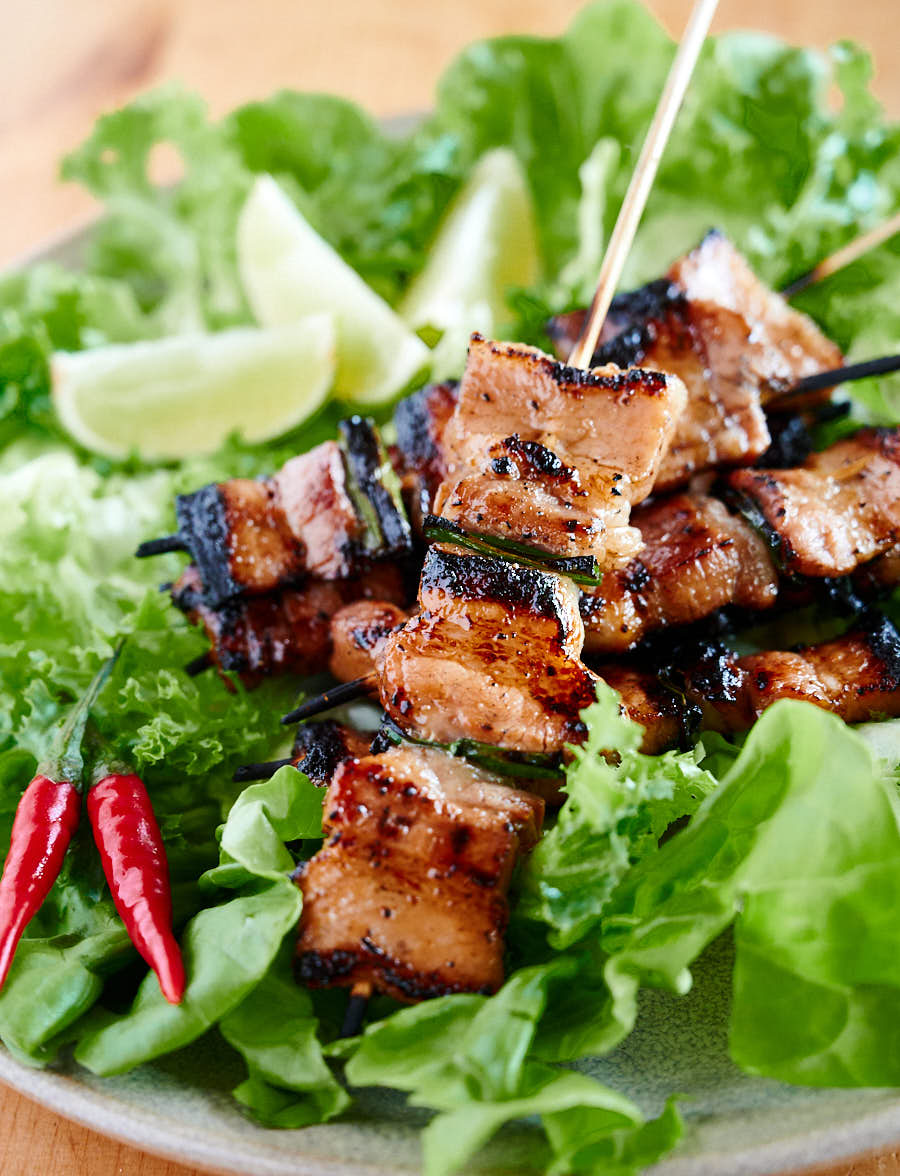 The marinade serves double duty
The rest of the marinade is dead easy. A little soy. A splash of fish sauce. Some sriracha for a bit of fire. And black pepper for bite. That's it. Mix it up. Done.
And the best part? The marinade becomes the dipping sauce. Kind of like a Japanese tare. Just bring it to a simmer to sterilize it. Strain it. Good to go.
Dip the skewers in the sauce as they come off the grill. Double down on flavour. First the marinade. Then the dip.
And if you want you can serve the remaining sauce as a dipping sauce for another trip to flavour town. It just keeps giving.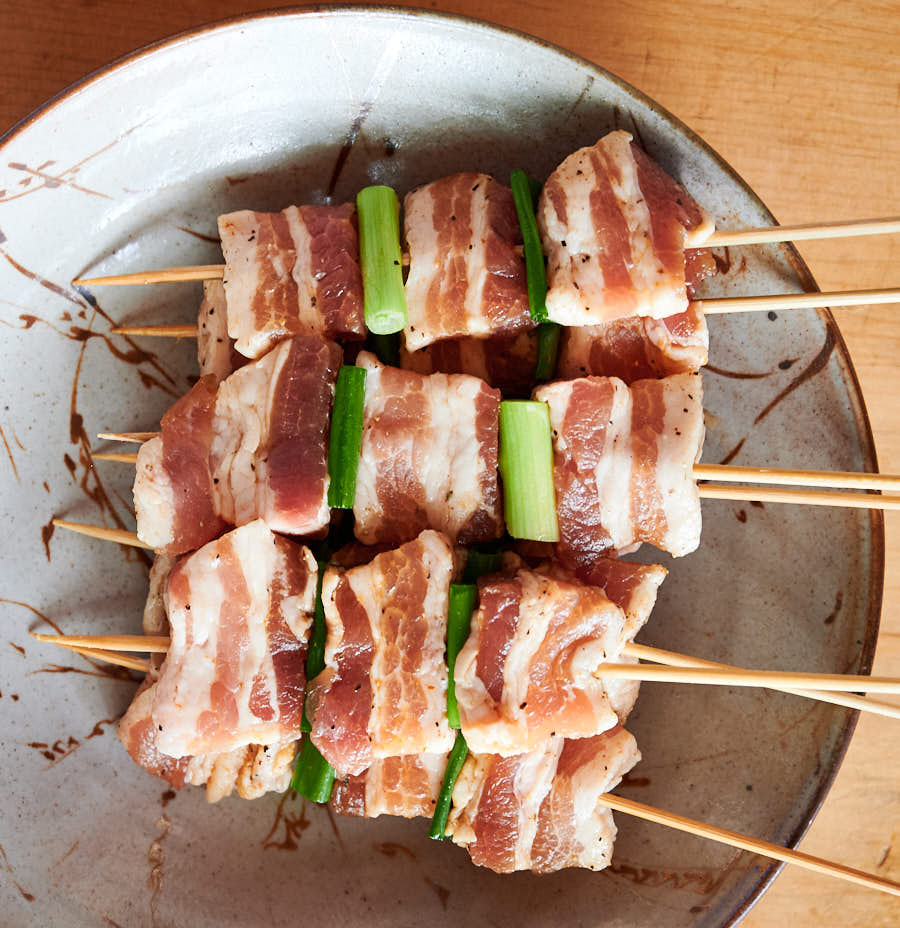 Grilled pork belly is more delicate than you'd think
Funny thing about pork belly. Cook it a little and it's pretty tender. Maybe a bit chewy but tender.
Cook it a little more and it gets tough. Like why is this in my mouth tough. Cook it some more and it starts to get like real BBQ. Tender again.
It's actually the initial tenderness that's the surprise. Pork belly is always babied. Braised. Low and slow.
So watch out when you grill these. Know that if you go too far you won't be happy. A little bit complicated but when you nail it you will love it. Be brave.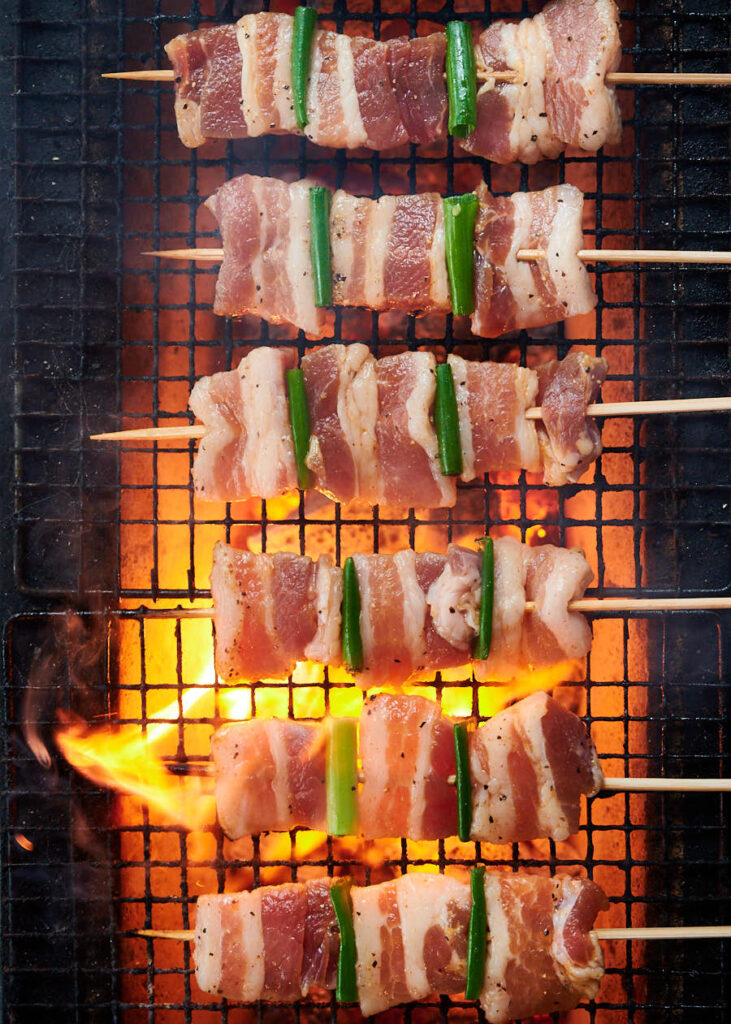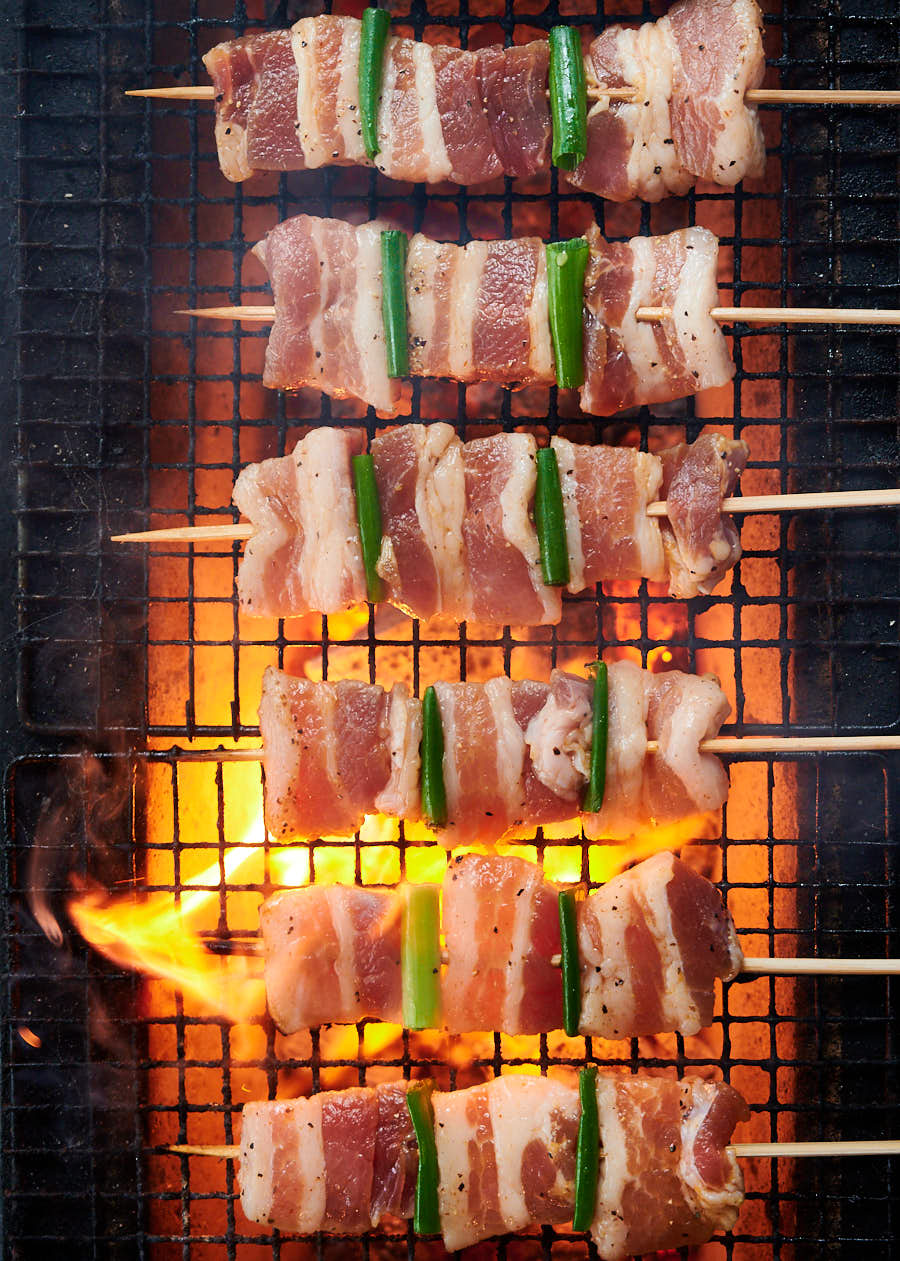 Grilling technique really matters here
Pork belly is the stuff they make bacon with. Grilled pork belly is like grilled bacon. You probably don't grill bacon very often. Because that's a good way to get a visit from the fire department.
Pork belly isn't a lot different. It has a lot of fat. And that fat is going to render. And it's going to flare up. Big time.
So you need to be on your game. Ready. If you make grilled pork belly know that the fire will come. You need to manage it. It's doable. But you can't just throw these on the grill and wander off. You need to pay attention.
So work smart. Set yourself up with a hot zone and a cool zone. Forget using the lid on your grill. You can't leave these for 30 seconds once the flare up starts.
Don't try to cook more than six grilled pork skewers at a time. You will run into trouble. Keep moving. Flip the skewers every 30 seconds. Move them to the cool zone when the flare ups happen.
When the fire dies down move them back over the hot zone. Flip. Flip again. Move them to the cool zone. And then back.
Sounds like a lot of work. But keep in mind they only grill for a few minutes. Under five minutes. Maybe less. So it's over before you know it.
I know I've made this sound terrifying. It's not. It's kind of fun. In a caveman sort of way. Like a grilling cage match. One you can win. So long as you pay attention.
And when you pull it off you are a hero. A grand grill master. Best of the best. It's worth making grilled pork belly just for bragging rights.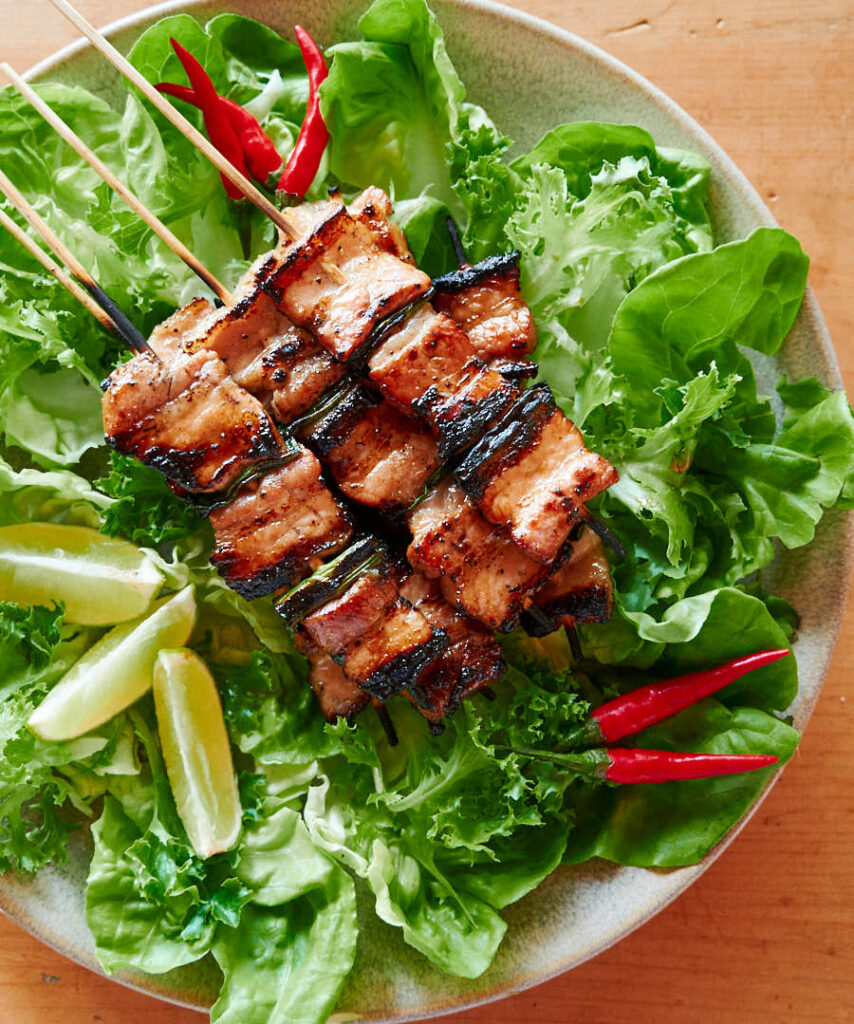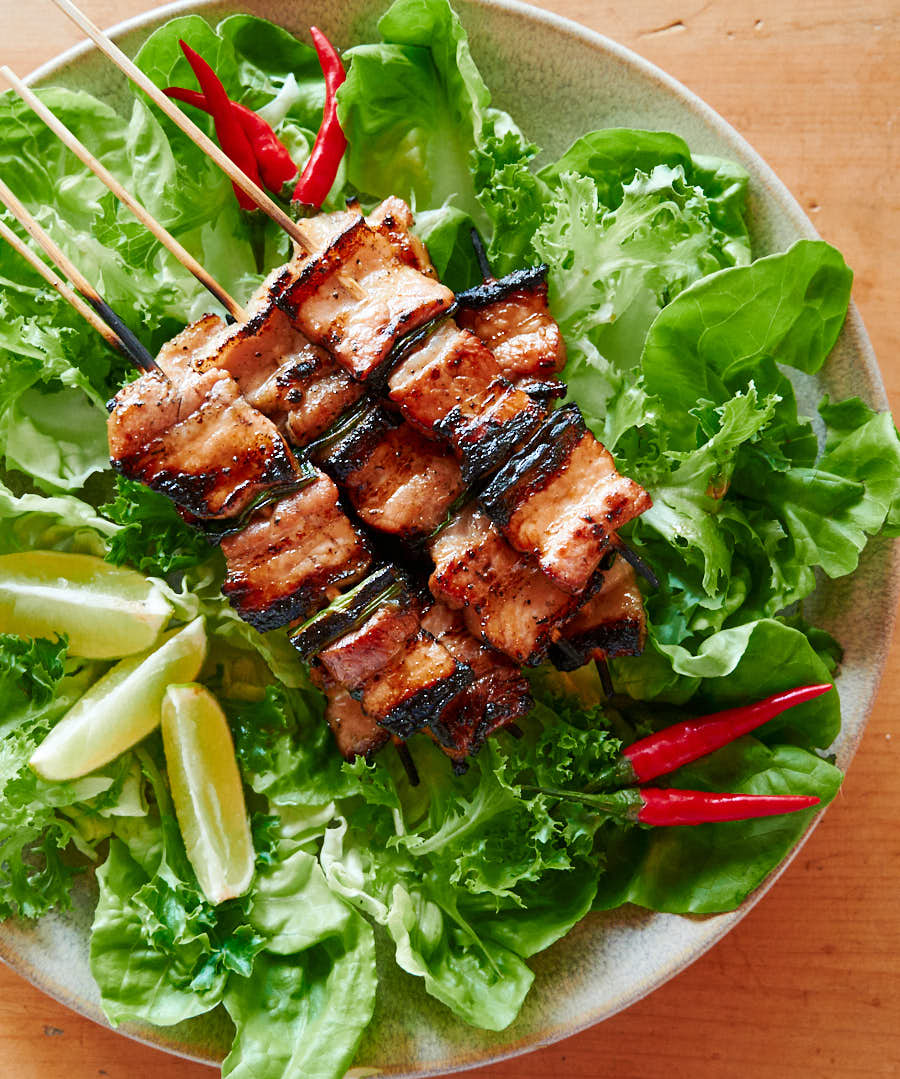 Lots of ways to serve grilled pork belly
These grilled pork skewers are great as finger food hot of the grill. Have your friends hang out by the grill. Hand them out like lollypops. Meat on a stick. Everyone loves that.
Or put them out on a platter with lime wedges. Drizzle them with some of the dipping sauce. Put them out and watch them disappear.
My personal favourite is to serve them up with some lettuce. Maybe a few garnishes. A little onion. A little cilantro. Couple different types of lettuce. Some of the dipping sauce. Grilled pork belly lettuce wraps.
Doesn't really matter how you serve them up. What matters is you try them. Everyone needs more pork belly in their life. Vitamin P. It's just good for your soul.
grilled pork belly skewers – asian style
Lemongrass marinade and the kiss of fire make these pork belly skewers a real crowd pleaser.
Ingredients
1

lb

pork belly

– skin removed.

3

green onions

(aka scallions) cut into one inch pieces

12

bamboo skewers

soaked in water for at least 30 minutes
Marinade/dipping sauce
1

cup

water

1/2

cup

brown sugar

2

stalks

lemongrass

– tender parts only, chopped

1

2 inch

cinnamon bark

– cassia

1/2

tsp

black pepper

2

tbsp

soy sauce

4

tbsp

fish sauce

2

tsp

sriracha

– sambal oelek is also nice

2

tbsp

rice wine vinegar
Instructions
Marinade
Combine the lemongrass, sugar, cinnamon bark and water in a small sauce pan. Bring to a boil and simmer for 5 minutes.

Strain into a bowl and chill.

Add the fish sauce, soy, black pepper and sriracha and stir. Set aside while you prep your pork belly.
Prep your pork belly
Slice the pork belly lengthwise (think a piece of bacon) into somewhere between 1/4 and a 1/3 inch slices. You probably want to cut your pork belly in half (think cutting bacon in half) before you start to make this easier.

Now cut each slice into 1 inch pieces.

Combine the pork with the marinade and refrigerate for 1 to 4 hours. Longer is OK as well. There's no acid in the marinade so it's like a brine.
Make the dipping sauce
Remove the pork from the marinade. Set aside.

Pour the marinade into a small sauce pan. Bring to a boil. Let simmer for 1 minute. You are sterilizing your marinade to make the dipping sauce. Do not skip this step. Just don't.

You will see some bits formed and are floating in the marinade. These are proteins that have cooked. Strain them out.

Stir in the rice vinegar.
Make the grilled pork skewers
This is a little tricky. Take your time. Thread a piece of pork onto a skewer. Now skewer a piece of green onion. Repeat with another piece of pork and another piece of green onion. Finish with a third piece of pork. Repeat this until all the pork is skewered. You should get 10-12 skewers.

Heat your grill to somewhere between medium and medium low. Give yourself a cool safety zone. You are effectively grilling unsmoked bacon here. It's going to flare up a lot.

Grill no more than 6 skewers at a time. This isn't the place to be a hero. You are going to burn your skewers badly if try to do them all at once. Trust me. I tried to be a hero. Epic fail.

It's too hard to get internal temperature on little bits of pork belly. So you need to trust your instincts a bit. It doesn't take long to cook through. Depending on your fire you could be looking at as little as 3-5 minutes. Could be longer but not crazy long. Be careful. Look at the pictures. Try one to see.

You don't want to overcook them. Pork belly is touchy. You need to cook it until just done. Cook it longer and it gets tough. Really tough. Like I wish I'd braised it tough. Not good.

As you pull the pork belly skewers off the grill give them a good dip in the sterilized marinade.

To serve you can go a few different directions. These skewers make great party food. Serve them with a little of the marinade as a dipping sauce. Maybe put them on a platter and drizzle the marinade overtop. Pass them around like that. Or serve them up as lettuce wraps. Skewers on lettuce with marinade drizzled overtop is good eating.
Notes
Sometimes you will get a pork belly that still has the skin attached. For this recipe you don't want the skin. It's quite easy to cut off with a sharp knife. Just follow the contours of the top of the belly and carve away the skin. It doesn't need to come off in one piece so don't worry too much about technique. 
Alternately, you can ask your butcher to do this for you.
Nutrition
Serving:
6
g
|
Calories:
237
kcal
|
Carbohydrates:
10
g
|
Protein:
4
g
|
Fat:
20
g
|
Saturated Fat:
7
g
|
Cholesterol:
27
mg
|
Sodium:
357
mg
|
Potassium:
120
mg
|
Fiber:
1
g
|
Sugar:
9
g
|
Vitamin A:
30
IU
|
Vitamin C:
1
mg
|
Calcium:
15
mg
|
Iron:
1
mg