Bengali chicken curry done restaurant style brings home cooking to the next level. All the wonderful, authentic flavours. And an incredible, lush gravy. What's not to love?
This isn't on any restaurant menus. At least where I live. But it should be. It has all the big tastes you expect. But with a twist. Familiar but completely different. And really good.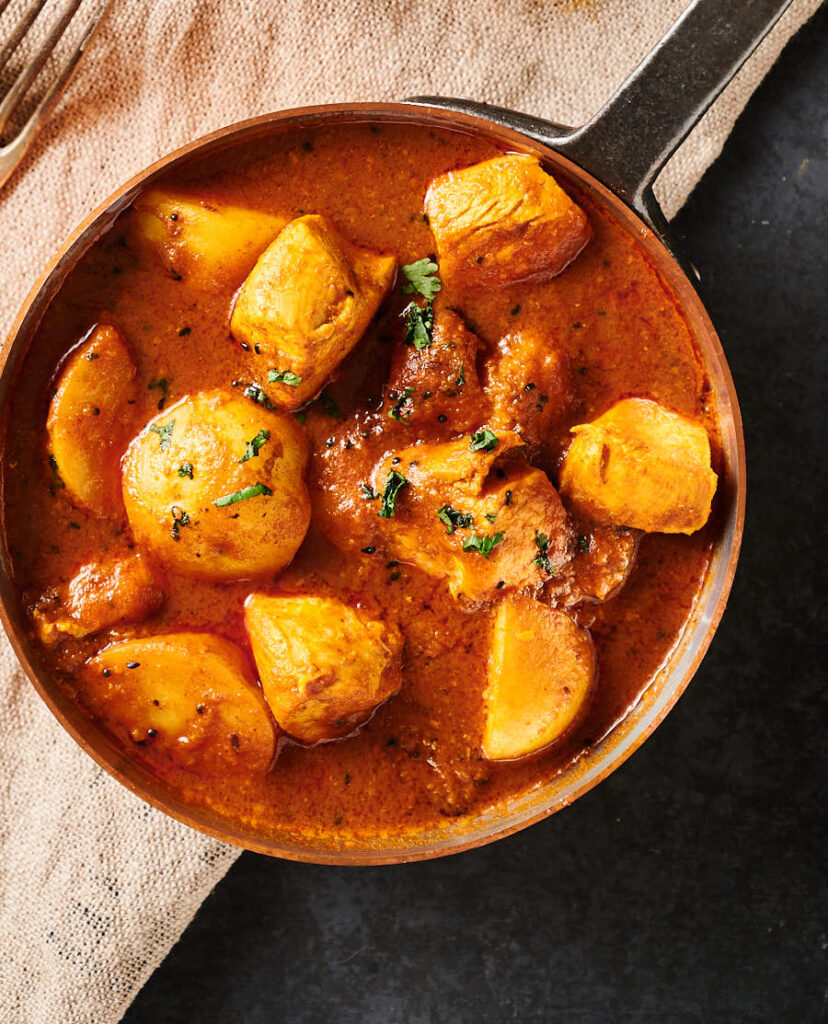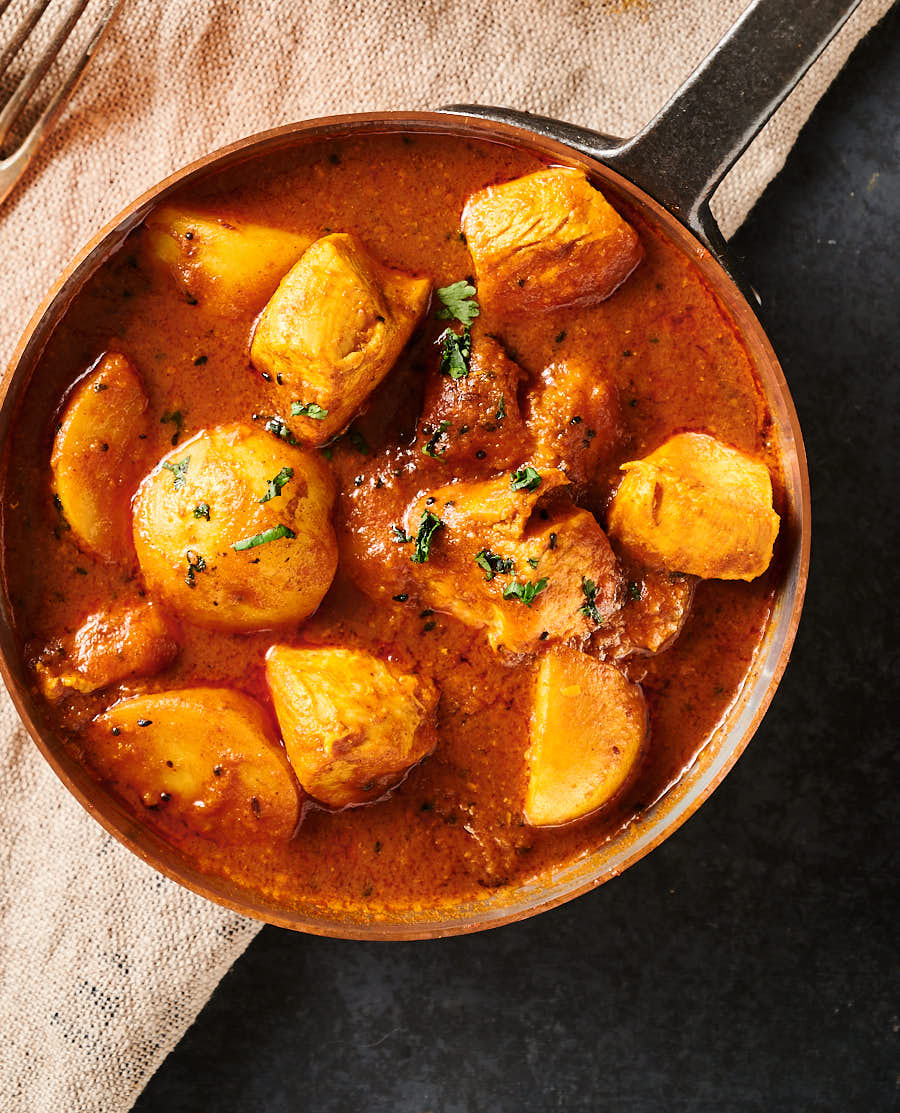 Bengali chicken curry re-imagined
Bengali chicken curry done restaurant style is a riff on food I grew up eating. The flavours of my childhood. But how they would make it in a restaurant. If only restaurants made it…
Back then it was called murgir jhol. Or just chicken curry. Because when I was growing up this was the definitive chicken curry.
Everybody made it. Some did it better than others. But the backbone was always there. That wonderful Bengali five spice called panch phoran. Garlic. Ginger. Potatoes. Always potatoes. A hint of cinnamon. And chicken.
Sometimes green chili. A bit of sugar. Or mustard oil. Mustard oil is a nice touch. I've made it optional here but a 50/50 mix of mustard oil and vegetable oil adds a nice touch.
Murgir jhol is a runny curry. Almost soupy. Which is very different from restaurant style curries. If you've only had restaurant style curries try a runny one some time. Totally different experience. Like lemon coriander chicken curry. Tasty stuff.
This version is restaurant style. And that means rich, thick gravy. That's what you will get here. I should do a homestyle version though. So you can compare. Both good.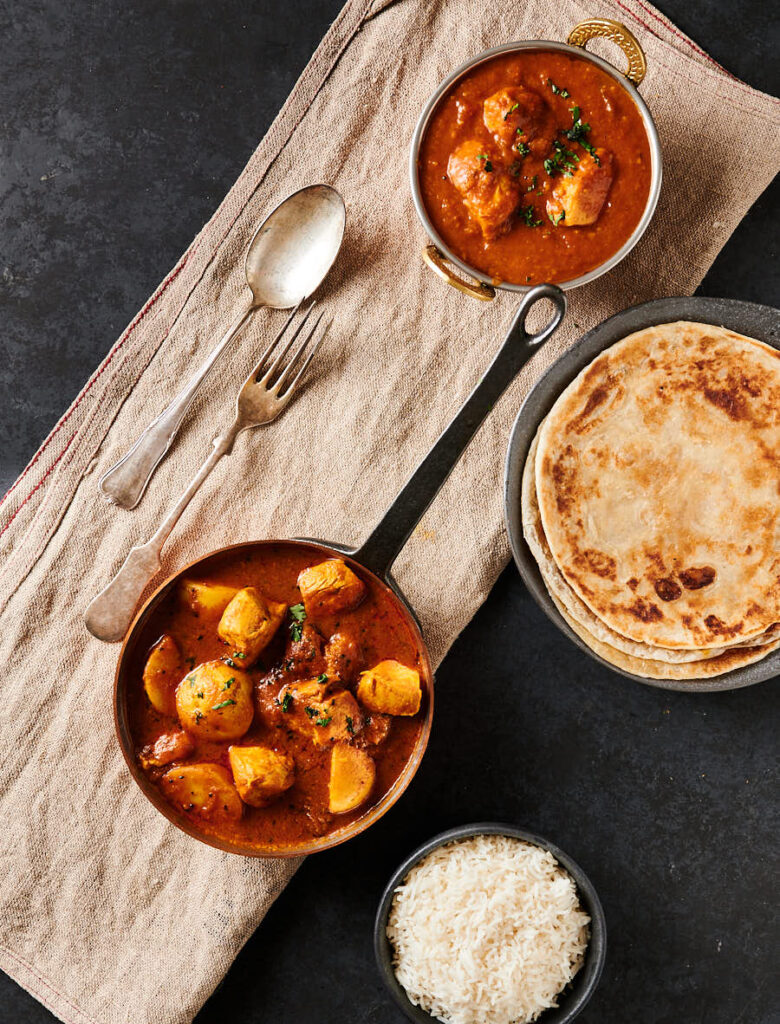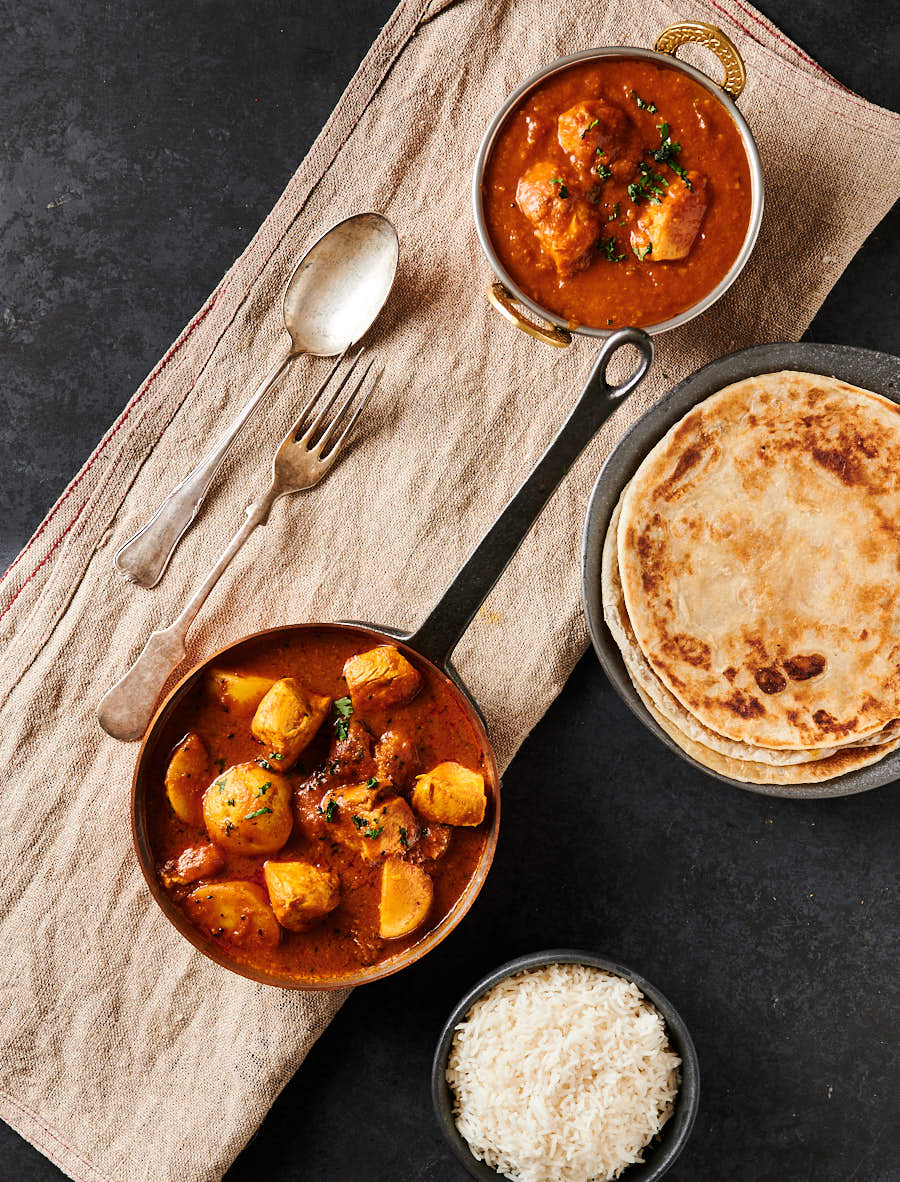 Don't let the simplicity of this chicken curry recipe fool you
There isn't a long list of ingredients in Bengali chicken curry. So you might think the flavours are a bit ho hum.
You would be wrong. I am into big flavours. That's pretty much what glebe kitchen is about. Bland is not a word I ever want to hear.
There's Bengali five spice. That's five spices in one. And there's restaurant mix powder. Another seven spices. It's just streamlined. Like they would do in restaurants. So it doesn't take 30 minutes to measure out ingredients.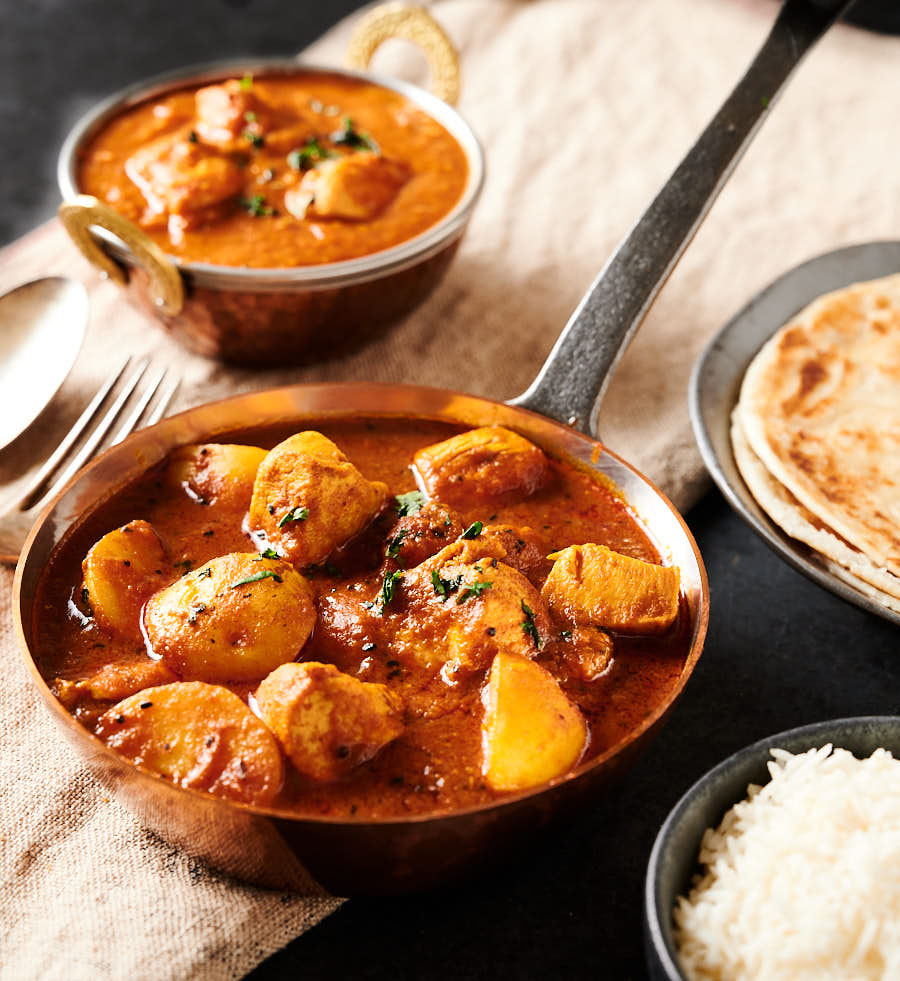 Panch phoran makes this Bengali chicken curry special
Panch phoran is the Bengali signature spice blend. Never heard of it? Not surprising. It's big in Eastern India and Bangladesh. But you don't see it often elsewhere.
That's too bad. It is seriously tasty stuff. Secret weapon tasty in my book.
It's not that exotic. Just a blend of whole spices. You can get it at any Indian grocer. Or you can make it yourself.
It's a mix of fenugreek seed, cumin seed, mustard seed, nigella seed and fennel seed. Nothing so unusual. Except maybe nigella seed. You won't find that at a bulk store.
Not exotic maybe. But distinctive. Flavourful. Surprisingly so. Try it. It's addictive. And it's what brings the magic to Bengali chicken curry.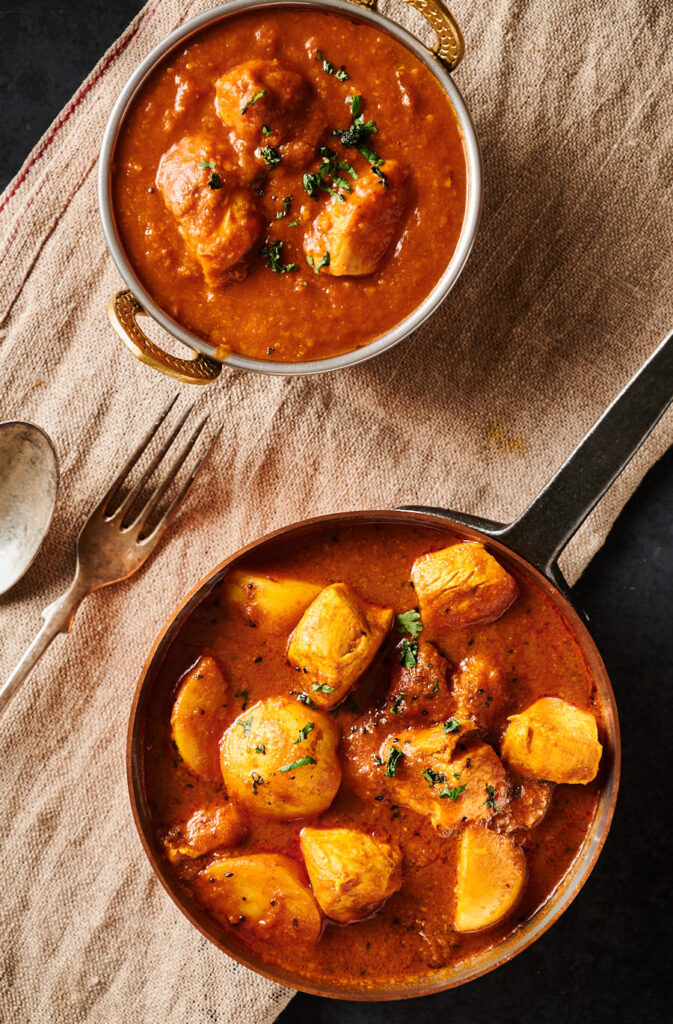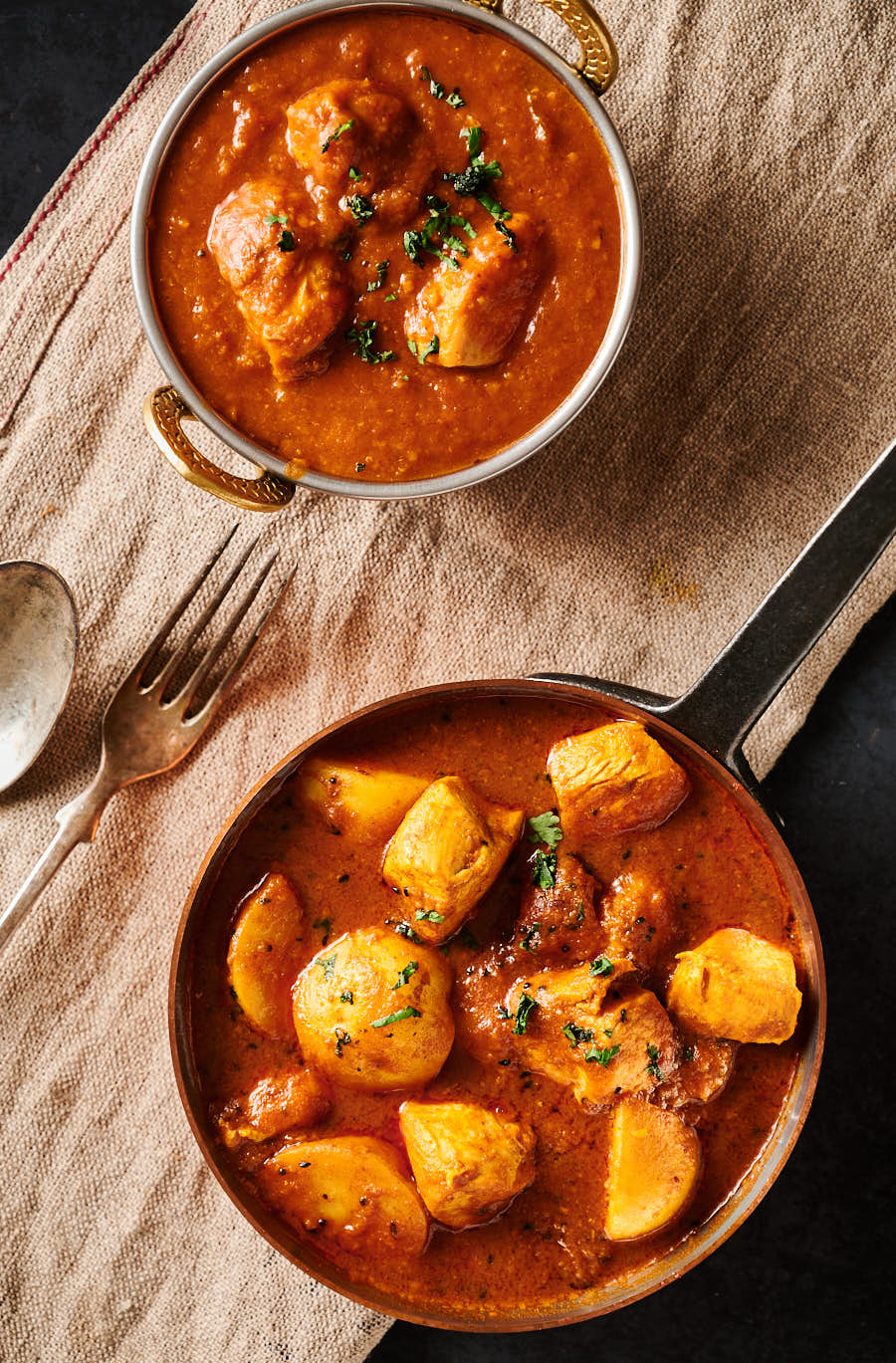 This is a dish to make when you want something new
Bengali chicken curry. This is not standard Indian restaurant fare. Different. But delicious.
The spicing is unique. But if you try it you'll get a glimpse into a totally different set of flavours.
Indian restaurants have a formula. And it's all pretty similar. Which is wrong. Makes me crazy. Would you go out for Italian if every restaurant had the same menu? A world where Olive Garden reigned supreme? Not a happy place in my mind.
Indians don't eat the same 20 dishes you see on every Indian restaurant menu. And you shouldn't either.
Try this. Or another dish you've never seen on a restaurant menu. There is so much more to Indian cooking. Give your tastebuds a treat.
bengali chicken curry – restaurant style
Indian restaurant Bengali chicken curry takes the flavors of the family kitchen and turns them into something your favourite Indian restaurant should be serving.
Ingredients
The whole spice mix
1

tsp

panch phoran

– Bengali spice mix available at Indian grocers

1/2

tsp

brown mustard seeds
The powdered spice mix
1

tsp

kashmiri chili powder

2

tsp

Indian restaurant spice mix

recipe link below

1/16

tsp

cinnamon powder

– just a pinch really. Use 1/2 your 1/8 tsp measuring spoon to be precise.

1/2

tsp

kosher salt
The curry ingredients
4

Tbsp

neutral oil

or use a 50/50 mix neutral and mustard oil

1

Tbsp

garlic/ginger paste

– recipe link below

1 1/2

Tbsp

tomato paste

Diluted in about 3 tbsp water

15

oz

curry base

– recipe link below

10-12

oz

pre-cooked chicken

see note

1

small to medium potato

cut into 8 bite size chunks and pre-cooked in well salted water
Instructions
Do your prep
Pre-cook your chicken. Cut the chicken into large bite size pieces. Put them in a pan with enough chicken stock or water to cover. Add a bit of spice mix or curry powder and a pinch of salt. Simmer until just barely done. The chicken cooks again briefly in the gravy.

Pre-cook your potatoes. Cut them into pieces about the same size as the chicken. Add them to a small sauce pan and cover with well salted water. Bring to a simmer. The potatoes are done when a fork slides into them easily.

Make the spice mixes. Combine the restaurant spice mix, kashmiri chili powder, cinnamon and salt in one small bowl. This is your powdered spice mix. Combine the mustard seeds and panch phoran in another small bowl.

Combine 1 1/2 tablespoons of tomato paste with about 3 tablespoons of water.
Make the Bengali chicken curry
Heat your frying pan (don't use non-stick) briefly over medium heat. Add the oil.

Once the oil starts to shimmer add the panch phoran and mustard seed mix. You should see little bubbles forming around the spices. Cook 15-20 seconds.

Now add the garlic ginger paste. Cook, stirring constantly, until it stops sputtering. This should take 30 seconds or so.

Add the powdered spice mix. This is the critical step. Stir it constantly for 30 seconds. If it starts to darken lift the pan off the heat. You want the spice mix to cook in the oil but not burn. You can go a little longer if you want. Really cook out the spices. Just be careful. Burnt spices are not tasty.

Turn the heat up to medium high. This is important. The heat is what drives Indian restaurant flavour. The Maillard reaction kicks in and magic happens. As you become more comfortable with this technique try pushing it. Add the diluted tomato paste and stir until bubbles form (the oil will likely separate). This takes around 30 seconds to one minute depending on the heat.

Add around 3 oz of curry base (you don't need to be super precise here). Stir until bubbles form (little craters really), around 30 seconds. Think lively boil. Watch the edges of the pan. The curry can stick here. Sticking is OK. Just scrape it back into the base. Burning is bad.

Now add 6 oz of curry base and stir briefly. Let it cook until the bubbles form again. This takes 1-2 minutes.

Add the rest of the curry base and let cook until the bubbles form. Turn the heat down to low and add the pre-cooked chicken and potatoes.

Let the curry simmer for about 5 minutes. If it gets too thick add a bit more curry base. Don't add water.

Garnish with a bit of chopped fresh cilantro if you like. Serve with rice or Indian flatbread (or both!).
Notes
The recipe for curry base is here.
The recipe for Indian restaurant spice mix is here. 
The recipe for garlic ginger paste is here.
If you haven't read about Indian restaurant technique yet, do that before you start cooking. There's even a video to take you through the whole process.
Have all your ingredients prepped and ready to go.
If you are making multiple curries, have your curry base warming in a pot on the stove. If you are just making one, microwave it to warm it up right before you start cooking.
Nutrition
Serving:
2
servings
|
Calories:
545
kcal
|
Carbohydrates:
24
g
|
Protein:
34
g
|
Fat:
34
g
|
Saturated Fat:
4
g
|
Cholesterol:
99
mg
|
Sodium:
998
mg
|
Potassium:
1092
mg
|
Fiber:
5
g
|
Sugar:
2
g
|
Vitamin A:
657
IU
|
Vitamin C:
18
mg
|
Calcium:
68
mg
|
Iron:
7
mg