Malaysian curry chicken or kari ayam is what happens when India goes traveling. Familiar spices slammed up against the flavours of south east Asia. Just. Good. Eating.
Never heard of kari ayam? Time to change that. It's addictive. Think curry flavours with even more flavours. Coconut milk. Haunting notes from star anise. And lemongrass to really mix things up. Puts a smile on your face and a glow in your stomach.
Kari Ayam is Indian meets Thailand
I'm probably going to get in trouble for saying this. But to me it, kari ayam has many of the flavours of a South Indian curry. Coconut milk. Check. Curry leaves. Check. Garlic and ginger. Check. Big spices. Check.
But then you add lemongrass. A bit of fish sauce. Star anise. You might not think that changes everything. But it does. Just like that. Amazing.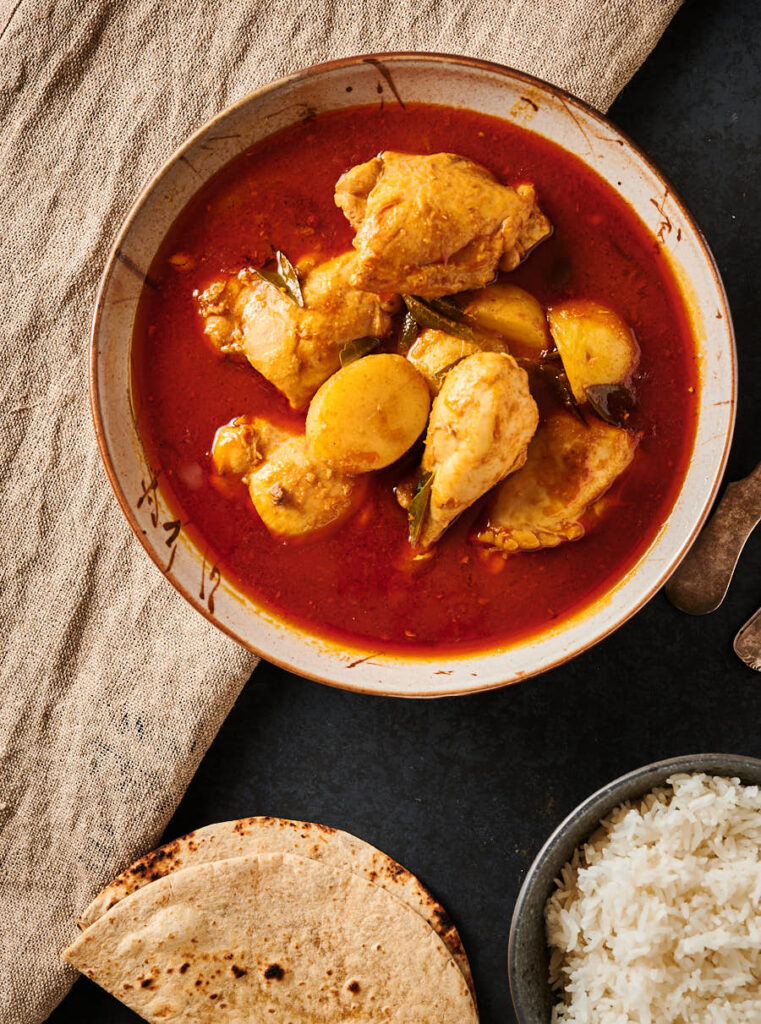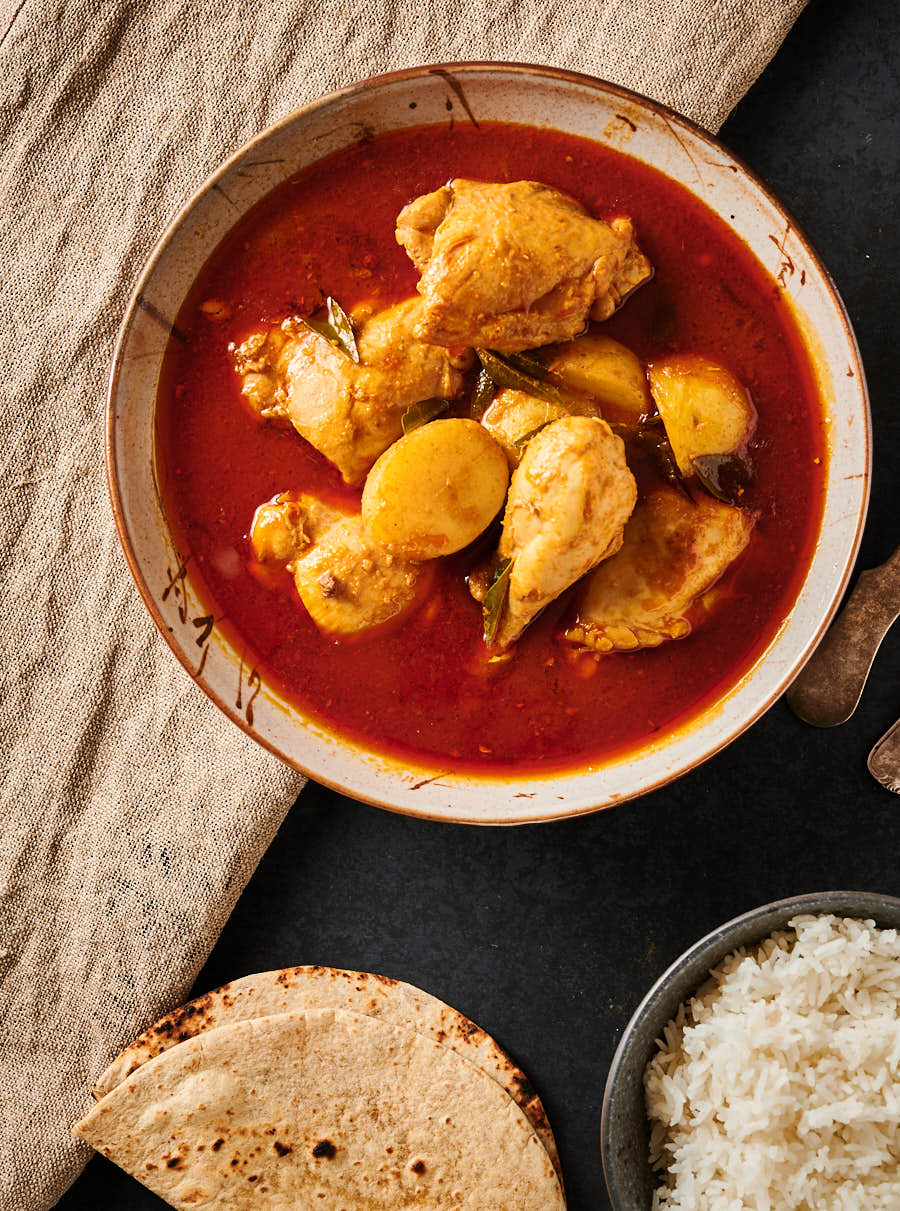 Malaysian curry chicken needs the right curry powder
I know. I know. Curry powder? Who uses that? How can this be a serious recipe if it calls for curry powder? Trust me. Kari ayam is best with a Malaysian blend.
Don't substitute the electric yellow stuff that you get at the grocery store. That's just wrong. Malaysian curry chicken uses meat curry powder. That's what it's called. Meat curry powder. Malays use it. And so do I. Because it works. Because it's delicious.
I use Babahs' brand. Not because I have tried every Malaysian curry powder in the world. But because a Malay foodie friend told me to use it. And I can get it. Shopping for Malaysian is not easy where I live…
There are other brands. Probably not a lot different. So if you can find something from Malaysia go for it.
Cook your potatoes separately
You don't have to do this. But I do. And I do it because I don't like overdone chicken. Once you put potatoes into a dish you wait for potatoes to be done. Some days that takes too long.
And that means overdone chicken. The dark meat used here is more forgiving than white. But even still. Overdone is overdone. Not good.
So I cook the potatoes separately. Not completely. But most of the way. And I save the water. There's starch in the water. And that thickens the curry a bit. So I use it instead of stock.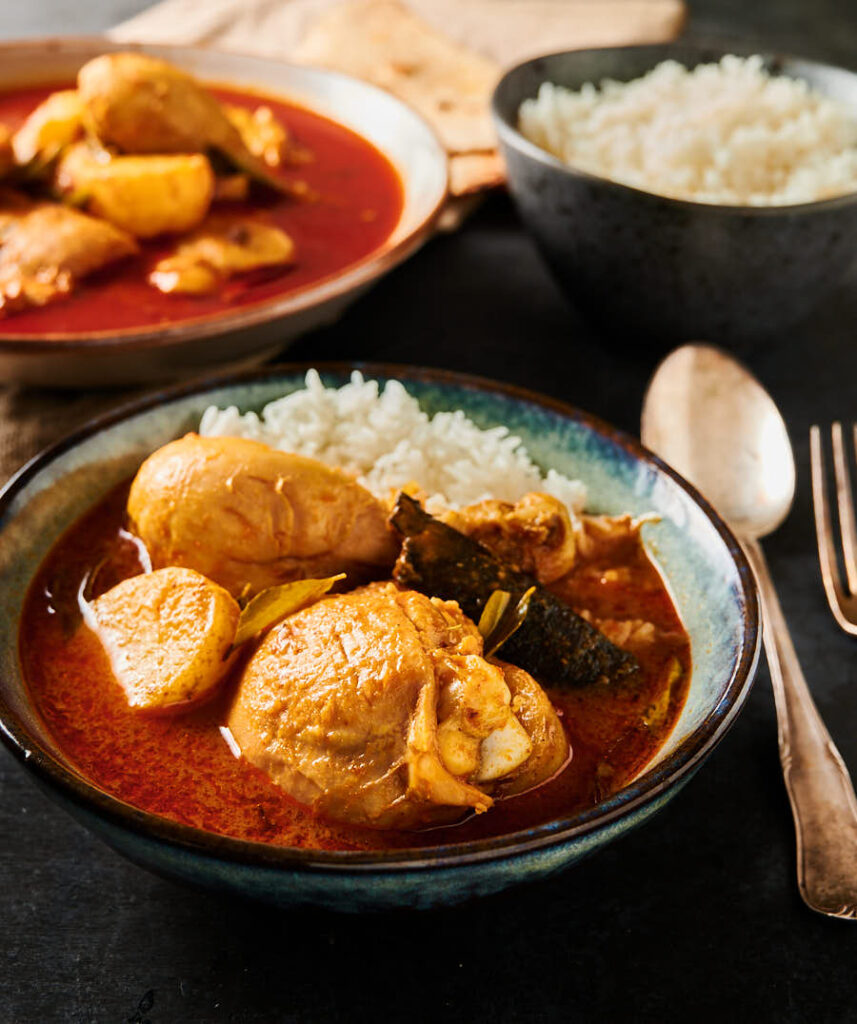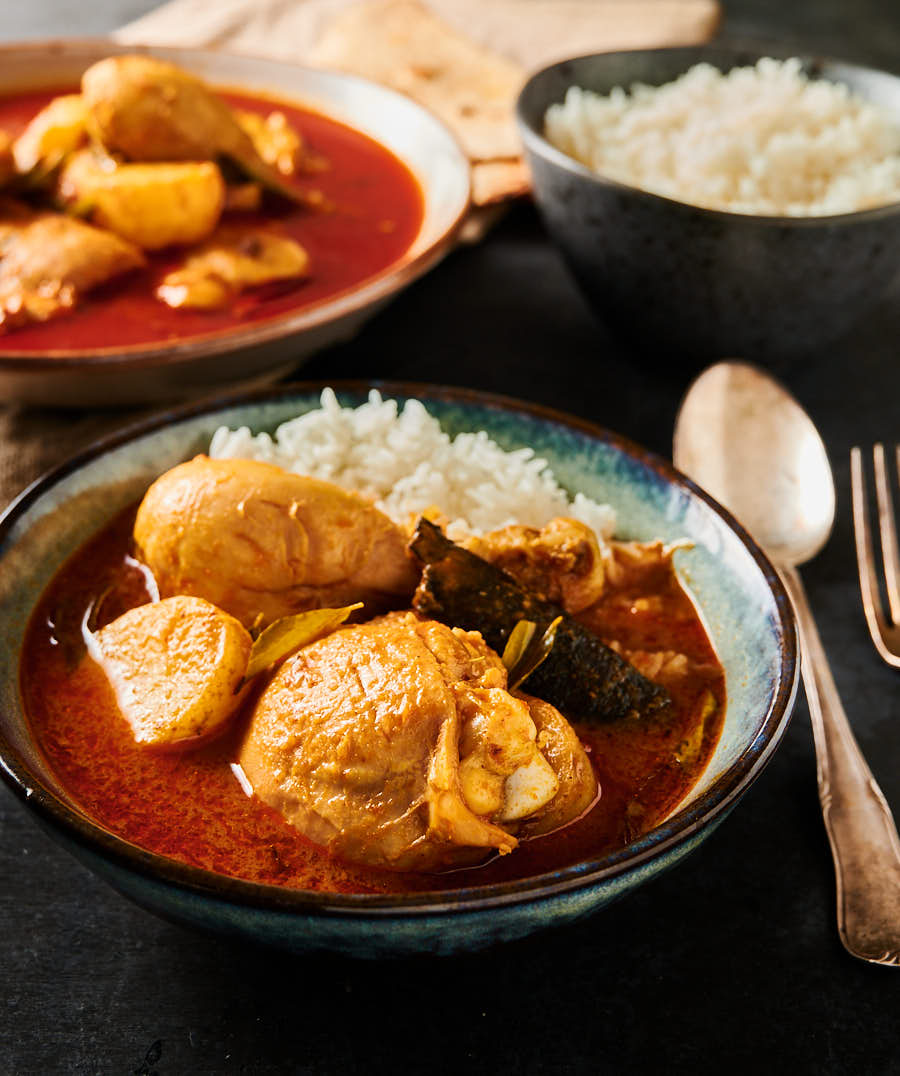 Kari Ayam doesn't need to be mild
A lot of Malaysian curry chicken recipes are pretty tame. Maybe that's a bit overstated. Maybe not though. This version has a bit of bite.
It's not blow a hole in the back of your head hot. Not even close. But it does have a little zing. Unless you start adding Kashmiri chili powder. Then it gets spicy.
There's more spice. A lot more spice. I use 5 tablespoons of curry powder. Seem like a lot? Not to me. It takes a lot to give it the big flavours I want. You could probably add more…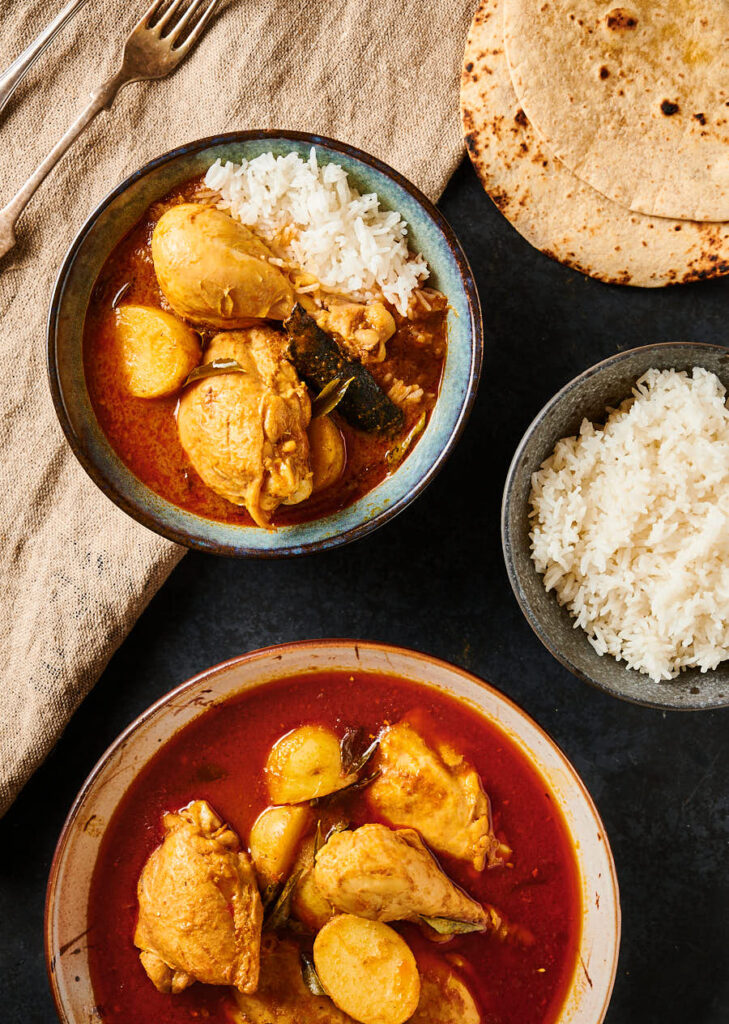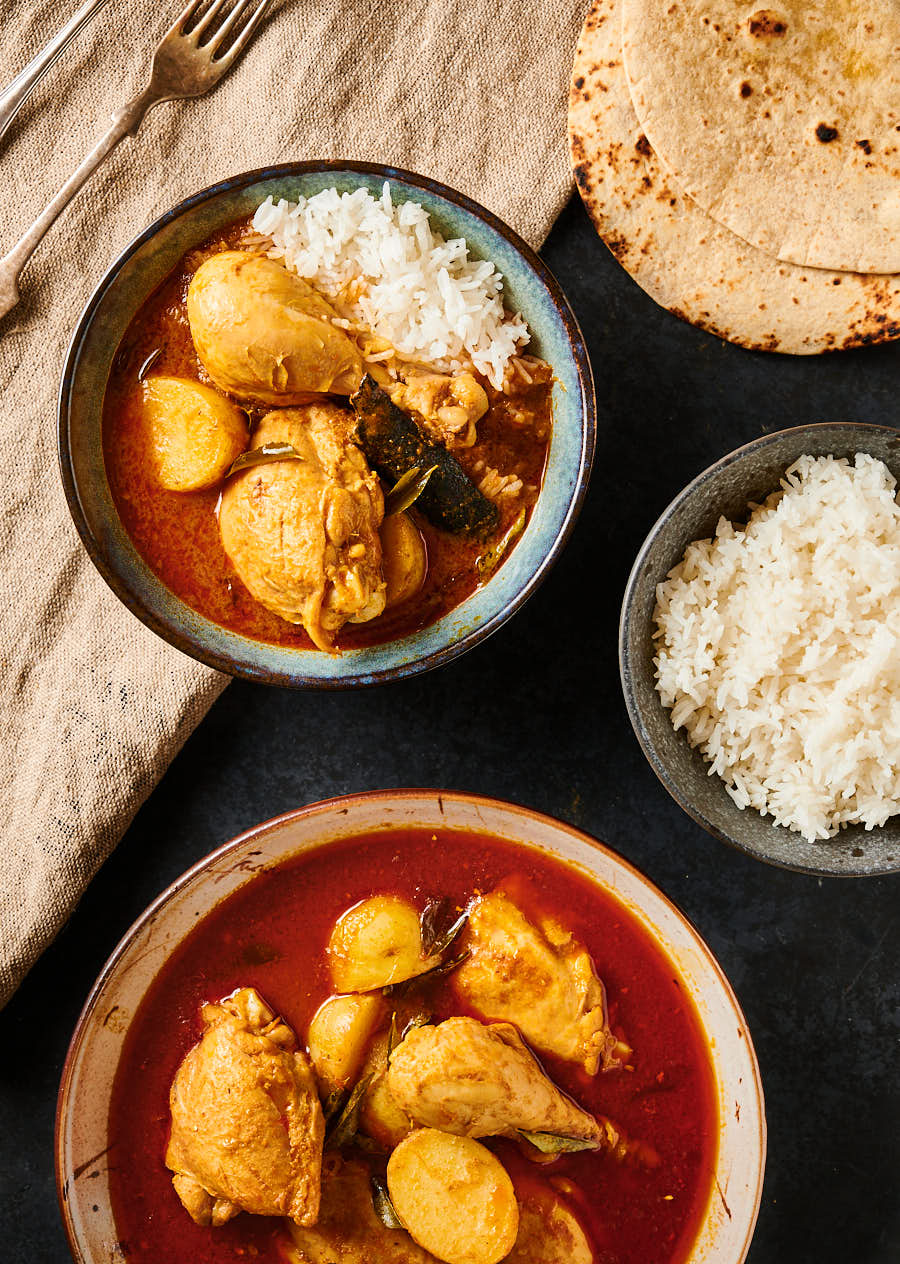 This is a saucy curry
Don't think this is one of those lush Indian curries. Kari Ayam is a saucy curry. Almost soupy. Like laksa.
So make sure there's a spoon on the table. To get every last drop. Because if you don't people are going to pick up their bowls and lick them. Which is flattering. But not very elegant.
Malaysian curry chicken. It's for when you want something a little different. But still magically delicious.
kari ayam – malaysian curry chicken
Kari ayam is a great way to mix up your curry repertoire. It's kind of like Indian but not really. What it is is sure to please.
Ingredients
malaysian curry chicken
8

chicken thighs

or a mix of drumsticks and thighs

1

star anise

2

inch

cinnamon bark

(cassia)

2

potatoes

coarsely chopped (yukon gold works well)

1

stalk

lemongrass

5

sprigs

fresh curry leaves

(leaves removed from stems, stems discarded)

2

tbsp

fish sauce

2

cups

coconut milk

4

tbsp

neutral oil

(e.g. vegetable or corn oil)
curry paste
3

large

shallots

4

cloves

garlic

2

inch

ginger root

5

tbsp

malaysian curry powder

0-2

tsp

kashmiri chili powder

depending on your spice tolerance (see note)

3

tbsp

neutral oil

plus enough water to puree the paste
Instructions
Make the curry paste
Combine the shallots, ginger, garlic, Malaysian curry powder, kashmiri chili powder and oil in a blender.

Add a couple tablespoons of water. Puree. If it won't go add more water a tablespoon at a time until it does. In my blender it takes around 5 tablespoons of water. Every blender is different.
Cook your potatoes
Cook the potatoes in salted water until just barely done. They will cook a little longer in the curry. Reserve one cup of the cooking water. Set the potatoes aside.
Malaysian curry chicken
Heat the remaining 4 tablespoons of oil in a pot large enough to hold the final curry over medium low heat. When the oil is hot add the cinnamon and star anise. Let cook for 15-20 seconds.

Add the curry paste. Cook the curry paste, stirring occasionally, until the oil separates. Cook another two or three minutes after that. This should take about 10 minutes total. You don't want to skip this. Frying the paste cooks the raw spice flavour out. Smooths the flavours out.

Add the chicken and stir to combine. Cook for a minute or two. You aren't trying to brown the chicken here.

Add 1/2 cup of the reserved potato cooking water. Stir, scraping up any bits on the bottom until it's pretty well combined.

Add the coconut milk, fish sauce and curry leaves. Stir to combine.

Slip in the lemongrass stalk and bring to a simmer. Cover. Cook for 20 minutes.

Add the potatoes. Stir to combine and simmer until the chicken is done. This takes another 10-15 minutes.

Serve with jasmine rice and a flat bread like roti or parathas.
Notes
The Kashmiri chili powder is optional. It depends on how spicy you like it. Leave it out and it's medium spicy. One teaspoon moves it into spicy territory. Two teaspoons is pretty hot. Up to you.
Nutrition
Serving:
4
servings
|
Calories:
737
kcal
|
Carbohydrates:
14
g
|
Protein:
44
g
|
Fat:
58
g
|
Saturated Fat:
25
g
|
Trans Fat:
1
g
|
Cholesterol:
194
mg
|
Sodium:
910
mg
|
Potassium:
1012
mg
|
Fiber:
4
g
|
Sugar:
2
g
|
Vitamin A:
222
IU
|
Vitamin C:
55
mg
|
Calcium:
111
mg
|
Iron:
8
mg