Lamb rogan josh is one of the classic Indian dishes for a reason. It's delicious. And it's even better when you make it restaurant style.
This is one seriously tasty curry. Complex flavours in a rich restaurant style sauce. Lamb rogan josh. One of the big ones.
Lamb makes this rogan josh special
This dish is better with lamb. It pushes it over the the top. Adds a depth of flavour that you just can't get with anything else.
I'm not saying you should only make it with lamb though. Not for a second. Best with lamb but still crazy delicious no matter what. Chicken rogan josh works really well. Beef does too.
Goat is really good too. If you've never had mutton rogan josh give that some thought.
Or you can go with paneer or chickpeas for a vegetarian version. All good. But for me lamb rogan josh is king. There's just a little extra bit of wonderful there.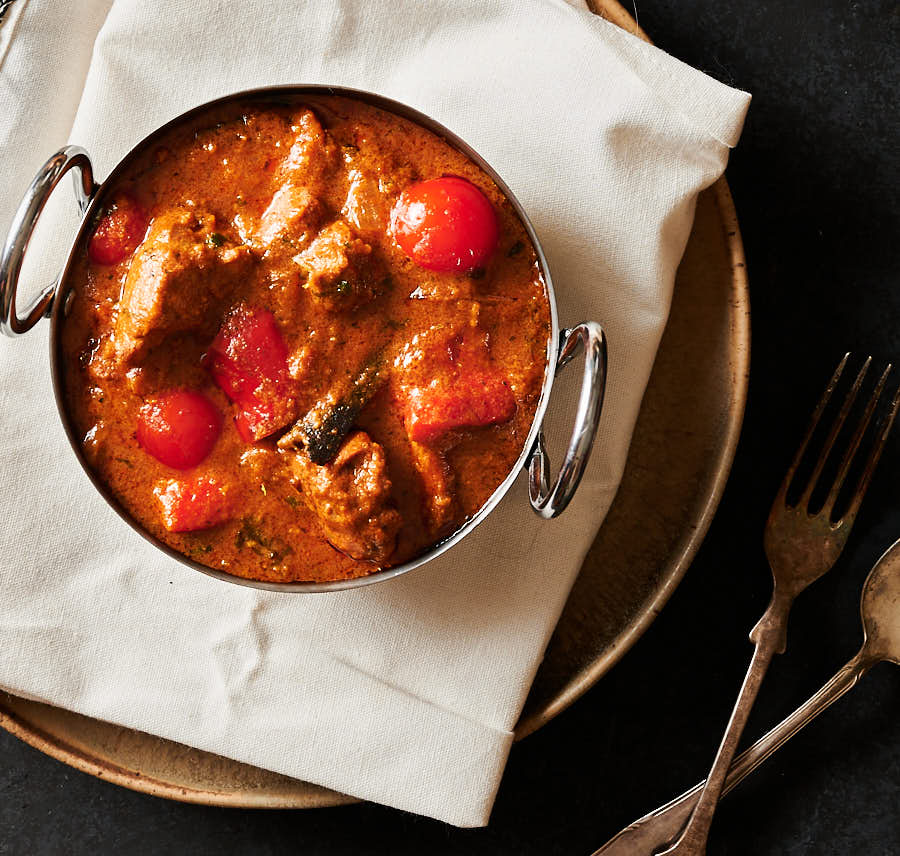 What's in a name?
Rogan josh is dish with a fuzzy history. It's a Kashmiri dish. Definitely has some Moghul influence way back. And it's become a global classic. But there's no clear origin.
Even the words in the name aren't obvious. Rogan josh can mean stewed in ghee or red/brown stew. I go with red/brown stew personally. That makes sense to me.
But seriously – what do I know? Believe what you want. Or don't worry about it. That's probably a better plan anyway. Just enjoy. Make it and be happy you did.
Fry out the yoghurt for great lamb rogan josh
I scratched my head for a long time trying to come up with a rogan josh recipe I liked. A long time. This blog has been running 3 years. Has a bunch of Indian recipes. But no restaurant style lamb rogan josh.
Because I just couldn't get it right. I'd get this weird cheesy background flavour. Every time.
Don't get me wrong. I love cheese. A lot. But not in curry. Except paneer. But that's different.
I'm talking this horrible, funky slightly off milk taste. Deep in the background. But always there. It's why there are zero restaurant style curries with yoghurt on glebe kitchen.
So I started thinking hard about why yoghurt works in homestyle curries. And realized it's because it's cooked down. It goes in early. And simmers forever.
So the glebekitchen twist in this recipe is to fry out the yoghurt. So obvious. Once I realized it. I'm clearly not the sharpest tool in the shed.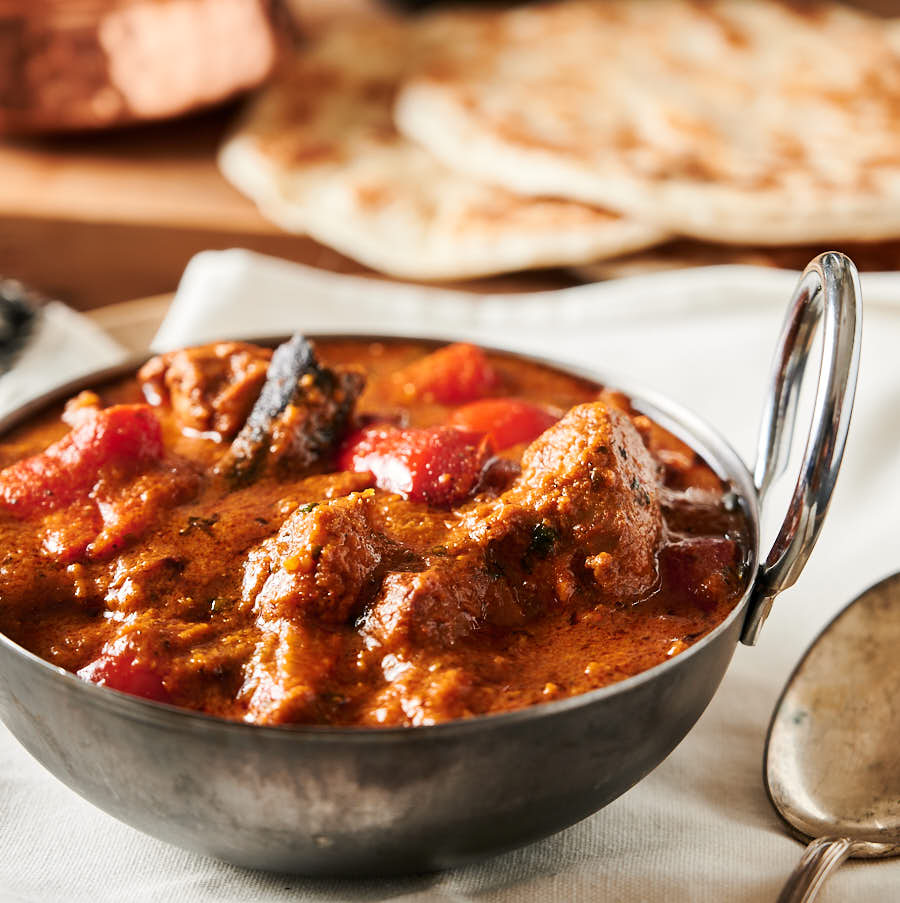 Don't let the ingredient list scare you
I know. There are a lot of ingredients. That's a necessary evil here. Lamb rogan josh flavours are complex. Nuanced. And that means more ingredients. Lots of different spices. No real way around it.
But it's not that many ingredients. Most of them are spices. You just mix them up. Then it's like one ingredient. If a bunch of spices can be an ingredient.
Never tried one before? This is probably as good a place to start as any. If only because it is such a tasty curry. So worth it.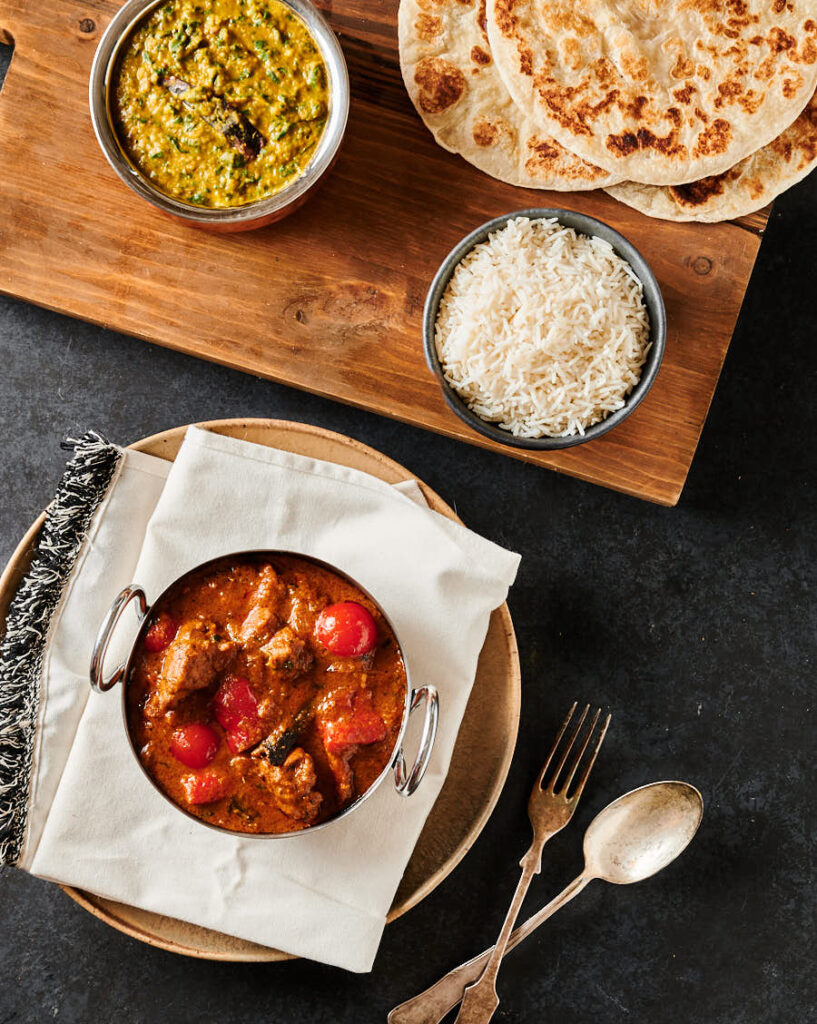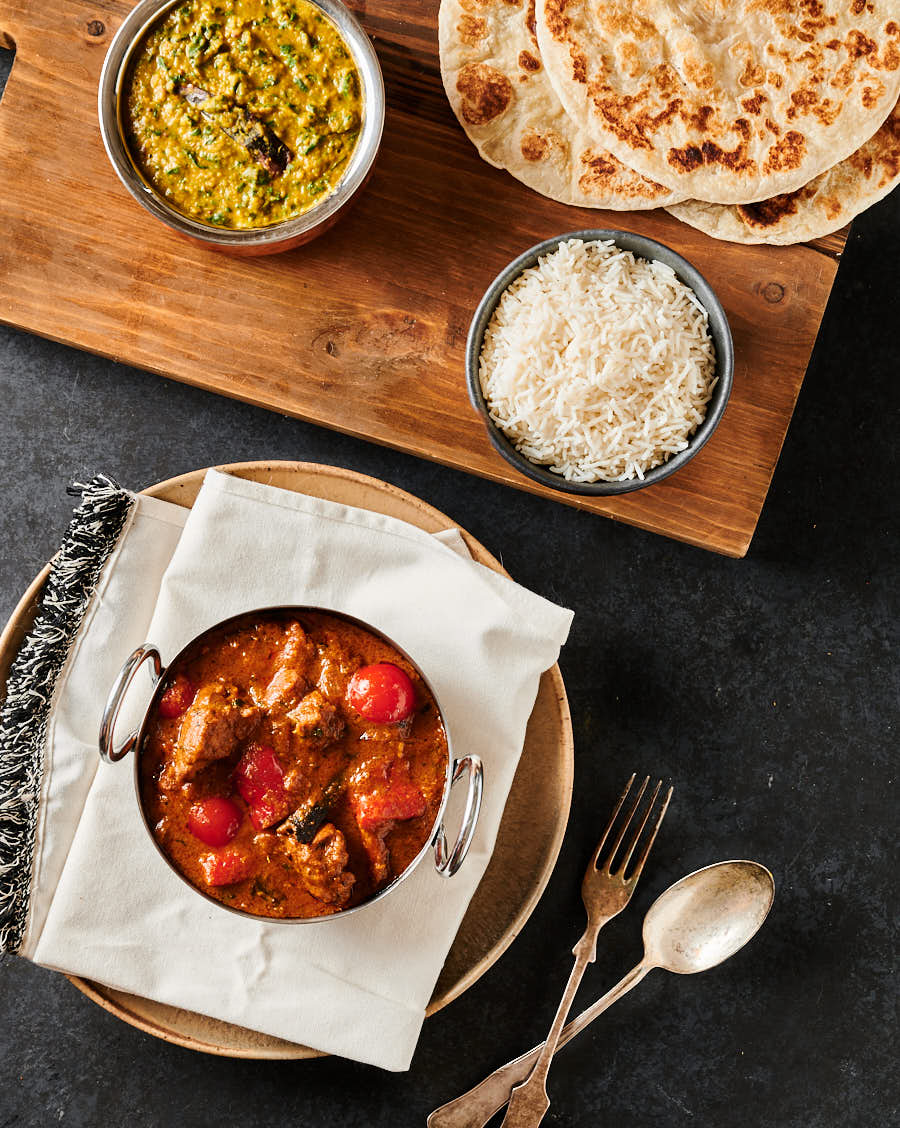 This is Indian restaurant style cooking
Indian restaurant style cooking is a little daunting at first. But it's really not that hard. And once you get it down there's nothing you can't make like you get in a restaurant. Try it. You will amaze yourself.
This is how they do it in restaurants. Not sort of. Not maybe. For real. I've been in restaurant kitchens. This is the real deal.
Not saying that I have every secret figured out. I'm still learning too. But the techniques are right. The workflow is right.
It's heavy on the prep. This dish comes together in 10 minutes. So you need to be ready.
You can't be fumbling around looking for something while you are cooking. It goes fast. Really fast.
If you've never made a real restaurant style recipe there is a detailed primer on what to expect. Complete with video.
I spent a lot of time putting it together so obviously I'm biased. But I do believe it is really worth reading before you start.
Restaurant style is not the same as homestyle Indian cooking. So don't think that you can rely on what you know. If you don't know restaurant style take a few minutes to figure it out.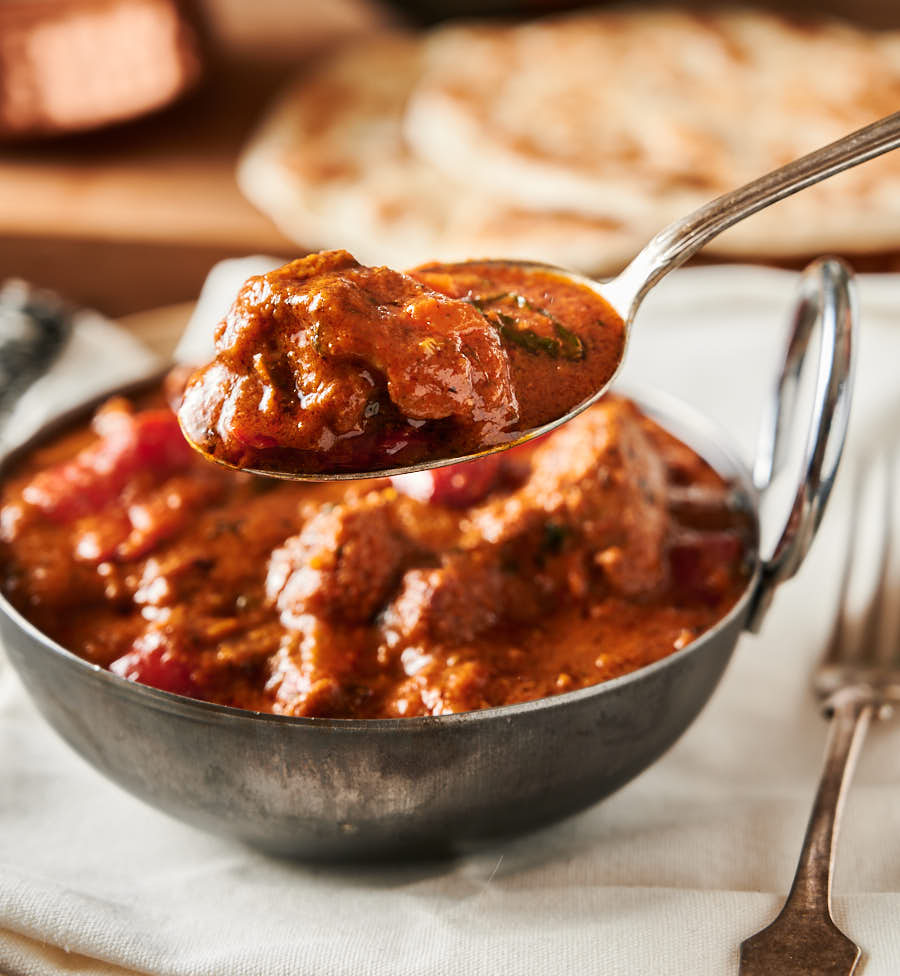 This lamb rogan josh is inspired by the homestyle version
If it isn't clear yet, rogan josh is one of my favourite Indian curries. Homestyle or restaurant style. Love them both.
I whip up big batches of homestyle rogan josh regularly. Fantastic leftovers for lunch. Which makes my friends at work a little crazy.
I don't feel too bad about that, though. When you choose to sit at lunch with a cook you get what you get. Not my fault you bought that lousy baked burrito from the cafeteria. Pretty sure if you are reading this you know what I mean.
But when I want to really spoil myself this lamb rogan josh is on my short list. Try it. Could make your short list as well…
lamb rogan josh
Make lamb rogan josh that's better than you can get at your local Indian restaurant.
Ingredients
Pre-cook the lamb
1

lb

lamb shoulder stew meat

bone in or not – up to you

1

Tbsp

curry powder

or Indian restaurant spice mix

1/2

tsp

kosher salt

enough water to cover the lamb
Spice mix
1/2

tsp

coriander powder

1/2

tsp

cumin powder

1

tsp

Indian restaurant spice mix powder

– recipe link below

1/2

tsp

tandoori masala powder

1

tsp

kashmiri chili powder

1

tsp

paprika

1/4

tsp

black pepper

1

tsp

kasoor methi

– dried fenugreek leaves

1/2

tsp

kosher salt
Restaurant lamb rogan josh
3

Tbsp

vegetable oil

1

2"

cinnamon bark

– cassia

3

green cardamom pods

1/2

small onion

cut into 1/2 inch pieces

1/4

red pepper

cut into 1 inch pieces

1

Tbsp

garlic ginger paste

– recipe link below

1

Tbsp

tomato paste

diluted in 2 Tbsp water

2

Tbsp

cilantro leaves and stems

– finely minced

1

Tbsp

natural yoghurt

15

oz

curry base

– recipe link below

1

tsp

brown sugar

or jaggery

3-4

cherry tomatoes

cut in half
Instructions
Pre-cook the lamb
This is basically the easiest stew you will ever make.

Combine the lamb, curry or mix powder, salt and enough to water to cover in a sauce pan.

Bring to a boil and then reduce heat to a simmer. Cook until the lamb is tender. This usually takes 60-90 minutes.

You can do this the day before. You can also make batches and freeze the lamb in 12 oz portions (cooked weight) to make curries whenever you'd like. That's what I do.
Lamb rogan josh
Combine the coriander powder, cumin powder, Indian restaurant spice mix, tandoori masala powder, kashmiri chili powder, paprika, black pepper, salt and kasoor methi in a small bowl. This is your spice mix.

Cut up the onion and red pepper.

Dilute the tomato paste with enough water to get to the consistency of passata.

Heat your frying pan (don't use non-stick) briefly over medium heat. Add 3 Tbsp vegetable oil. Use all the oil specified. It's important.

When the oil starts to shimmer add the cinnamon bark and green cardamom. Cook until you see little bubbles form around the whole spices.

Add the onions and peppers and cook until the onions are soft and a few are starting to brown around the edges.

Add the garlic ginger paste. Cook it, stirring constantly, until it stops sputtering.

Turn down the heat to medium low and add the spice mix. This is the critical step. Stir it constantly for about 30 seconds. If it starts to darken lift the pan off the heat. You want the spice mix to cook in the oil but not burn.

Turn the heat up to medium high. Add the diluted tomato paste and stir until bubbles form (the oil will likely separate). This takes around 30 seconds to one minute depending on the heat.

Add the cilantro leaves and stems. Cook for around 15-20 seconds.

Mix in the yoghurt. Cook, stirring constantly, for about 30-45 seconds.

Add 3 oz of curry base. Stir until bubbles form (little craters really), around 30 seconds. Watch the edges of the pan. The curry can stick here.

Now add 6 oz of curry base and stir briefly. Let it cook until the bubbles form again. This takes 1-2 minutes.

Add the rest of the curry base and let cook until the bubbles form. Turn the heat down to low and add the pre-cooked lamb and sugar.

Let the curry simmer for about 5 minutes. If it gets too thick add a bit more curry base. Don't add water.

Add the cherry tomatoes and cook until the tomatoes are just warmed through. Garnish with a bit of chopped fresh coriander if you like and serve.
Notes
Tandoori masala powder is available in any Indian grocery.
The recipe for curry base is here.
The recipe for indian restaurant spice mix is here. 
The recipe for garlic ginger paste is here.
If you haven't read about Indian restaurant technique yet, do that before you start cooking.
Have all your ingredients prepped and ready to go.
If you are making multiple curries, have your curry base warming in a pot on the stove. If you are just making one, microwave it to warm it up right before you start cooking.
Nutrition
Serving:
2
servings
|
Calories:
479
kcal
|
Carbohydrates:
21
g
|
Protein:
31
g
|
Fat:
31
g
|
Saturated Fat:
20
g
|
Cholesterol:
93
mg
|
Sodium:
1539
mg
|
Potassium:
883
mg
|
Fiber:
6
g
|
Sugar:
6
g
|
Vitamin A:
1737
IU
|
Vitamin C:
29
mg
|
Calcium:
62
mg
|
Iron:
6
mg