Easy chana masala. Big, bold Indian tastes. Simple and fast to make. Sometimes easy can be delicious. This is one of those times.
Indian cooking can seem daunting at first. The list of ingredients is long. The steps are complicated. And it can take forever to make.
The results are worth it though. You can't that magical Indian taste out of a jar. You can get something semi-decent. I'm not saying it's terrible. But it's not the same as scratch cooking.
It's the same as anything. That loving prepared lasagna vs. what you buy from the freezer aisle. See what I mean. You can't get something for nothing.
Easy chana masala is a snap to make
This is real Indian cooking. Easy Indian cooking. Almost fast food. It can be ready in 20 minutes. That's a little longer than it takes to make a decent sandwich.
I like a good sandwich. In fact I really like a good sandwich. But I like easy chana masala better. I'm betting you will too.
I'm not saying this is going to be as jaw droopingly amazing as a complicated recipe. But I am saying it will be better than you expect. For a little more work than opening up a jar and chucking some chickpeas into a pot.
A fast side dish or a vegetarian entree
I am not vegetarian. But I like vegetarian dishes. Put Indian spices and legumes together and I am happy.
This makes a blazing fast side dish. Perfect for when you are working hard to make your main dishes. One less dish to worry too much about.
It also makes a satisfying main course. It is good enough to be the star of a weeknight dinner. With some flatbread and a salad. Good living. For me anyway.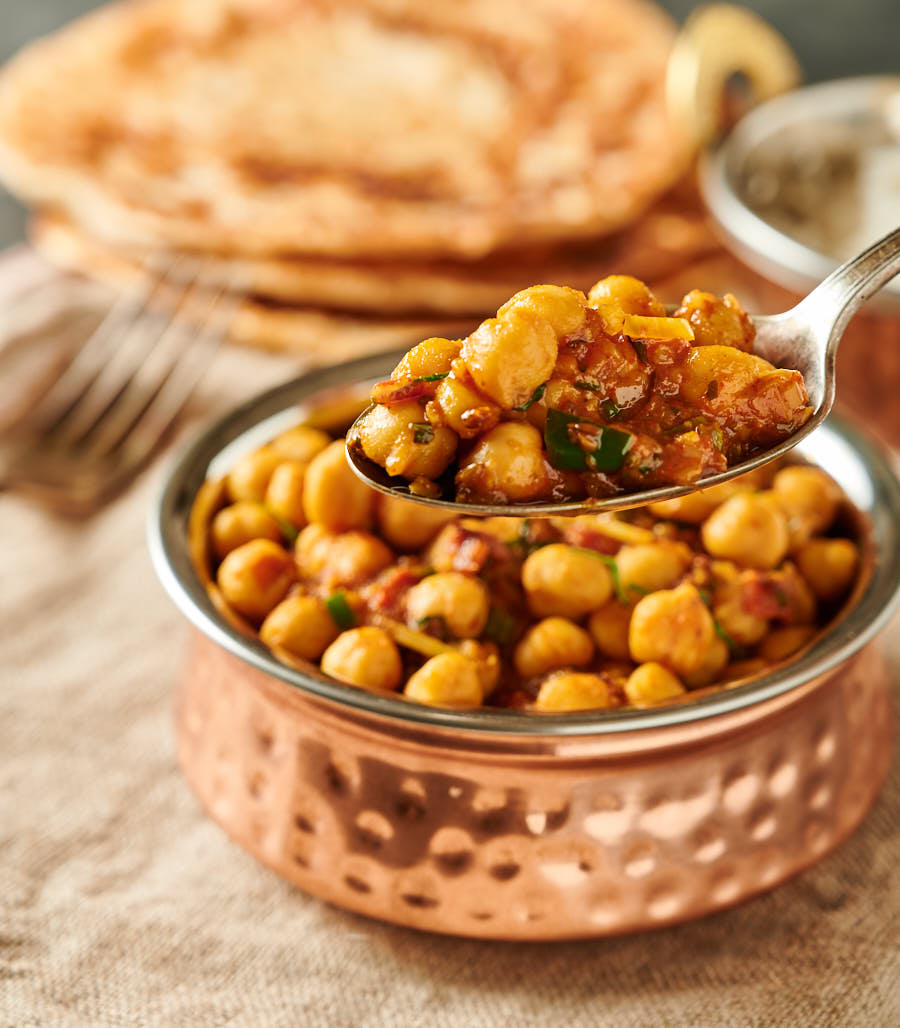 Easy chana masala is real Indian cooking technique
Easy chana masala is a really a lesson in basic Indian cooking. If you are new to it this covers techniques used in many Indian dishes.
Cooking with whole spices. Check. Blooming your ground spices. Check. Making a simple masala. Check. All this in 20 minutes.
Indian recipes usually go something like this. Start your whole spices in hot oil. This one has whole cumin seed. Next come the onions. Always onions.
In easy chana masala the onions are cooked until translucent. That's a little different. Usually onions are cooked until they are deeply browned. That is where the body of the sauces comes from. But you get the idea.
Next come the chilies, garlic and tomatoes. That's the start of a masala. After that it's the ground spices. All that gets cooked together. Brings the flavours together.
A little ginger. Some cilantro. And the chickpeas. A little water to make a little bit of sauce. Done.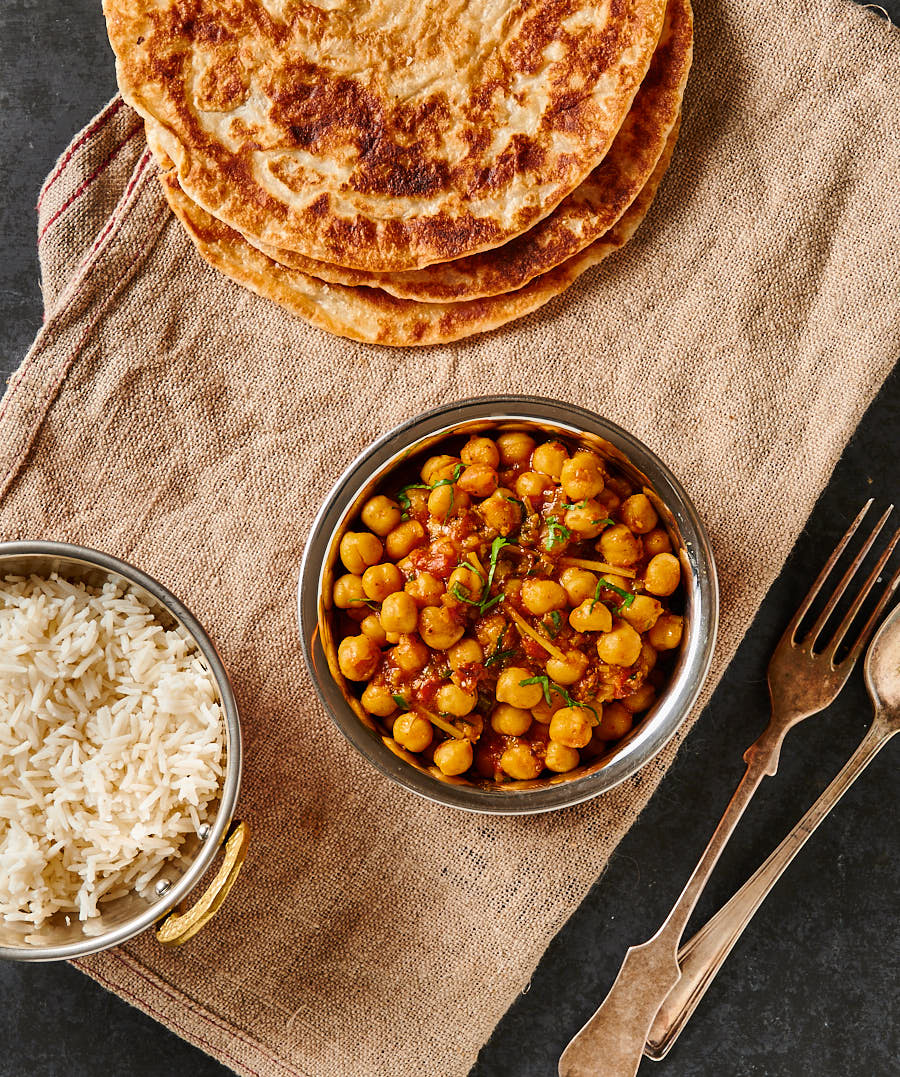 Make sure your chickpeas are tender
If you have the time to cook your chickpeas from dried then you should be good to go. But if you are making easy chana masala using canned chickpeas you need to check them before you start cooking.
I don't know why but some chickpea brands are toothy. Others are creamy. Even within a brand I see variation. For this recipe you want creamy. Tender.
Toothy isn't bad, mind you. But creamy is better. So check your chickpeas. If they are toothy think about cooking them in some water for a while. To soften them up. Shouldn't take too long. It's not 20 minutes anymore though.
You can enjoy really good Indian every day. It can be easy. It can be fast. You don't need 10 different dishes. One will do. This one for instance.
Easy chana masala. Dinner in 20 minutes. Anyone can do that.
easy chana masala
Easy chana masala is a delicious, vegetarian Indian dish that can be ready in under 20 minutes.
Ingredients
2

Tbsp

neutral oil

(e.g. canola)

1

tsp

cumin seeds

4

Tbsp

onion

- finely diced

2

cloves

garlic

- crushed

1

green chili

- finely diced

3

Tbsp

fresh tomato

- diced

1 1/2

tsp

tomato paste

- mixed with a couple tablespoons water

1/4

cup

water

20

pieces

finely julienned fresh ginger

1

Tbsp

cilantro

- minced

1 19

oz

can chickpeas

A bit of cilantro and diced tomato to garnish
Spice Mix
1/2

tsp

garam masala

1

tsp

kasoor methi

fenugreek leaves

1/4-1

tsp

mild kashmiri chili powder

1/4 tsp is medium heat, 1 tsp is pretty hot

1

tsp

Indian restaurant mix powder or curry powder

- recipe link below

1

tsp

chana masala spice mix

- store bought or another tsp of curry powder

1/2

tsp

kosher salt
Instructions
Prep your ingredients. Chop the vegetables. Make the spice mix, Drain and rinse the chickpeas. Mix the tomato paste with water.

Heat a skillet over medium heat.

Add the vegetable oil.

Add the cumin seed and cook until it sizzles. This should happen almost instantly.

Cook the onions until they are soft and translucent, about 1-2 minutes.

Stir in the garlic, green chili and diced tomato.. Cook one minute, stirring occasionally.

Turn the heat down. Add the spice mix and cook 20-30 seconds.

Add the diluted tomato paste, turn the heat up and cook for 30 seconds or so.

Mix in the ginger, cilantro and water.

Add the chickpeas.

Reduce the heat and cook, stirring, until the chickpeas are warmed through.

Garnish with tomato and cilantro and serve.
Notes
A recipe for Indian restaurant spice mix can be found here. Substitute any curry powder if you like.
Nutrition
Serving:
2
servings
|
Calories:
393
kcal
|
Carbohydrates:
44
g
|
Protein:
15
g
|
Fat:
20
g
|
Saturated Fat:
12
g
|
Sodium:
1453
mg
|
Potassium:
534
mg
|
Fiber:
14
g
|
Sugar:
3
g
|
Vitamin A:
395
IU
|
Vitamin C:
9.2
mg
|
Calcium:
110
mg
|
Iron:
4.7
mg