Mexican chicken with roasted tomato salsa upscales Mexican into dinner party territory. Two simple ingredients come together with a bit of classic technique to make this something that is more than the sum of the parts.
Just reading the ingredients doesn't give you the picture. This is not chicken with tomato sauce. Not even close. It's big Mexican flavours. But deep, earthy tastes. A wonderfully unexpected result.
It's about the salsa
Roasted tomato salsa is made from almost exactly the same ingredient list as pico de gallo. But the result is completely different.
Dark and sumptuous. Complex. Super savoury. Not at all like the bright, vibrant pico flavours. Isn't cooking amazing?
Roasted tomato salsa recipes are all over the internet. I think I counted about 7 million. The world does not need another version. This is not another roasted tomato salsa recipe. I did it only to show you how you can use it to make something special.
Technique brings this chicken with roasted tomato salsa home
Classic technique is what brings this all together. Makes it more than just chicken with salsa.
The secret is deglazing the pan with the salsa. Pouring the salsa into the pan and scraping up all the goodness in the bottom. It's also about cooking the salsa in a bit of chicken fat. Something about that step is pure magic.
When you deglaze your roasting pan with it, it picks up the flavours of the chicken. It suddenly goes from salsa to sauce. Really, really good sauce.
This may not be intuitive but it works. And it works well.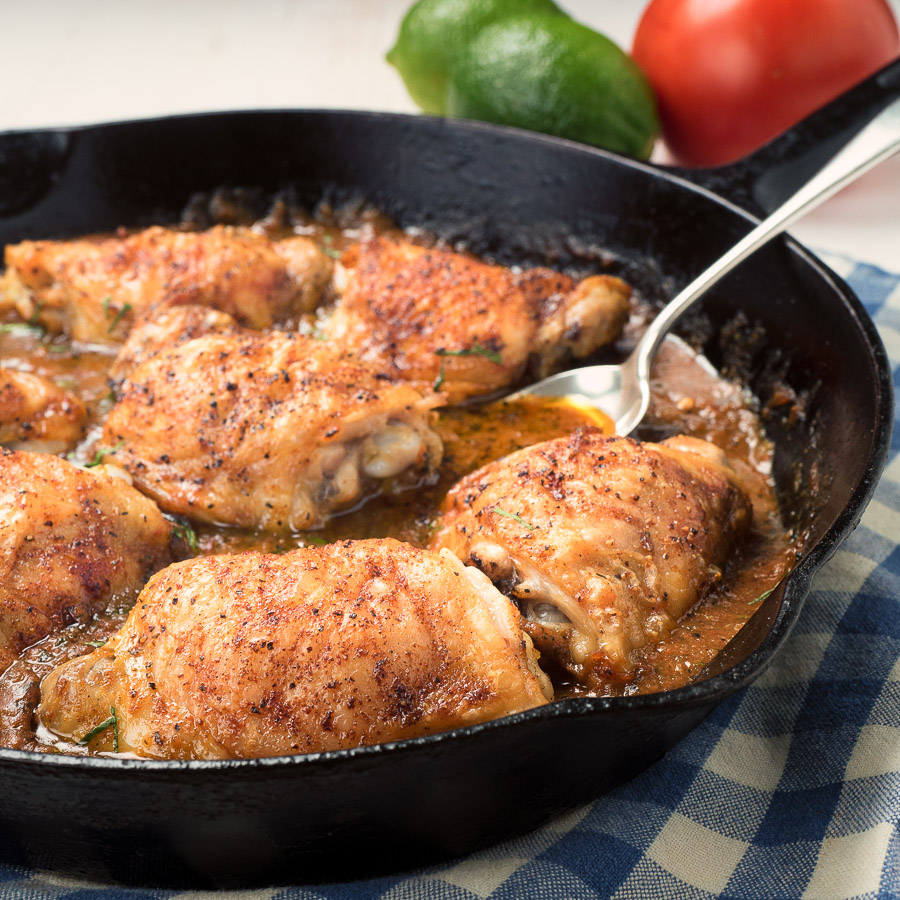 Try Mexican chicken with roasted tomato salsa served on a smear of puree of jalapeño flavoured pinto beans.Or black beans with cumin and lime.
Surrounded by a generous drizzle of sauce. Garnished with a bit of cilantro. Or a bit of pico or prickly pear salsa.
Like I said – dinner party territory.
mexican chicken with roasted tomato salsa
Mexican chicken with roasted tomato salsa turns everyday ingredients into an upscale dinner.
Ingredients
Roasted tomato salsa
4

large plum tomatoes

- cut in half widthwise, ends trimmed off and seeded

1-2

jalapeno peppers

4

cloves

garlic

- skins left on

1/2

white onion

- coarsely chopped (really coarsely chopped)

1-2

tsp

vegetable oil

handful of cilantro

lime juice

- to taste

1/2

tsp

salt

- again, really to taste
Mexican spice rub
2

tsp

pure mild chili powder

- ancho or New Mexican red work well

1/2

tsp

granulated garlic

1/2

tsp

granulated onion

3/4

tsp

cumin powder

1/2

tsp

Mexican oregano

- don't substitute regular oregano - if you don't have it just leave it out

1/2

tsp

salt

1/3

tsp

black pepper

8

chicken thighs or 4 chicken breasts

bone-in, skin-on

1/2

cup

chicken stock
Instructions
Roasted tomato salsa
Pre-heat your broiler.

Place the tomatoes, onions, jalapeño and garlic on a cookie sheet.

Drizzle the onions with a bit of vegetable oil.

Broil the vegetables until the garlic skins are coloured and the garlic softens.

Remove the garlic and continue broiling the tomatoes start to blacken. Turn your jalapeños regularly and watch the onions. I can't tell you how long this takes. I don't know how mean your broiler is.

Combine the roasted vegetables with the cilantro in a food processor and whiz until you get a smooth salsa texture.

Add lime and salt to taste.
Mexican spice mix
Combine all the spice mix ingredients and mix.
Mexican chicken with roasted tomato sauce
Pre-heat your oven to 400F.

Pre-heat a cast iron or similar frying pan large enough to hold the chicken in a single layer.

Rub a bit of oil on the chicken and season with the spice mix.

Roast the chicken until done. For breasts you want an internal temperature of 165F. For thighs go to 175F.

Remove the pan from the oven, remove the chicken and spoon off the visible fat. Be careful to leave all those brown bits and any liquid in the pan.

Place the pan over medium heat. Place a towel or something on the handle because you will grab it and burn your hand badly if you don't.

Add about 1 1/2 - 2 cups salsa to the hot pan, stirring up all those brown bits. These are the flavour bombs. Cook for about 1 minute.

Add enough chicken stock to get to a saucy consistency and bring to a simmer.

Taste and adjust for salt.

To serve, spoon the sauce onto a plate and top with the roasted chicken.
Notes
The roasted salsa on it's own is a great alternative to every day pico. More of an earthy taste. To use it like salsa thin it with a bit of water.
The spice rub can be used in any Mexican dish.
Nutrition
Serving:
4
servings
|
Calories:
538
kcal
|
Carbohydrates:
7
g
|
Protein:
38
g
|
Fat:
39
g
|
Saturated Fat:
11
g
|
Cholesterol:
221
mg
|
Sodium:
791
mg
|
Potassium:
694
mg
|
Fiber:
1
g
|
Sugar:
2
g
|
Vitamin A:
1130
IU
|
Vitamin C:
14.6
mg
|
Calcium:
41
mg
|
Iron:
2.3
mg