Gyudon is that beef rice bowl you see everywhere in Japan. It's delicious and it's super easy to make. Japanese fast food.
There's nothing to it. Beef, onion and a simple sauce served up on a bed of rice. Maybe topped with a poached egg if you want to get really fancy. Some pickled ginger. A bit of green onion.
Gyudon is the Yoshinoya beef bowl
This is that beef bowl. The Yoshinoya beef gyudon. The Japanese equivalent of the fast food burger.
Yoshinoya is a chain that's all over Japan. There's a few in California as well. I still remember the first time I had it. Love at first bite.
Like most things Japanese there's more than meets the eye. Yoshinoya has been serving up gyudon since 1899. Yes, I got the date right. And it's huge. Everywhere.
It's not even the biggest gyudon restaurant chain in Japan. That title goes to Sukiya. Another huge chain. Haven't been to Sukiya. Will have to try that next time.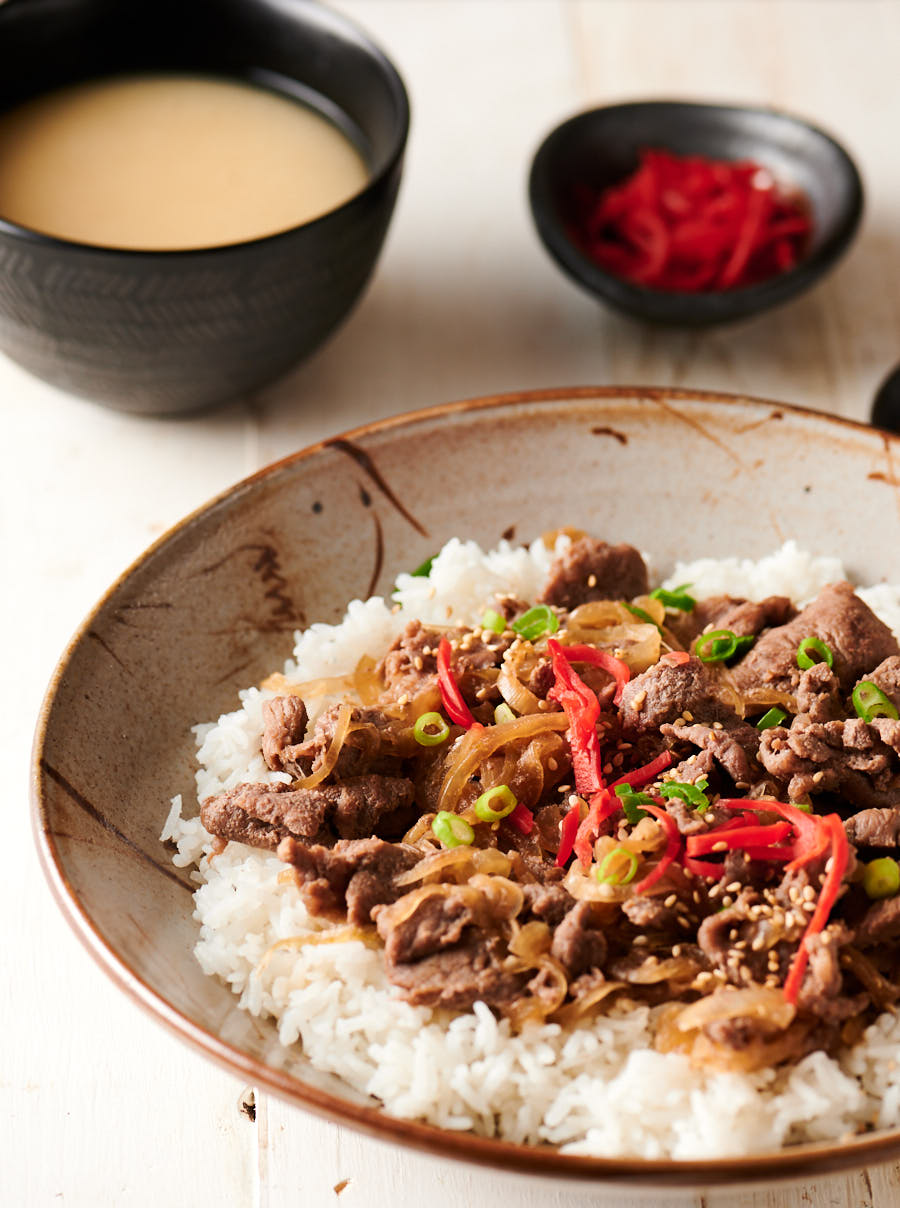 Japanese beef and rice bowl with one extra ingredient
There are a few gyudon recipes out there. And they are all pretty much the same. This one has one extra ingredient. Miso. Just a little extra umami goodness in this version.
I'm not sure why nobody else is doing it. Maybe it's not authentic. But if you go to the Yoshinoya website and look at the description of their gyudon it says miso. So I add miso. Everything is better with miso anyway.
If you are making miso soup to go with your gyudon dinner then use the broth. Just make a little extra. Add a bit more miso to that and you are good to go.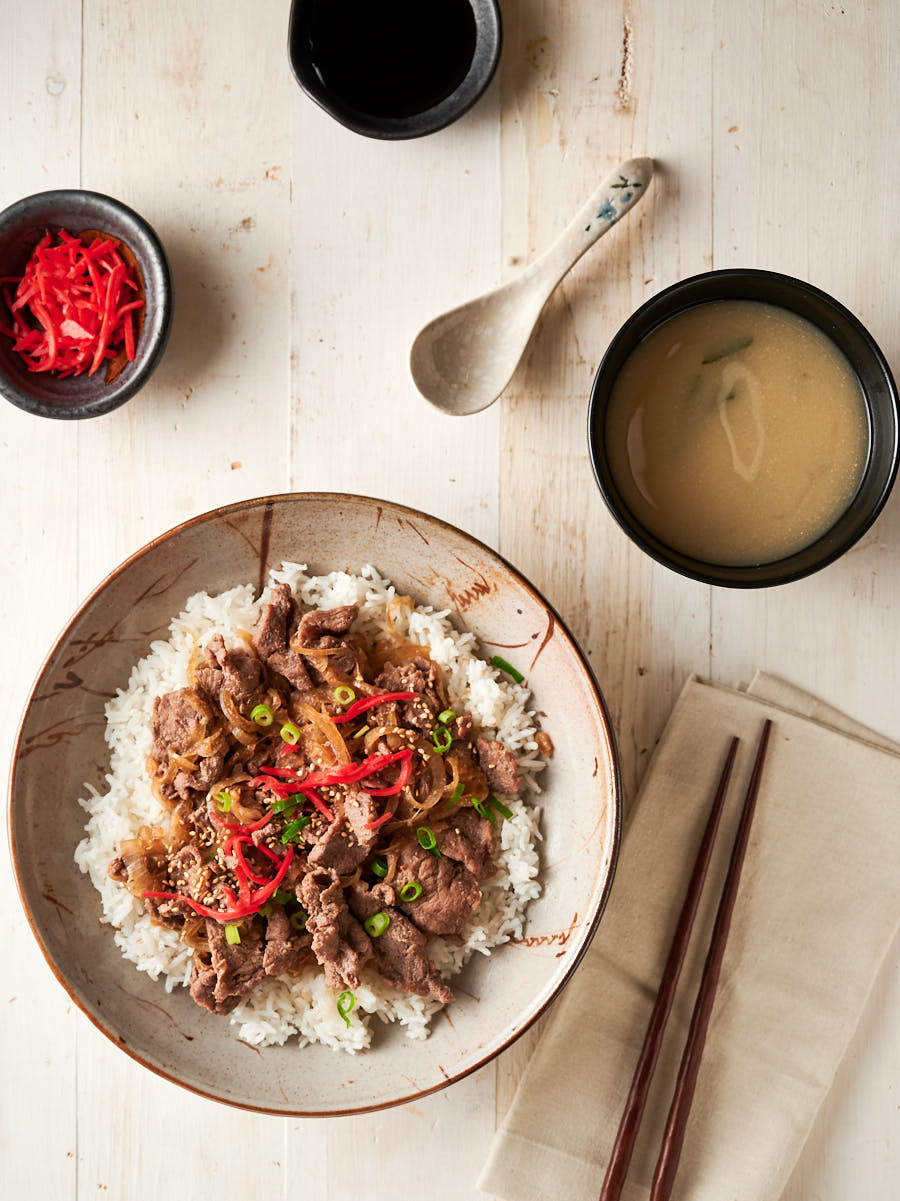 Slice your beef thin
This isn't as easy at it sounds. For one you need to cut against the grain. So you need a small roast. You can't buy a steak and do this.
Steak is already cut against the grain. If your steak is an inch thick then your grain is an inch long. Trying to slice that is near impossible.
You have a few choices. You can go to an Asian market. They often have sliced beef. Nice and thin. Easy. Look in the freezer section if they don't have fresh.
Talk to your butcher. They know what they are doing. Tell them you want it sliced carpaccio thin. They will fix you up.
Or you can buy a small boneless roast. Top sirloin works well. Chuck in the freezer for about an hour. That firms it up nicely. Get out your sharpest knife and slice away. If you have good knife skills you can do this. That's what I do. Just remember. Across the grain.
A few ingredients aren't going to be at your local grocery store
Or maybe they are. Depends where you live I suppose. I need to go to an Asian market. There are a few ingredients you may not yet know.
Hon-dashi is instant dashi. You can make your own dashi. It's easy enough but you need to have the ingredients on hand. Hon-dashi is like instant Japanese stock. Takes about a minute to make.
Beni-shoga is red pickled ginger. Tastes pretty much like any other pickled ginger to me so if you have any pickled ginger you are good. Close enough.
Shichimi togarashi is Japanese seven spice. It's a table seasoning. I like it on lots of stuff. It's worth trying to find.

Absolutely fool proof cooking
This has to be about the easiest dish around. Literally. Mix up your sauce. Simmer your onions in the sauce until soft. Add the beef. Cook some more. Eat.
This is Japanese fast food. Better for you than a fast food burger. Tastier too. Fast food doesn't have to be a guilty pleasure. Sometimes, it can just be a pleasure.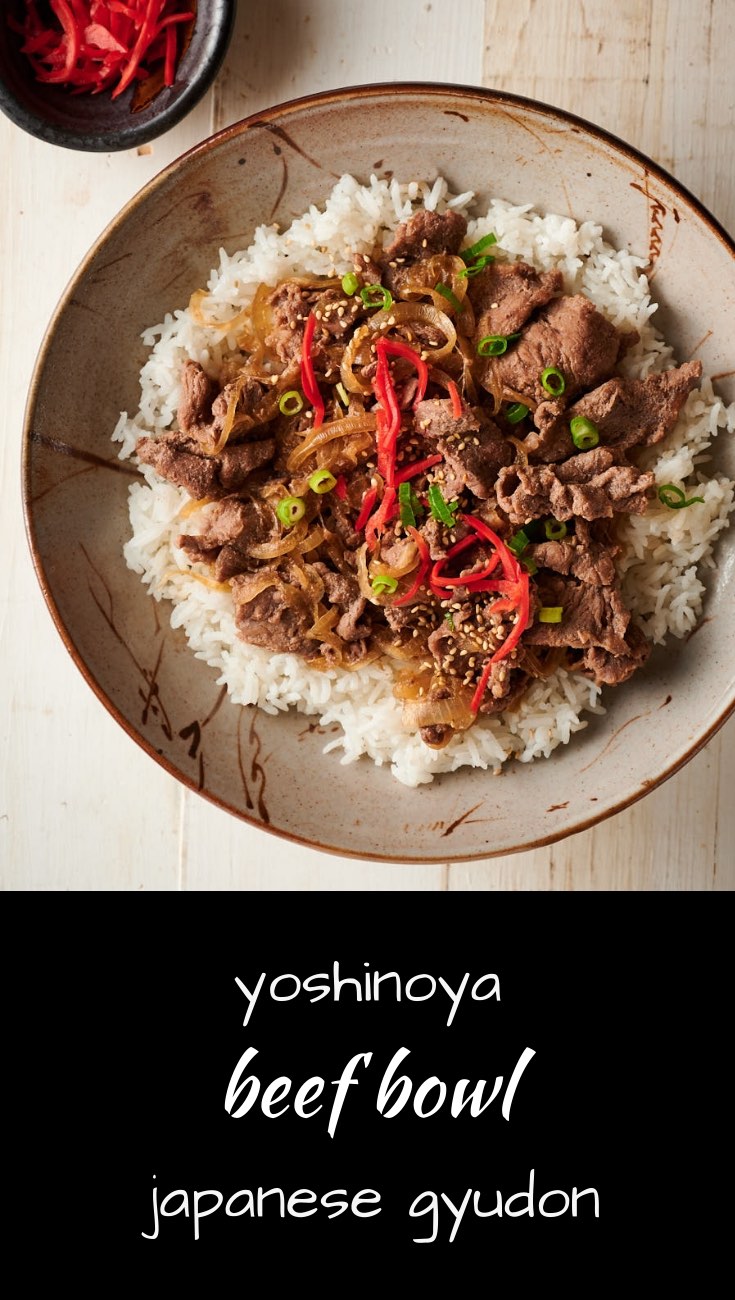 gyudon - japanese beef bowl
Just because it's fast food does not mean it's not delicious. If you like Japanese you will like this.
Ingredients
gyudon
12

oz

thinly sliced ribeye or sirloin

1/2

large

onion

sliced thinly

1/2

cup

dashi

made from hon-dashi (see note below)

2

tbsp

mirin

3

tbsp

sake

2

tbsp

low sodium soy sauce

2

tsp

sugar

to taste

1

tbsp

shiro miso

- white miso
To serve
short grain white rice

pickled ginger

green onion

shishimi togarashi

poached egg

(optional)
Instructions
gyudon
Combine dashi, mirin, sake, soy and sugar in a wok or saute pan large enough to hold all the ingredients. Bring to a simmer over medium low heat.. 

Mix in the miso. One trick I like is to put the miso in a small strainer and work it through into the soup base. That way you aren't chasing miso around pan. That sucks.

Add the onions, bring to a simmer and cover. Cook until the onions are soft. This takes about 5 minutes.

Add the beef and continue cooking until just done. This takes no time at all. It depends on how thinly sliced the beef is, of course. Few minutes max.

At this point taste. It may need more salt. That's why I use low sodium soy. Easy to add salt. Impossible to take it away.

Serve over rice and garnish with pickled ginger, green onion, sesame seeds and shichimi togarashi. A poached egg makes a nice addition. The creamy egg yolk with the beef and rice. Yum.

A bowl of miso soup makes a great start to this meal.
Notes
Hon-dashi are little granules of instant dashi. To make it simply add 1/2 tsp of hon-dashi to every cup of water. Bring to a simmer and cook for a couple minutes. Just as easy as that. 
Nutrition
Serving:
2
servings
|
Calories:
351
kcal
|
Carbohydrates:
19
g
|
Protein:
40
g
|
Fat:
8
g
|
Saturated Fat:
3
g
|
Cholesterol:
103
mg
|
Sodium:
1273
mg
|
Potassium:
735
mg
|
Fiber:
1
g
|
Sugar:
10
g
|
Vitamin C:
2.8
mg
|
Calcium:
75
mg
|
Iron:
3.4
mg