This Japadog inspired terimayo hot dog is a hot dog jacked up with home-made teriyaki sauce and Japanese mayo. It's not like any hot dog you have had before.
Never heard of Japadog? Not a huge shocker. It's a guy in Vancouver with a street cart. A bunch of street carts in fact. Making all sorts of funky Japanese influenced hot dogs. Street food. Every city has it. Vancouver has the Japadog.
But it's not just Vancouver anymore. They have street carts in LA now. And Santa Monica. How long can it be before Japadog rules the world? 100 years I think. Max. But you don't have to wait. You can make this at home.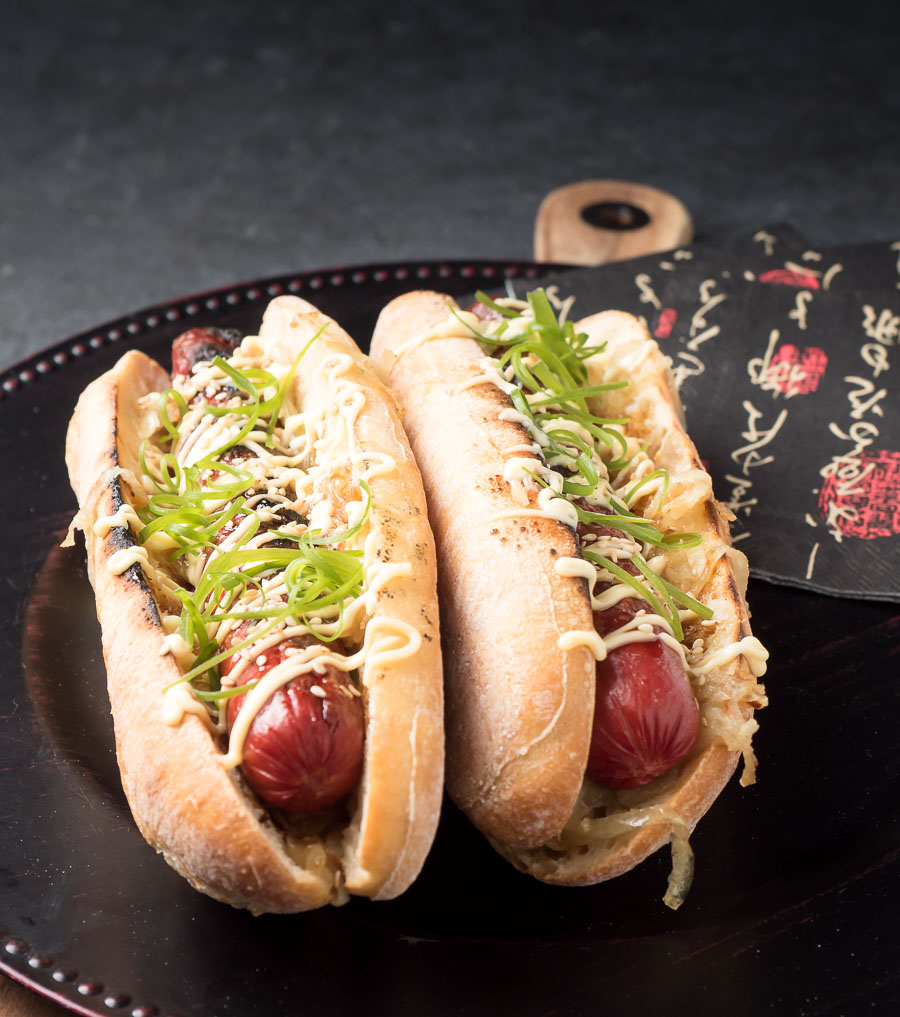 Japadog is the next hot dog craze
Still not convinced? Google Japadog Bourdain. There's a clip on youtube. Ignore the part where he berates his producer. That's a joke. If you watch the whole episode you'll see.
To be fair, Bourdain is a fan of meat in tube form. Period. So he is pre-disposed. Favourably biased. A fan really. Don't think I have ever seen him turn his nose up to to any tube steak.
But it is good. I like it. A lot. And I don't really like hot dogs. The terimayo and the bahn mi versions are about all I go for. Maybe a Chicago dog once in a while.
This is a glebekitchen twist on the Japadog Terimayo. They serve it with slices of nori. I like green onions better. So this one has green onions.
But you could add the nori back in if you want the real deal. Just slice some up. Sprinkle it on top. No big deal. Try it both ways.
I will post a banh mi version at some point. But this isn't going to become hotdog.com. Don't worry…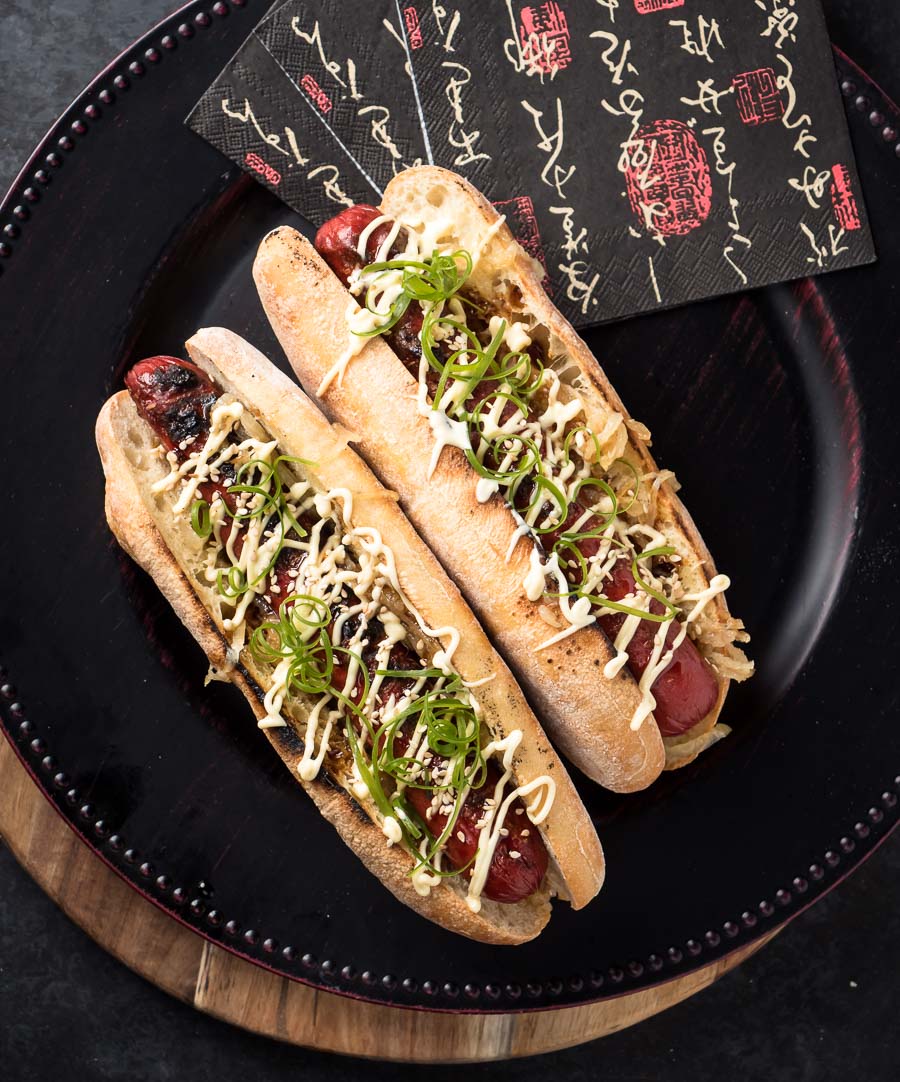 Japanese mayo is not the same
The most important thing about the terimayo hot dog is the mayo. This is a Japanese hot dog. Japanese mayo is critical. It is different. Very different. Not Hellmann's. Not Duke's. Just not the same. So don't try. It's wrong.
It's not hard to find. Japanese mayo goes by the name Kewpie mayo. Hard to believe. But true. You can get it in most Asian markets. It's a secret ingredient.
Even if you don't try this recipe get some Kewpie mayo. Try it. It is amazing stuff. I love my Hellmann's. But for certain things, Kewpie cannot be beat.
This isn't the easiest hot dog you are ever going to make. You need to fry down onions. Make teriyaki sauce. Find Kewpie mayo. Quality hot dogs. Good buns. But it's worth it. Japadog style terimayo hot dogs. Sounds crazy. But it's really good.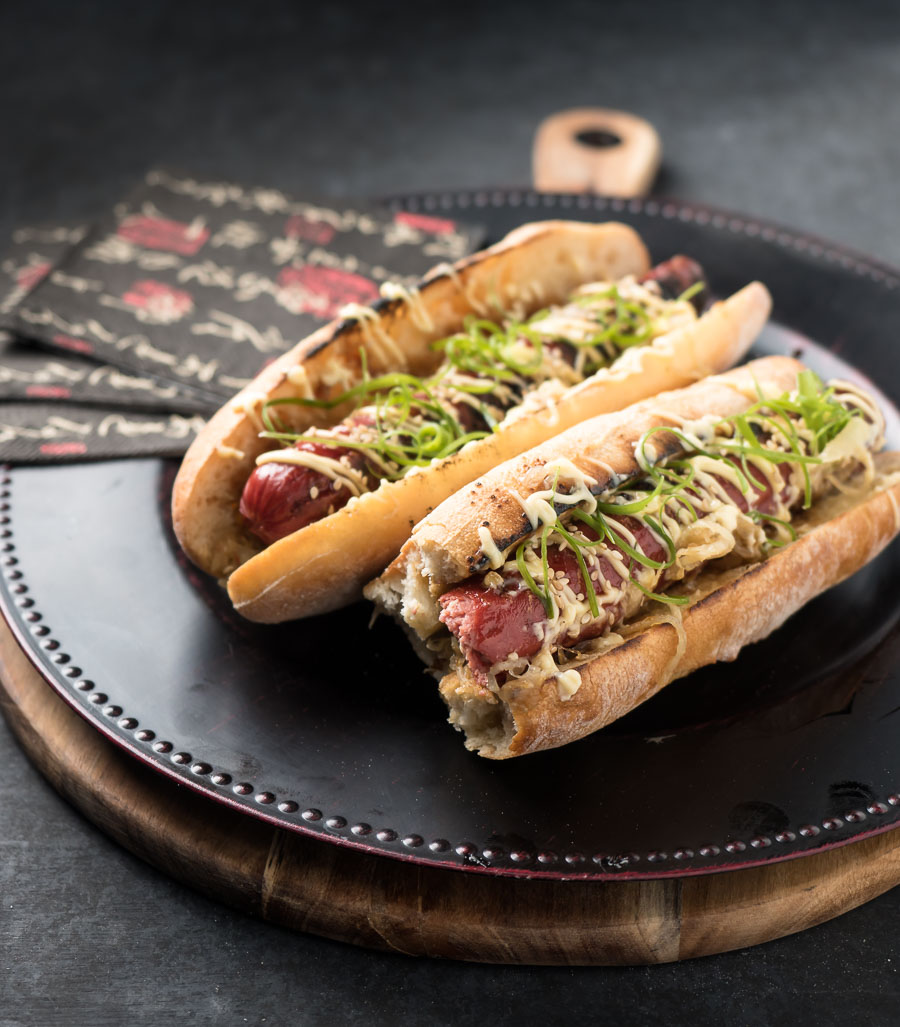 japadog style terimayo hot dogs
Japadog style terimayo hot dogs are not like any hot dog you have ever had. Think teriyaki sauce, Japanese mayo and fried onions.
Ingredients
6

large

hot dogs

- whatever you like but big..

6

hot dog buns

- better quality is better but you don't want a huge amount of bread so huge is not good.

3

cooking onions

- sliced thin

6

tbsp

Japanese Kewpie mayonnaise

- more or less. You are drizzling to taste.

4

tbsp

vegetable oil

shichimi togarashi

- optional and to taste

green onions, sesame seeds and nori

- whatever works for you
Teriyaki sauce
1/4

cup

soy sauce

1/4

cup

mirin

3

tbsp

brown sugar

1/2

tsp

sesame oil

1 1/2

tsp

cornstarch
Instructions
Teriyaki sauce
Combine all the ingredients except the cornstarch in your smaller sauce pan.

Bring to a simmer over medium low heat. Reduce heat and simmer for 10 minutes, uncovered. Simmer. If you go higher than a simmer you will boil it dry and you will not be happy. Best to keep an eye on it in any case.

Mix the cornstarch with a splash of water to form a slurry. Stir the slurry into the simmering teriyaki sauce. Simmer another 1-2 minutes until thickened. Cool. Set aside.
Fry the onions
No rocket science here. Pull out a big frying pan. Heat the oil over medium heat.

Add the onions and cook until they are a melting mess of tasty. Super soft. Reduced. Tasty, mushy delicious. That's what you are after. You will need to watch them. Sprinkle with a bit of shichimi togarashi if you like. This isn't critical - just another little something.
The hot dogs
Grill the hot dogs until they are warmed through and look good. Grill the buns. Just like normal. Nothing special here.
Assemble the Japadog terimayo hot dog
Line up the toasted buns. Place 1/6 of the fried onions in each bun. Put the hot dogs on top of the onions. Drizzle with teriyaki sauce and Kewpie mayo. Don't skimp. This is the flavour. Top with sesame seeds and green onions.
Nutrition
Serving:
6
g
|
Calories:
470
kcal
|
Carbohydrates:
45
g
|
Protein:
10
g
|
Fat:
28
g
|
Saturated Fat:
11
g
|
Cholesterol:
26
mg
|
Sodium:
1227
mg
|
Potassium:
228
mg
|
Fiber:
1
g
|
Sugar:
13
g
|
Vitamin A:
10
IU
|
Vitamin C:
4.6
mg
|
Calcium:
104
mg
|
Iron:
2.9
mg