You don't need to look beyond chicken 65 to find a killer appetizer for your next Indian inspired dinner party. It is just that good.
Not a huge shocker. It's spiced, deep fried chicken bites. Not good enough? Toss those morsels of chicken with some more spice and crispy fried curry leaves.
Still not good enough? Serve it up with bits of shallot, green chili and cilantro. Still not good enough? I can't help you. Sorry.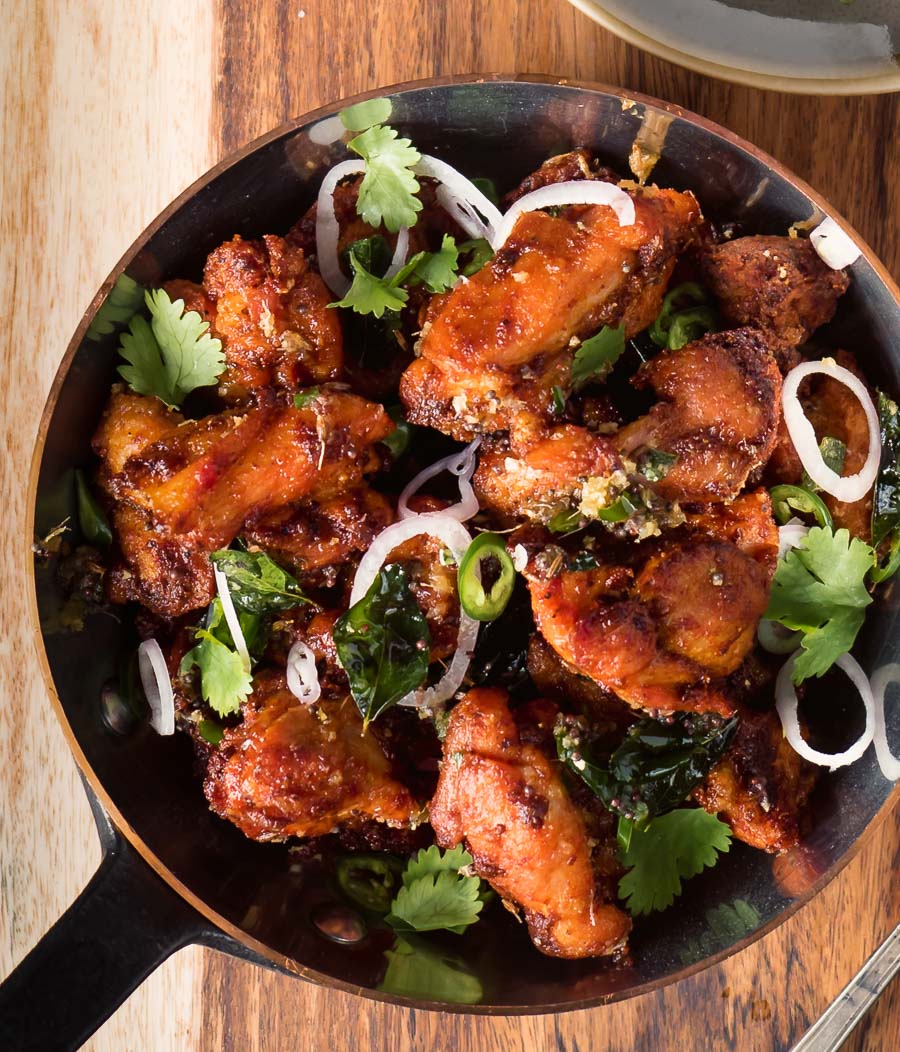 Chicken 65 is the ultimate Indian party snack
But this is the ultimate Indian nosh. You could serve it on greens. You could maybe wrap it in Indian flat bread. But I say just serve it up. On a platter. With toothpicks for people to serve themselves.
Grazing style. With drinks. Make lots. They will want more.
Chicken 65. Strange name. And nobody knows why it's chicken 65. Some say it cost 65 rupees originally. Others say it was invented in a hotel kitchen in 1965.
I say it's 65 times better than chicken fingers. Seriously though. Who really cares? Chicken 65 is just good. What else matters?
There's not a lot too it. Mix some chicken up with spices. A bit of cornstarch to crisp things up. Let it sit for while. Make a seasoning paste. Fry up some chicken. Toss it in the seasoning paste. Garnish. And dig in. No dip required. Just eat. And smile.
Deep frying technique is key
Deep frying isn't that tricky if you know what you are dealing with. Invest in a candy thermometer. You don't have a chance if you don't know what temperature your oil is at.
If you have a cast iron skillet that works really well for deep frying. Bit of science. More mass. More thermal stability. That means the heavier the pan, the longer it takes for it to heat up or cool down. That's good when you're deep frying.
Get everything to the right temperature. That heavy pan will help keep you there. That's important. When the oil temperature drops too much you get that awful oil laden, greasy crap.
Keep it hot and you get crispy. Not greasy. Good. That's what you want.
Fry in small batches. Add too much chicken to the oil at once and the temperature drops too much. Restaurants can get away with more food per batch.
That's because those deep fryers have a lot of oil. A lot of oil means stable oil temperature. So no greasy crap.
Chicken 65. Strange name. Good eating. It's addictive. Don't say you weren't warned…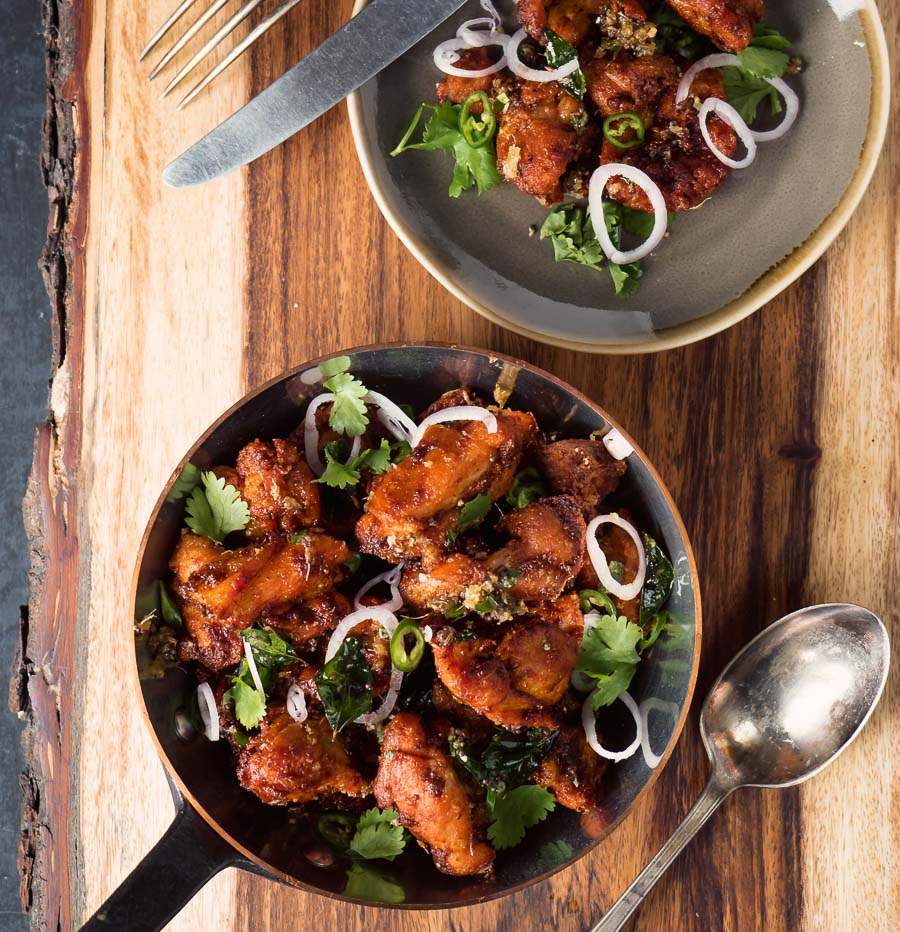 chicken 65
Chicken 65 is a super tasty south Indian snack or appetizer.
Ingredients
6

boneless, skinless chicken thighs

cut into bite sized pieces

vegetable oil for deep frying
Chicken 65 seasoning
1 1/2

tsp

kashmiri chili powder

1 1/2

tsp

paprika

1/2

tsp

black pepper

1/2

tsp

tandoori masala

(optional - for colour)

1

tsp

garam masala

1

tsp

kosher salt

2

tsp

corn starch
Chicken 65 tempering (the final flavour blast)
2

tbsp

vegetable oil

1/2

tsp

cumin seed

1/2

tsp

mustard seed

1

tbsp

garlic ginger paste

1-2

green chilies

- finely diced

20

fresh curry leaves

- if you can get them
Instructions
Make the tempering
Heat the oil in a frying pan until it just shimmers. Add the cumin and mustard seeds and fry about 20 seconds. Add the curry leaves and fry another 10 seconds or so. Add the garlic ginger paste and green chilies and cook until the garlic ginger paste stops sputtering. Set aside.

Combine the chicken 65 seasoning ingredients. Mix well with the chicken thigh pieces. Let sit, covered, in the fridge for about 2 hours.

Heat enough vegetable oil come up about 1 inch in a cast iron frying pan. Try to regulate your heat so the oil is at 350F. This isn't easy. Take your time. Use a candy/deep frying thermometer.

Fry the chicken in 3 batches. It doesn't doesn't take long. You want an internal temperature of 165F - around 3-4 minutes. Depends on the temperature of the oil and the size of the chicken pieces...

As the batches of chicken cook, add them into the frying pan with the tempering. Toss to combine. Add a bit of salt to taste. Garnish. Cilantro, sliced shallots or mild onion and green chili slices all work well.
Nutrition
Serving:
4
g
|
Calories:
280
kcal
|
Carbohydrates:
3
g
|
Protein:
33
g
|
Fat:
14
g
|
Saturated Fat:
7
g
|
Cholesterol:
161
mg
|
Sodium:
788
mg
|
Potassium:
454
mg
|
Fiber:
1
g
|
Vitamin A:
765
IU
|
Vitamin C:
1.3
mg
|
Calcium:
19
mg
|
Iron:
2
mg