Beef massaman curry is a mild, balanced Thai curry that's long on flavour. A little bit sweet. Salty. A little bit sour.
This isn't red curry or green curry. It's not your usual Thai curry. But it's delicious. Really satisfying. Think Thai beef stew.
Beef massaman curry is the old world culinary fusion
As far as Thai curries go massaman curry is probably one of the most approachable. It has none of the fire of red or green Thai curries. The spicing is different too. Closer to Malaysian or Indian.
That's because it's some of the original culinary fusion. Fusion isn't new. Not trendy. It's been going on as long as people have been moving about the globe. This is 300 year old fusion. But once upon a time it was new.
Gotta love immigration. Some Persian merchant shows up in Thailand with some new spices. Talks to some cooks. Somebody tries it. Makes some beef massaman curry. Tells somebody else. And a classic is born.
That's one theory anyway. Hard to say exactly what went on back then.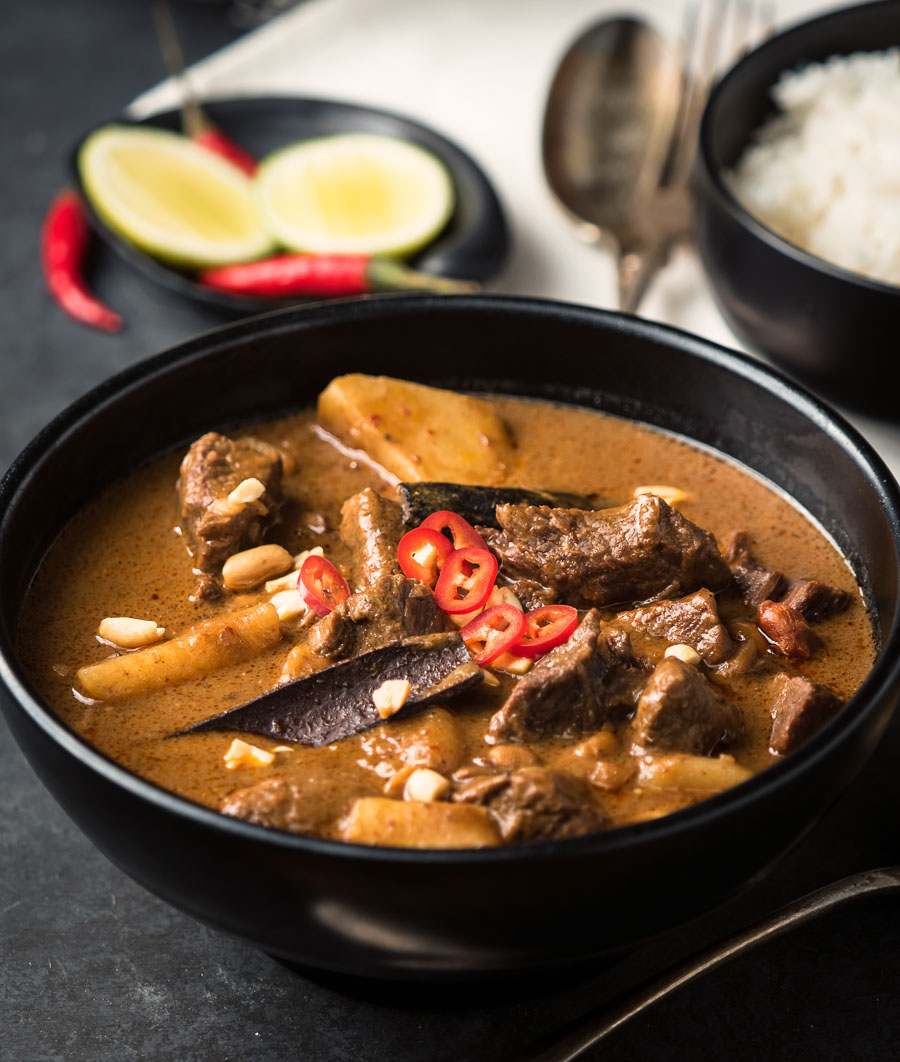 But no matter what theory you subscribe to it's tasty eats. And in the end that's all that counts.
And if you really push your imagination this is beef stew. It's beef and potatoes. Seriously. Maybe a few extra ingredients thrown in but still beef and potatoes.
This is the easy version
This is easy beef massaman curry. So there are some short-cuts. Massaman curry paste is the big one. It's from a can. I know. Not as good as made from scratch. That's true.
Not sorry though. I could do this the hard way. Send you shopping for a long list of ingredients. Add another 20 minutes to the prep time.
But this is easy beef massaman curry. Never said it was authentic from scratch beef massaman curry. It's still really good. Like 90 percent of the way there.
If you want authentic and complicated, there's lots of that on this blog. Look around. But every now and then easy isn't a bad thing.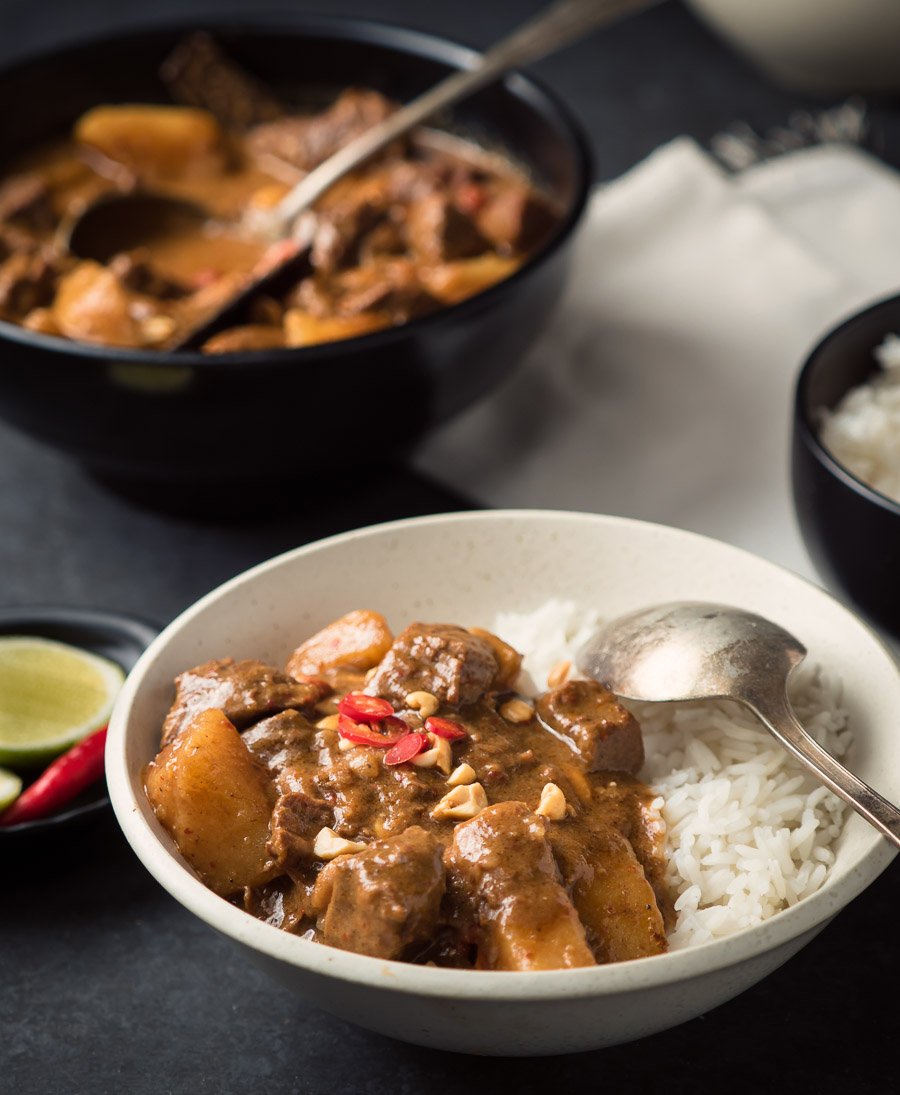 This recipe is different in a couple ways from most of the other recipes floating around. It uses a lot more massaman curry paste for starters. It's a mild curry. But it doesn't need to be tasteless. More is better.
One little variant I like – and it's not authentic – is a bit of curry powder into the curry paste. I didn't include it in the recipe because it's my own thing. Personal preference.
But it's good. Better even, I think. Moves it in the direction of khao soi. Makes it less massaman curry and more glebekitchen curry. Something to think about…
The cooking time is longer. I see a lot of recipes that say simmer for an hour. Been making beef stews for a long, long time. Still haven't found any miracle beef stew that is tender after one hour.
If you don't have this magic beef either cook it until it's tender. That's two hours. At least. If you know different let me know how you do it.
It's isn't fast but it is easy. Most of the time is just simmering unattended. Even if it's a bit easier, it's just barely cheating. And your guests will never know. Just don't tell…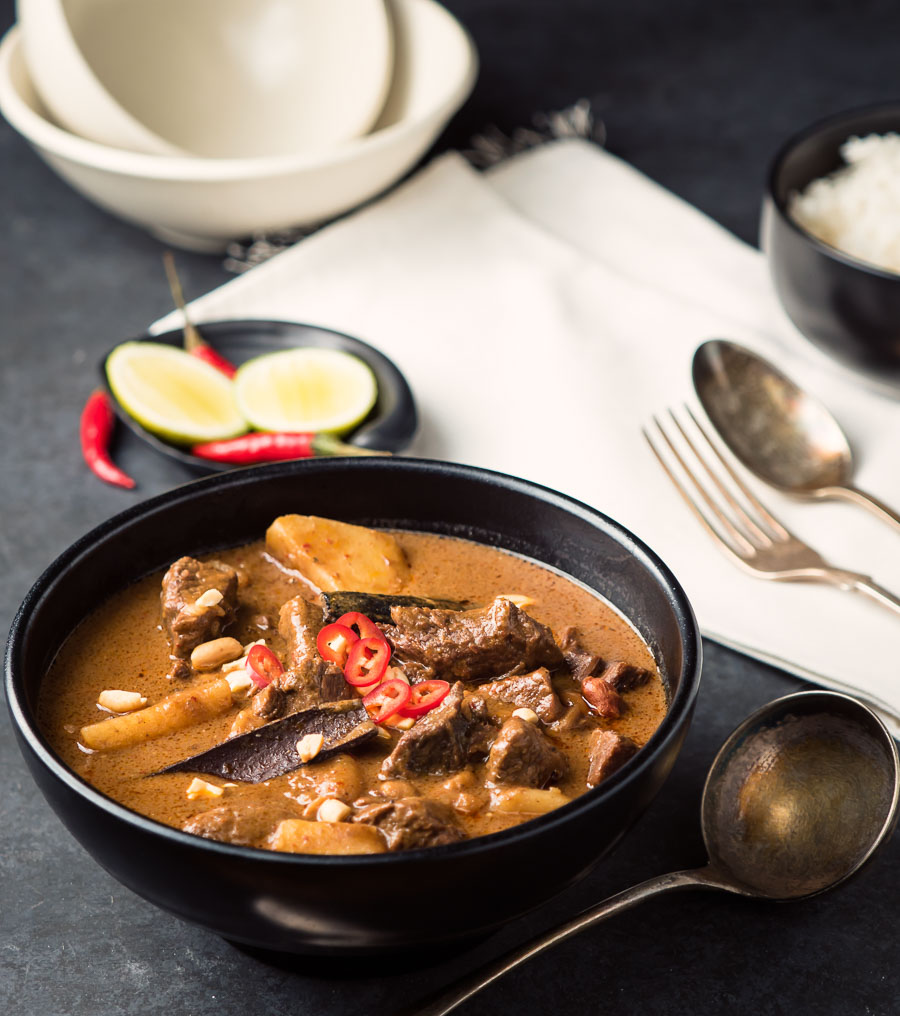 easy beef massaman curry
Easy beef massaman curry uses store bought Thai curry paste to simplify things without sacrificing taste.
Ingredients
1/4

tsp

cardamom seeds

5

cloves

2

2 inch

pieces of cinnamon bark

(cassia)

2

tbsp

vegetable oil

5

tbsp

massaman curry paste

- store bought

1

14 oz can

coconut milk

1 1/2

lbs

stewing beef

cut in 1 inch pieces

3

tbsp

fish sauce

2

tbsp

brown sugar

3

tbsp

tamarind paste

- store bought is easier

2

large

potatoes

peeled and cut into 1 inch pieces

1/2

cup

dry roasted peanuts

plus a bit extra for garnish

red chili slices and lime to serve
Instructions
Dry roast the cardamom seed, cloves and cinnamon bark over medium low heat until things start to smell good. Probably around 1 minute. Remove from heat. Set aside.

Heat the vegetable oil in a pan with a cover that is large enough to hold all the ingredients. Fry the massaman curry paste, stirring constantly, until it combines with the oil. This takes 1-2 minutes.

Add the beef and fry until no red is showing on the beef, about 3-5 minutes.

Add the dry roasted spices, coconut milk, fish sauce, brown sugar, tamarind paste and peanuts.

Add enough water to just cover the beef. Odds are you won't need any at all.

Simmer for about an hour.

Add the potatoes and simmer until the beef and potatoes are tender. This takes about another hour.

Garnish with peanuts and red chili slices (optional). Offer lime wedges for those that want a bit more zing. Serve with jasmine rice.
Notes
I like to add curry powder to the curry paste at the beginning. Not tons. Maybe a couple teaspoons. That's not authentic though. More glebekitchen. Less massaman curry.
Nutrition
Serving:
4
servings
|
Calories:
593
kcal
|
Carbohydrates:
43
g
|
Protein:
48
g
|
Fat:
26
g
|
Saturated Fat:
10
g
|
Cholesterol:
105
mg
|
Sodium:
1307
mg
|
Potassium:
1579
mg
|
Fiber:
7
g
|
Sugar:
15
g
|
Vitamin A:
2955
IU
|
Vitamin C:
23
mg
|
Calcium:
149
mg
|
Iron:
10.8
mg