Cool rice noodles. Marinated chicken. Fresh herb salad. Sweet, salty nuoc cham dipping sauce. Vietnamese lemongrass chicken noodle bowl can't be beat for dinner on a hot summer night.
This is Vietnamese bun – the classic noodle bowl. Bun ga nuong to be exact. And I am a big fan. Doesn't matter if it's chicken, beef or pork. I like it all.
Bits of super flavourful grilled meat on a bed of cool rice noodles just works for me. It's one of my go to recipes when I crave Vietnamese.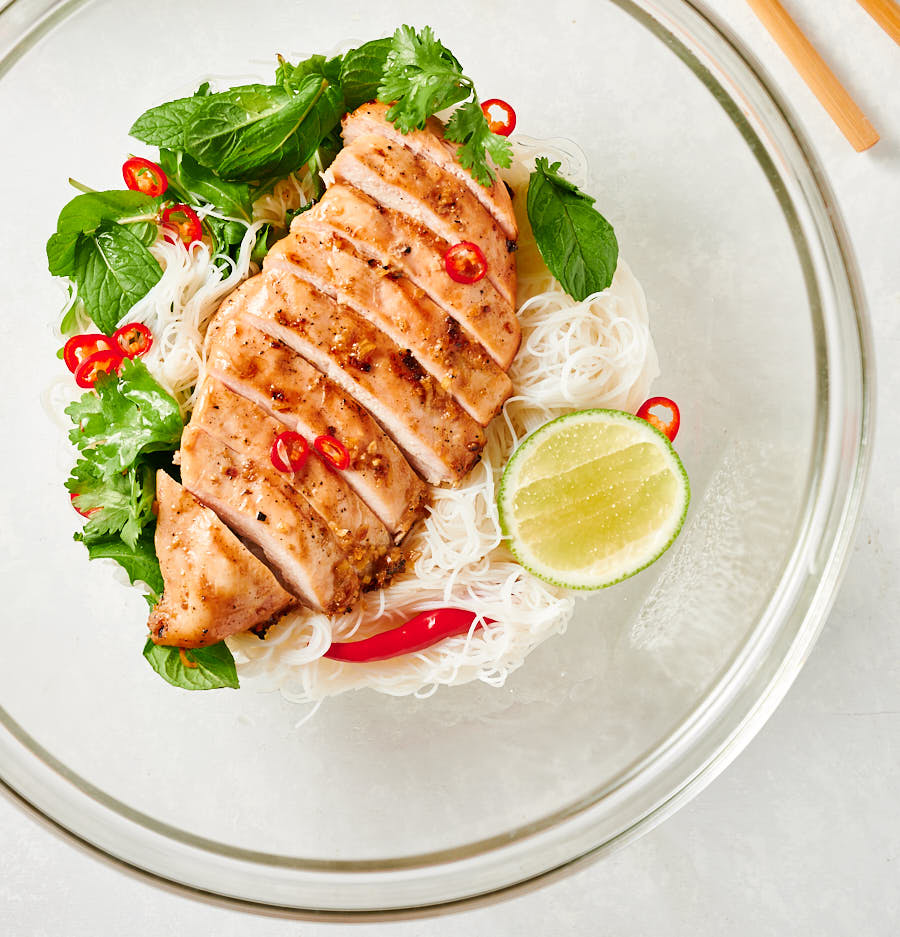 Vietnamese lemongrass chicken bowls are a snap to make
Best part is Vietnamese lemongrass chicken noodle bowls are easy to make at home. One of the easiest Vietnamese dishes around. Approaching no brainer territory. Almost.
Marinate some chicken. Hydrate some noodles. Whip up some nuoc cham. Good to go. Way easier than those crazy Vietnamese soups like pho or mi bo kho.
Mmm… pho…
Vietnamese lemongrass chicken is a good recipe to know even if you aren't making noodle bowls. The marinade works really well no matter what you are grilling.
Lemongrass chicken with the skin and bone works really well. Bigger pieces even. Not so chopstick friendly but perfect for a funky backyard barbecue party. Or chicken burgers. Or wings. Don't get me started on Vietnamese lemongrass wings.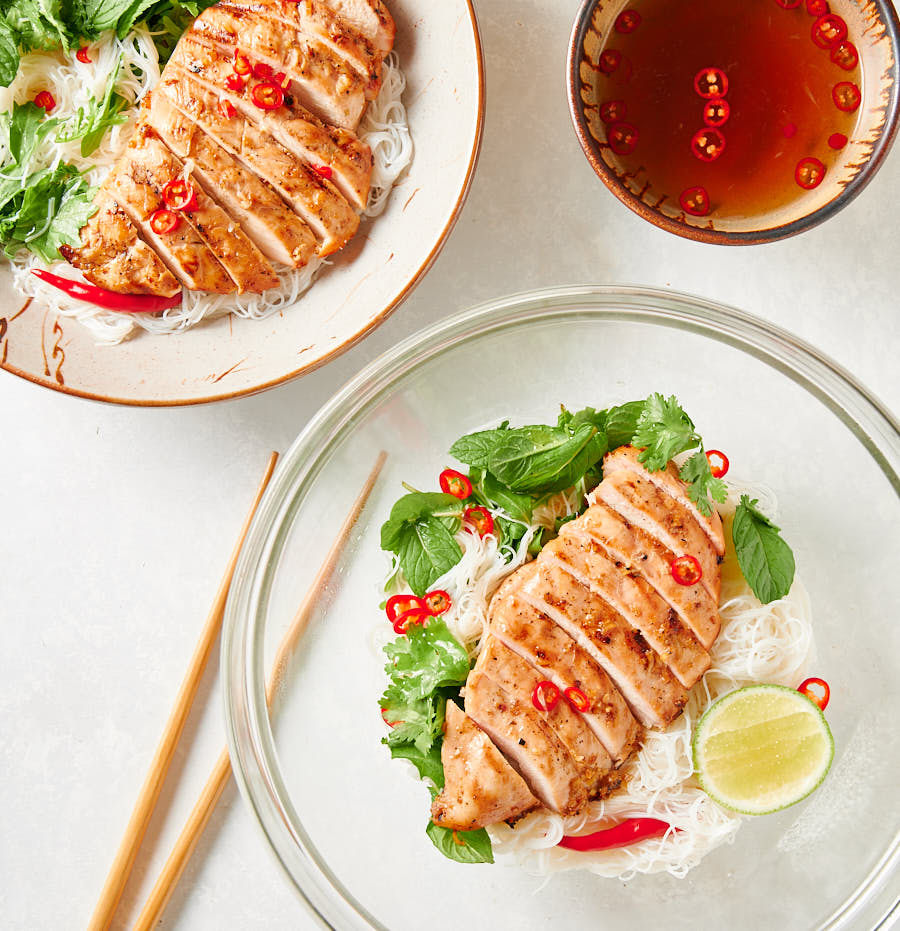 Nuoc cham for extra flavour
Nuoc cham is the perfect mix of salty, sweet, sour and hot. The hallmark flavours of southeast Asian cooking. It is the heart and soul of bun ga nuong.
Never heard of nuoc cham? It's everywhere in Vietnamese cooking. It's the dipping sauce that comes with spring rolls. The sauce you drizzle on your noodles. And if you're wondering, it's perfect for wings. Just magic stuff.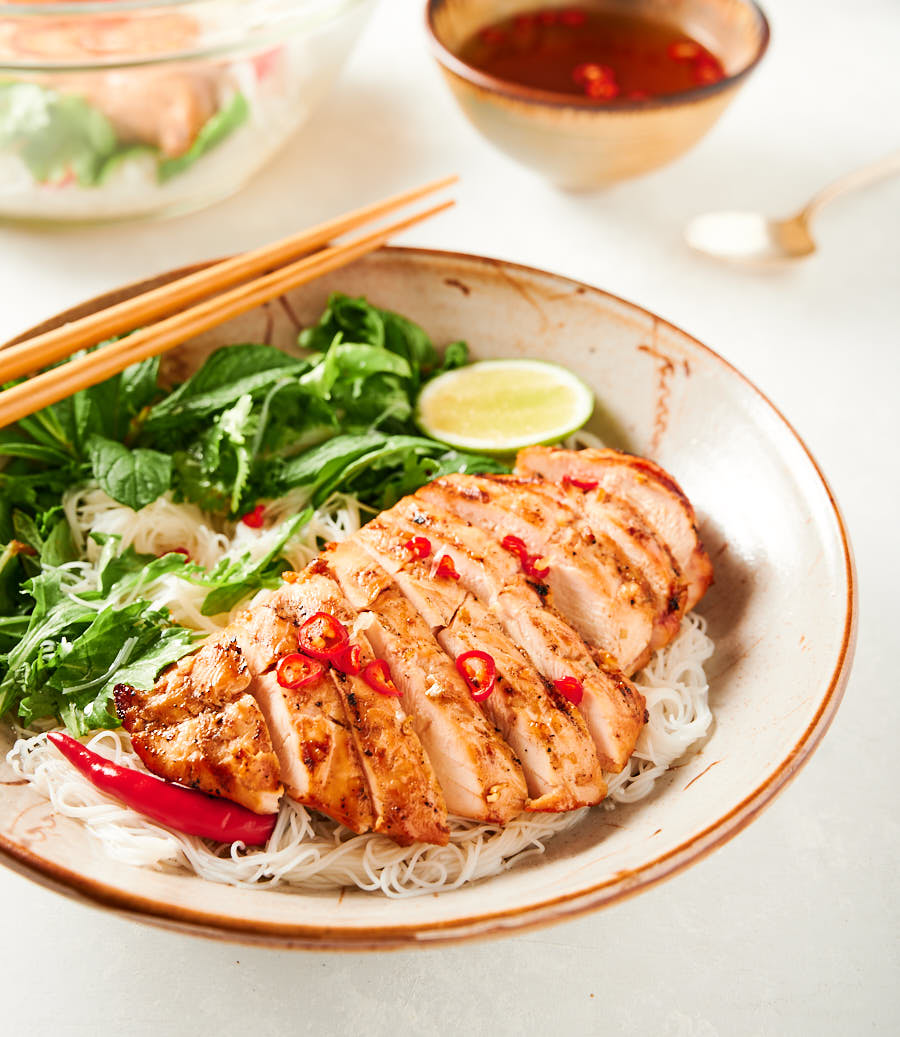 Don't boil your rice noodles to death
I see a lot of recipes telling you to boil your rice vermicelli. That's a great way to make rice glue. All it takes is a 10 minute soak in boiling hot water.
They will soften. And once they are soft drain them and rinse them under cool water. Perfect rice vermicelli every time.
This is a good tip when you are making fried rice noodles dishes like pad Thai as well. Soak them until they are just toothy. They will finish cooking in the dish. No more mushy bits of rice noodles.
Breasts or thighs for lemongrass chicken
Boneless chicken breasts or thighs work for this recipe. Breasts make for a nicer presentation. Dark meat for bigger flavour. Up to you. Try it both ways and decide.
Whatever you choose, make sure the chicken is fairly thin. You want to maximize the surface area. Maximum surface area equals more marinade and grill flavour. And more marinade and grill flavour means bigger taste. And that's what it's always about. Always.
Try Vietnamese lemongrass chicken in a noodle salad. But don't forget wings. Or a grilled chicken sandwich. Try it. You'll find all sorts of ways to love it. Just really tasty stuff.
vietnamese lemongrass chicken noodle bowl
Make Vietnamese lemongrass chicken when you feel like a light, healthy but crazy delicious dinner.
Ingredients
Lemongrass chicken marinade
2

stalks

lemongrass

– tender inside part coarsely chopped

2

tbsp

shallots

– minced

1 or 2

cloves

garlic

– crushed

2

tbsp

fish sauce

1

tbsp

soy sauce

2

tbsp

vegetable oil

1/2

lime

– juiced
Vietnamese lemongrass chicken noodle bowl
4

large

chicken thighs

– boneless, skinless or use boneless breasts if you like

8

oz

rice noodles

cilantro, mint, thai basil, baby greens, bean sprouts, julienned carrots and lime

– basically whatever you feel like adding
Nuoc cham
1/4

cup

fish sauce

1/4

cup

white sugar

2

tbsp

lime juice

– about 1 large lime

1

tsp

sambal oelek

2/3

cup

hot water

red chilies

to taste
Instructions
Prepare the marinade. Combine all the ingredients in a bowl large enough to hold the chicken and mix well.

If using chicken breasts, slice the breasts in half along the horizontal axis. You want fairly thin pieces to maximize surface area. For thighs just pound them lightly to flatten.

Add the chicken and toss to coat. Refrigerate for about an hour.

While the chicken marinates prepare the nuoc cham. Combine all the ingredients and stir. Make sure the water is good and hot. You need to make the sugar dissolve. Set aside at room temperature.

Place the rice vermicelli in a large bowl. Pour boiling water the noodles and let soak until tender. This should take about 10 minutes. Once they are just tender drain through a colander. Rinse with cold water until the noodles are cool. Set aside at room temperature.

Prep your ganishes. Wash them as needed. Pull cilantro, mint and basil leaves off the stems. Julienne any vegetables. Slice the lime. The chicken won't stay hot long so be ready to go.

Prepare your grill for high heat. The chicken will cook quickly so you don't have long to get it to colour up. Grill over high heat until just done. This doesn't take long at all. Two to three minutes per side.

Build your noodle bowls. Divide the noodles into 4. Top with mixed greens and whatever garnishes you choose.. Slice the chicken into bite size pieces and scatter overtop. Drizzle with nuoc cham and pass additional nuoc cham along side to let everyone dress their bowls to taste.
Nutrition
Calories:
464
kcal
|
Carbohydrates:
66
g
|
Protein:
24
g
|
Fat:
11
g
|
Saturated Fat:
7
g
|
Cholesterol:
97
mg
|
Sodium:
2326
mg
|
Potassium:
424
mg
|
Fiber:
1
g
|
Sugar:
14
g
|
Vitamin A:
25
IU
|
Vitamin C:
6.7
mg
|
Calcium:
41
mg
|
Iron:
2.2
mg