Keema rice. Lamb keema. Indian spice. Basmati rice. Biryani technique. Sometimes the whole is greater than the sum of the parts. This is one of those times.
This is not rice and keema. Well technically it is. I guess. But not really. It's more like a keema biryani. Done like they would in a good Indian restaurant.
What this isn't is keema stir fry. This is not keema fried rice. Not at all.
I've tried keema fried rice. Don't like it. Might be better than just mixing keema and rice on your plate. Maybe. But not a lot.
This is upscale. What you were hoping for when you ordered keema rice. A little more work. A whole lot better.
Keema rice – keema biryani by any other name
I'm a keema addict. Seriously. Just type it into the search bar. You'll see how many keema based recipes are on glebekitchen.
And yet keema rice has always been a bit of a mystery. Make keema matar. Add rice. Stir. Really? What kind of recipe is that? Tried it. Just don't get it.
So I thought about it. About what it could be. Not what it is.
What it could be is keema biryani. Restaurant style.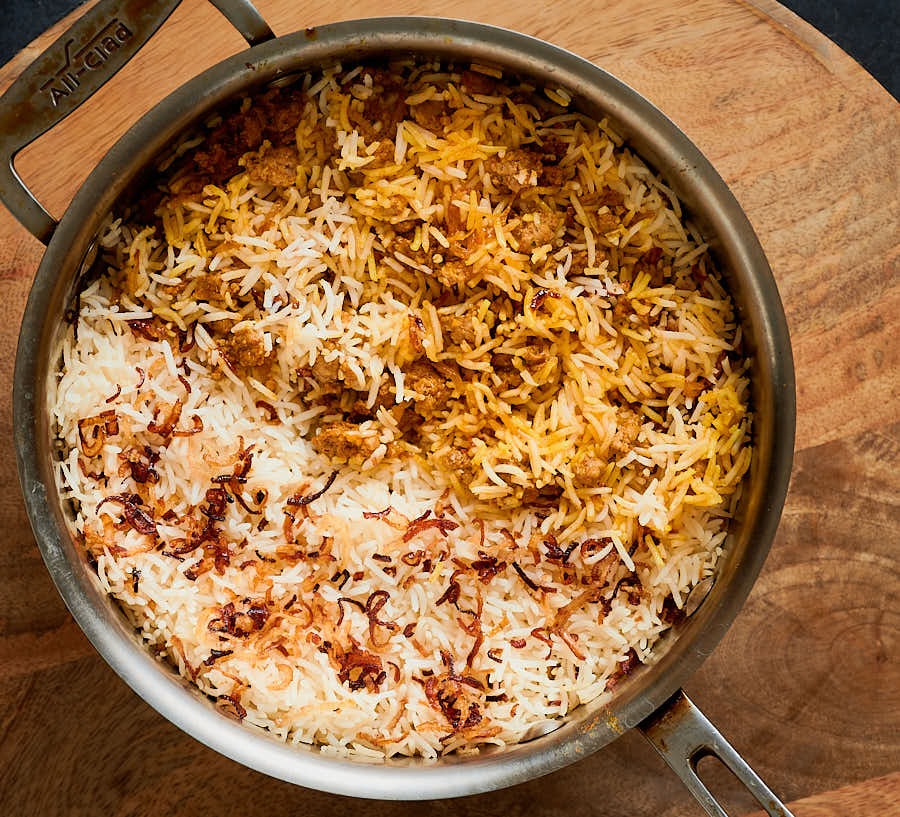 Biryani is a culinary treasure
A full blown dum biryani sits at the pinnacle of Indian cuisine. I think anyway. It is truly one of the great things to eat in this world.
Break the dum. Take off the lid. The aroma fills the kitchen. Every grain of rice infused with flavour. Everything cooked to perfection.
It's a tricky thing to make though. Sounds easy. Make some rice and spiced meat. Toss it into a pot. Seal the pot. Bake. Serve.
Except that everything that goes into that pot needs to be perfectly underdone. Rice done to 70 percent complete. Meat underdone. So it's just right after the bake.
That's why it's masterclass territory. Takes some kitchen mojo. Not impossible. But I'm willing to bet you won't nail it first time you try it. Not ashamed to say I didn't.
Restaurant style keema biryani is bulletproof
Not all restaurants are equal. There's a distinction to be made. This is about what goes on in better Indian restaurants. Not what they serve at bad takeaways.
The takeaway version is just like regular keema and rice. A stir fry. Maybe some sort of vegetable curry on the side. Has nothing to do with the real thing.
Some like that. I don't. I want better. Took me a while to figure it out. But in the end I have something I can make. And be happy with.
Something that works. Every. Single. Time. That's the thing about restaurants. They have to make it work consistently.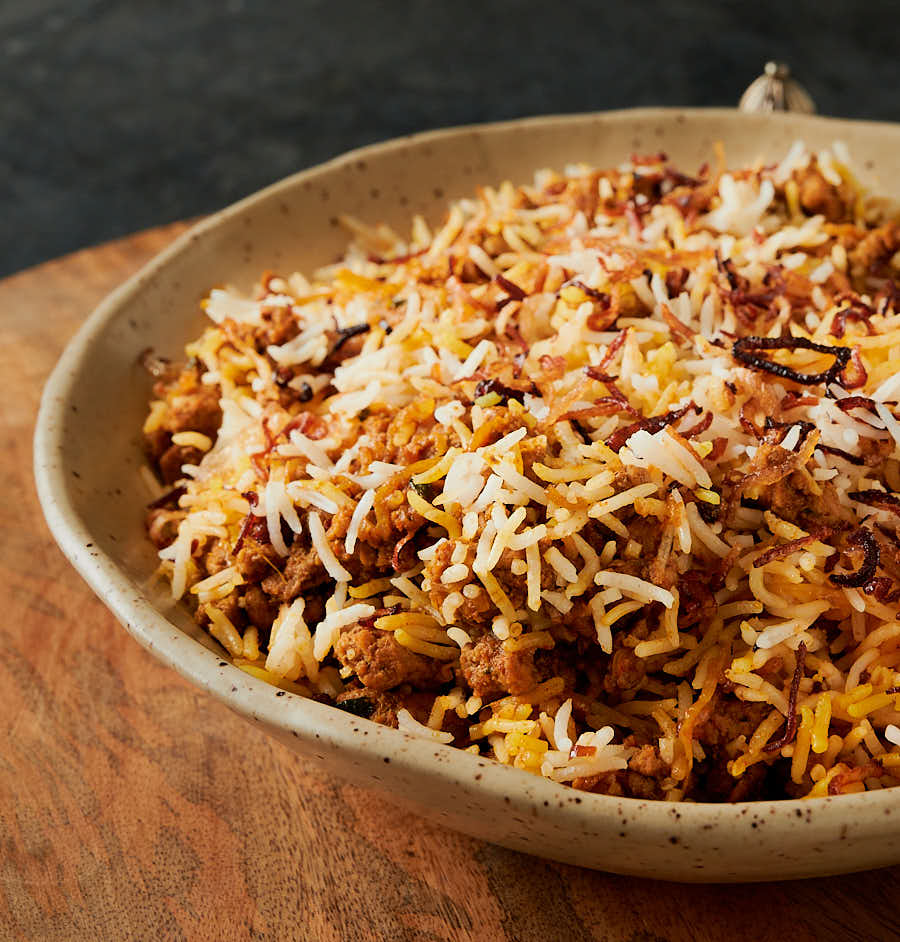 Restaurant technique makes this keema rice work
Restaurants do not have big vats of food ready to go. That would be expensive. And wasteful. They cook to order.
That's why the whole stir fried keema and rice thing exists. It's easy. Not great. But easy. And fast.
Leftover rice. Pre-cooked keema. A little oil and 3 minutes. That's the domain of the bad takeaway.
Dum biryani sits at the other end of the spectrum. The ultimate. For when you want to go for gold.
In between there's high end restaurant technique. That's what this is.
Make spice infused rice. Make keema and gravy. Combine them. Bake it off to get everything working together. Stir. Enjoy.
I think it's actually easier than stir fry. But it takes longer. Around 20 minutes. No takeaway customer is going to wait 20 minutes to get their food.
But better restaurants work at a more relaxed pace. A drink. An appetizer. Twenty minutes isn't unreasonable. You'll wait.
And in the kitchen most of that twenty minutes time is unattended. So line cooks can do other things while the keema rice magic is happening. Like make your chicken tikka masala.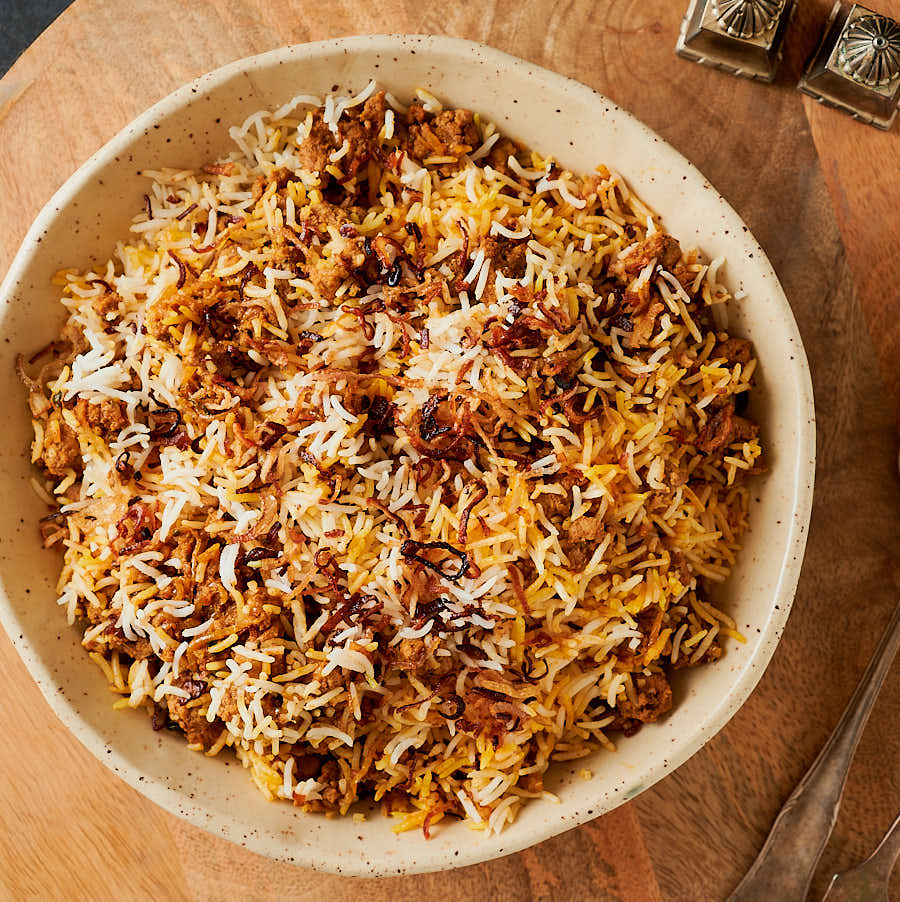 Keema rice is about rice
That shouldn't be a shocker. When you put rice in the name it's probably important. So it can't just be plain rice.
Not around here anyway. The rice needs to be special. Flavour infused. That's a big part of what makes this dish.
It's not hard. Chicken stock. Spices. Salt. That's where the flavour comes from. And cooking the rice in that mix is how you get it done.
Literally. Toss the stock, the spices and the rice in a pot. Or a rice cooker. Cook. Done.
Rice plus spices plus stock equals amazing rice. Have I mentioned I'm doing my doctorate in food math?
Lamb stock is good too. Harder to get. Or more work. But it's a nice touch. If you can get it. Ask your butcher. They can probably fix you up.
Cooking rice is not as hard as you think
Easiest way to cook rice? A rice cooker. I do that. If you really like rice a good rice cooker is a good investment.
Took me a long time to come to that conclusion. But I'm happy I did. Very happy.
For about a million years I used a stovetop and pan. That works. Really well actually. Never failed me.
A rice cooker is a little easier. The rice comes out perfect every time. And it doesn't tie up a burner on your stove.
But if you aren't a rice addict. If you don't eat it two or three times a week. You can probably make do with a pot.
Rice in a pot isn't black magic. It's a formula. More food math. One cup rice. One and one half cups liquid. 1 tsp salt. Those are ratios. It scales linearly.
Bring to a simmer. Cover. Turn the heat to low. Cook for 20 minutes. Let stand covered for 5 minutes. Fluff gently. Done. Really good rice. No extra gear required.
And there's a party trick in this recipe. Chuck in whole spices. Cook the rice. The whole spices will be waiting for you when the rice is done. Right on top.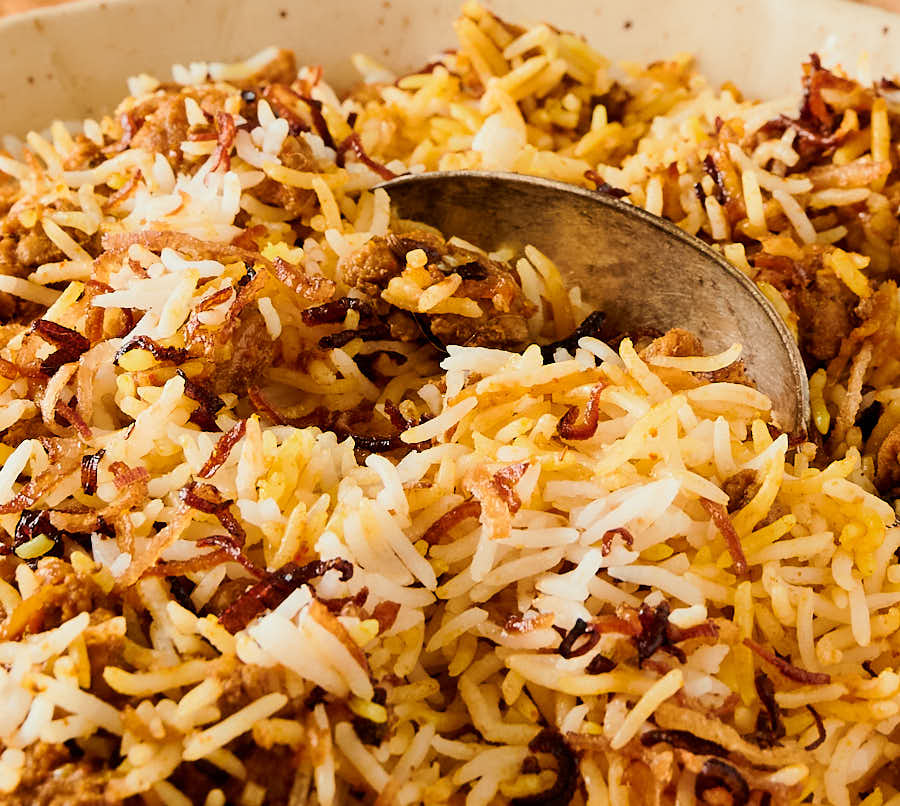 Fried shallots add a flavour boost
There's something special about fried shallots. You can buy fried onions. They stock them at Indian grocers. But they aren't quite the same.
Pre-fab fried onions aren't terrible. Just not as good. I've used them. I'm not proud of that. But I get busy too. So sometimes I cut corners.
But that's pretty rare. Home-made fried shallots are worth the effort. It doesn't take a ton of oil. And it goes pretty quick.
It will smell up your kitchen though. So make sure to have your hood fan on full blast. Or open a window.
The technique is described in the notes. Go for it. You won't regret it. Except you will become an addict. Lucky for you they keep in the fridge for a couple weeks.
Keema biryani is a main course
Don't think of keema rice as a side. It's definitely a dish worthy of centre stage. Like any biryani. It should be the star.
And it doesn't really play well with other dishes. It demands attention. I wouldn't serve this with anything else on the plate.
Keema rice. A nice green salad to start. Or kachumber salad if you want to stick with an Indian theme.
This one is classic example of "if you know you know". And if you don't know? I think you owe it to yourself to find out…
Keema rice – indian restaurant style
Keema rice is weekend special but easy enough for any night of the week.
Ingredients
The rice
1 1/2

cups

basmati rice

1 1/4

cups

water

1

cup

chicken stock

– low or no sodium. Bouillon cubes are not chicken stock.

1

black cardamom pod

5

cloves

2

inch

cinnamon bark

also known as cassia

1

tsp

kosher salt
Keema rice spice mix
2

tsp

coriander powder

1

tsp

cumin powder

1/2

tsp

turmeric

1

tsp

kasmiri chili powder

1

tsp

kasoor methi

also known as dried fenugreek leaves
The lamb
3

tbsp

neutral oil

e.g. canola or vegetable

1

lb

ground lamb

1/2

tsp

salt
The keema
1

cup

shallots

thinly sliced

1/2

tsp

cumin seed

1

black cardamom pod

1

tbsp

garlic ginger paste

the keema spice mix

1 1/2

tbsp

tomato paste

diluted with about 5 tbsp water
The keema rice
the seasoned rice

from above

the keema

along with all the tasty sauce

1

tbsp

fried shallot

plus more to garnish

1/4

cup

water

or chicken stock

cilantro and fried shallots to garnish
Instructions
Set your oven on to 350F.
Make the rice
If you have a rice cooker use it. Combine the rice, water, chicken stock, black cardamom, clove, cinnamon or cassia stick and salt. Push the button. Walk away. Make the keema while the rice cooker does its thing.

If you don't have a rice cooker this is an easy way to make basmati. You can pre-soak, rinse or pray to the rice gods if you want but this works pretty well as written. It works. I did this for years until I got a decent rice cooker.

Pick a saucepan with a fairly tight fitting lid that's not way too big. Combine the water, chicken stock, black cardamom, cloves, cinnamon bark, salt and the rice in your chosen saucepan.

Bring to a simmer over medium heat uncovered. Reduce heat to low and cover. Simmer for 20 minutes. Set a timer. Trust me. You will forget otherwise. While this is going on make the keema (see below).

When the timer goes off after 20 minutes, turn off the heat and let stand an additional 5 minutes. Uncover. Remove the whole spices. They should be just sitting on top. Fluff gently and replace the cover to keep the rice warm.
Brown the lamb
Pick a nice large skillet. 12 inch diameter works well if you have one.

Preheat the pan over medium heat.

Crumble the lamb into the pan. You want little chunks about the size of a coffee bean.

Add the salt and fry the lamb, stirring occasionally, until the lamb is pretty much cooked through. This should take somewhere around 8-10 minutes.

Remove the lamb from the frying pan. Use a slotted spoon. You want to leave the rendered lamb fat behind. Reserve 5 tablespoons of it. That luscious lamb fat flavour gets used in the next step.
Make the keema
Do your prep. Make the keema spice mix. Combine all the spice mix ingredients in a small bowl. Dilute the tomato paste. Slice your shallots. Have everything at hand.

Heat the reserved lamb fat in a saute pan over medium heat. Add the shallots and cook until they start to brown. They will brown some more in the next steps.

Push the shallot to one side of the pan. Add the cumin seed and black cardamom. Cook for about 30 seconds. You want to see little bubbles forming around the seeds.

Add the garlic ginger paste. Stir it into the oil and cook until it stops sputtering. Watch it. Be careful. Don't let it burn.

Turn the heat to medium low. Add the spice mix. Stir to thoroughly combine the oil in the pan with the spices. Cook for about 30 seconds. Really watch it. There should be enough lamb fat in the pan. If the spices start to stick turn down the heat and add a bit more oil. If you are on an electric stove and run into trouble pick the pan up and move it to a cold burner. You do not want the spices to burn. You are starting over if you do that.

Add the diluted tomato paste. Stir and turn the heat up to medium. Cook about a minute.

Add the pre-cooked lamb and cook, stirring regularly, until everything is nice and hot.

At this point your keema will be quite dry. I find it takes about 1/4 cup of water or chicken stock to get it to the point of being lightly saucy – which is what you want. Judgement call here but I like 1/4 cup.
Assemble the keema rice
Use a pot that's about 9-10 inches in diameter. Make sure it has a tight fitting lid.

Put a little more than half the rice in the pot and spread it out in an even layer. Top with the keema mixture. Add the rest of the rice. Top with the fried shallots.

Cover the pot with tinfoil and then the lid. That's a trick I picked up from cooking French braises. The tinfoil adds a little extra seal. It's not quite as good as the dough seal in a traditional dum biryani but it helps.

Transfer the assembled keema rice to the oven and bake for 15 minutes.

After the keema has baked for 15 minutes remove it from the oven and place it on the stove. Let stand for 10 minutes.

To serve transfer the contents to a platter. Don't worry if it looks messy. That's OK. It's keema rice. It's one big tasty jumble.

Garnish with more fried shallots and a bit of cilantro. Serve. Enjoy.
Notes
Fried shallots
They sell fried onions at your Indian grocer. If you want easy you can try that. I think they're a pretty big step down. It's not that hard to make them. It is a bit messy though.
Slice the shallots thinly. That's key. Heat up a half cup of oil in a small (9-10 inches in diameter) frying pan. When the oil starts to shimmer add a handful of shallots.
Don't add too much at once. They will bubble up. Take your time. You are playing with moisture and hot oil.
The shallots will start to colour up after couple minutes. When they are a little lighter than you want them transfer them carefully to paper towel on a plate. Use a slotted spoon for this. They will continue to darken a bit. 
Repeat until all your shallots are cooked. Fried shallots keep for a week or two in a tupperware. Maybe even longer. I don't know. I love them so they get used quickly around here.  Lots of things are better with fried shallots. Curries. Spicy Asian soups. Any time you want onion flavour and a bit of crunch.
Nutrition
Calories:
739
kcal
|
Carbohydrates:
70
g
|
Protein:
27
g
|
Fat:
38
g
|
Saturated Fat:
13
g
|
Polyunsaturated Fat:
5
g
|
Monounsaturated Fat:
18
g
|
Trans Fat:
0.04
g
|
Cholesterol:
83
mg
|
Sodium:
1031
mg
|
Potassium:
699
mg
|
Fiber:
4
g
|
Sugar:
6
g
|
Vitamin A:
254
IU
|
Vitamin C:
7
mg
|
Calcium:
94
mg
|
Iron:
4
mg