This recipe is a simple chicken curry done homestyle. This is a truly approachable curry recipe. It's still work – Indian cooking is not simple – but I made this on a Tuesday night in about an hour.
It's not open a jar of paste or sauce and throw some chicken in easy. This is about cooking Indian like people do in their homes. Maybe the ingredients are a bit easier to get a hold of but you get the idea.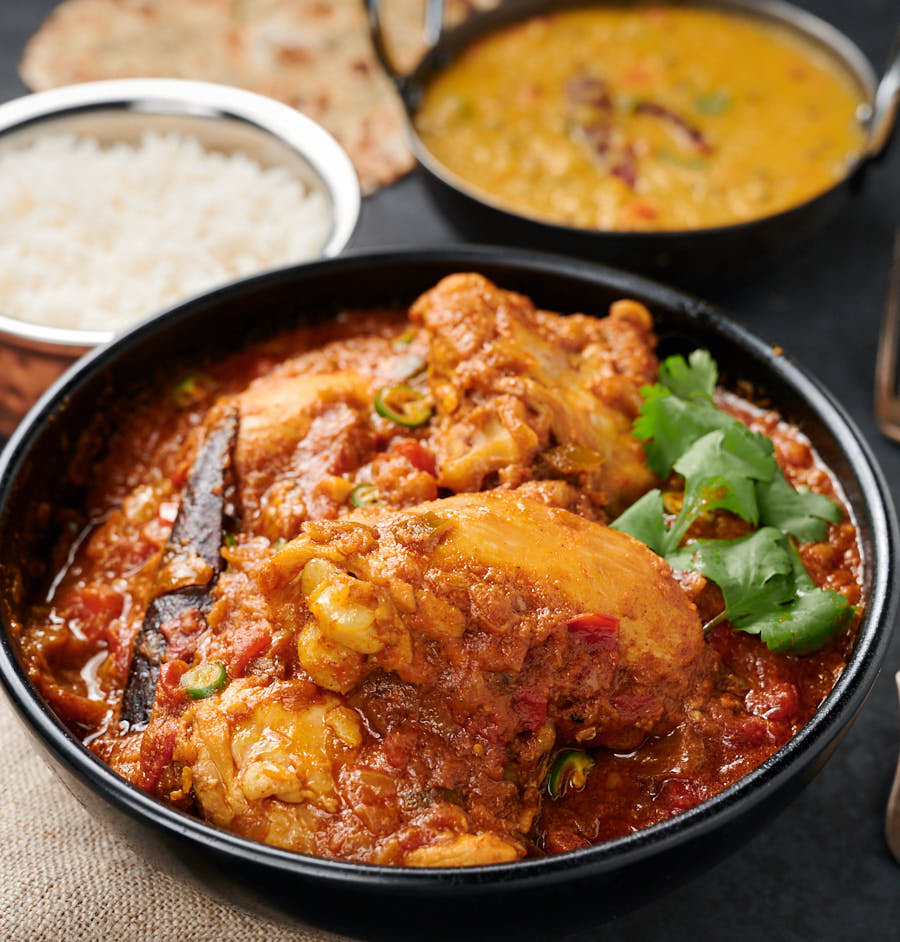 This is my take on simple chicken curry
The web is full of "simple" chicken curry recipes. Simple chicken curry recipes that have you shopping for spices you've never heard of. Toasting and grinding whole spices. Not so simple chicken curry. Tasty. Yes. Simple. No.
The ones that I really don't like are the ones that are too easy. Mix some garam masala with some yoghurt and cook your chicken in that. That doesn't do it for me. I'll take over complicated before I'd make that. No contest there.
This is as close to authentic as I can get without going crazy. But I warn you. Once you get started, it's a slippery slope.
The ones telling you to work really hard are right. To get the depth and flavour you need to walk the walk.
In fact, if you want to replicate the tastes you get in an Indian restaurant you need to forget everything you know and learn about pre-cooked meats, curry bases and blazing hot stoves.
If you're interested in learning how they do it in Indian restaurants read this primer on Indian restaurant cooking techniques. It's a whole different world of Indian cooking.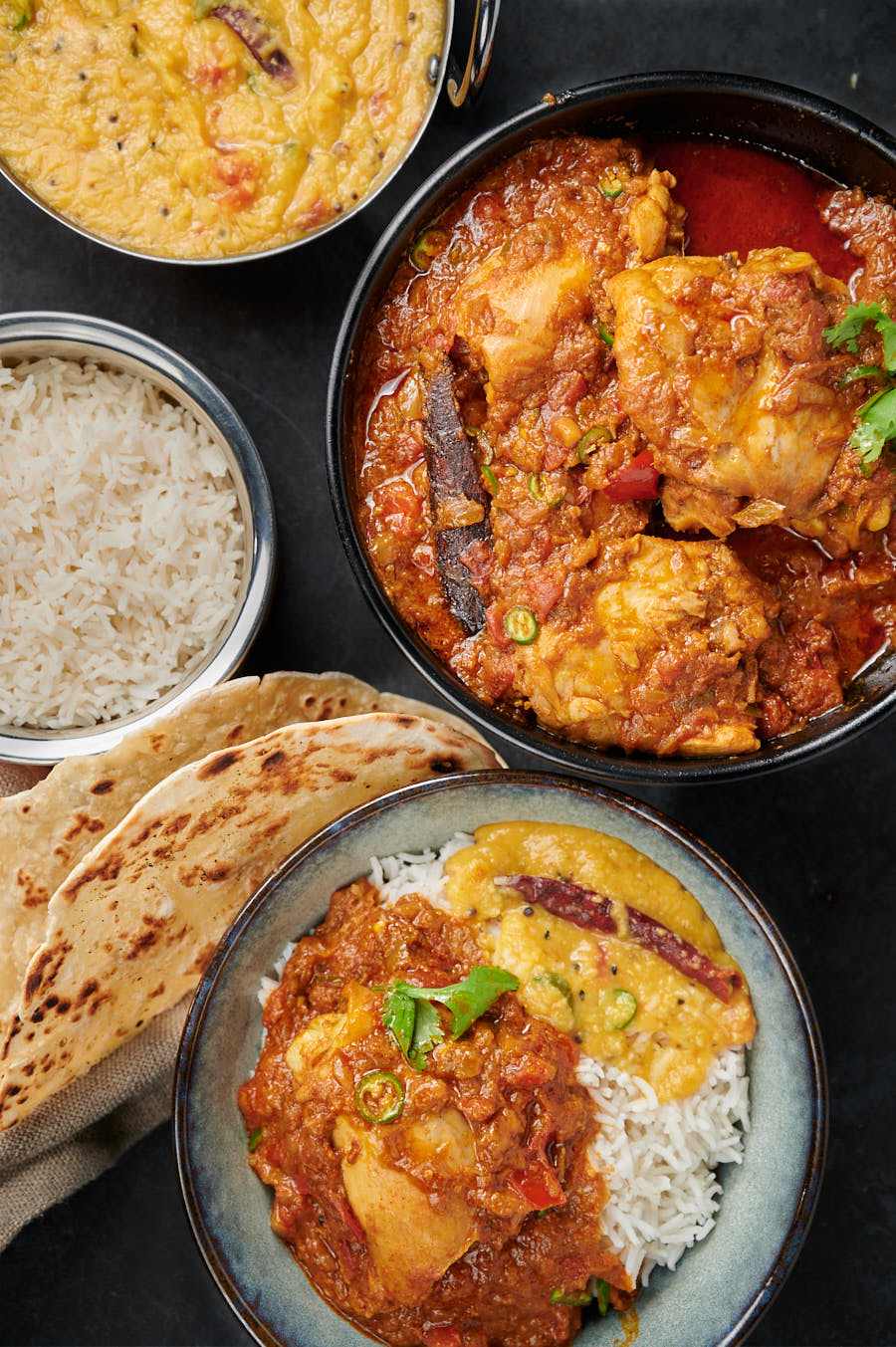 Few things to keep in mind
Bloom your spices – Getting the raw flavour out of your spices is a key thing to always do when you are cooking Indian. It's not hard. You just fry the ground spices in oil. Brings out the flavours. Smooths everything out.
Brown your onions – There are no shortcuts here. If you are cooking with raw onions you need to take the time to cook them down. Think French onion soup. You want brown.
Bone-in chicken – This is homestyle chicken curry. It's a braise. Boneless, skinless chicken breasts are not good in braises. They dry out. Fast. Bone-in thighs and legs. That works. Well.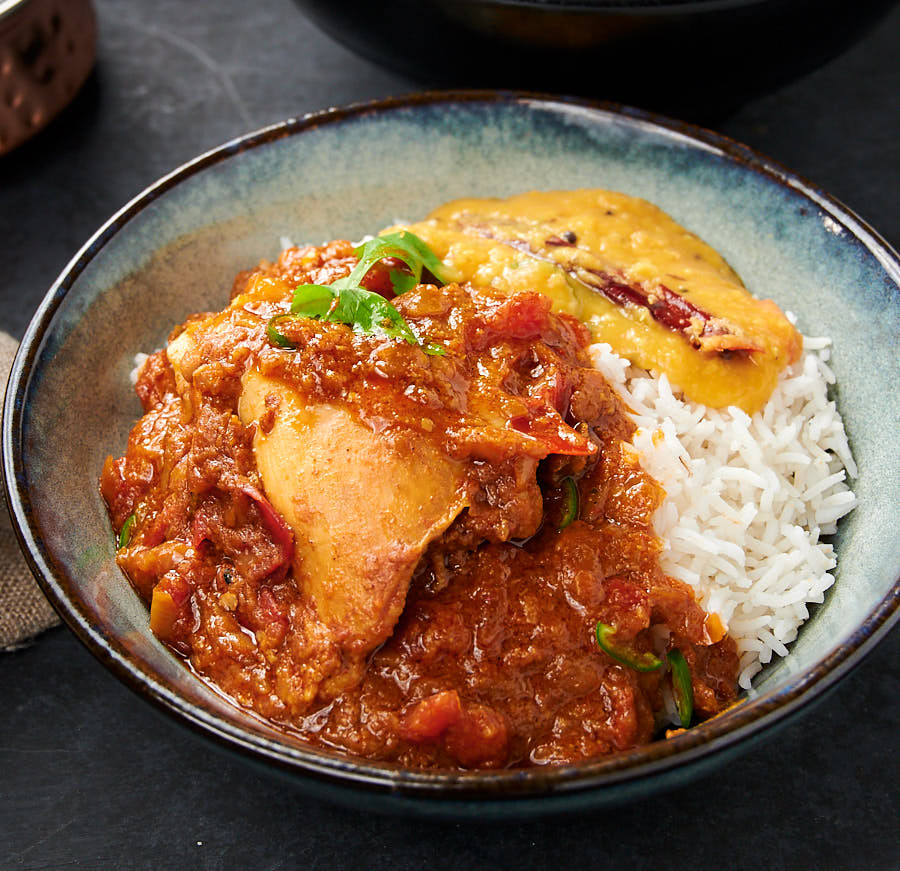 Make this simple chicken curry your own
This is about simple chicken curry. Something you can make without killing yourself. But it is true to Indian cooking. Makes a good introduction to cooking homestyle Indian.
And it's a baseline really. Once you get this down, you can go all sorts of places. All kinds of different chicken curries. Make it your chicken curry.
Want something dopiaza like? Fry up some biggish chunks of onion before starting this recipe and toss them in with the green chilies.
Jalfrezi? Add some pre-cooked green pepper and onion. Don't mince the green chilies so fine. Give it some South Indian flair. Add some curry leaves if you can find them. Coconut too. Or a big whack of cilantro and lemon juice. Lots of possibilities.
This chicken curry is what I grew up on. Not crazy hard. Not restaurant style. But not grossly oversimplified either.
I can cook more complicated curries. More elaborate. Look around this blog. But I come back to this one. Often. Homestyle. Comfort food. Just good simple chicken curry. Give it a try. I think you'll like it.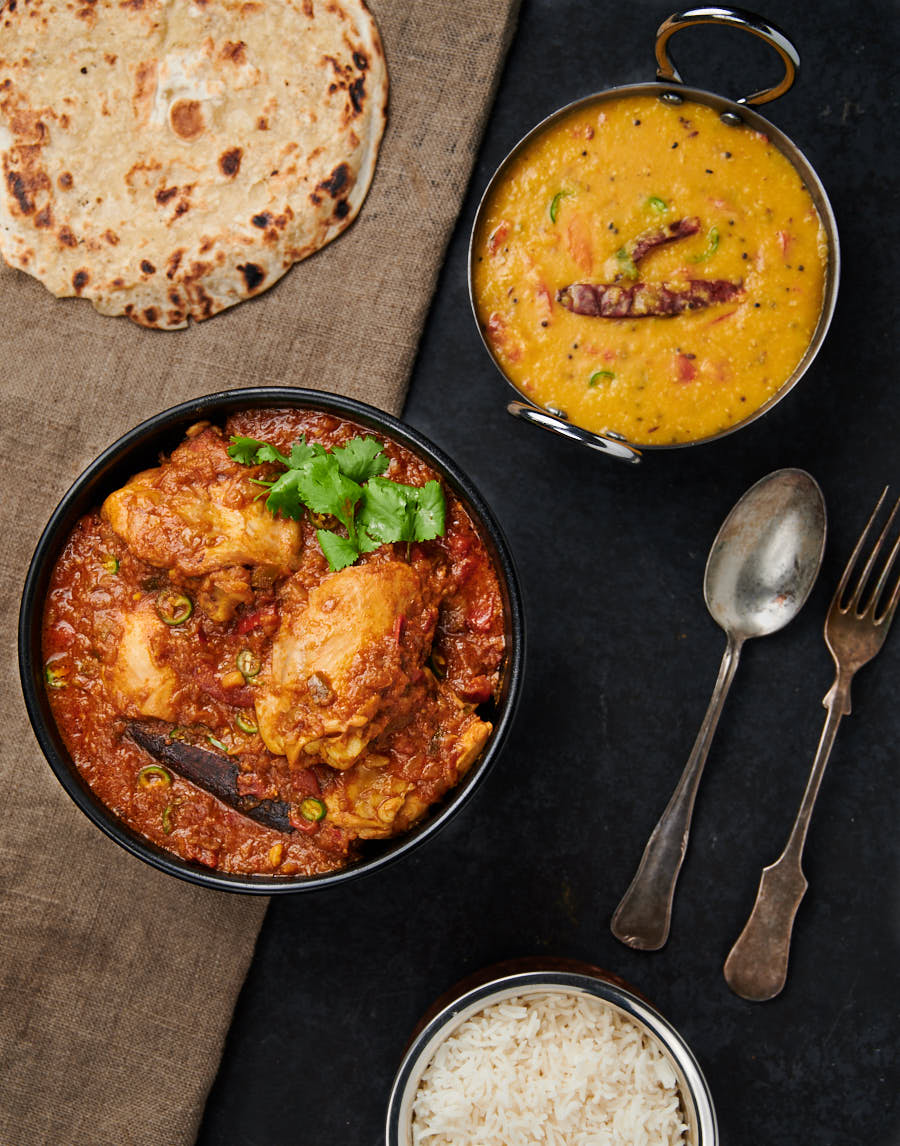 simple chicken curry
Serve this simple chicken curry over basmati rice and garnish with cilantro. Remember, the whole spices are not meant to be eaten.
Ingredients
Spice Mix
1

Tbsp

coriander powder

2

tsp

cumin powder

1

tsp

turmeric powder

1/2-1

tsp

chili powder

depending how hot you like it

1

tsp

paprika

1

tsp

kosher salt to start
Simple Chicken Curry
3

Tbsp

vegetable oil plus one Tbsp vegetable oil

1

2 inch

piece of cinnamon bark

or cinnamon stick

8

green cardamom pods

1

large cooking onion

finely diced

1

Tbsp

tomato paste

3

cloves

garlic

1

1 inch

piece of ginger

2

plum tomatoes

seeded and diced

3

green chilis

seeded and diced (or 1 jalepeno, seeded and diced)

8

chicken thighs

bone-in, skinless

1/2

cup

chicken stock
Instructions
Make the masala
Make your mix powder. Combine all the ground spices with the salt.

Use a food processor to finely chop the onion. It takes two seconds and it works way better. You are looking for a really fine dice. Almost a paste.

Now use your food processor (it's already dirty so this comes for free) to make a garlic ginger paste. Combine the garlic and ginger with a bit of water and whiz until you have a puree. If you have a big food processor you may have to make more to get it to work or use a blender (more dishes though).

Heat 3 Tbsp oil in a 4-5 quart pot. Add the cinnamon and cardamom and cook about 20-30 seconds. The spices should sizzle.

Crank up your fan hood to max. Really. Full blast time...

Add the onion and cook, stirring occasionally until they take on a golden brown colour. You want them soft. Really soft. Take your time here. This is the critical step.

Add the 4th Tbsp of oil and your spice mix. Watch the heat. You don't want your spices to burn. Stir constantly for about a minute, then add the tomato paste, green chilies and garlic ginger paste.

Continue to stir and cook another minute. Stir in the chopped plum tomatoes.
Make the curry
Add the skinned chicken thighs to the pot, stir and add 1/2 cup of stock or water. Bring to a boil, reduce heat and simmer about 25 minutes - until the chicken is cooked through.

Adjust salt to taste. I expect probably another 1/2 tsp if you are using kosher salt. Probably not at all if you are using table salt.
Notes
I use an Indian chili powder called mild kashmiri. If you can't get that (or don't want to bother) go with 1/3-1/2 tsp cayenne topped up with enough paprika to make 1 tsp.
Nutrition
Serving:
4
servings
|
Calories:
421
kcal
|
Carbohydrates:
12
g
|
Protein:
41
g
|
Fat:
23
g
|
Saturated Fat:
13
g
|
Cholesterol:
193
mg
|
Sodium:
927
mg
|
Potassium:
793
mg
|
Fiber:
4
g
|
Sugar:
3
g
|
Vitamin A:
765
IU
|
Vitamin C:
13
mg
|
Calcium:
65
mg
|
Iron:
3.8
mg