Sometimes simple is best. This is one of those times. Simple chicken curry. Like your mom makes. Well maybe not your mom. But my mom. My mom could cook.
It's the kind of stuff that everyone who grew up Indian knows. What they remember. What I remember. Comfort food. Family food.
It's not complicated. Pretty straight forward in fact. And it's a great intro into the techniques you need to get good at cooking Indian.
This is about cooking Indian like people do in their homes. Straightforward food. Tasty food. Food for every day.
This is my baseline simple chicken curry
The internet is packed with simple Indian chicken curries. Easy chicken curries.
Some of them aren't so easy. Find exotic ingredients. Toast whole spices. Grind them. Make fancy masalas.
I like those. They aren't simple. But they are good. Really good. Authentic. I'm for those recipes. But that's jumping into the deep end.
At the other end there's the pseudo curries. Mix some garam masala with some yoghurt. Mix it with some chicken. Cook. I don't like those.
Somewhere in the middle there's this simple chicken curry. Not the most complicated. But legit. I think. A starting point. A gateway curry. An easy chicken curry.
Get this down and you can make just about any homestyle chicken curry. I'm handing you the keys to tasty town.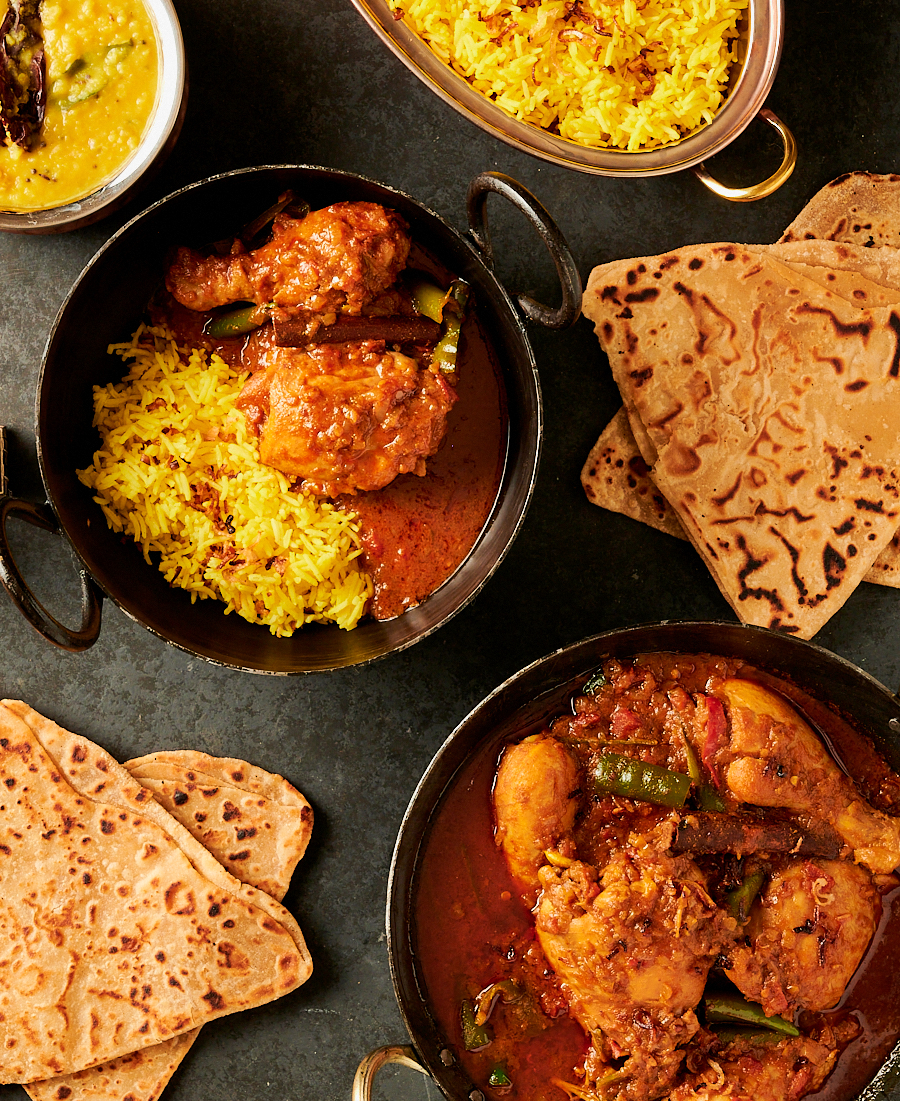 This is what they call a staff curry in the UK
There's a thing. In the UK. The staff curry. What Indian restaurant staff eat. Special. Secret. Shrouded in mystery.
It has secret spices. And chicken on the bone. Dark meat even. Can you even begin to imagine?
I'm going to blow the whistle. Let everyone in on the secret. Are you ready? It's not as exciting as you hoped.
There is no secret. There is no definitive staff curry. I have no idea why anyone thinks there is. Makes zero sense. There are good chicken curries. Lots of those.
But only one true staff curry? In every restaurant everywhere? That's a little limiting. I think anyway.
Staff curry is whatever chef feels like cooking for his staff. A big pot of home cooking. A whole lot of delicious.
Like chef's mom used to make. Well maybe like their mom if she was a professional chef. I'm guessing chef has a few ideas of their own.
And it's probably not the same every day. Who wants that? Same meal 5 days a week? Year in year out? I'm guessing not. Chef needs to mix things up. Or staff will quit.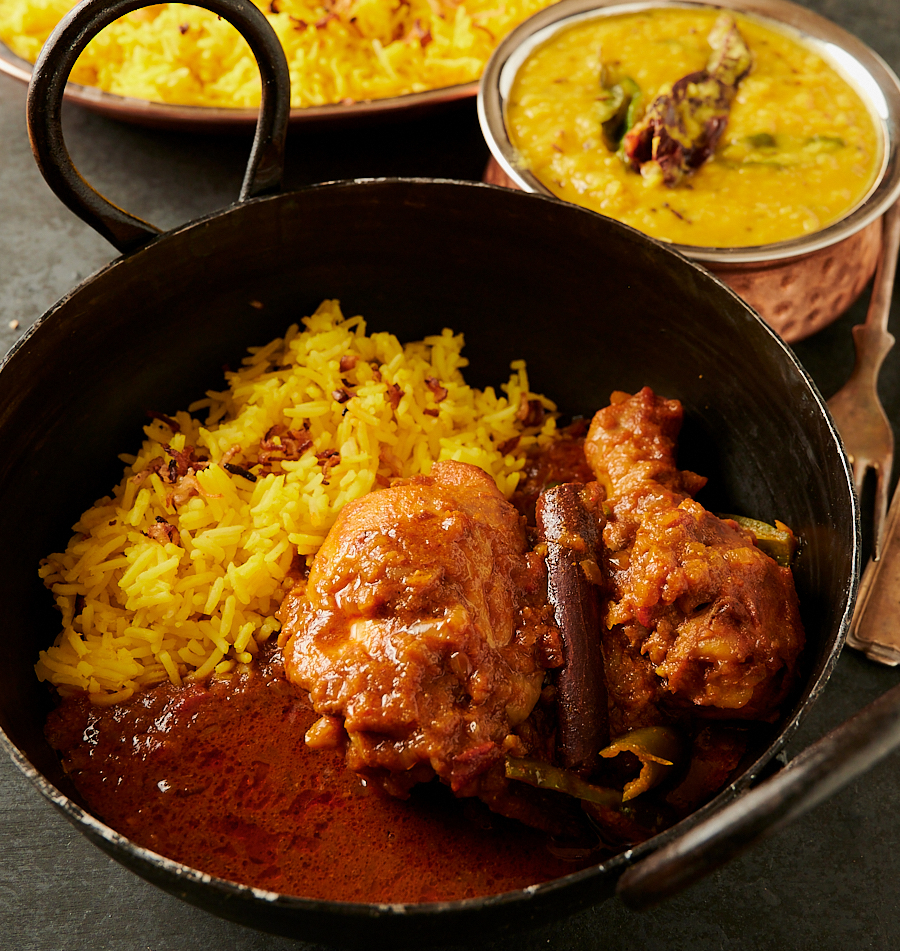 Make this simple chicken curry your own
This is a baseline recipe. A foundation. And you can build a lot of dishes on this foundation. Push it in all sorts of directions.
Just like chef does to keep his staff happy. Get the basics down and you can do almost anything.
Want something like a dopiaza? Fry up some big chunks of onion. Toss them in towards the end.
Jalfrezi your thing? Blister up some green peppers. And some onions. Maybe add a 1/2 teaspoon of tandoori masala to the spice mix. Add some cilantro stems along with the green chilies. Maybe a few pieces of tomato right at the end.
Like South Indian? Add some fresh curry leaves in with the whole spices. Some black pepper into the spice mix.
Coconut milk instead of chicken stock. A little tamarind paste at the end to give it some tang.
Or swap out the coriander, cumin and turmeric for some Sri Lankan roasted curry powder. Can you say Ceylon?
Looking to make a madras curry? Replace the coriander, cumin, turmeric and paprika with madras curry powder. Add a tsp of kasoori methi. Some fresh lemon juice at the end.
If you're feeling adventurous add some Indian pickle. That makes a great addition. A little garlic chili pickle adds complexity. Naga pickle if you like that heat and flavour.
What I'm trying to say is chef isn't constrained to one recipe. And you shouldn't be either. Have fun. Get the simple chicken curry down. And then play with it.
Get your Indian mojo
Bloom your spices – There are oil soluble flavour compounds in ground spices. And you want to get those flavour compounds out of the spices and into your mouth. Blooming spices is how you do it.
Fry powdered spices in oil. That's all there is to it. And if you're wondering. Yes, this is the smell of Indian restaurants.
Brown your onions – There are no shortcuts here. Think French onion soup. You want brown. Just do this. It's important.
Bone-in chicken – This is homestyle chicken curry. A braise. Boneless, skinless chicken breasts are not good in braises.
I'm still struggling to find something they are good for. Not Indian. Pretty sure about that.

Bone-in thighs. Bone-in legs. That's the business. Try it. It makes a difference.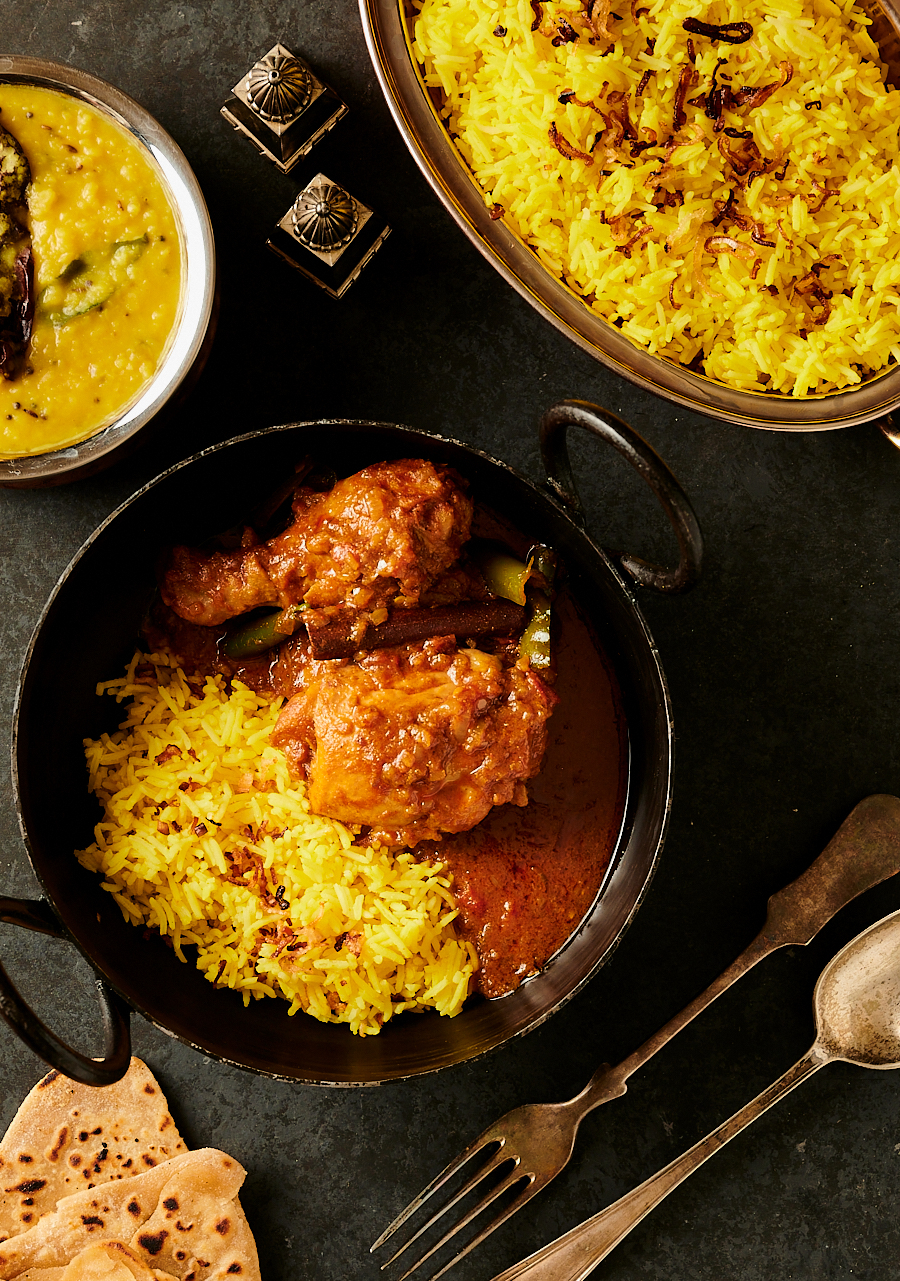 Make this simple chicken curry
Make this. Even if you've been following glebekitchen for years. Even if you're a Jedi master at restaurant style.
This is worth trying. I like to mix it up. And I'm betting you will too.
I can cook more complicated curries. More elaborate. Look around this blog. There's no shortage.
But I come back to this one. Often. Homestyle. Comfort food. Just good simple chicken curry. Give it a try. I think you'll like it. Chef does. And so does his staff…
simple chicken curry
Serve this simple chicken curry over basmati rice and garnish with cilantro. Remember, the whole spices are not meant to be eaten.
Ingredients
Spice Mix
1

Tbsp

coriander powder

2

tsp

cumin powder

1

tsp

turmeric powder

1/2-1

tsp

chili powder

depending how hot you like it

1

tsp

paprika

1

tsp

kosher salt to start
Simple Chicken Curry
3

Tbsp

vegetable oil plus one Tbsp vegetable oil

1

2 inch

piece of cinnamon bark

or cinnamon stick

8

green cardamom pods

3 cups

onion

finely diced. About one really large onion

1

Tbsp

tomato paste

diluted with a couple tablespoons of water

3

cloves

garlic

1

1 inch

piece of ginger

2

plum tomatoes

seeded and diced

3

green chilis

seeded and diced (or 1 jalepeno, seeded and diced)

8

chicken thighs

bone-in, skinless

1/2

cup

chicken stock
Instructions
Make the masala
Make your mix powder. Combine all the ground spices with the salt.

Use a food processor to finely chop the onion. It takes two seconds and it works way better. You are looking for a really fine dice. Almost a paste.

Now use your food processor to make a garlic ginger paste. It's already dirty so this comes for free. Combine the garlic and ginger with a bit of water and whiz until you have a puree. If you have a big food processor you may have to make more to get it to work or use a blender (more dishes though).

Heat 3 Tbsp oil in a 4-5 quart pot over medium heat. Add the cinnamon and cardamom and cook about 20-30 seconds. The spices should sizzle.

Crank up your fan hood to max. Really. Full blast time. Unless you want your house to smell like an Indian restaurant.

Add the onion and cook, stirring regularly until they take on a golden brown colour. You want them soft. Really soft. Take your time here. Give it 10 minutes at least. It takes as long as it takes and it is important.

Turn the heat down to medium low. You don't want your spices to burn. Add the 4th Tbsp of oil and your spice mix. Stir constantly for about a minute. If things start to stick you need more oil. If you really get into trouble toss the tomato paste in and move the pot off the burner.

This is called blooming spices. There are oil soluble flavour compounds in spices. This gets them out of the spices, into your oil and then into you mouth. It's important.

Add the diluted tomato paste, green chilies and garlic ginger paste.

Continue to stir and cook another minute. Stir in the chopped plum tomatoes. Cook for two to three minutes.
Make the curry
Add the skinned chicken thighs and/or drumsticks to the pot, stir and add 1/2 cup of stock or water. Bring to a gentle boil, reduce heat and simmer about 25 minutes – until the chicken is cooked through. The chicken is done when the internal temperature hits around 170-175F.

Adjust salt to taste. I expect around another 1/2 tsp if you are using kosher salt. Probably none at all if you are using table salt.
Notes
I use an Indian chili powder called mild kashmiri. If you can't get that (or don't want to bother) go with 1/3-1/2 tsp cayenne topped up with enough paprika to make 1 tsp.
Nutrition
Serving:
4
servings
|
Calories:
421
kcal
|
Carbohydrates:
12
g
|
Protein:
41
g
|
Fat:
23
g
|
Saturated Fat:
13
g
|
Cholesterol:
193
mg
|
Sodium:
927
mg
|
Potassium:
793
mg
|
Fiber:
4
g
|
Sugar:
3
g
|
Vitamin A:
765
IU
|
Vitamin C:
13
mg
|
Calcium:
65
mg
|
Iron:
3.8
mg