Delicious on a Tuesday. Worthy of a casual dinner with friends. And easy. Thai turkey burgers. A real crowd pleaser.
In a healthy sort of way. Any night of the week. Nothing not to love here.
Some green chilies. A little shallot. Garlic. Cilantro. And fish sauce. There has to be fish sauce.
On a bun. With a spicy kewpie mayo burger sauce.
A little lettuce. Some tomato. A few strands of red onions. This one gets my diabolically simple badge.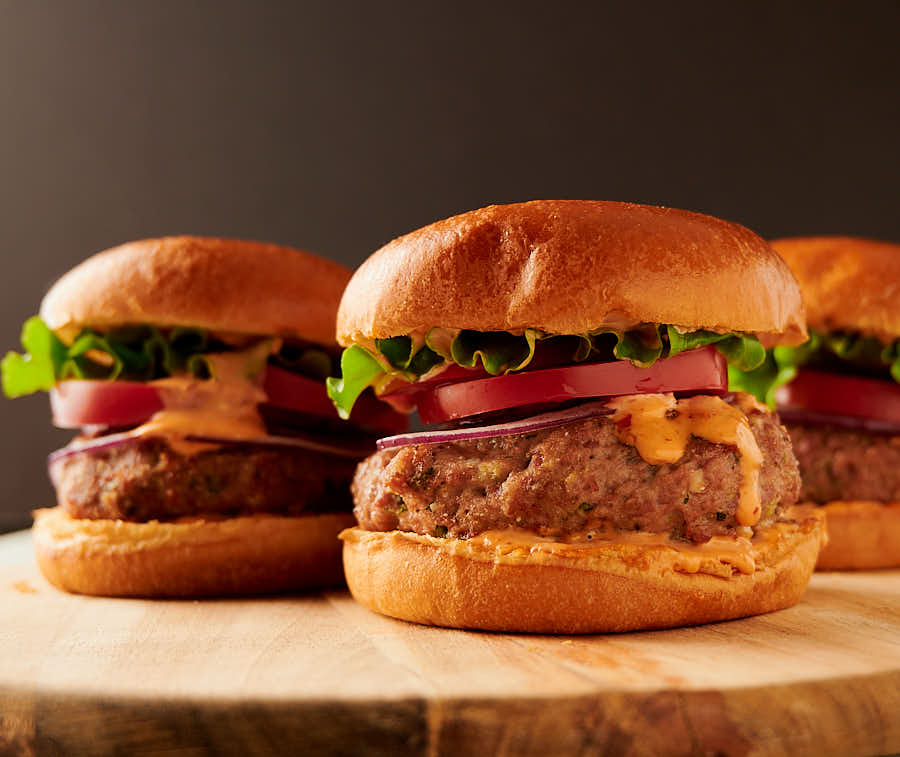 Sometimes you just get lucky
Every now and then I just fall into a recipe. Without trying. Without thinking even. This is one of those times. It just happened.
Tuesday night. Nothing in the fridge. Indian-ish lamb burgers on the brain.
Hit my local grocery store. No ground lamb. No ground pork even.
Lots of ground turkey though. Which makes sense. To me anyway. Who actually wants ground turkey? Turns out I do. But I'm getting ahead of myself.
I decided to try. Wasn't happy about it. Grabbed the turkey. Some brioche buns. And went home without a plan. Sometimes you just need to eat. Can't always be great.
Thai turkey burgers surprised me
I wasn't expecting this. Not even a little bit. Don't think I've cooked ground turkey in 10 years. My bad.
First bite. "Huh. This is actually pretty good."
Third bite. "This is really good. I'm going to have to remember this one."
Fifth bite. "I'm actually thinking this might be glebekitchen worthy."
Last bite. "This one is a keeper! I'm doing a Thai turkey burgers blog post."
So I did. Here it is.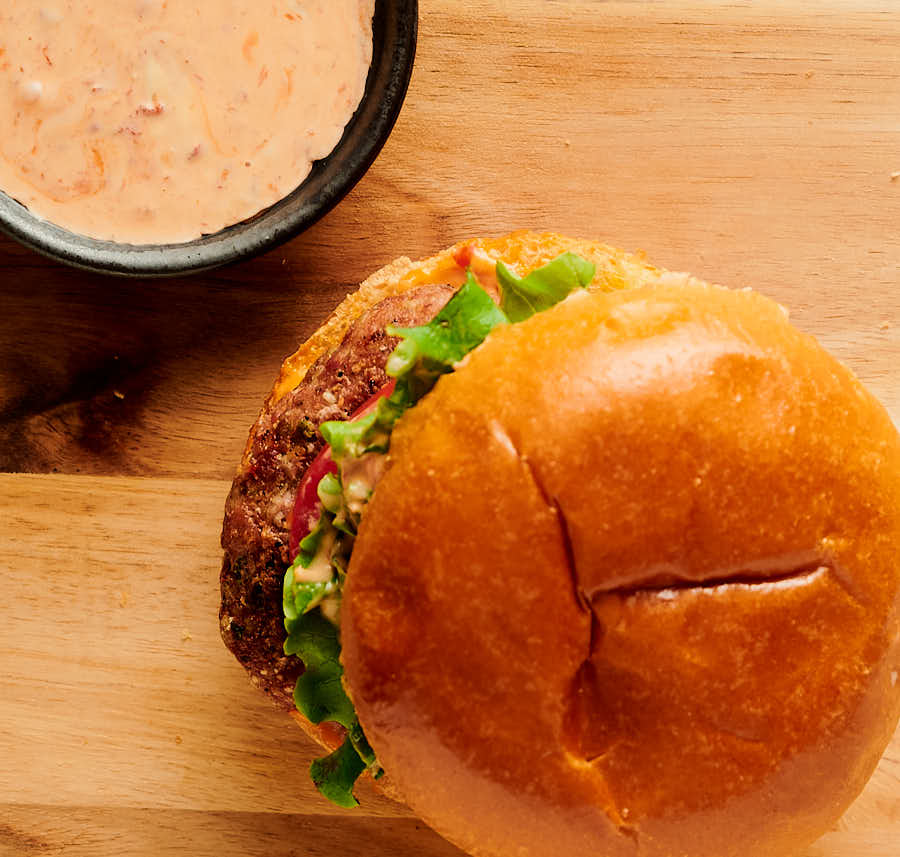 Simple Asian ingredients
This isn't really Thai. But I have to call it something. Don't have a better name. Could be Asian turkey burgers. Southeast Asian maybe?
But it could be Thai. If turkey burgers were a thing in Thailand.
That's the beauty of making stuff up. Freedom to name it. It's a bit ridiculous I suppose. But food is supposed to be fun. So I'm not super worried about it.
The ingredients could be Thai. Could be Vietnamese as well. Thai turkey burgers. Vietnamese turkey burgers. You choose.
The burger sauce though. Not Thai. Or Vietnamese. It's a Japanese Indonesian love child.
Turkey isn't big in Thailand either. You can call me out on that. If you have nothing better to do I guess. But I've already said it. So why bother?
I'm kidding. Call me out if you want. I made this up. I called it Thai turkey burgers.
It's culinary fiction. Rolls of the tongue better than Japan-Indonesian south-east Asian turkey burgers. So I'm going with it.
Turkey. Green chili. Shallots. Cilantro. Fish sauce. Black Pepper. Sambal oelek. And kewpie mayo. Hard to go wrong really.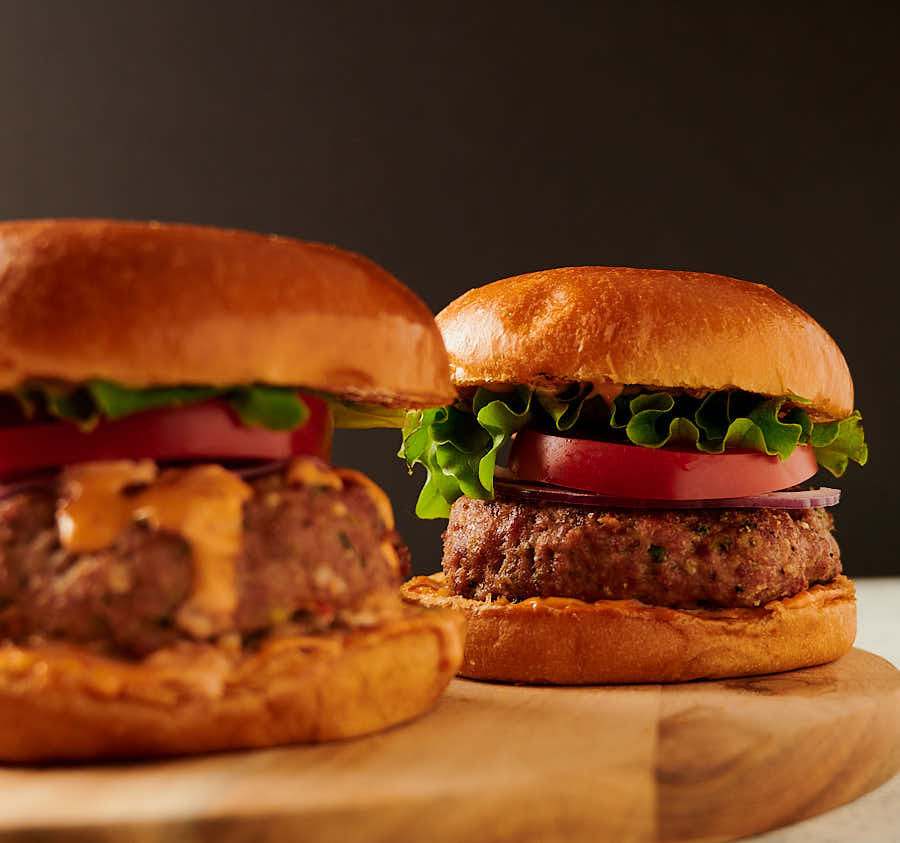 Don't fear the fish sauce
I've said this many times. Safe bet I'll say it again. Don't fear the fish sauce. Please don't fear the fish sauce.
I get why you might. The name is bad. Mmm… fish sauce. Clearly nobody asked marketing what to call it.
It doesn't smell great. Kind of nasty actually. Not something you want to put on your ice cream.
It doesn't even taste good. Straight up anyway. I've done fish sauce tastings. Some are better than others. But I'm not rushing to do another tasting any time soon.
I don't understand it. It's culinary voodoo. Magic. Somehow fish sauce makes almost everything taste better.
That's not exactly true. I do understand it. In theory anyway.
Fish sauce is high in glutamates. Glutamates are culinary gold. Key part of umami. Somehow the brain knows. Even when the nose says no. Absolutely fascinating.
It's also a safe bet you've had it. Probably loved it even.
Have you ever eaten at a Thai or Vietnamese restaurant? Yes?
Did you like the food? Yes?
Yes to the first question? You've had fish sauce. That's almost guaranteed. And if you liked the food then you like fish sauce.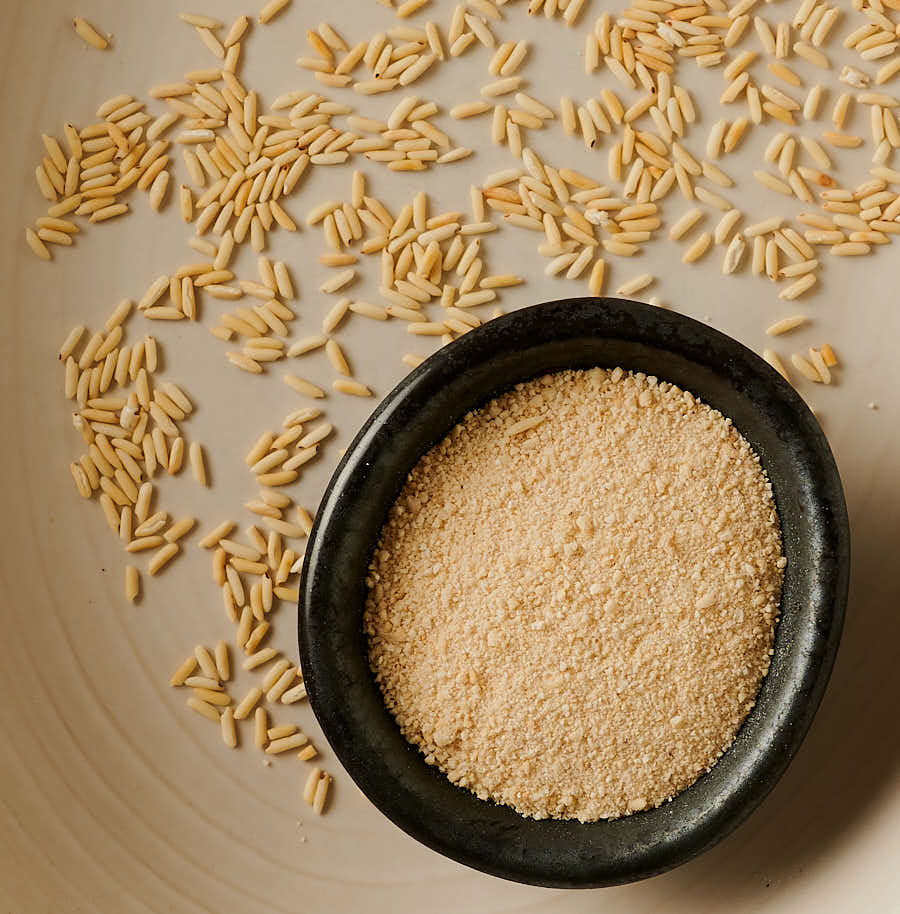 Roasted rice powder makes Thai turkey burgers work
Ground turkey is wet. Really wet. Add some fish sauce and it's too wet to handle. Near impossible to get onto the grill.
I did it the first time. Had to carefully slide the patties from the plate onto the grill. It wasn't easy. Not at all.
So I made one change from my original Tuesday night epiphany. To make it a little easier to handle. A trick I learned making bun cha.
Toasted rice powder. Sounds exotic. But it isn't. Dry pan. Few tablespoons of glutinous or jasmine rice. Toast. Cool. Grind.
That's it. Gentle heat. Rice. Pan. Shake. Until the rice turns a nice golden brown.
Remove the rice from the pan. Let it cool. Grind. I like my spice grinder for this. You could use a mortar and pestle. If you want a workout. I don't. So I use a grinder.
It doesn't just make things more manageable. It adds a bit of texture. A hint of flavour. I like it in bun cha. And I like it here.
It isn't absolutely essential. You can leave it out. If you are really careful with your patties. I'm serious. You have to be really, really careful.
Don't come crying if you leave it out. And your burgers self destruct. You've been warned. Toasted rice powder makes this recipe way easier.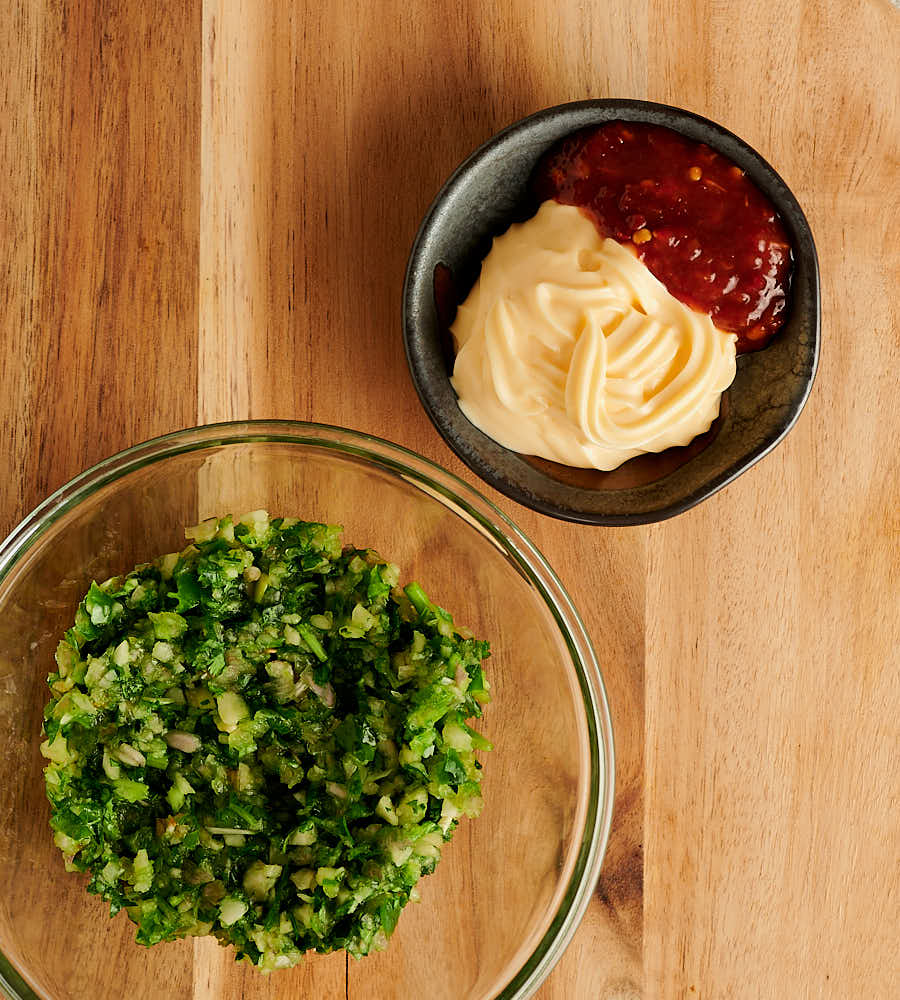 Magic burger sauce
The company with the golden arches has their special sauce. I have mine. Mine is better. I'm just going to call it. And it's magic. That's way better than special.
Thousand Islands dressing is not burger sauce. It's salad dressing. Pretty bad salad dressing. Purists will tell you it isn't quite thousand islands dressing. I say close enough.
Mine has only two ingredients. Sambal oelek. And kewpie mayo. Might take a little hunting to find them. But they are around.
Sambal oelek is a staple in my house. Indonesian chili sauce. Amazing stuff. Sambal oelek needs to be in your fridge. It is just that good. And it lasts forever.
Kewpie mayo is Japanese mayonnaise. It is not the same as Hellmann's. Not a subtle difference either. Another good one for your fridge.
Kewpie mayo isn't cheap. But it is special. Magic even. I think it's worth the splurge. Try it once to see for yourself.
It's in major grocery stores here. Ask. You may be pleasantly surprised. Worst case pretty much any Asian grocer will have it.
Pork works too
Pork works in this recipe. Really well. And it is more believable. Thai pork burgers. That could actually exist. Somewhere.
Bankok is a big place. With a lot of street food. I bet somebody must be making it.
It works for all the reasons pork works in Thai cuisine. Or whatever part of Southeast Asia is right for this recipe.
Not so far from bun cha really. In burger form.
And I googled bun cha burger. There is a place in Hanoi. So maybe I'll do a post on Vietnamese pork burgers.
And FWIW I think the guy in Hanoi is a genius.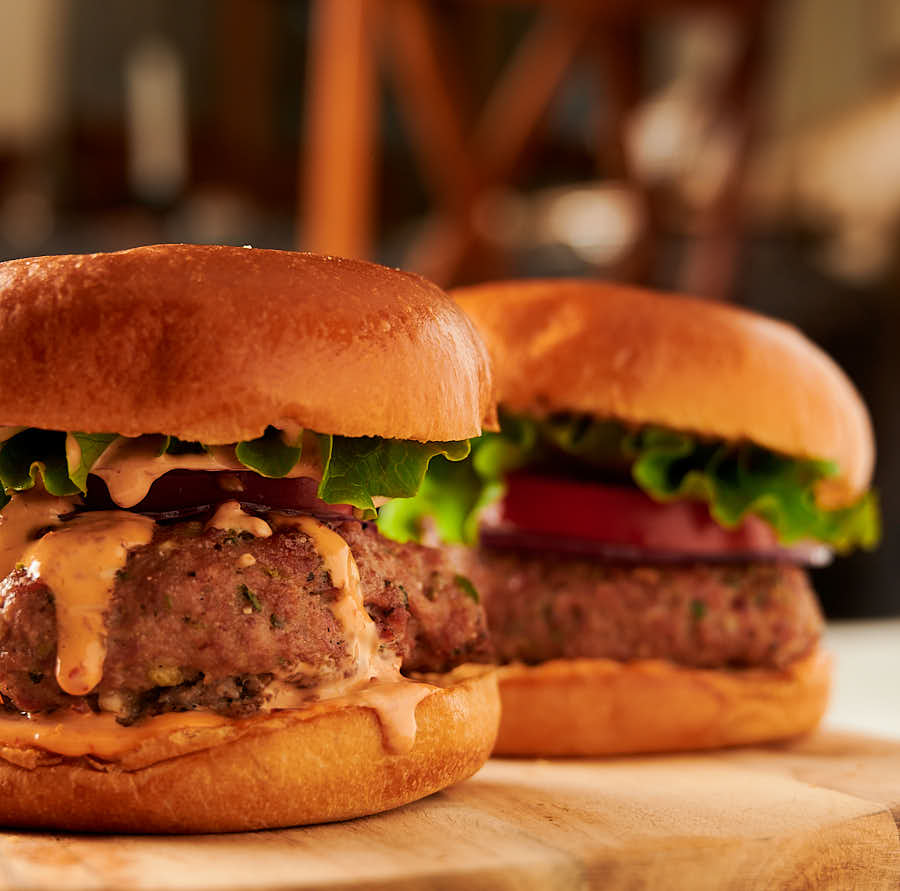 Sometimes tasty is hiding in plain sight
Never thought I'd do a turkey burger post. Never thought I'd be excited by a turkey burger. I cannot remember even wanting to eat a turkey burger.
It's low fat. Not my favourite thing. It says extra lean on the package. Really not my favourite thing.
And yet here it is. I'm still scratching my head a bit. Somehow it works. Works well even. Pretty happy to have fallen into this one.
Easy enough for a Tuesday night. Delicious. Semi-healthy. And pretty inexpensive. That's a winner in my books. Hopefully it's a winner in your books too.
thai turkey burgers
Kind of healthy. Seriously delicious.
Equipment
You need a BBQ for this

– charcoal is better
Ingredients
Flavouring paste
1/4

cup

green chili

– seeded. Finger hot (jwala) or even jalapeno, coarsely chopped. You don't want to use a small Thai green chili here. You won't get enough green chili flavour (or it will be really spicy if you add more)

1/2

cup

cilantro

– leaves and stems, coarsely chopped

2

cloves

garlic

1/2

cup

shallot

– coarsely chopped.
Magic burger sauce
6

tbsp

kewpie mayonnaise

2

tbsp

sambal oelek
Thai turkey burgers
2

lb

ground turkey

2

tbsp

fish sauce

1

tsp

black pepper

– coarse. I like butcher's grind for this.

3-4

tbsp

toasted rice powder

– see notes. You can buy this but it's really easy to make.

salt when it hits the grill

to taste

6

burger buns

– I like brioche (not sweet) buns for this
Instructions
Do your prep
Coarsely chop the green chili and shallot.

Combine the chopped green chili, shallot, garlic and cilantro sprigs in a small food processor and process until finely chopped. You can use a knife for this as well. Just make sure everything is super finely chopped.

Prepare your garnishes. Slice some tomatoes (2 per burger unless the tomatoes are really big. Thinly slice some red onion. Wash the lettuce.

Light your barbecue. You want it set up for high, indirect heat.
Make the magic burger sauce
Combine the kewpie mayonnaise and sambal oelek. Mix thoroughly. The easiest special sauce of all time is ready to go.
Prep the turkey burgers
Combine the ground turkey, fish sauce, chopped chili/shallot/cilantro/garlic mixture, black pepper and two tablespoon of toasted rice powder. Mix with your hands. Yes. Your hands. They are without a doubt the best cooking tool you own.

This is where you need to make a judgement call. You want the turkey mixture to hold together. Try making a patty. If it is too wet add more toasted rice powder. You want it just dry enough to hold together from the plate to the grill if you use both hands to move it and are careful. I find 3 tbsp to be about the minimum for the ground turkey I get here.

Once you are happy with the texture of your turkey mixture form it into 6 equal patties and transfer to a plate.
Grill the Thai turkey burgers
Place the burgers over indirect heat. That means build the fire on one side and put the burgers on the other side. Use both hands to move the patties. Be careful. Salt liberally. That's important. Don't go overboard on the healthy thing.

Cover the grill. Cook for about 7-8 minutes. Once they are firm enough to move flip them carefully. Season the second side with salt. Cook another 5 minutes. They should be fairly firm at this point (internal temperature around 130F). Note that 130F is not the target final temperature. This is just an indication they should be firm enough to handle.

Move the patties to the direct heat zone. Cook them for thirty seconds to one minute. You want them to colour up. You don't want them to burn. Once they are browned to your satisfaction flip them and cook them for about as long as you did on the first side.

Return the burgers to the indirect zone and cook until they reach an internal temperature of 160F.
Assemble the Thai turkey burgers
Toast your buns. Smear the special sauce onto both sides of each bun. Put the burger on the bottom and top with the tomatoes then the onions and finally the lettuce. A little salt and pepper on the tomatoes is a nice touch. Enjoy!
Notes
Toasted rice powder is exactly what it sounds like. Take about 1/2 cup of jasmine rice. Toss it into a large dry skillet over medium heat (you want to try to get the rice in a one grain layer). Toss every 15-20 seconds or so. Dry roast the rice until it gets to be a light golden colour. Takes me about 10 minutes. Your stove is different so go for colour. Let it cool and grind in a spice grinder.
Nutrition
Calories:
433
kcal
|
Carbohydrates:
32
g
|
Protein:
41
g
|
Fat:
15
g
|
Saturated Fat:
3
g
|
Polyunsaturated Fat:
8
g
|
Monounsaturated Fat:
3
g
|
Trans Fat:
0.1
g
|
Cholesterol:
89
mg
|
Sodium:
988
mg
|
Potassium:
615
mg
|
Fiber:
2
g
|
Sugar:
5
g
|
Vitamin A:
148
IU
|
Vitamin C:
7
mg
|
Calcium:
84
mg
|
Iron:
3
mg