I love bun cha. Vietnamese grilled pork and rice noodle salad. The moist and flavourful pork. The cool rice noodle and fresh herb salad.
And the nuoc cham. That magic balance of spicy, sweet, sour and salty. It's just perfect for dinner on a warm summer night.
Bun cha makes a great dinner any time
It's actually really good for dinner any night of the year. OK – maybe not if there's a blizzard raging. So then most nights. You get the picture.
I have a thing for Vietnamese food. It's just so good. And bun cha is a fine example of why I love it. Explosive flavours. Satisfying but not heavy. Summer food. Happy food.
Nuoc cham is what brings bun cha together. If you don't know about nuoc cham it's a dipping sauce all over Southeast Asia. You know that clear, salty sweet sauce you get with spring rolls? That's nuoc cham.
And anything with nuoc cham and rice noodles works. It's the power couple of Southeast Asian cuisine. Just good. It's super easy to make. Combine the ingredients. Stir. That's it. Doesn't get much easier than that.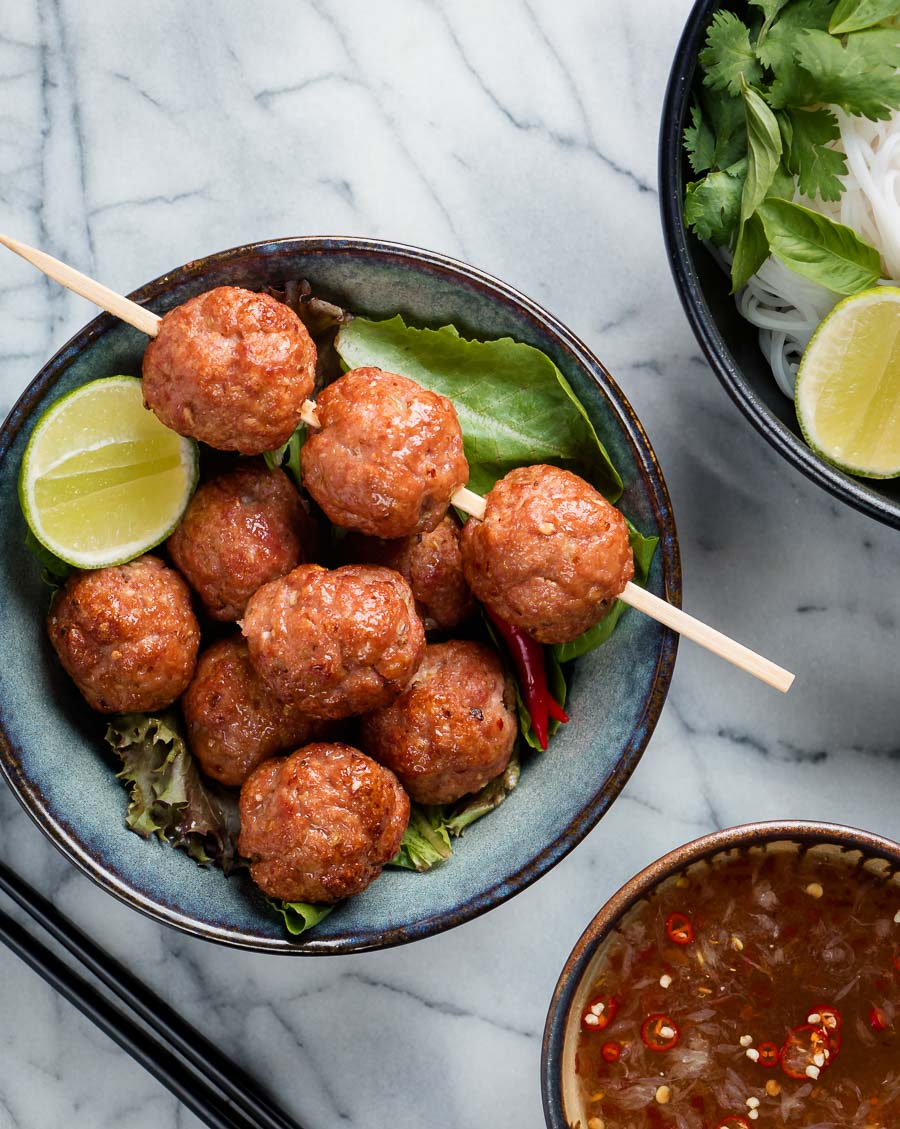 These are seriously delicious meat balls
The meat balls are great in bun cha but they are great on their own as well. Serve them as finger food with nuoc cham along side. Or with a green salad with a simple soy vinaigrette for a nice lunch. They are addictive.
Funny thing about the meat balls. They go against conventional wisdom. I always try to keep ground meat as loose as possible. Never work a burger any harder than I have to. Gentle. Never dense.
For bun cha it's the absolute opposite. You put the pork in the food processor and whiz it. You are making paste.  Paste. Crazy. But it works. Don't know why it works. But it does.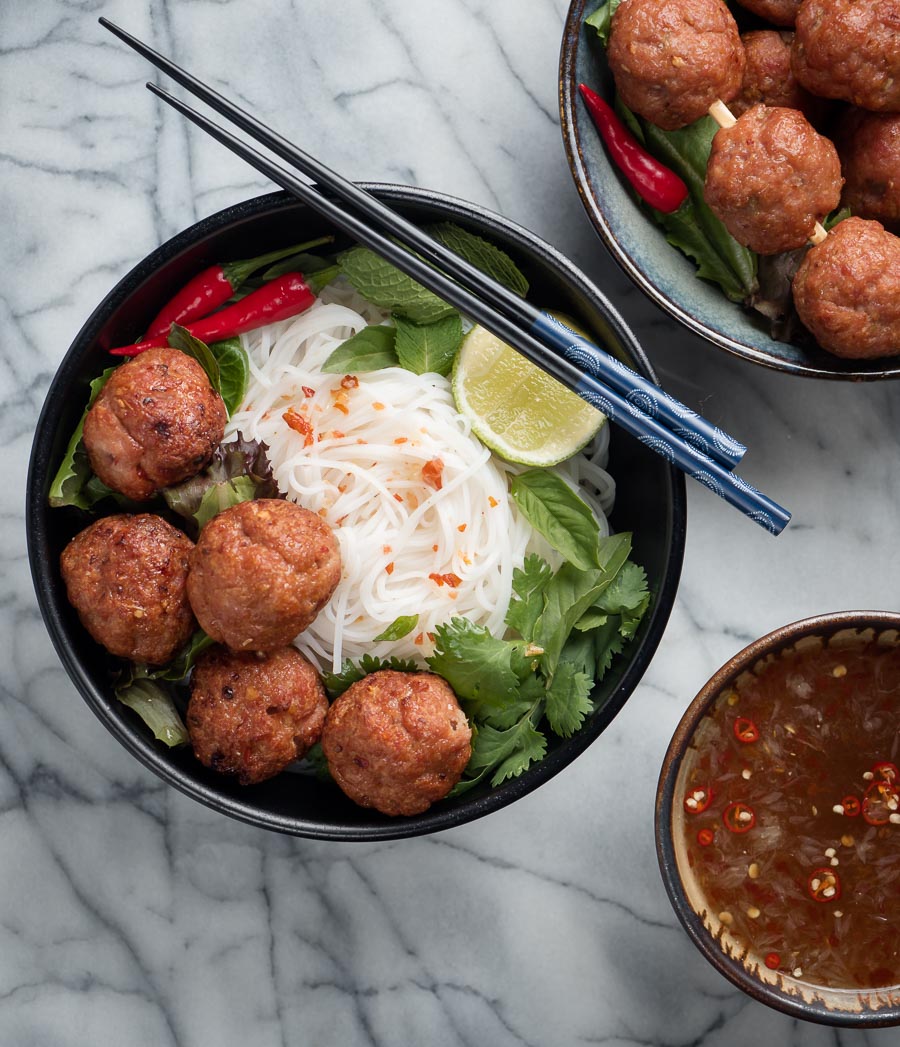 Grilling adds big flavour
I like to grill the pork balls on skewers psuedo-yakitori style. But you don't need to. You can do pretty much as you like so long as you don't overcook them.
Charcoal is best for this recipe. But charcoal is best for every recipe so that's not a big surprise.
If you are going to do yakitori style grilling there are a couple things to keep in mind. You don't want the balls to come in contact with the grill. And you don't want the skewers burning.
Get yourself a couple bricks. Firebricks work well if you can find them. The ones they use to make fireplaces. Place them directly on the grill.
Leave enough room between the bricks for the food on the skewers. But make sure they are close enough together to rest the skewers on. Instant yakitori style grill.
The right skewer makes a big difference for bun cha
Look at the skewers in the pictures. They are flat. There's a reason for that. They work.
Round skewers are for grilling directly on the grill. Where the meat is in contact with the grill.
They don't work so well when you grill yakitori style. The skewers spin until the heavy side is down. There's no way to flip them. They will keep spinning to where they want to be.
Unless you are a yakitori master and you can thread meatballs so they are perfectly in balance just use flat skewers. It will save you a lot of grief.
Make bun cha next time you get an urge for something light. Something fresh tasting. Something a bit different.  But absolutely wonderful.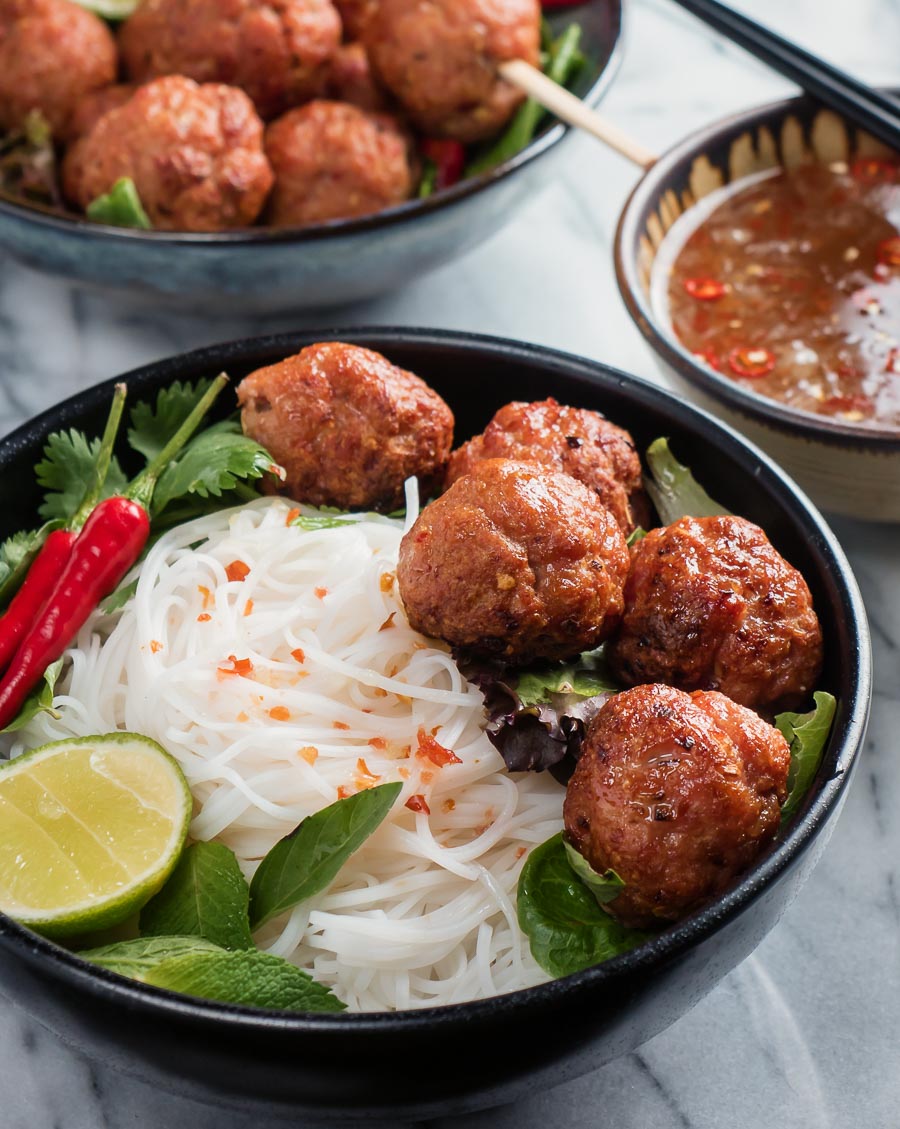 bun cha - vietnamese grilled pork with rice noodles
Bun cha is a savoury Vietnamese rice noodle dish served with grilled pork balls and nuoc cham. It's perfect for warm weather dining.
Ingredients
Pork balls
2

lbs

ground fresh pork

1/4

cup

fish sauce

1/2

cup

finely chopped shallots

2

cloves

crushed garlic

1/4

cup

toasted rice powder

- see notes

2

tsp

sambal oelek

1

tsp

sugar

10

flat wooden skewers (don't use round ones)

- soaked in water for 30 minutes
Nuoc cham
1/4

cup

fish sauce

1/4

cup

sugar

2

tbsp

fresh lime juice

- about one lime's worth

1

tsp

sambal oelek

2/3

cup

hot water

minced red chilies

- optional and to taste
Bun cha
10 oz

dried rice noodles

- the thin flat ones

pork balls

mint, cilantro, thai basil, baby greens and lime to garnish

nuoc cham to serve
Instructions
Pork balls
Soak 10 wooden skewers in water for at least 30 minutes.

Combine the ground pork, shallots, garlic, toasted rice powder, sugar, fish sauce and sambal oelek in a mixing bowl.

Use your hands to mix thoroughly.

Transfer half the pork mixture to a food processor. Pulse about 10-15 times. You want a big homogenous mess.

Repeat with the rest of the pork mixture. You don't want to overload your food processor. It won't mix well if you do. Let the pork mixture sit for about 30 minutes.

While the pork sits, build an indirect charcoal fire in your grill. Bank the coals on both sides and put a drip pan in the middle. If you are using gas, turn on a burner or two but leave a cool zone in the middle. You want the grill at about 500 degrees. Hot.

Here's a nifty grilling tip. To approximate a Japanese grill put two fire bricks sideways with enough space between them to sit the skewers on them. Far apart enough that the meatballs don't touch the bricks but close enough so your skewers sit on them. You don't have to do this. You can grill them how you like. But the brick trick is what I do.

Form the pork mixture into golf ball size balls. You should get around 24 balls.

Thread the pork balls onto the skewers. Take care to try to get the skewers through the middle of the balls so they are balanced. This is tough. Do what you can.

Grill the pork ball skewers until an instant read thermometer reads 160 degrees. This goes pretty fast at 500F. Under 10 minutes. Less maybe. Don't have an instant read thermometer? Time to get one. Seriously. They start at $10. Everybody should have one. Guessing is almost always wrong. Instant read is always right. You want to nail it every time don't you?
Nuoc cham
Combine all the ingredients and stir to combine. Let stand as long as you can. An hour or two isn't out of the question. 10 minutes is probably OK too.
Bun cha
At some point along the way bring a large pot of water to a boil. Cook the noodles until tender. The package may or may not have instructions on it (annoying). If it doesn't 3 minutes plus or minus about a minute is usually about right. You want tender. You don't want mush. Rinse under cold water until cool.

Place a good handful of noodles in the middle of a bowl. Top with the garnishes and 5-6 pork balls. Serve nuoc cham along side and let people drizzle it on themselves.
Notes
Toasted rice powder is just that. Take about 1/4 cup of jasmine rice. Put it in a dry skillet over medium low heat. Toss every 15-20 seconds or so. Dry roast the rice until it gets to be a light golden colour. Let cool and grind in a spice grinder. 
Nutrition
Serving:
4
servings
|
Calories:
706
kcal
|
Carbohydrates:
25
g
|
Protein:
40
g
|
Fat:
48
g
|
Saturated Fat:
17
g
|
Cholesterol:
163
mg
|
Sodium:
2502
mg
|
Potassium:
747
mg
|
Sugar:
14
g
|
Vitamin A:
15
IU
|
Vitamin C:
7
mg
|
Calcium:
50
mg
|
Iron:
2.3
mg