Thai beef stir fry is long on big south east Asian flavours but short on cooking time. It's perfect for a weeknight meal when ho hum just isn't going to cut it.
It's pretty easy. Make the sauce. Stir fry the beef. Toss the beef with the sauce and serve. On rice noodles. On rice. With greens. Whatever you want. Make it your own.
The sauce makes this Thai beef stir fry
The sauce is the thing here. It's Thai nam jim. Fresh chilies. Lime. Cilantro. Sugar. Shallots. Fish sauce. It's all the big Thai flavours in one dish. Nam jim is super versatile too.
Use it in Thai beef stir fry. Or with roast chicken. As a dipping sauce. With grilled meats or chicken. On wings. Crazy good stuff. Crazy versatile too.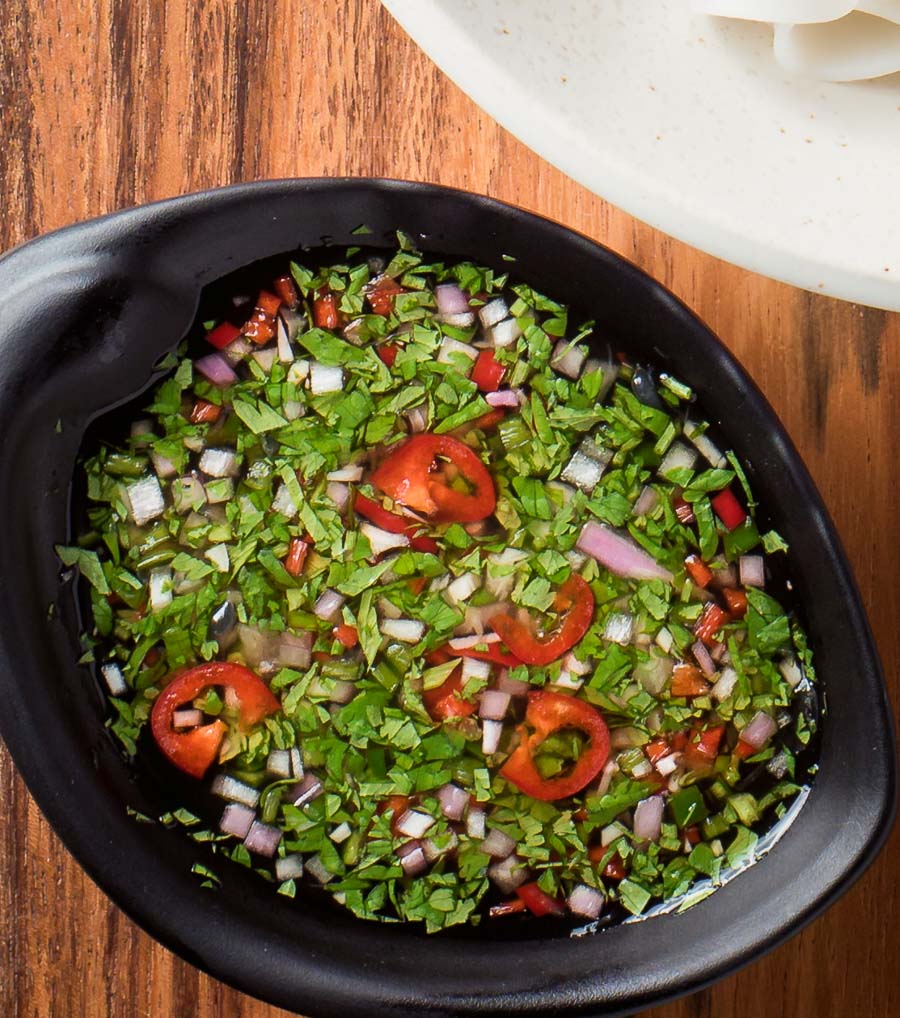 Couple of things to note here. There are chilies and there are chilies. Unless you are a serious chili head don't use those little thai chilies. Those are blow your head off hot.
Look for larger red chilies. They call them finger hots around here. About as hot as a jalapeño. Not so scary. I hear Fresno chilies are similar but I don't get those around here.
Give the nam jim some time to let the flavours meld
The other thing is to give your nam jim some time to let the flavours come together. That takes about an hour so give yourself some time.
Even better mix some up on the weekend and use it during the week. It only gets better as it sits.
You don't have to use a knife to chop everything in the sauce. That's probably the best way but you can use a food processor in a pinch.
Just don't puree everything into a homogenous sauce. You want little bits of everything coming through in every bite.
I like Thai beef stir fry with rice noodles. But it's great on rice. Or as a salad. In a sandwich. It's beef and big Thai flavours. And it's weeknight easy. What's better than that?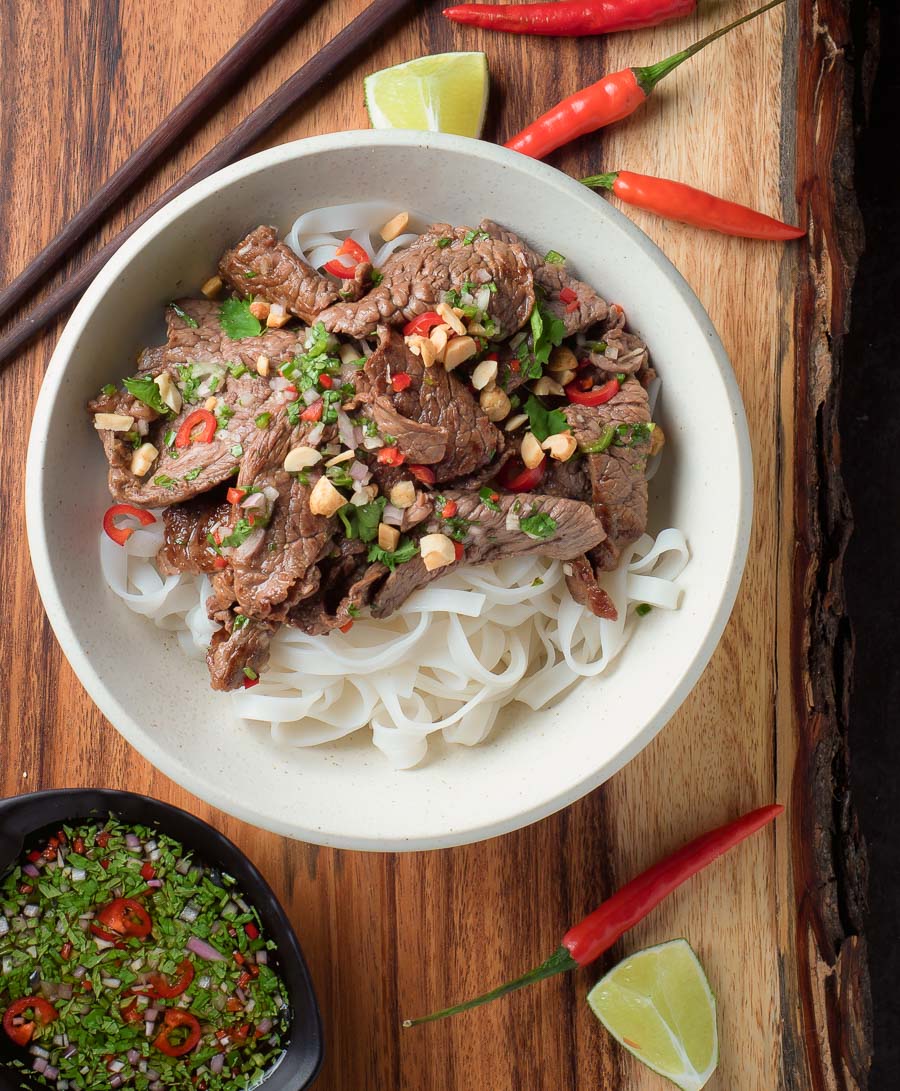 thai beef stir fry with rice noodles
Thai beef stir fry is a great weeknight dish. Beef tossed with thai nam jim sauce goes great with rice noodles, on rice or even in a sandwich.
Ingredients
Thai beef stir fry
1 1/2

lb

top sirloin

thinly sliced against the grain

10-12

tbsp

nam jim sauce

- this is really to taste

2

tbsp

vegetable oil

12

oz

rice noodles
thai nam jim sauce
1/4

cup

fish sauce

1/4

cup

lime juice

- freshly squeezed

2

green finger hot chilies

- minced, about 2-3 tsp

1

red chili

- minced, about 1 tsp

1/4

cup

shallots

- finely diced

1/4

cup

cilantro

- finely chopped

1

clove

garlic

- chopped as finely as you can

1/4

cup

brown sugar

1/4

cup

water
Instructions
Thai beef stir fry with rice noodles
If serving with the noodles, bring a large pot of water to boil.

Boil the rice noodles for 3-4 minutes until just tender. Drain and run cold water over the noodles until cool. Toss with your hands to make sure they don't stick together. A big clump of rice noodles isn't so good.

Heat the oil in a wok or large non-stick frying pan over high heat. Season the beef liberally with salt and pepper. Stir fry 1/4 of the beef until evenly brown. Remove. Add more oil as needed and and repeat until all the beef is browned. Return the beef - but not the accumulated juices - to the pan. Stir fry briefly until the beef is warm. This is one time you don't want to add the accumulated juices back into the dish.

Toss the beef with nam jim and serve over rice noodles (or whatever you decide to serve it with). Garnish with peanuts or sesame seeds, thinly sliced red chilies, and cilantro. Or you can add mint, basil, baby greens, julienned carrots and thinly sliced cucumber. That turns this into a Thai beef noodle salad.
Thai nam jim sauce
Combine all the ingredients and stir to dissolve the sugar.

Let stand for about an hour to let the flavours combine. If you don't have time to let it stand, don't worry. Just go for it.
Notes
Unless you like things really spicy, don't use Thai red chilies (the little ones). Try to find red finger hot chilies. If you can't find them, leave them out. Just add in a bit more green chili.
If you are serving this with rice noodles, you can leave them cold for a noodle salad. Or you can give them a quick stir fry in a bit of oil and serve them warm. It's surprising what a difference that can make.
Nutrition
Serving:
4
g
|
Calories:
657
kcal
|
Carbohydrates:
88
g
|
Protein:
41
g
|
Fat:
13
g
|
Saturated Fat:
7
g
|
Cholesterol:
100
mg
|
Sodium:
1469
mg
|
Potassium:
746
mg
|
Fiber:
2
g
|
Sugar:
15
g
|
Vitamin A:
175
IU
|
Vitamin C:
23.9
mg
|
Calcium:
70
mg
|
Iron:
3.7
mg