If you like lentils this is a dish for you. Bengali masoor dal belongs on the menu whenever you are cooking Indian for dinner. Creamy texture. Bold flavours. Who cares that it's healthy? It's just delicious.
The Bengali in this dish comes from panch phoran. That's a spice mix that figures highly in Bengali cooking. Mustard seeds are big in Bengali cooking too. Double blast.
If you can't get panch phoran you can make this a half and half mix of mustard seeds and cumin seeds. It will still be tasty stuff.
Indians have pretty much mastered the art of cooking lentils. Just visit an Indian grocery sometime. There's must be 20 different types of lentils. Maybe more.
There's a lot of vegetarians in India and they have been cooking for thousands of years. No wonder they are so good at it.
The key to a good masoor dal is the tarka
They have an interesting way of approaching it too. A lot of western recipes  cook the beans along with the aromatics. Basically chuck everything into a pot and simmer. Think vegetarian chili.
Indians do it differently. The lentils cook with a minimum of other ingredients. They fry up the rest of the ingredients separately.
They call that a tarka. At the last minute everything gets mixed together in a big jumble of delicious.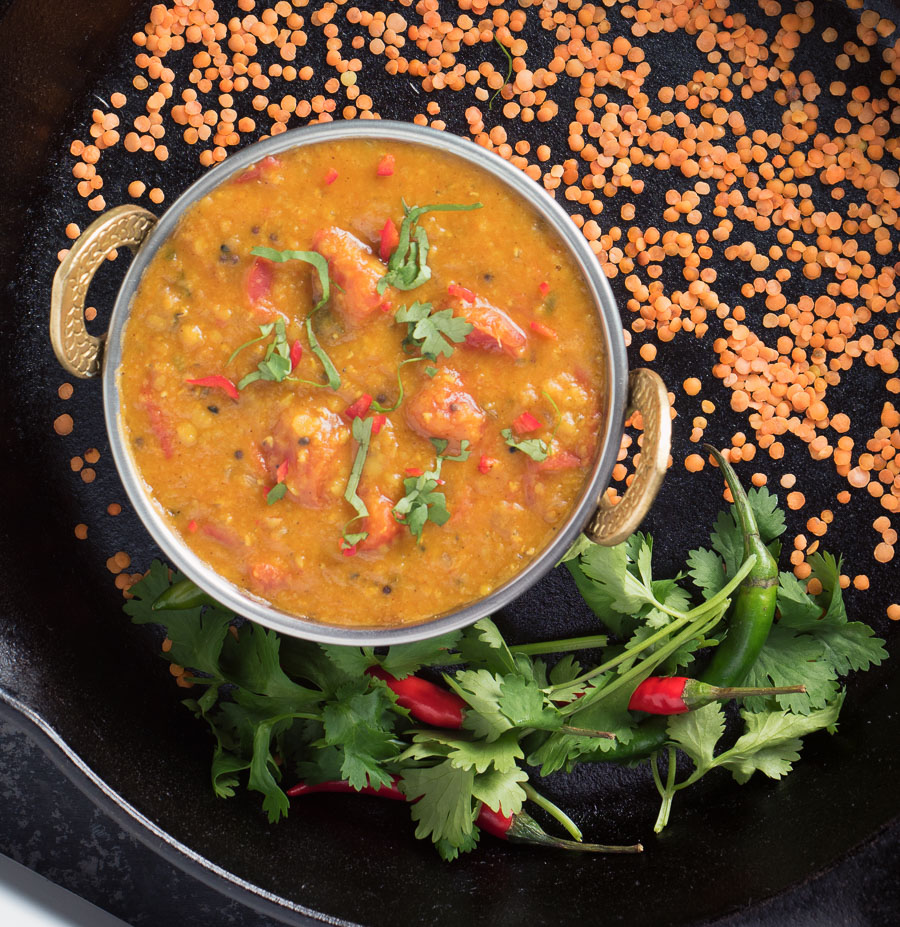 A big part of it is frying the spices in oil. Tempering them if you want the lingo. Many spices have fat soluble compounds that come out during this step.
Doesn't work with water. Has to be fat. It's just one of those things. Until you start doing that your Indian cooking is never going to really get there.
This is one good bowl of lentil curry
I love lentils. Beans in general. And one of my favourites is the humble split red lentil. Masoor dal in India. In general, I am strongly opposed to cooking things until they absolutely fall apart.
But something magical happens when you cook masoor dal to death. It goes from distinct lentils to this soupy mess of wonderful.
Until you try it you have no idea. And until you have an idea I sound nuts. I know.
But you need to try this. You really do…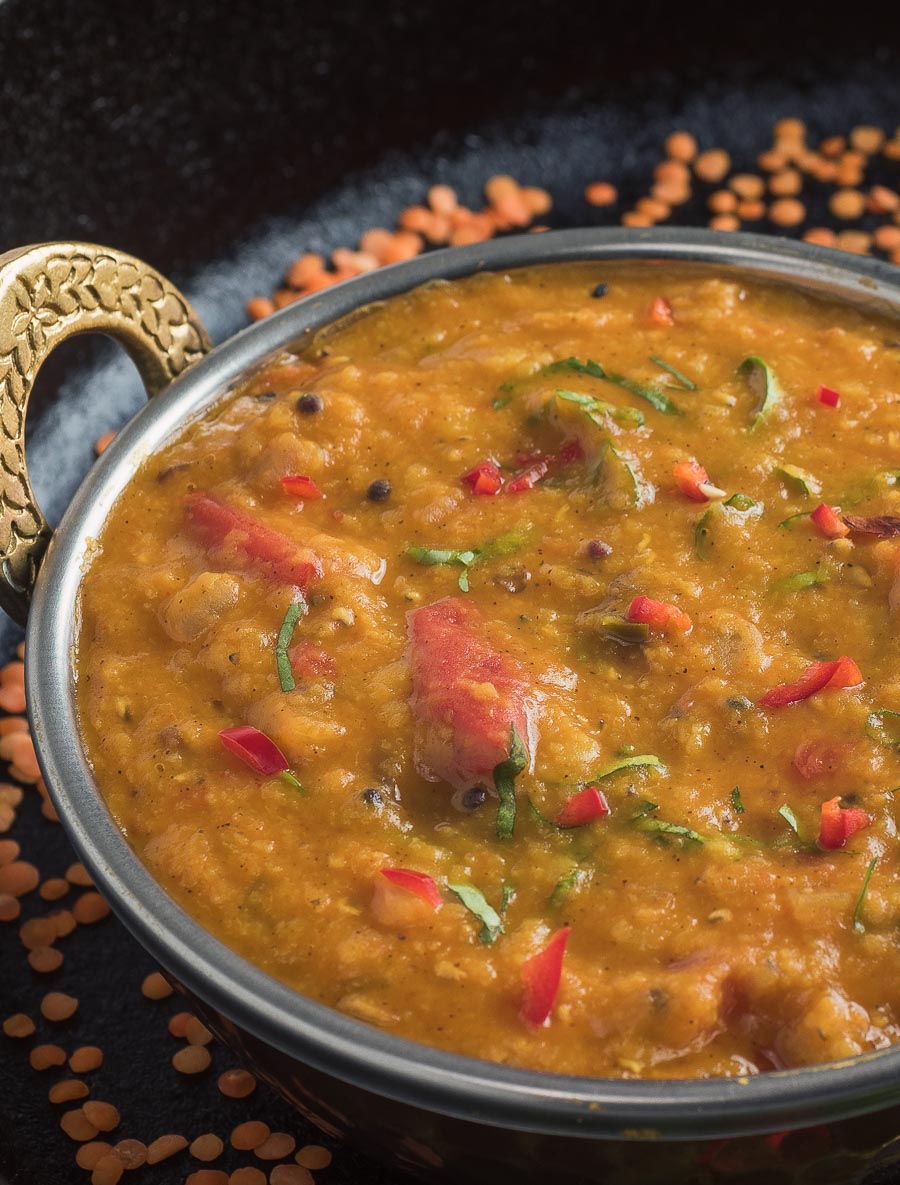 bengali masoor dal
Bengali masoor dal is a simple but delicious lentil dish that will complement any Indian meal.
Ingredients
1

cup

masoor dal

- split red lentils

3

cups

water

1

tsp

panch phoran

- bengali whole spice mix

1/2

tsp

brown mustard seeds

1

tsp

paprika

- optional for colour

1

cup

diced onions

1

Tbsp

garlic ginger paste

- so much better when you make it yourself

1-2

green finger hot chiles

seeded and minced

2

medium

tomatoes

coarsely chopped

3

Tbsp

vegetable oil

1

tsp

salt

plus more to taste
Instructions
Combine the water with the lentils in a pot large enough to hold the ingredients plus some extra room. Lentils can boil over if you don't watch them closely...

Bring the water and lentils to a boil, uncovered and then reduce heat to low, cover and simmer until the lentils completely lose their shape. This takes about 40 minutes.

While the lentils cook, heat 3 Tbsp oil in a frying pan over medium heat. Add the mustard seed and panch phoran. Wait for them to start to crackle. This takes 20-30 seconds.

Add the onions and minced green chili, reduce heat to medium low and cook until the onions soften and turn translucent. This takes about 8-10 minutes.

Increase the heat to medium and add the garlic ginger paste. Stir into the onion chili mixture and cook for about a minute.

Add the paprika and 1 tsp salt. Stir to mix evenly and cook another minute or so.

Add the tomatoes and cook, stirring frequently, until the tomatoes soften. You know you are done when the skin starts to come off the tomato.

Fold the tomato mixture into the lentils. Stir to combine. Taste and adjust the salt. You will probably need another 1/2 tsp or so. Creep up on it, adding a bit at a time. You can add salt. You cannot take it away.
Nutrition
Serving:
6
servings
|
Calories:
189
kcal
|
Carbohydrates:
23
g
|
Protein:
8
g
|
Fat:
7
g
|
Saturated Fat:
5
g
|
Sodium:
425
mg
|
Potassium:
437
mg
|
Fiber:
10
g
|
Sugar:
3
g
|
Vitamin A:
540
IU
|
Vitamin C:
9.8
mg
|
Calcium:
34
mg
|
Iron:
2.7
mg