Nearly restaurant style Chettinad chicken curry is loaded with big South Indian flavours. Coconut. Green chilies. Curry leaves. And just the right amount of spice.
If you've never heard of it, that's not a shock. It's too bad though. You are missing out. That's the problem with the whole Indian restaurant formula.
Chettinad chicken curry is a great Indian dish you've never heard of
There are about a million different Indian curries. And yet somehow pretty much every Indian restaurant features the same 10 or 15 dishes.
You would think all there was to eat in India was jalfrezi, tikka masala and vindaloo. Guess what. There's more. Lots more.
And it's all really good. So much diversity. So many incredible flavours. You need to get out of the Indian restaurant recipe box.
Some of my favourite curries are from the south of India. Madras is probably the most famous. If you like Madras chicken curry then this chettinad chicken curry is likely to hit all the right notes with you. It's a bit creamier than a madras. There's more coconut. And it's pretty assertively spiced. Lots to love here.
This is a way to get Indian restaurant results without all the prep
Nearly restaurant is a way of making curries that gets you the smooth, luscious sauces like you get in restaurants but without the hassle. Easier. The cooking techniques are pulled from restaurant style. If you want to read more about this check out this guide to nearly Indian restaurant cooking.
This takes less prep. Way less prep. You can make this in less than an hour start to dinner. And get really close to restaurant results. Really, really close.
One thing that may seem odd to folks who don't cook in the Indian restaurant style. It's pretty common to pre-cook the meat or poultry. I tried this with uncooked chicken and the juices from the chicken made things a little watery.
Not bad but not that perfectly creamy sauce you get in restaurants. It's not much more work. You can cook it in the same pan you will cook your curry in. And it makes a difference.
Nearly restaurant style Chettinad chicken curry a curry that should be on Indian restaurant menus. It's a bit different. In a good way. Try it. And next time you are out for Indian, ask the restaurant why they don't serve it.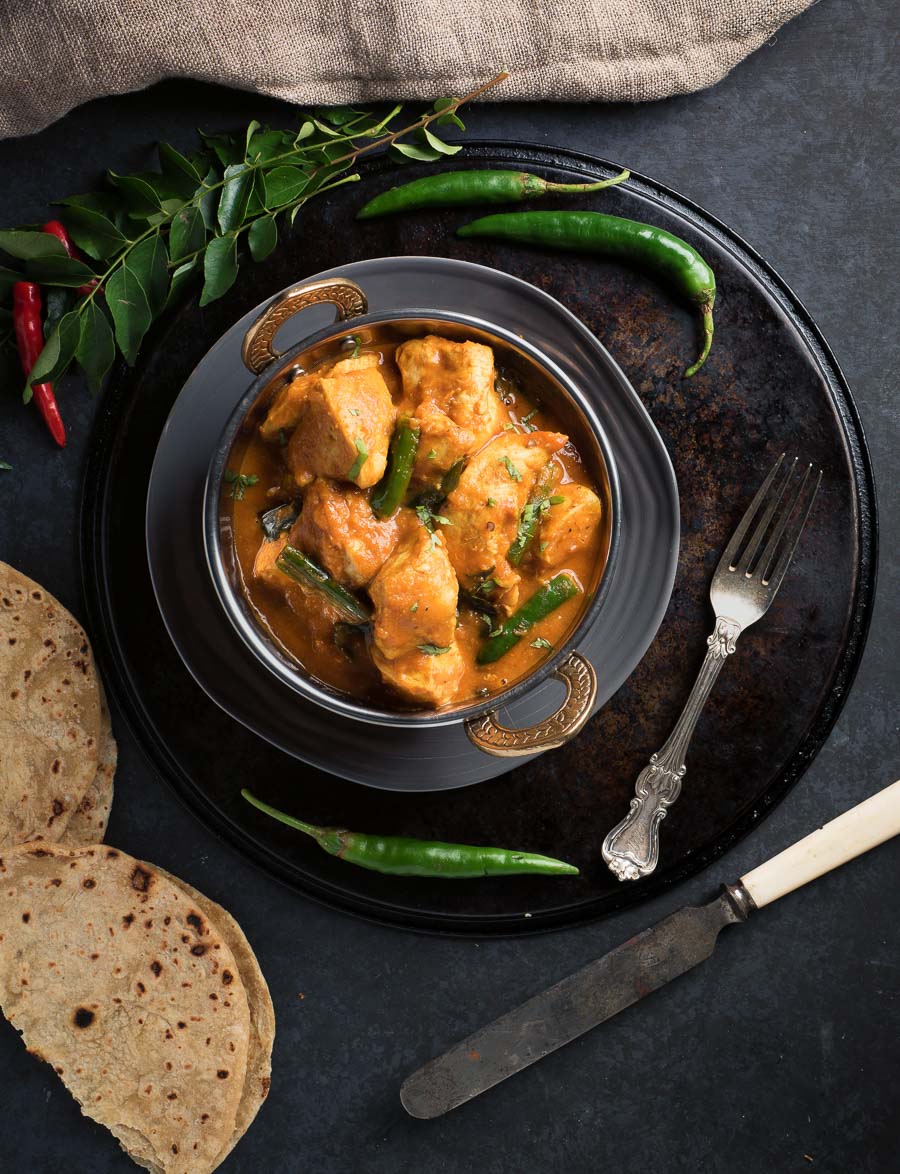 Like this style of curry?
nearly restaurant style chettinad chicken curry
Nearly restaurant style Chettinad chicken curry is a classic South Indian curry with the luscious sauce you get in Indian restaurants.
Ingredients
The onion paste
2

cups

onions - coarsely chopped

2

tbsp

vegetable oil

1

cup

water
pre-cook the chicken
6

boneless skinless chicken thighs cut into 3 pieces per thigh

or 2-3 boneless skinless chicken breasts

1

cup

chicken stock

or water

1

tsp

curry powder

- any curry powder works here

1/2

tsp

salt
nearly restaurant chettinad chicken curry
1

tbsp

garlic ginger paste

1

tbsp

coriander powder

1

tsp

cumin powder

1/2

tsp

turmeric

1

tsp

garam masala

1/2-1

tsp

black pepper

- butcher's grind is great for this recipe

1

inch piece

cinnamon bark

- also called cassia

1

tsp

kashmiri chili powder

1

tsp

salt

2

tbsp

tomato paste

diluted with enough water to get it to the consistency of tomato sauce

4

tbsp

vegetable oil

1/2

cup

coconut milk

2-3

green chilies

coarsely chopped

15-20

fresh curry leaves
Instructions
The onion paste
Place the onions in a microwave safe dish and cover loosely. Microwave at 70 percent until the onions are soft and translucent. This takes 10 minutes in my 1100 watt microwave. I can't predict how long it will take in yours...

Remove the onions from the microwave. Be careful. They will be hot. Let them cool slightly. Place the onions, 2 tbsp vegetable oil and 1 cup of warm water in a blender and puree until smooth. Set aside.
pre-cook the chicken
Add the chicken, chicken stock or water, curry powder and salt to a sauce pan. Pick one that you can cook the final curry in. Less dishes.

Bring the stock to a simmer and cook gently just barely done - maybe 8-10 minutes. It will cook a bit longer in the curry. Remove the chicken from the liquid and set aside.
nearly restaurant chettinad chicken curry
In a small bowl, combine the coriander, cumin, black pepper, turmeric, kashmiri chili powder, garam masala and salt. This is your spice mix.

Heat 4 tbsp vegetable oil in a pot over medium heat until it shimmers. Add the cinnamon stick. Once small bubbles form and it crackles a bit, add the green chilies and curry leaves. Cook for about 30 seconds.

Add the garlic ginger paste and cook until it stops spluttering.

Turn the heat to medium low. Add the spice mix and stir continuously until it starts to smell really good - around 30-40 seconds. Watch it carefully. If you burn the spices at this point you have to start over.

Add the diluted tomato paste and stir to combine. Turn the heat up to medium. Cook for 1 minute.

Add the onion paste and turn the heat up to medium high. Cook, stirring occasionally for about 5-6 minutes. Cover it loosely. It will splatter. If it doesn't your heat is too low. The curry will darken a bit as it cooks.

Turn the heat down to medium low. Add the coconut milk and cook for another 3-4 minutes.

Add the pre-cooked chicken. Simmer until the chicken is warmed through - another 2 minutes or so.

Garnish with a bit of cilantro and additional diced green chili pepper if desired.
Notes
You can buy garlic ginger paste but it's easy to make and homemade is way better. Here's an easy recipe for garlic ginger paste. If you cook Indian fairly often it's so worth it to whip up a batch. It will keep for a few weeks in the fridge.
Nutrition
Serving:
4
servings
|
Calories:
517
kcal
|
Carbohydrates:
16
g
|
Protein:
36
g
|
Fat:
34
g
|
Saturated Fat:
23
g
|
Cholesterol:
162
mg
|
Sodium:
1270
mg
|
Potassium:
776
mg
|
Fiber:
4
g
|
Sugar:
6
g
|
Vitamin A:
505
IU
|
Vitamin C:
85.9
mg
|
Calcium:
77
mg
|
Iron:
3.8
mg