Charro beans are smoky, savoury, spicy pinto beans. Perfect as a side to any BBQ or Mexican meal. Bacon, tomatoes, chipotles, onion and garlic. Hello tasty.
I think beans are the perfect side for BBQ. Real BBQ I mean. Low and slow. Ribs. Brisket. Chicken. Hot links. Charro beans are more Mexican than Texas. But I don't care. They work. They work well.
Charro beans aren't just good with Mexican
Charro beans are good with backyard grilling too. In fact, they are good on their own. Eat them out of the pot. I do. Leftovers make a wicked lunch. Lots of ways to enjoy them.
These are the original cowboy beans. Meant to be cooked over a campfire. Everyone gets upset when I light a campfire in the kitchen. So the smoke flavour has to come from somewhere else.
Turns out that's not so hard. Bacon is smoky. Check. Fire-roasted tomatoes are smoky. Check. Chipotles are smoked jalapeños. Big check.
Smoke taken care of. No campfire required. Bit disappointing but at least I didn't burn the house down…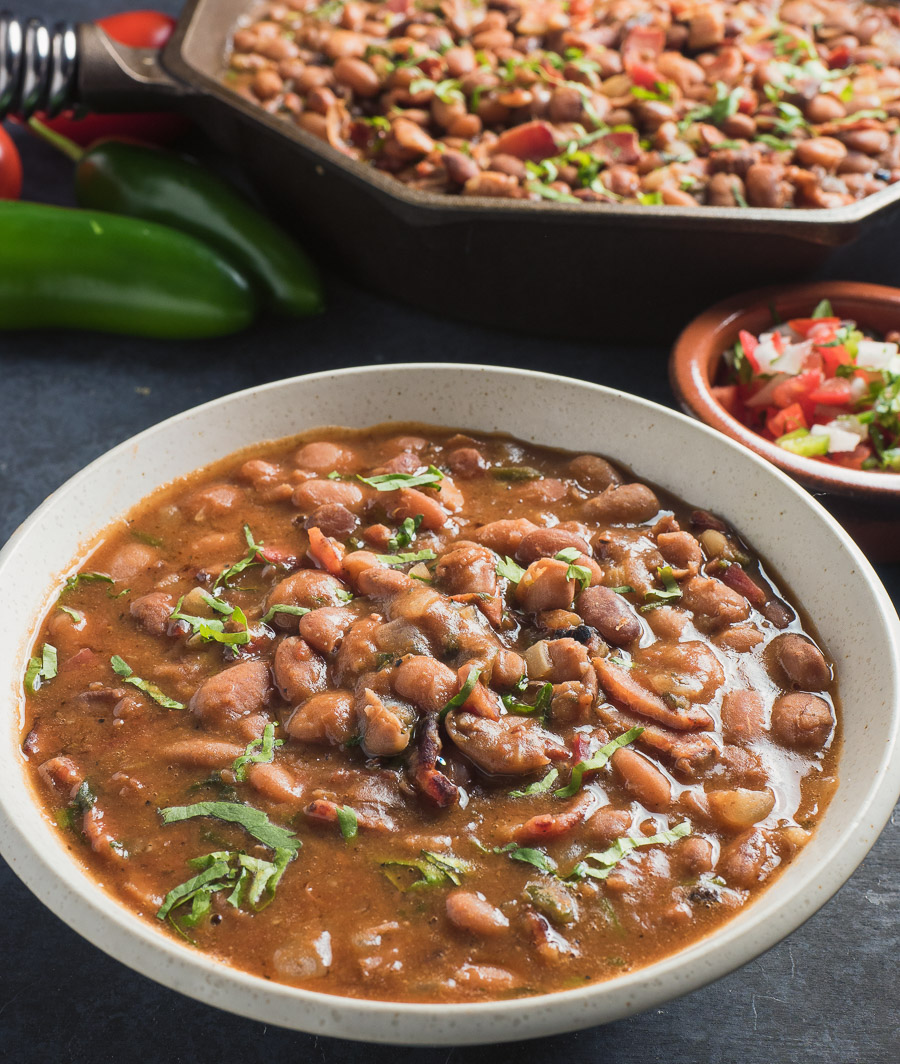 Making fire-roasted tomatoes is easy
Saw a great tip for fire-roasted tomatoes on Serious Eats. Use a blow torch and just scorch them. Takes about 15 seconds per tomato.
Toss them in a cast iron pan (safety first – see the note above about no campfires in the kitchen) and just hit them with some flame. Instant fire-roasted tomatoes.
If you don't have a torch, fire-roasted from a can work too. Not as much fun though.
Charro beans are best when you use dried pintos
I like to start with dried beans. Doesn't mean this won't work with canned. Either is fine. I just find the texture tends to be a bit better with the dried beans.
I use a pressure cooker when I prepare dried beans. Speeds things up nicely. Probably my number one use of that particular kitchen gadget.
That's pretty much it. Smoky charro beans without burning down the house. And you get to play with a blow torch. What's better than that?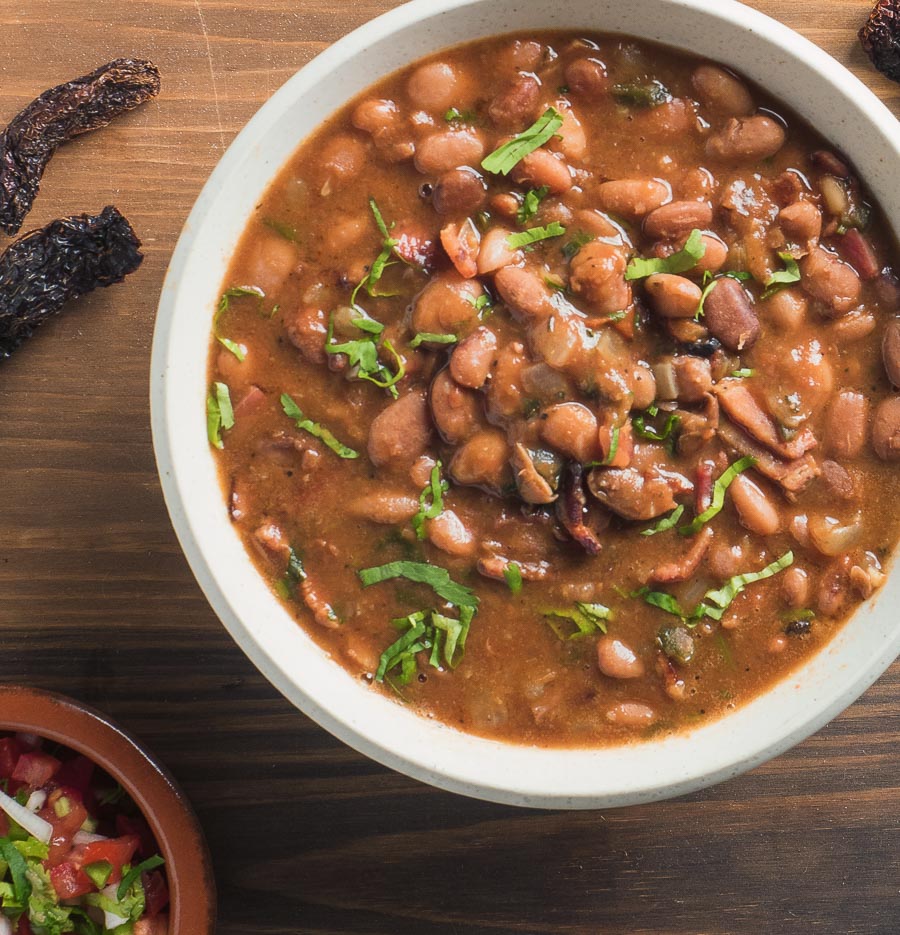 charro beans
Charro beans are the perfect side to any BBQ or Mexican meal. Or just eat them out of the pot.
Ingredients
Cook the beans
1

lb

dried pinto beans

or 3 15 oz cans

1

bay leaf
Cook the charro beans
1/2

lb

bacon

cut into 1/2 inch pieces

1

white onion

- diced

1

jalapeno

seeded and finely diced

4

tomatoes

scorched with a blow torch (see above) or a 15 oz can of fire roasted tomatoes

2

cloves

garlic

- crushed

2

tsp

ground cumin

1/2

tsp

Mexican oregano

- if you can't get it, leave it out. Regular oregano is not the same thing.

1/2

tsp

epazote

(optional)

2

tbsp

vegetable oil

1-3

chipotle in adobo

minced - depends how spicy you like it.

1

handful

cilantro

chopped

2

tsp

kosher salt

- you may need more. Creep up on it.

2

cups

chicken stock

- thin to make the beans a bit soupy
Instructions
Cook the beans
I use a pressure cooker. Pressure cook the beans and bay leaf for 22-25 minutes (check your manual). I use 2 cups of water per cup of beans. Once you depressurize your cooker, add 1 tsp kosher salt and simmer the beans for another 15 minutes or so.

You want them tender. Not falling apart, but not toothy either. Do not discard the water.

Alternately you can cook them conventionally. Cover the beans with 1 inch of water and simmer until tender. This can take anywhere from 90 minutes to 2 hours. Add the salt after about an hour.

Sometimes it even takes longer. Beans are annoying that way. Do not discard the water.
Make the charro beans
Add the oil to a large skillet over medium heat.

Fry the bacon until the edges start to get brown. This takes around 7-8 minutes.

Turn the heat to medium low. Add the onion, jalapeño and cumin. Fry, stirring frequently, until the onions are translucent and soft, around 10 minutes. When they get close, add the garlic and stir. Cook another minute or so.

While the onions are cooking, seed and dice the tomatoes. To seed, cut them in half and just squeeze. A few seeds won't kill you.

Add the tomatoes, Mexican oregano and epazote if using. As the tomatoes release liquid, scrape up any fond that might have formed in the bottom of the pan. Fond is flavour! Cook until the tomatoes start to break down, around 10 minutes.

Add the tomato bacon mixture to the beans and water. Mix in the chipotle. Simmer about 30 minutes to let the flavours combine. You may need to add some or all the chicken stock. You want soupy. This part is up to you.

Add the cilantro. Simmer another 5 minutes. Taste and adjust for salt. You will probably need to add another tsp depending on how salty your bacon is.

Garnish with a bit more cilantro or some pico. Enjoy!
Notes
If you are using canned beans cut the initial salt in half. Canned beans are already salted.
Nutrition
Serving:
6
servings
|
Calories:
516
kcal
|
Carbohydrates:
56
g
|
Protein:
24
g
|
Fat:
21
g
|
Saturated Fat:
9
g
|
Cholesterol:
27
mg
|
Sodium:
1187
mg
|
Potassium:
1444
mg
|
Fiber:
13
g
|
Sugar:
6
g
|
Vitamin A:
900
IU
|
Vitamin C:
20.8
mg
|
Calcium:
110
mg
|
Iron:
5
mg