Kerala fried chicken is southern fried chicken with a big Indian twist. Everything you love about fried chicken jacked up with green chili, cilantro and spice.
I don't think Kerala fried chicken is anything you can get in India. I've never seen on an Indian restaurant menu. But I did see it on Ugly Delicious.
This is the brain child of Asha Gomez. And it's brilliant. I'd never heard of it. But if it's good enough for David Chang…
Kerala fried chicken is an Indian twist on a classic
Fried chicken is my guilty pleasure. So as soon as I saw this I had to try to figure it out.
Wound up eating way too much fried chicken. Made my house stink like a deep fryer. But it was worth it. So worth it. It's incredible. Ms. Gomez is inspired.
This is crispy like great southern fried chicken. It's got that juicy buttermilk brined thing going on.
But it has a big Indian tastes too. Not fusion. More like a mash up. And there's a bit of fire too. A nod to Nashville hot chicken.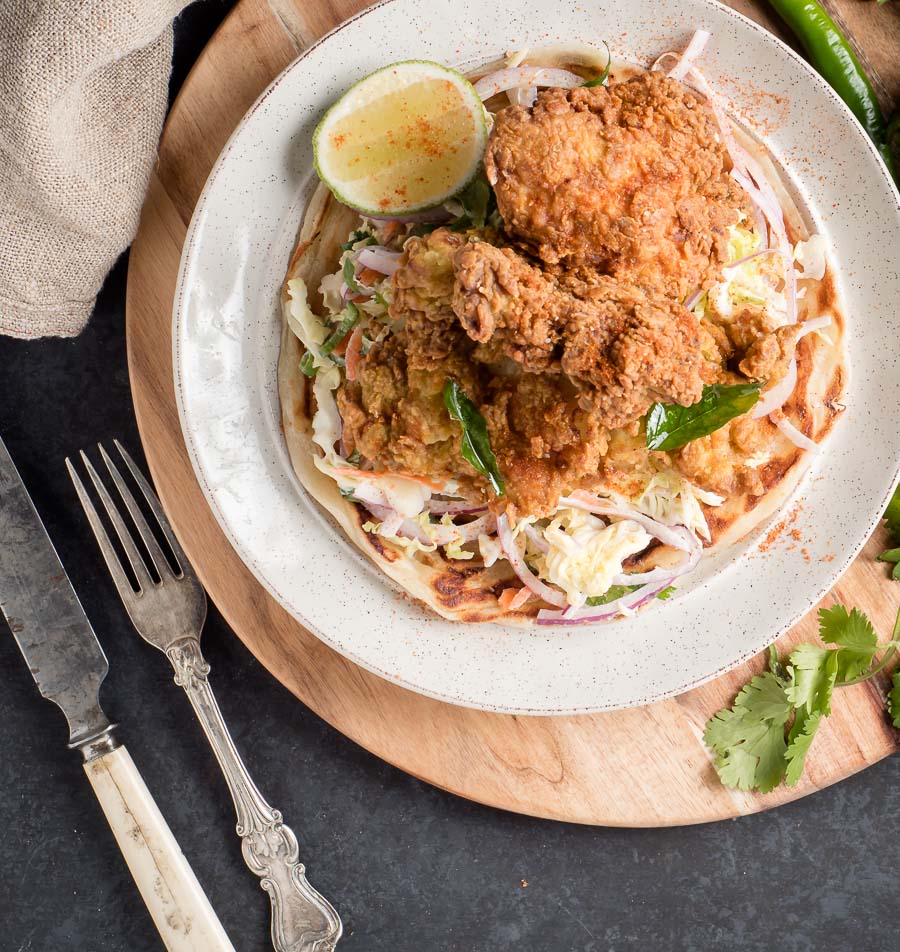 It wasn't easy to figure out. There's a few recipes scattered around online. Some clues. But they don't line up with what I saw on Ugly Delicious.
And I figure Asha Gomez talking to David Chang was more credible than adapted from a book by Bon Appetit.
So I watched that bit of the episode about 20 times. Thought about everything she said.
Little hints. Clues. More garlic. Big taste of ginger. Chili powder and garam masala to finish.  And this is what I came up with.
Mint coriander chutney buttermilk brine
It's a variation on mint coriander chutney mixed with buttermilk. That's the big secret. I managed to get the proportions close by matching the colour of the brine on the show.
Indian spices in the flour dredge. That wasn't so hard to figure out. Boneless skinless chicken thighs. Only ever boneless skinless chicken thighs according to Asha Gomez.
And the final touch. A dusting of garam masala and kashmiri chili powder on the finished product. Thanks again Ugly Delicious.
I'll never know if I got it right. Her restaurant is closed now. Sad. But at least I have this. And so do you.
KFC. First there was Kentucky. Then came Korean. Now there's Kerala fried chicken. Kentucky is not my favourite. But it's a real toss up between Korean and Kerala.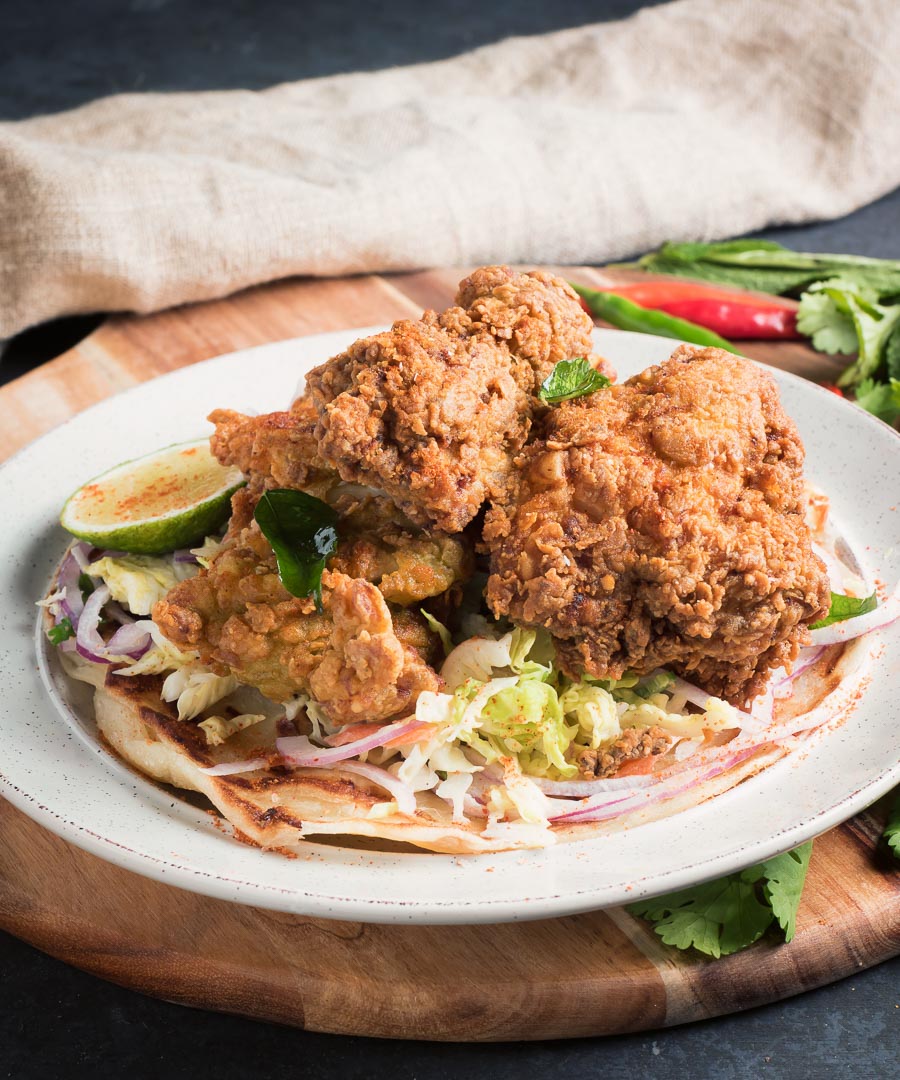 kerala fried chicken
Kerala fried chicken is a delicious Indian twist on a family favourite.
Ingredients
Buttermilk marinade
2

cups

cilantro

leaves and stems

1

cup

mint leaves

3

finger hot green chilies

or serranos/jalapenos

8

cloves

garlic

1

inch

fresh ginger

- chopped

1/2

tsp

ground cumin

1/4

tsp

black salt

- optional but tasty if you can get it

2

tbsp

kosher salt

- or 1 1/2 tbsp regular salt

2

cups

buttermilk
kerala fried chicken
8

boneless, skinless chicken thighs

2

cups

flour

1/2

cup

corn starch

1

tsp

baking powder

1

tbsp

curry powder

- I use Madras

1

tsp

kashmiri chili powder

1

tsp

kosher salt

oil to deep fry

- about a gallon
Garnish
1

tsp

kashmiri chili powder

2

tsp

garam masala

1

tsp

kosher salt

liquid coconut oil

curry leaves

- optional but again, really tasty
Instructions
Buttermilk marinade
Combine all the marinade ingredients except the buttermilk in a blender.

Add about 1/4 cup buttermilk and puree. If it won't go (it can be difficult to get it started) add a bit more buttermilk.

Transfer the puree to a container with a lid large enough to hold the chicken as well. Add the remaining buttermilk and stir to combine.

Add the chicken and stir to mix. Refrigerate 18-24 hours.
Kerala fried chicken
Prep your garnish. Combine the chili powder, garam masala and salt. Set aside.

Preheat your oven to 275F.

Combine the flour, cornstarch, baking powder, curry powder, chili powder and salt. Mix well.

Heat the oil in a large, heavy pot. You want the oil at least a few inches below the top. The chicken will bubble up and you don't want to burn the house down.

Regulate the heat to maintain the oil temperature at 350F. This is a pain. Be ready for it...

If using curry leaves, fry them briefly in the hot oil. Fried curry leaves are really good. I did not know that myself until I tried figuring out this recipe.

Shake of the excess buttermilk marinade. Dredge no more than 4 pieces of chicken in the flour mixture.

Deep fry the chicken no more than 4 pieces at a time. Cook until it reaches an internal temperature of 175F. This takes about 5 minutes. If you go a little over 175F don't worry. Buttermilk brine makes this recipe forgiving if you overshoot.

Put the first pieces of chicken on a wire rack on a baking sheet and place the oven while you cook the remaining chicken.

To serve drizzle the chicken with the liquid coconut oil. Sprinkle with the garam masala mixture. Garnish with fried curry leaves.
Nutrition
Serving:
4
servings
|
Calories:
676
kcal
|
Carbohydrates:
77
g
|
Protein:
55
g
|
Fat:
14
g
|
Saturated Fat:
4
g
|
Cholesterol:
227
mg
|
Sodium:
1783
mg
|
Potassium:
1089
mg
|
Fiber:
5
g
|
Sugar:
7
g
|
Vitamin A:
1685
IU
|
Vitamin C:
11.6
mg
|
Calcium:
273
mg
|
Iron:
6.6
mg