If you want to make restaurant style curry but don't want to spend all day prepping for it then this easy curry recipe technique is for you.
You will impress yourself. And your friends. Family too. It's a different way to get to the same place. If you've ever wondered why your curries don't come out like restaurant dishes read on.
This easy curry recipe is all about onions
Just about every Indian curry is about onions. They are the foundation. The spices make a curry sing but the onions are the heart. The soul. There's no way to get around this. At least not that I've ever found.
I love homestyle curry. I grew up eating it. Homestyle recipes are about finely chopped onions. Slowly browned. For a long time. Like 20-30 minutes or more. Slow food.
Restaurants do it different. They use a thing called curry base. Or base gravy. Basically you boil a lot of onions to death. Add a few other ingredients. And puree. Like a watery onion soup that tastes vaguely of curry. And yet somehow that works.
They can crank out curries in under 10 minutes using this stuff. Worth looking into. But there's a bit of a learning curve. This is how it's done in restaurants.
In the middle there's this easy curry recipe technique. A different way of doing it. Not one you're likely to see anywhere else. I'm pretty sure I came up with it. A new take.
You may think I'm crazy. A lot of people do. But this works. And it works well. Before you write me off give it a go. Just once. Then decide.
I like making curries restaurant style. I go the distance. Often. But I like this easy curry recipe approach too. It's easier. And it scales better than restaurant style cooking. It's nearly restaurant cooking. Nearly restaurant style. That's what I'm calling this.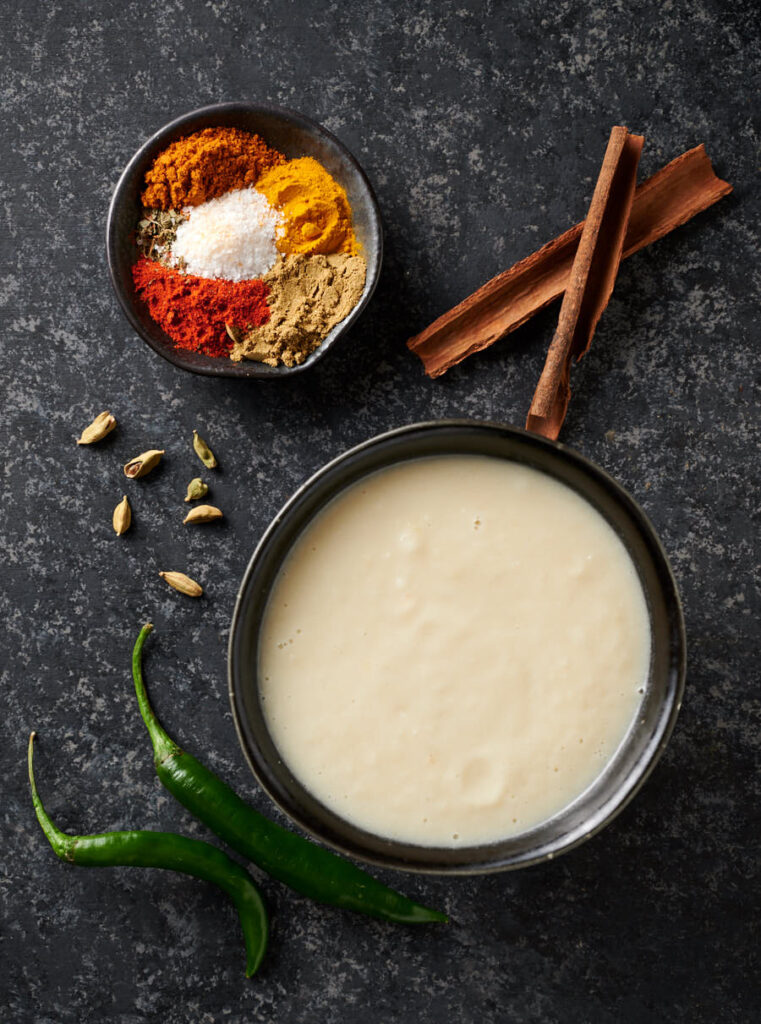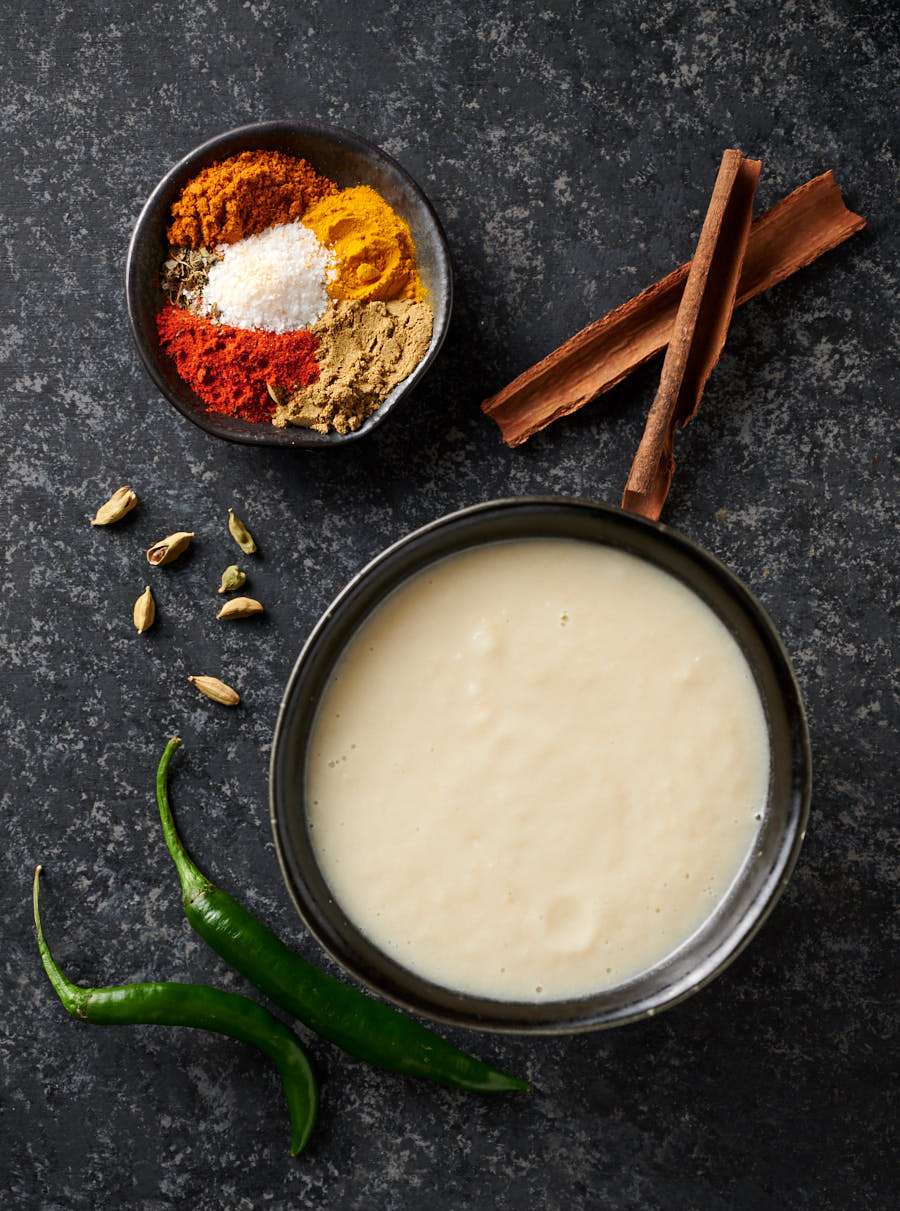 Onion puree is the key
It's not rocket science. I'm actually amazed nobody has come up with this before. It's sort of like curry base. Except it takes around 15 minutes to make. Instead of a couple hours.
The onions need to cook down. For Indian that's key. But how they get cooked matters a bit less. At least initially. You just want them cooked through.
So for this easy curry recipe I say nuke the onions. Yes, you heard me. Microwave them. For real.
It's funny. To me anyway. I can't stand my microwave. It's a bad way of heating up food. And that's its best feature as far as I can tell. Just not a fan.
For this it works. It's actually the right tool for the job. Chop up the onions and toss them in the microwave. Until they are really soft. Around 10 minutes at about 70 percent power.
Let them cool a bit and toss them into the blender with some oil and water. Puree. And you have the base of nearly restaurant style cooking. In way less time than restaurant style curry base takes.
From here it's pretty much restaurant style cooking technique
I have a few things I always do when I cook Indian. I want some oil in the pan. It's really hard to cook Indian without it. You can spoon it off at the end if you want. But you need it along the way.
The order in which you add things is important. The oil goes in first. Get it to the point it shimmers. Then add any whole spices you may be using. Things like cloves or cardamom or cinnamon stick. Cook that until they crackle.
Larger bits of peppers, onions or chilies go in next. Toss them around in the oil until the onions soften or the peppers blister a bit. Just follow the recipes.
Garlic ginger paste is up next. Think about making your own. Garlic ginger paste keeps a while in the fridge. Toss it in. Cook it until it stops sputtering. You'll see what I mean.
Bloom your ground spices in oil
Blooming your spices in oil is critical. Seriously. I question any Indian recipe that doesn't include this step. It is fundamental. Blooming spices means cooking spices in oil. So simple. But so important.
Blooming gets rid of any raw spice flavours. Worth doing just for that. But it also gets all the oil soluble flavour compounds into the oil. And those compounds get spread around the dish. It's just better.
Don't take my word for it. Please. Google it. Check out Serious Eats. Or Cooks Illustrated. Or whatever other quality site you trust. I didn't make this up. It's food science.
It's also why you need to have enough oil. If you don't the spices will stick. Or worse. They will burn. Burn your spices and you will have to start again. No coming back from burnt spices.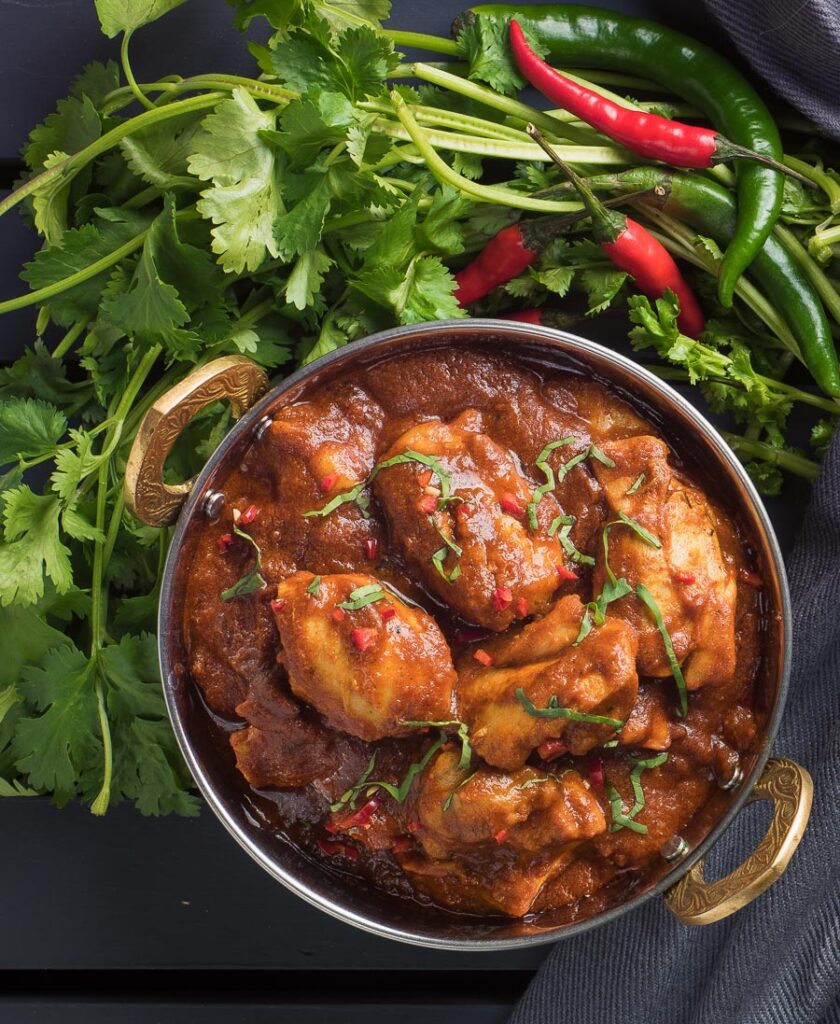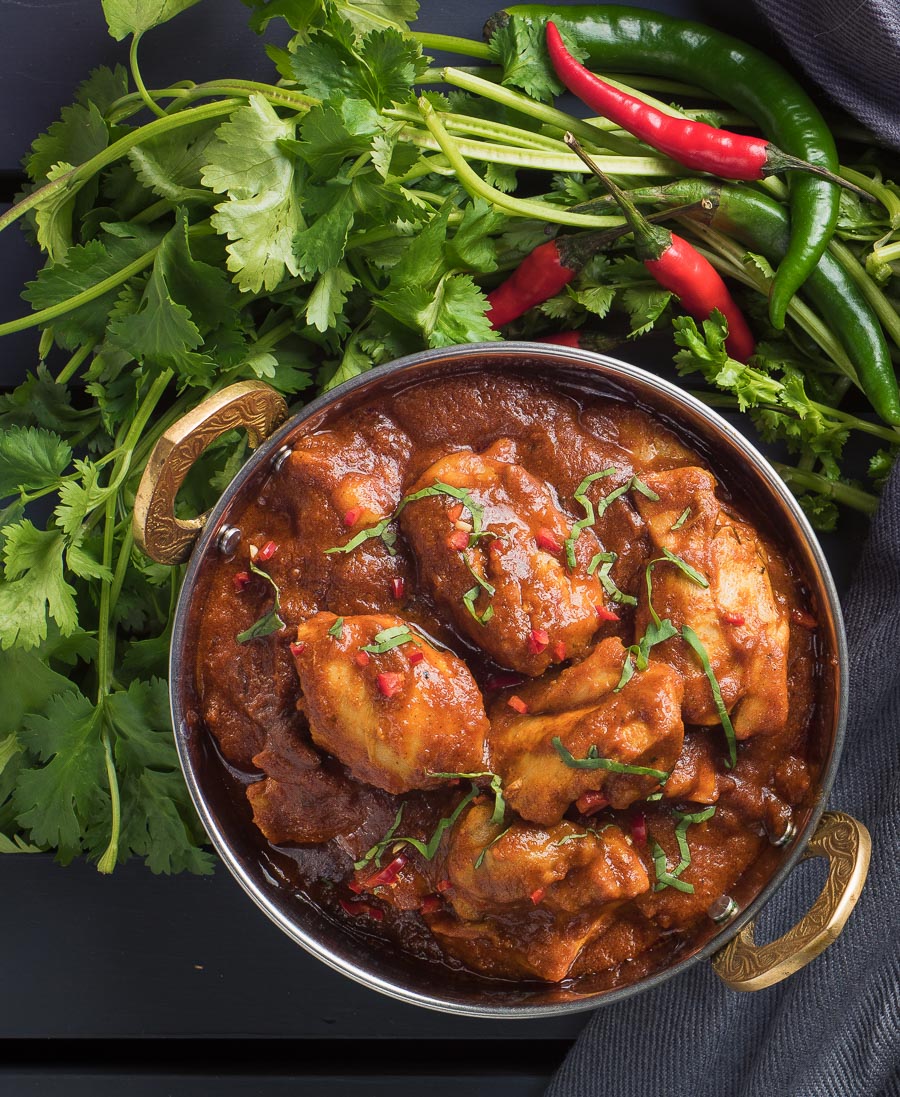 Next add your wet ingredients
You need to stop the spices from over-cooking somehow. And adding wet ingredients is how. This is where the onion puree comes in.
There should be a fair bit of free oil in your pan. Which is good. Critical really. You want to fry the onion puree. Just microwaving onions isn't good enough. Not by a long shot.
This is where something else you should Google comes in. The Maillard reaction. More food science. Probably one of the most important bits of food science. This is the magic of browning. All sorts of wonderful flavours get created.
You don't need to understand it. Just believe. It's the magic that happens when heat hits sugars and amino acids. Onions, meat, mushrooms, bread. It's all the Maillard reaction.
Add the chicken or lamb or beef
Nearly restaurant recipes are easiest with chicken. Chicken thighs in particular. You can chuck them in raw if you want. They will cook in the sauce.
Keep things a bit on the dry side to start though. Chicken throws a fair bit of liquid as it cooks. Tasty liquid. A little more flavour. Adjust for consistency at the end. Or cook your chicken first. Then it's really restaurant style.
Shrimp – or prawns – work too. Just be very, very careful not to overcook them. It only takes a few short minutes to cook shrimp perfectly. A few minutes more and they are little shrimp shaped pencil erasers. Not so good.
If you are doing a lamb or beef it's a little different. You are cooking almost to order here. Braising beef or lamb for a couple hours isn't to order.
I tend to pre-cook my lamb and beef in a salty curried broth. Batch cook it and use my food saver to portion off enough for a curry. It freezes well. And it doesn't take up a lot of room in the freezer.
I should really try this technique but cook the lamb or beef the whole way in the sauce. I will report back. It should work but until I try it there's no guarantee.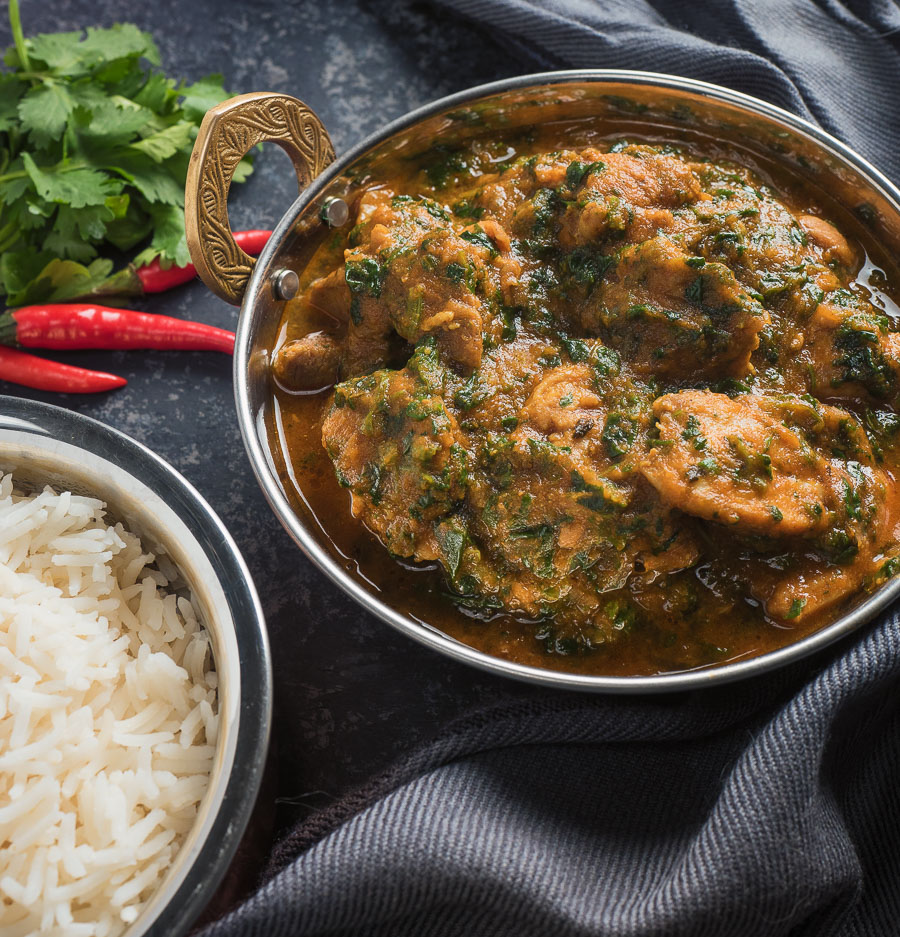 Easy curry recipe finishing touches
The finishing touches come last. Lemon. Tamarind. Cilantro. Cream. Fresh tomato. Whatever little tweaks the recipe calls for. The tastes you don't want to disappear into the dish.
A little garnish if you'd like and you're done. Nearly restaurant style. From a standing start to the table in under an hour.
It's not exactly the same as restaurant style cooking. And it's not like homestyle curry either. It's somewhere in between. Easy. And fairly fast.
It's every bit as delicious though. Try it. You will be surprised. Especially if you've been wondering why your curries don't taste like the ones they serve at your favourite Indian restaurant.
Who doesn't want an easy curry recipe? With nearly restaurant results. It's not a thing yet. But it will be. Try it.
Make the curries
More coming all the time.