Soto ayam is chicken noodle soup – Indonesian style. Lemongrass. Lime leaves. Ginger. Garlic. Spices. This is not your mom's chicken noodle soup.
Crispy fried chicken. Fried shallots. Cilantro. Rice noodles. And a medium boiled egg. This is Indonesia's answer to ramen.
I love noodles. And I have a thing for noodle soups. Look around glebe kitchen. Ramen. Pho. Laksa. Classic chicken noodle. Turkey noodle from scratch. Bo kho. Khao soi. Noodle soup puts me in a happy place. And soto ayam is right up there.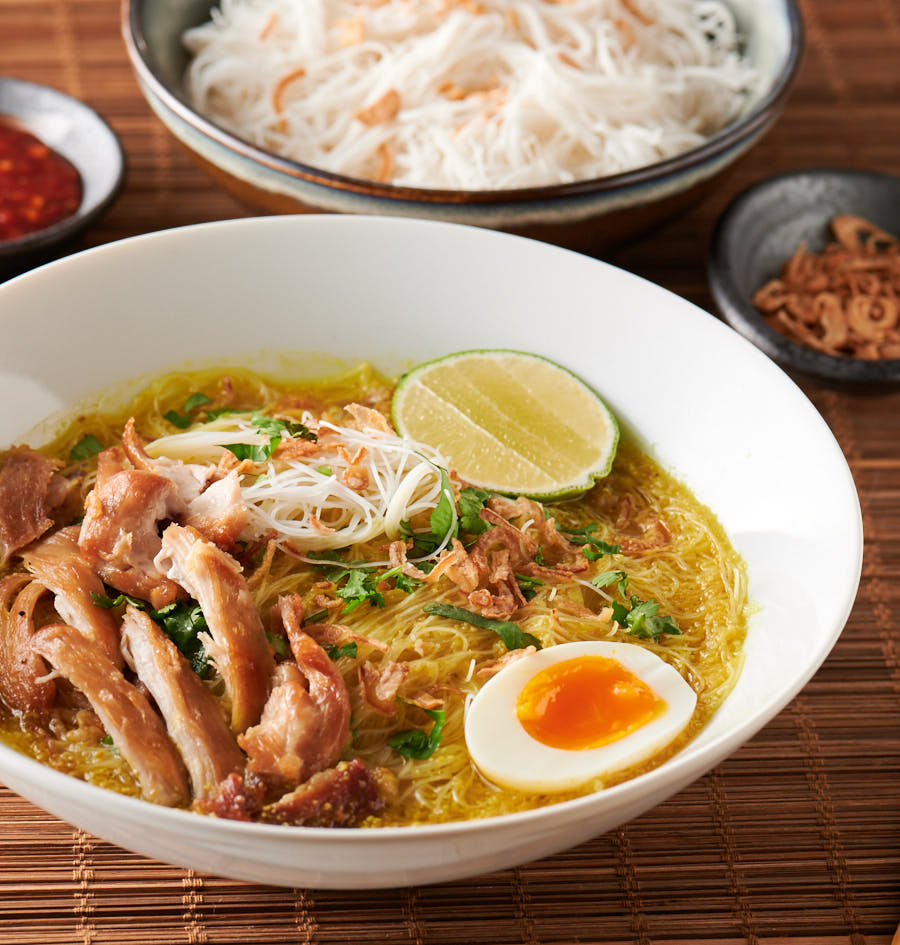 Soto ayam is not your run of the mill bowl of noodle soup
Soto ayam is unto itself. Most classic noodle soups are. Each has its distinctive broth. Toppings. Noodles. Spicing. You can take a trip around the world on noodle soup.
You could serve it as an appetizer. A cup of soup. But it comes into its own as the star. A big bowl of hot noodles in broth. A generous portion of the lemongrass infused fried chicken. A perfect medium boiled egg. See where I'm going here? Meal in a bowl.
It's closest to laksa. But with way less coconut milk. There's a spice paste at the base like laksa. Tons of flavour from that. The tastes are closer to Thai than Malay though. So not quite like laksa. Like I said. Unto itself.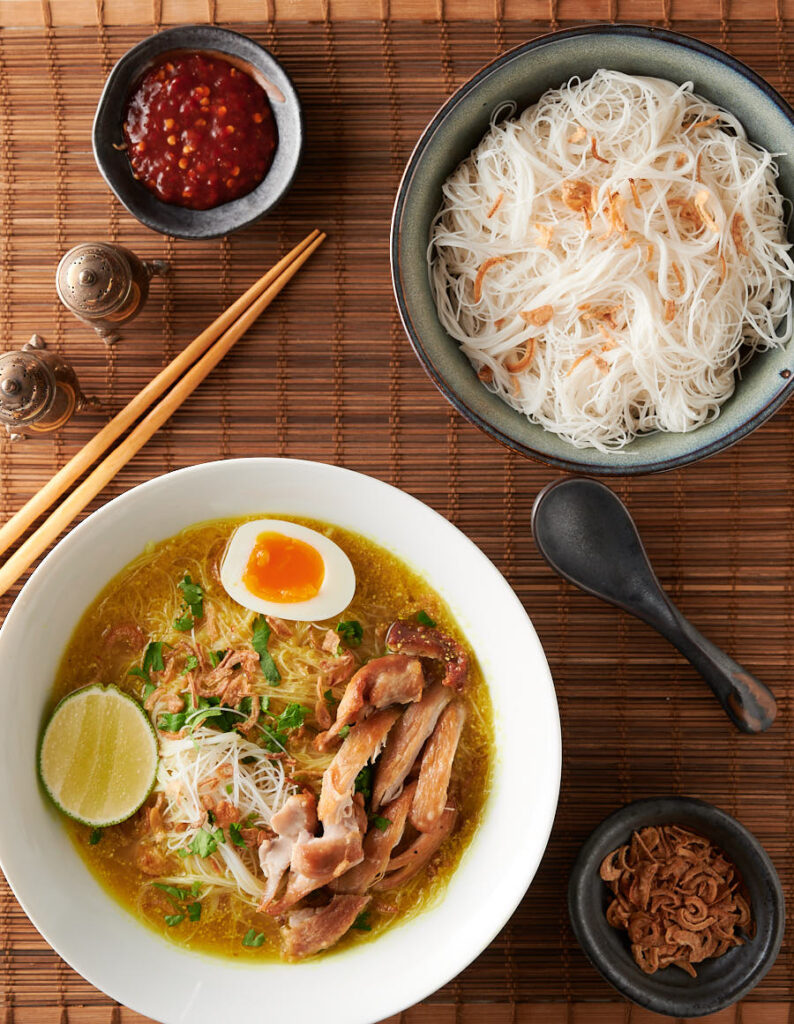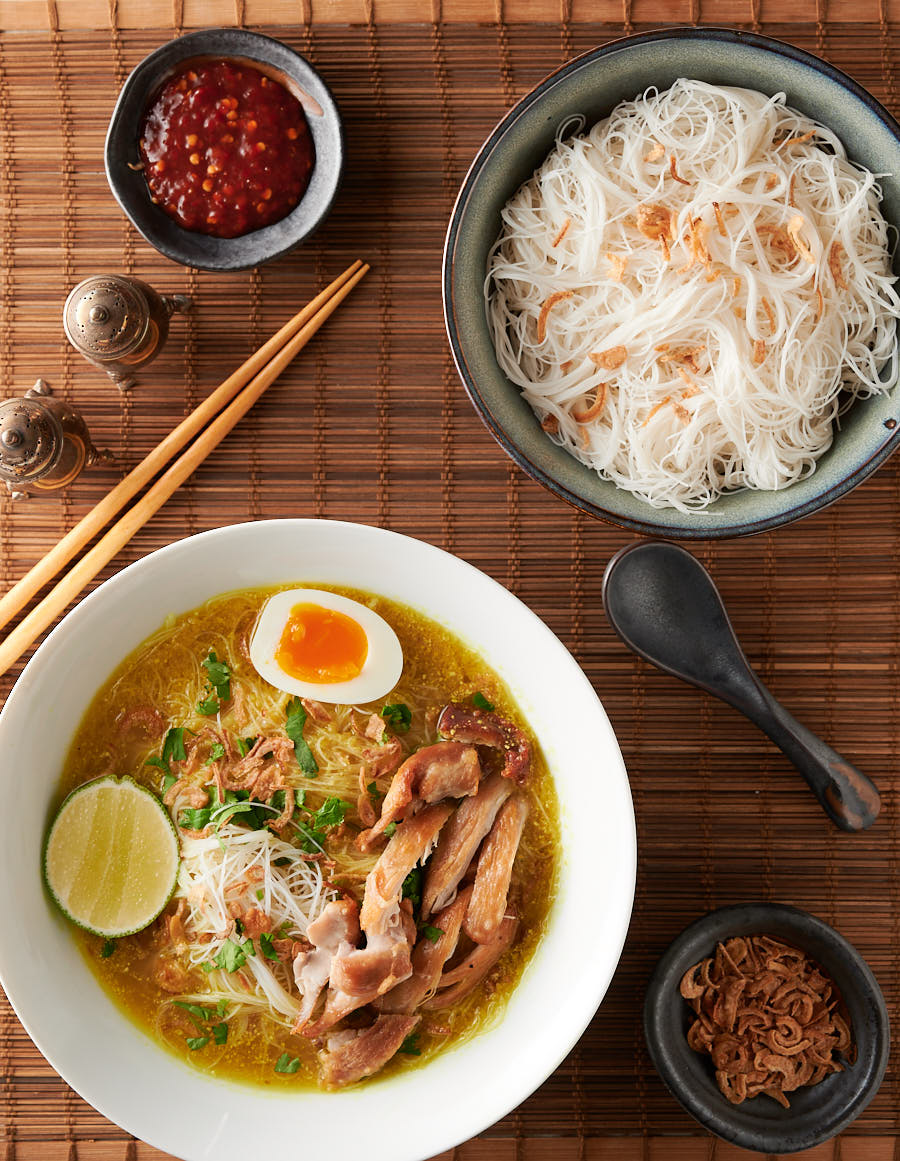 Indonesian chicken noodle soup is a labour of love
Funny thing about most of the big Asian soups. The famous ones. They are all real work. This is not the same as a simple cream of broccoli soup. You don't just chuck a bunch of stuff in a pot and call it done.
But every step adds something special. The chicken gets poached in a lemongrass broth. That adds more chicken flavour to the broth. And a hint of lemongrass to the chicken.
That chicken gets fried. So it has this wonderful crispy texture. And deeper chicken flavour.
There's a paste. Shallots. Garlic. Spices. Ginger. That gets cooked down. Until the flavours meld into this wonderful soup base.
The paste goes into the lemongrass broth. Double tasty. It's not as crazy as tonkotsu ramen from scratch but it's not trivial either.
You get something at the other end of the journey. A little insight into the Indonesian kitchen. A truly great bowl of soup. For me it's worth it. You have to decide for yourself. Are crazy soups your thing?
Major research required
Full disclosure. I'm not Indonesian. I didn't grow up eating Indonesian. My mom didn't make Indonesian chicken noodle soup for me. This is not a family secret recipe.
It is the result of a whole lot of research. I've had soto ayam in the Netherlands. That's as close as you can get outside Indonesia I think. They are mad for Indonesian in the Netherlands. So I have a baseline.
I couldn't find anything that lined up with it in any cookbook I own. And I own a lot of cookbooks. Looking at recipes online didn't help either.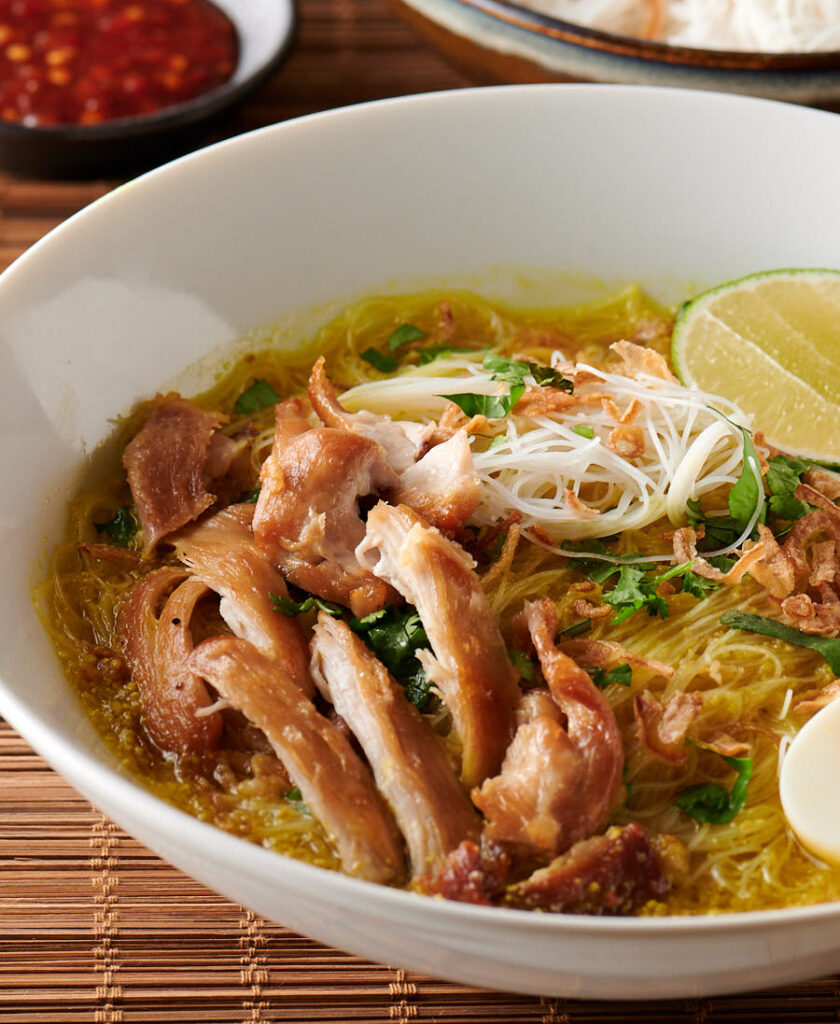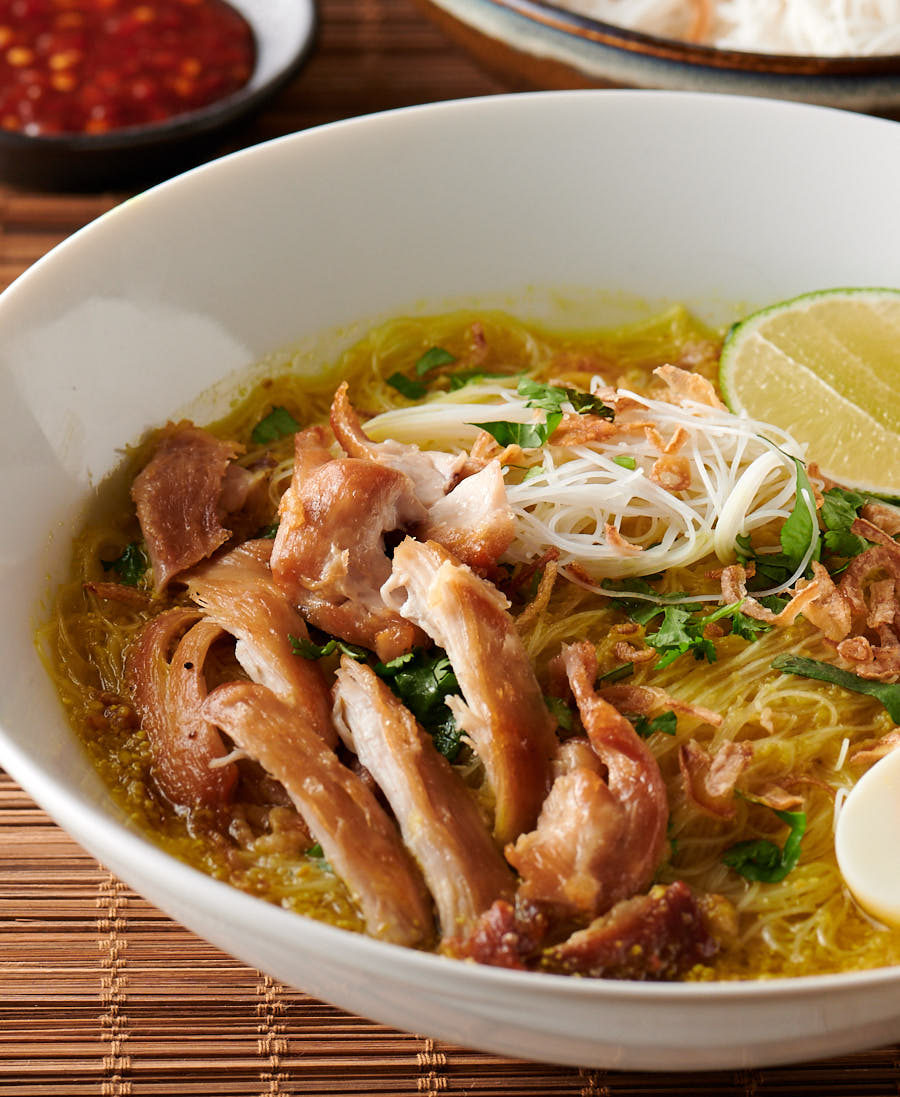 Indonesian youtube unlocked soto ayam for me
In the end I used my VPN. Set it to Indonesia. So I could get to google Indonesia. Watched a bunch of Indonesian youtube videos. A lot of google translate. Learned some new words. And came up with this.
It's a bit more work than I expected. More work than most soto ayam recipes I've seen. But in the end that's what makes it special. Going the distance.
The chicken – It's poached in a lemongrass lime leaf broth. And then it's shallow fried. You wind up with these little bites of lemongrass infused crispy chicken. Crazy good.
The spicing – The spicing for soto ayam actually pretty delicate. A bit of turmeric. Just enough to give the soup some colour. A little pepper. And some coriander powder. It's actually vaguely Indian tasting until you add in the lemongrass and lime leaf.
The spice paste – Frying the shallots, garlic and ginger is a nice touch. Not one I'd thought of on my own. This one is pure Indonesian youtube. Mellows the sharp edges. It makes a difference.
Candlenut – It's not easy to find candlenut where I live. But macadamia nuts work pretty well. And pretty easy to find. If you can get candlenut do it. But if you can't then macadamia nuts will do.
Fried shallots – Fried shallots are way better than you'd expect. And you should expect them to be pretty tasty. Think onion rings. Now think about the complexity shallots bring. Getting it yet? You need to try these little flavour bombs.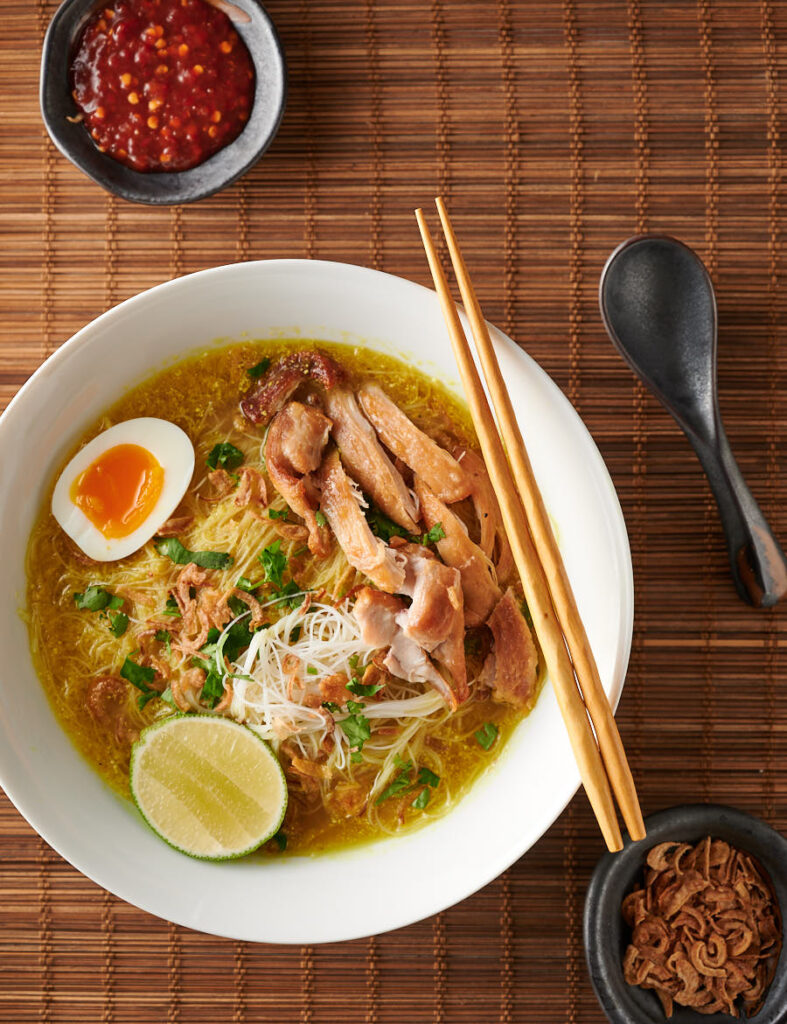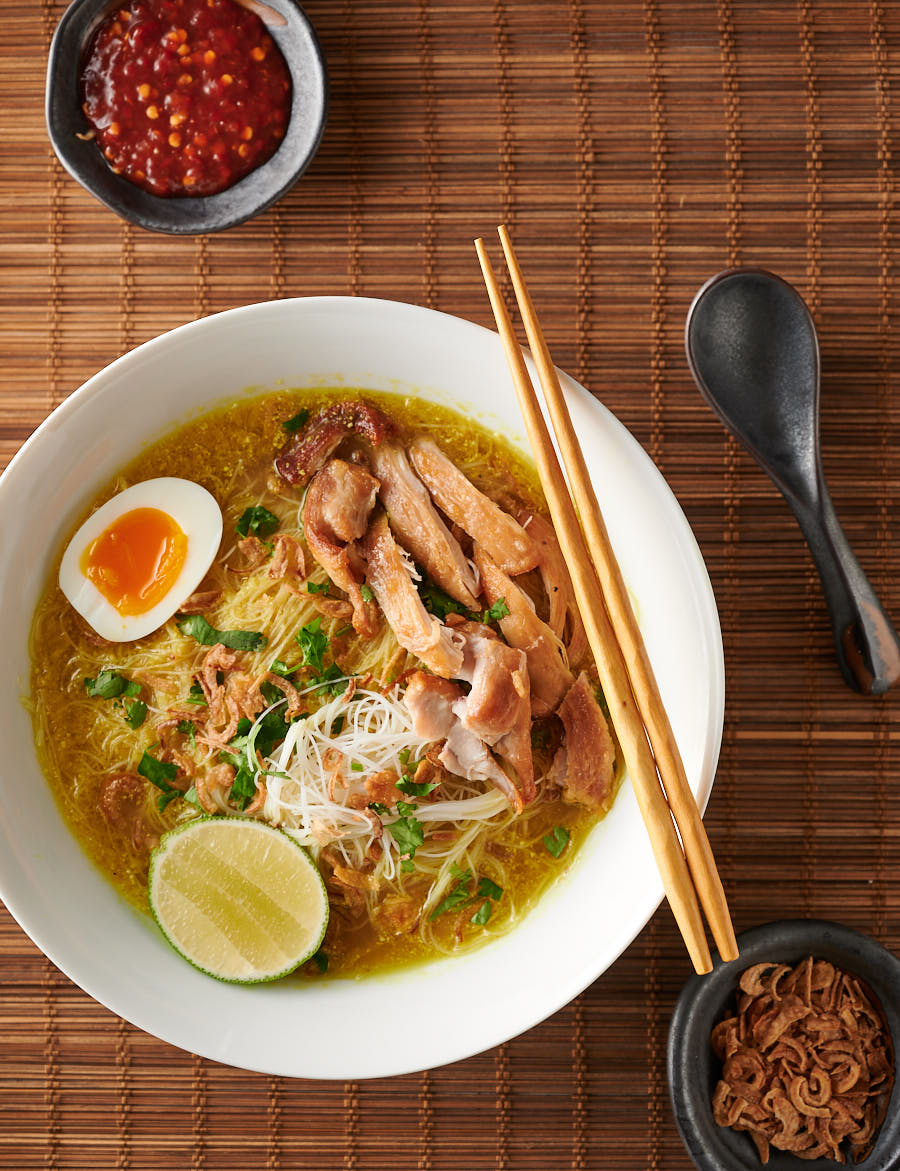 You need to try this soup
Indonesian chicken noodle soup. Dinner in a bowl. If you don't know soto ayam you need to try it.
A bit more effort than you might expect. But so worth it. This is one tasty soup. Satisfying. Rich chicken. Flavourful, complex broth. Fried shallots. Cilantro.
And a not so authentic medium boiled egg just to push it over the top. That's a glebe kitchen touch.
It all just works. In a way you might not expect. But in a way you are going to love. After all, who doesn't love chicken noodle soup? Make it. Or find a restaurant that serves it. Just try it. Seriously. Find a way.
"A person who doesn't love chicken noodle soup is a person without a soul" said somebody. Somewhere. At some point. Maybe. OK – maybe not. I made that up. But think about it…
soto ayam – Indonesian chicken noodle soup
Ingredients
The chicken and soup base
8

chicken thighs

skin removed

8

cups

chicken stock

no sodium (homemade is nice here)

1

stalk

lemongrass

cut into 3 pieces

3

kaffir lime leaves

1

tsp

salt

vegetable oil to shallow fry
The spice paste
1

cup

shallots

chopped the size of garlic cloves

5

cloves

garlic

chopped

1

inch

fresh ginger

chopped

1

tbsp

macadamia nuts

– these are a replacement for the more traditional but harder to find candlenuts

1/2

tsp

turmeric powder

1 1/2

tsp

coriander powder

1/2

tsp

pepper

1/2

cup

coconut milk

3

tbsp

vegetable oil
The soto ayam
the stock from cooking the chicken

12

oz

rice vermicelli

4

large

eggs

chopped cilantro

to garnish

fried shallots

to garnish

sambal oelek

to serve

lime wedges

to serve
Instructions
Prep the chicken
Combine the stock, kaffir lime leaf, lemongrass and salt in a pot large enough to hold all the ingredients. Bring to a simmer.

Add the chicken and simmer until the chicken reaches an internal temperature of 170F. This should take 15-20 minutes. Don't boil. Simmer. Little bubbles.

Remove the chicken from the broth. Blot dry. Set aside. You can also turn off the heat under the broth for now.
Make the spice paste
While the chicken simmers make the spice paste.

Heat a bit of oil in a small skillet. Add the garlic, shallot and ginger and fry until the shallots soften and start to colour up.

Transfer the garlic, shallot and ginger to a blender. Add the remaining ingredients and puree. This is your spice paste.

Heat 3 tablespoons of oil in a pot over medium heat. When the oil starts to shimmer add the paste and cook, stirring constantly for about 5 minutes. Turn the heat down to medium low and cook for another two minutes or so. The oil should start to separate at the edges.

Stir the cooked paste into the broth and stir.
Fry the chicken
If you fried shallots just keep going with the chicken. If not heat around 2 cups of oil in a frying pan large enough to hold half the chicken (4 thighs). A spatter guard isn't a bad idea here if you have one.

Fry on one side for about 2-3 minutes. Flip the chicken and cook another 2-3 minutes. You want the chicken to brown but you don't want to cook it to death…Remove the chicken and repeat with the other 4 thighs. Set aside to cool enough to handle.

When it's cool enough pull the chicken off the bone and shred it.
Medium boil the eggs
Bring enough water to cover the eggs by one inch to a boil in a small saucepan. Add the eggs and set a timer. You want to cook them exactly seven minutes.

After seven minutes remove them from the pan and submerge in an ice bath. This stops the eggs from cooking more. This should get you about a perfect medium boiled egg. Peel but don't slice them yet.
Assemble the soto ayam
Bring the broth to a lively simmer. Taste it. Be careful. It's hot. It will need more salt. It will be somewhere around another 1/2 to full teaspoon. Maybe more. Season to your taste.

To soften the rice vermicelli just fully submerge it in the hottest water you can get out of your tap. Let it sit five minutes and drain. Rinse with cold water. People that tell you to cook rice vermicelli like to eat rice noodle mush.

Have your garnishes ready. Slice your eggs in half. Use a sharp knife and be careful. Those yolks are still soft.

To serve place 1/4 of the rice noodles in each of 4 bowls. Divide the chicken and place it on the vermicelli. Top with fried shallots and cilantro. Pour 2 cups of broth into each bowl. Add one egg and a slice of lime per bowl. Serve. Add sambal oelek to taste. Enjoy.
Notes
You are going to fry the chicken. Might as well fry up some shallots as well.  Grab 2 or 3 large shallots. Peel them. Slice them thinly to make rings.
Heat up two cups of oil to 325F. Use a slotted spoon to carefully lower the shallots into the hot oil. Do this in batches. Hot oil and shallots makes a lot of bubbles. A lot. Nobody needs hot oil boiling over on the stove.
Shallots keep cooking when they come out of the oil so pull them when they are tan. Watch your first batch cool. If they are too dark pull them a little sooner next time. You'll see and soon get the hang of it. Repeat until all the shallots are cooked.
Or you can just buy fried onions at your local asian grocer. But you are going to fry the chicken anyway so…
Nutrition
Serving:
4
servings
|
Calories:
890
kcal
|
Carbohydrates:
82
g
|
Protein:
60
g
|
Fat:
36
g
|
Saturated Fat:
19
g
|
Cholesterol:
405
mg
|
Sodium:
1145
mg
|
Potassium:
1132
mg
|
Fiber:
2
g
|
Sugar:
1
g
|
Vitamin A:
355
IU
|
Vitamin C:
1
mg
|
Calcium:
101
mg
|
Iron:
6
mg