Thai basil chicken is a delicious mix of spicy, salty and savoury. It's no wonder it's almost as popular as pad Thai.
It's easy to make. Way easier than pad Thai. Or Thai curry. Almost nothing to it. Chilies. Garlic. Shallots. Chicken. Basil. A super easy sauce. A quick stir fry.
Fifteen minutes max and dinner's on the table. Fast food can be really good food. Sometimes it can be easy and delicious. This is one of those times.
Pad kra pao is street food
Just like pad thai. Pad kra pao. Thai basil chicken is street food. Takes about 7-8 minutes to make once your prep is done. High heat. Good reflexes. Focus. That's what you need to make Thai basil chicken at home.
Once you start there's no stopping. You need to pay attention. Be in the moment. When it's done you have one seriously tasty dinner. Like something you could get in an alley in Bangkok. But in your kitchen. Think of the airfare you just saved…
You need to approach it like street food. Everything needs to be prepped. Ready to go.
Think about street food vendors. They have everything on hand. Close by. Toss in some of this. A bit of that. Stir fry. Serve. That's what you need to do too.
Be ready. Thai basil chicken takes no time to make. You do not have time to screw around trying to chop shallots. Prep. Then cook. Or fail. Sad. But true. Don't say I didn't warn you.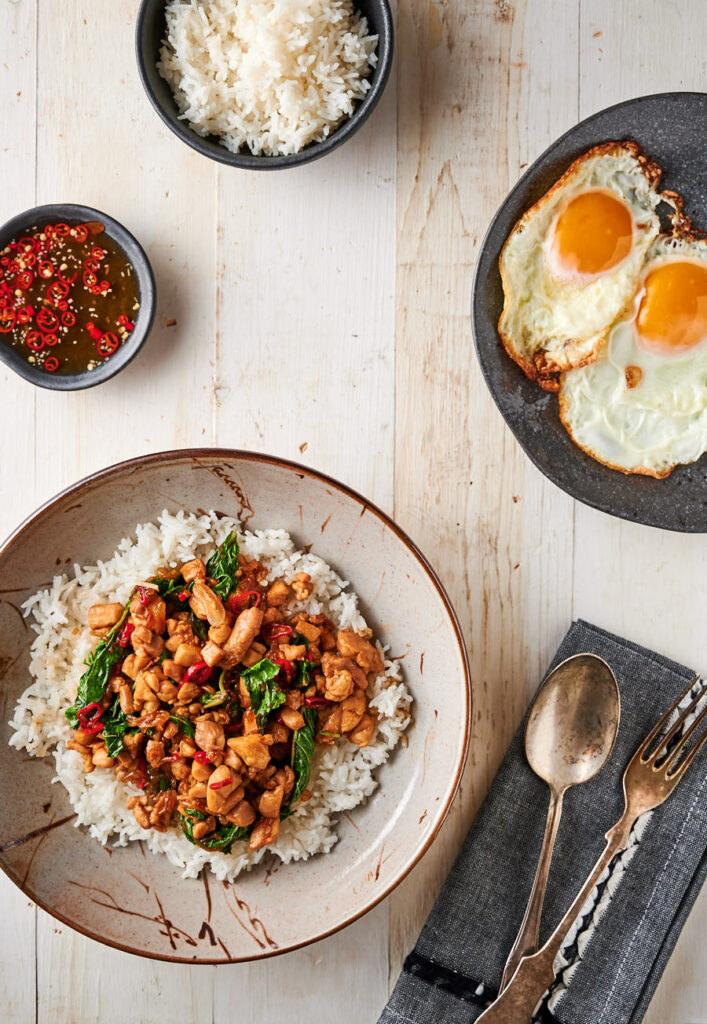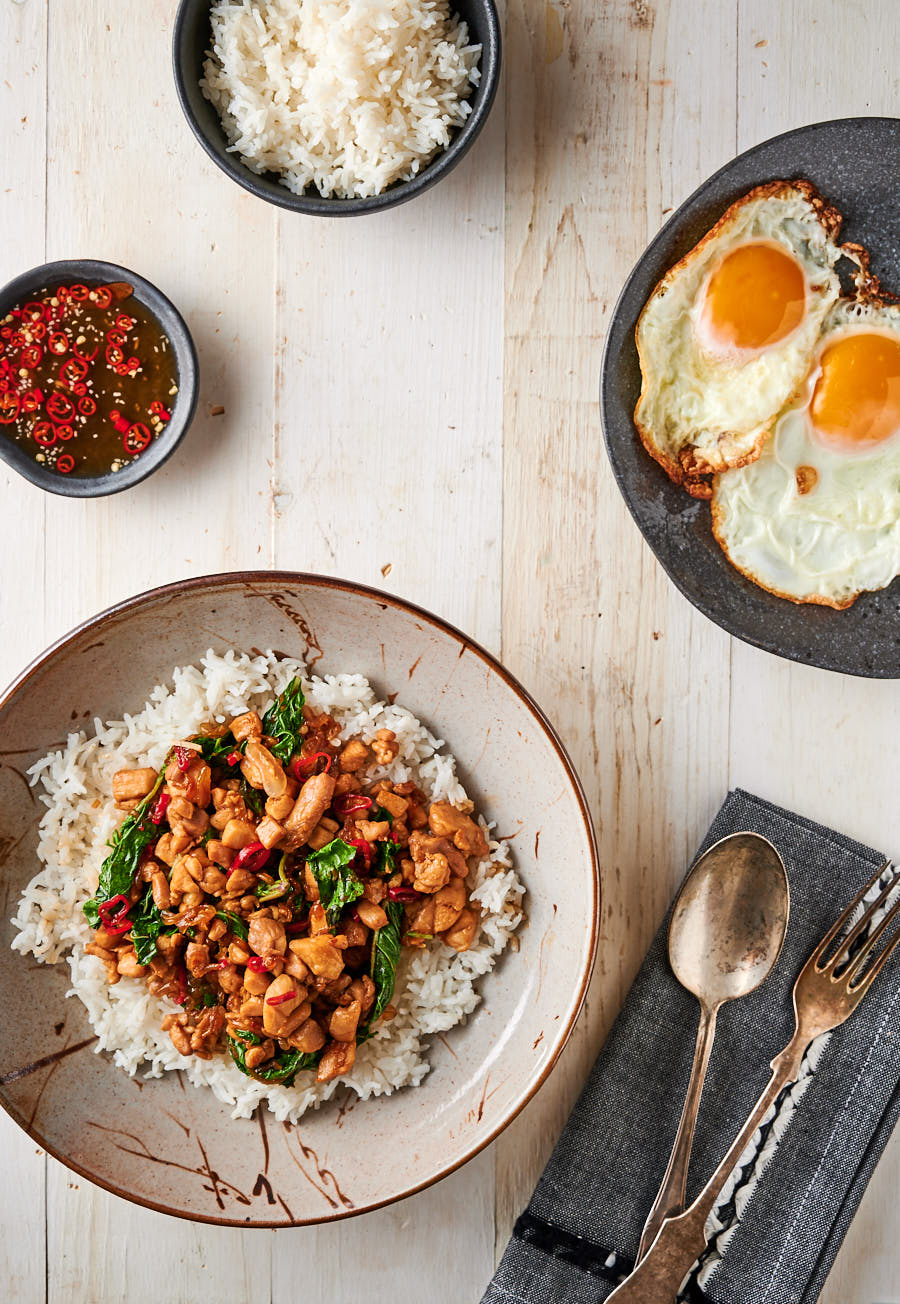 Holy basil is not the same as regular Thai basil
Holy basil is a thing. It is not some fancy name for Thai purple basil. And it's not the same as Italian basil. Not even close.
It's worth seeking out. It is somewhere between a green and an herb. It's milder than other basils. A bit more peppery. Really good in this dish.
It's not super easy to find where I live. Definitely Asian market territory. Don't go looking for holy basil at a grocery store. Unless you live in Thailand I guess.
It's a big part of Thai basil chicken. You can swap it out for Thai basil. That will still work. Different. But still tasty. Regular Italian basil though. Save that for your pesto.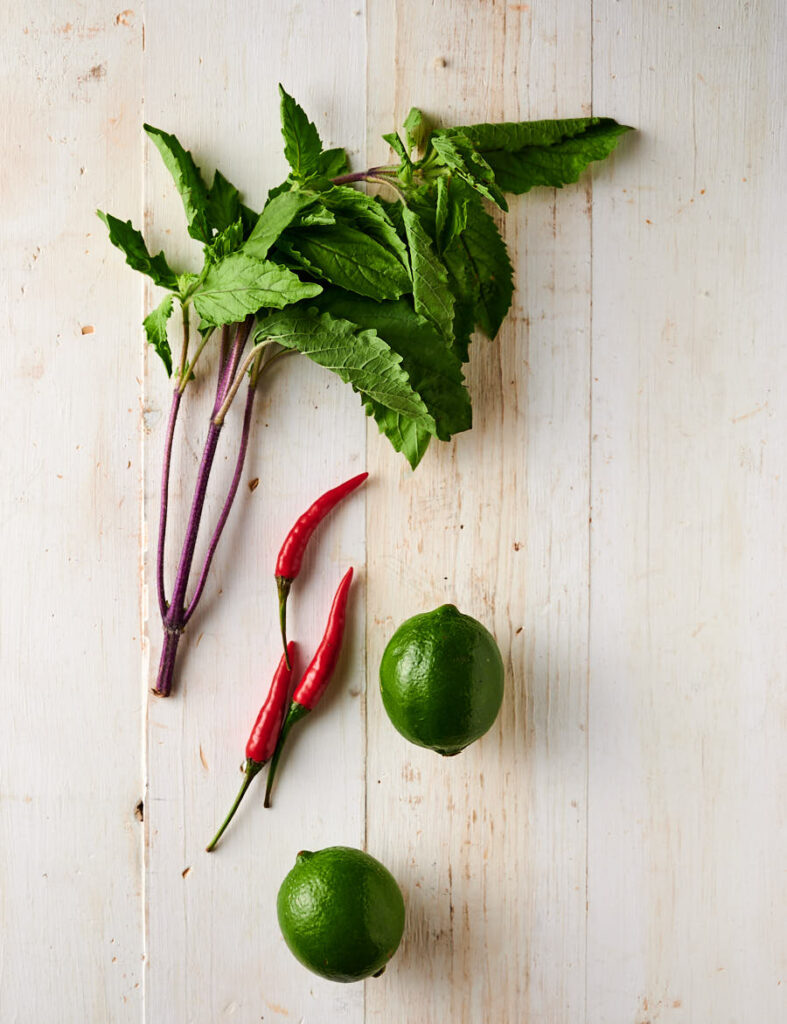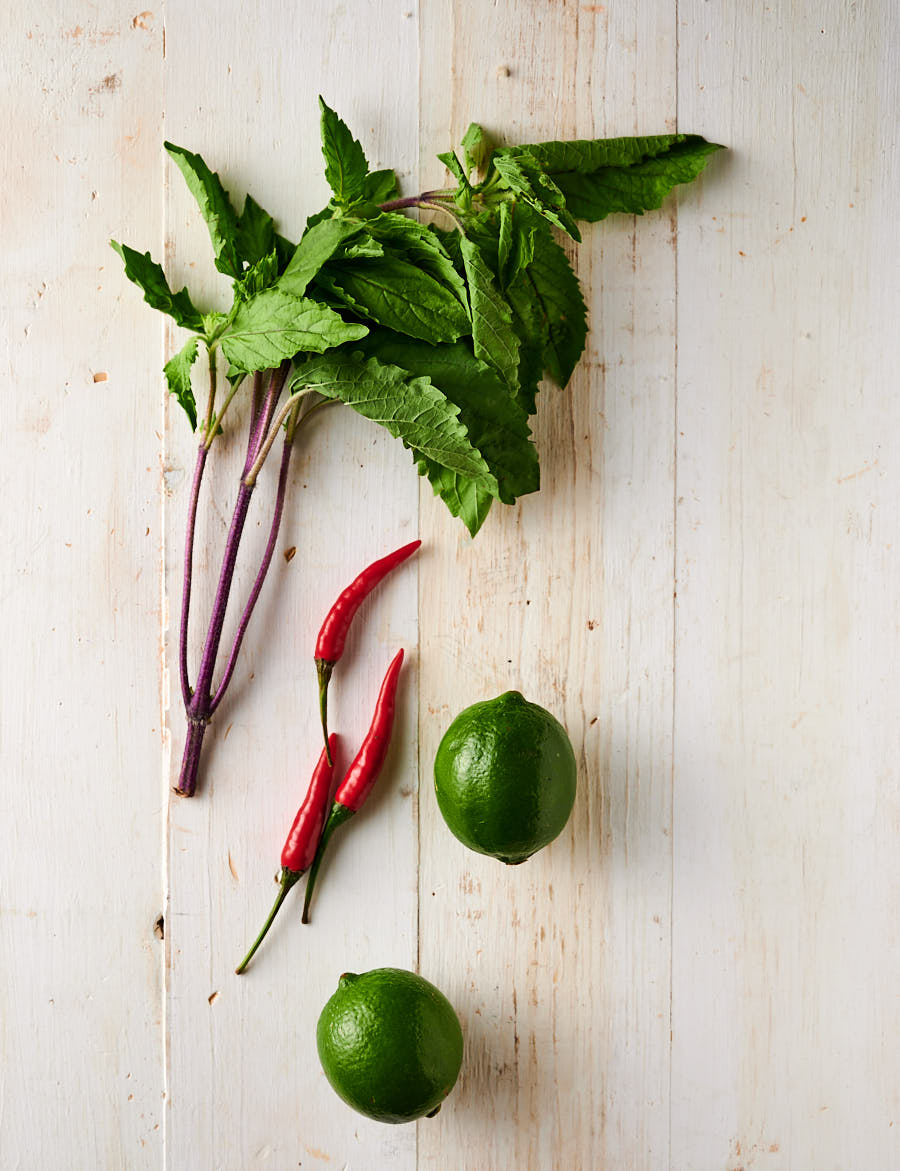 Thai style fried egg
A fried egg is a classic topping for pad kra pao. But not just any fried egg. Thai style fried eggs are puffy, soft and crispy all at the same time.
Eggs are amazing things. You can do so many different things with them. If you've never tried frying eggs Thai style here's one more for the list.
Lots of oil. High heat. A wok. And a spoon. That's what you need. Heat a few tablespoons of oil in a wok. Until it shimmers. And you see wisps of smoke.
Then crack an egg into the wok. It will sputter. And sizzle. It may even scare you a bit. Be brave. It's worth it.
Once the egg white is set up about half way through tilt the wok and spoon hot fat onto the top. Watch it puff up. It's crazy.
As soon as the white is set remove the egg. Salt it. And eat the first one you make. So you know what it's all about. Tasty stuff.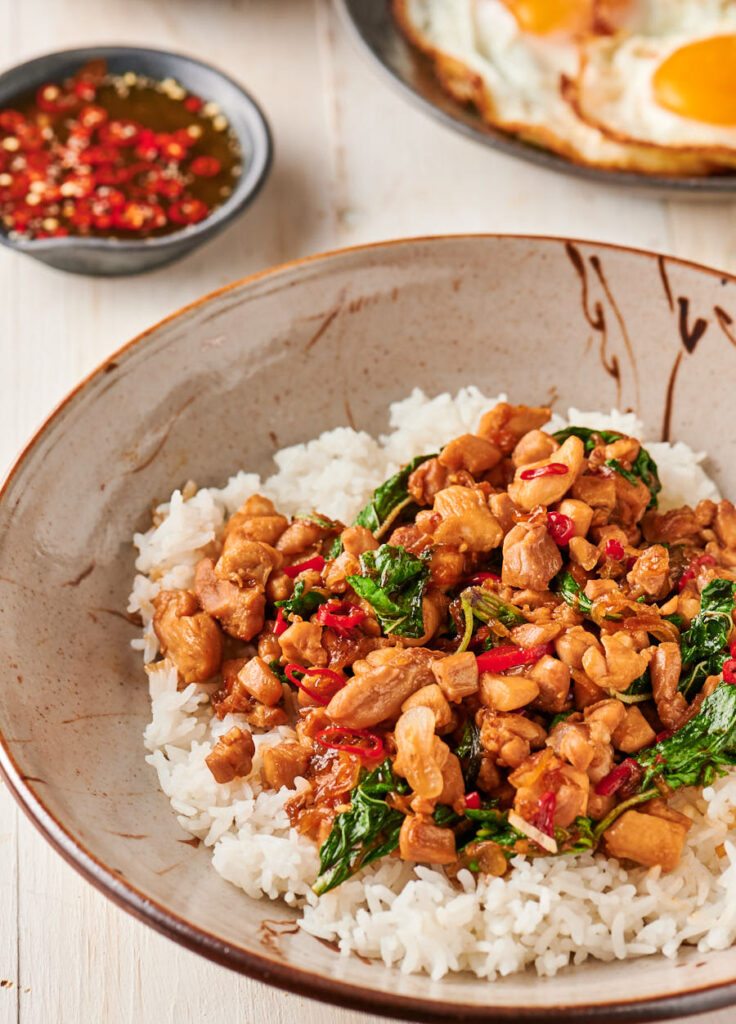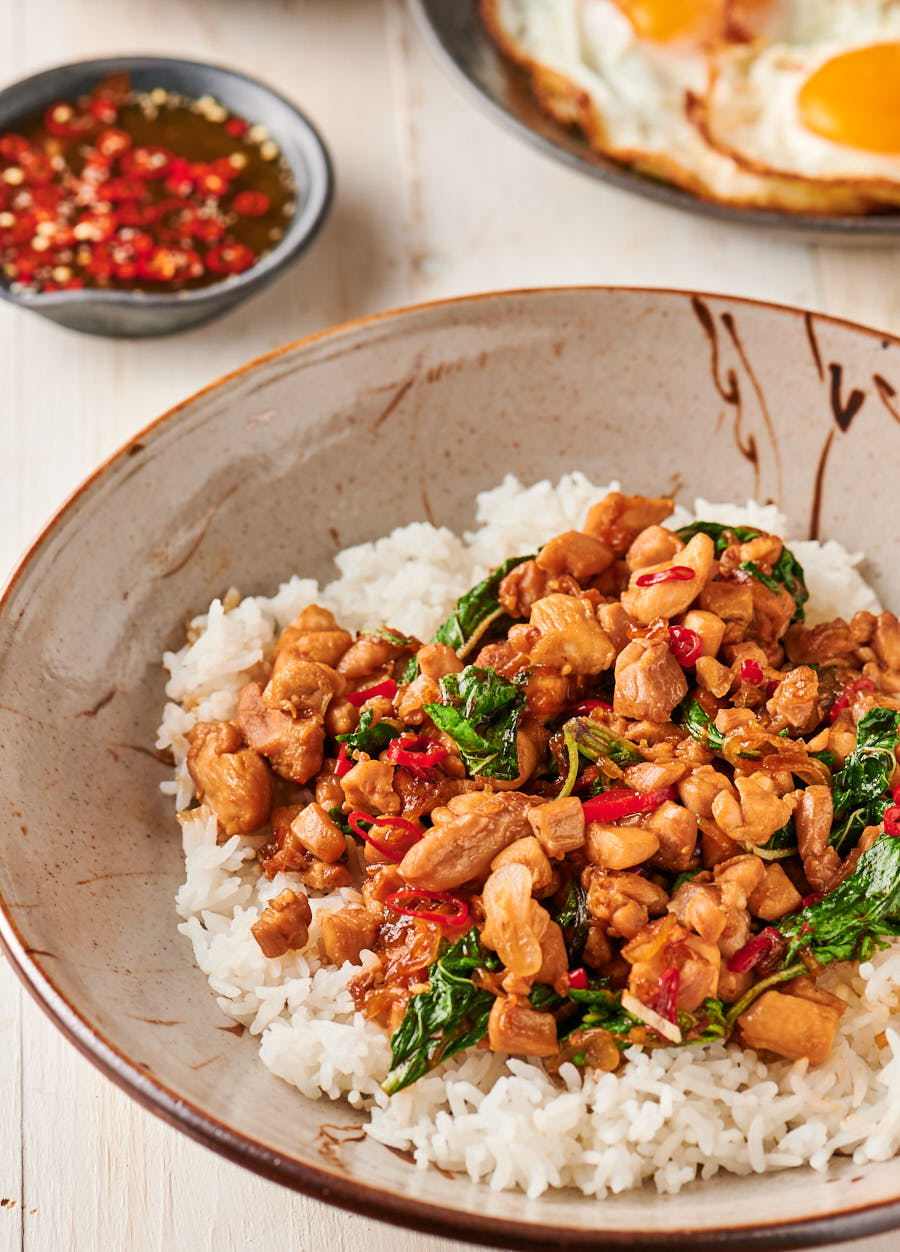 Leave the oyster sauce out for this Thai basil chicken
There are a lot of recipes for Thai basil chicken out there that include oyster sauce. This is not one of them.
I have nothing against oyster sauce. But I don't like it here. From what I can tell oyster sauce is not authentic. Not that I care about authentic. I care about tasty. But in this case I think the more authentic approach is tastier.
Oyster sauce is salty. Fish sauce is salty. Dark soy is salty. Put all three things together and you get really salty. Or you don't have enough fish sauce flavour. Either way it's a step backwards.
Fish sauce is core to Thai cooking. So less of that doesn't make sense. Dark soy is classic in this dish. Thai black soy in fact. Adds a little sweetness. And colour.
Something has to give. And for me oyster sauce doesn't add much. Except salt. Too much salt. So I leave it out. I like it better that way.
If you really want oyster sauce I'd roll back on the soy before the fish sauce. But not one for one. Oyster sauce is way saltier than dark soy. Be careful.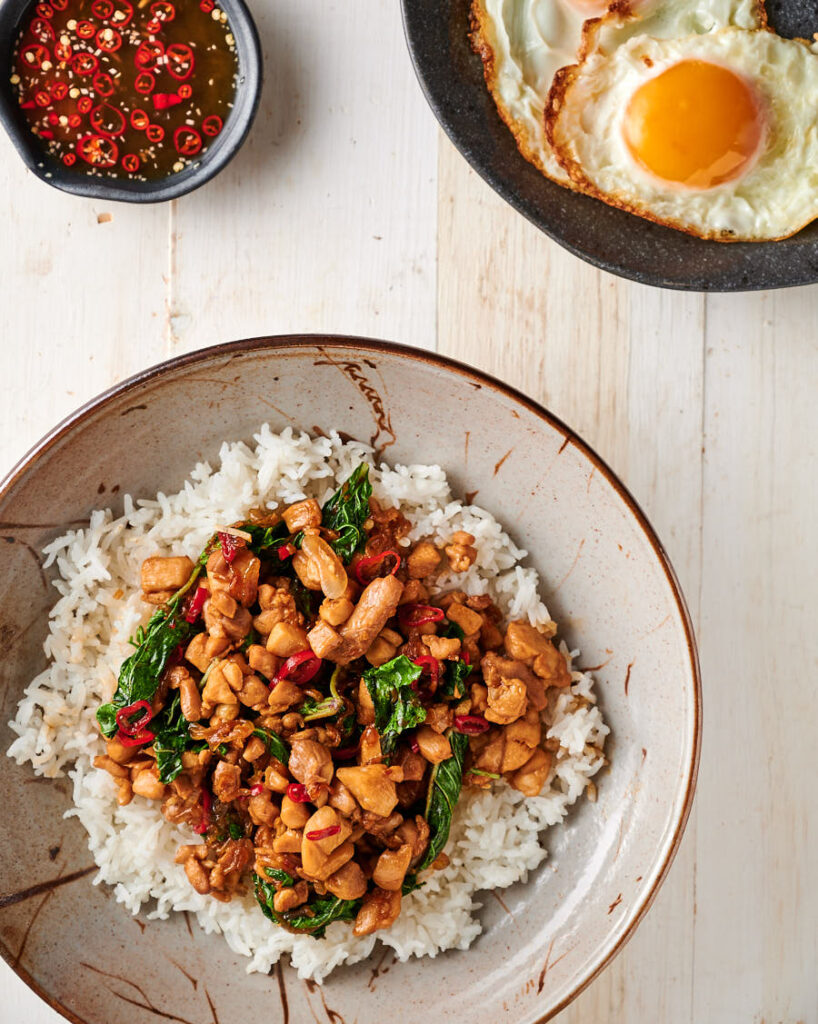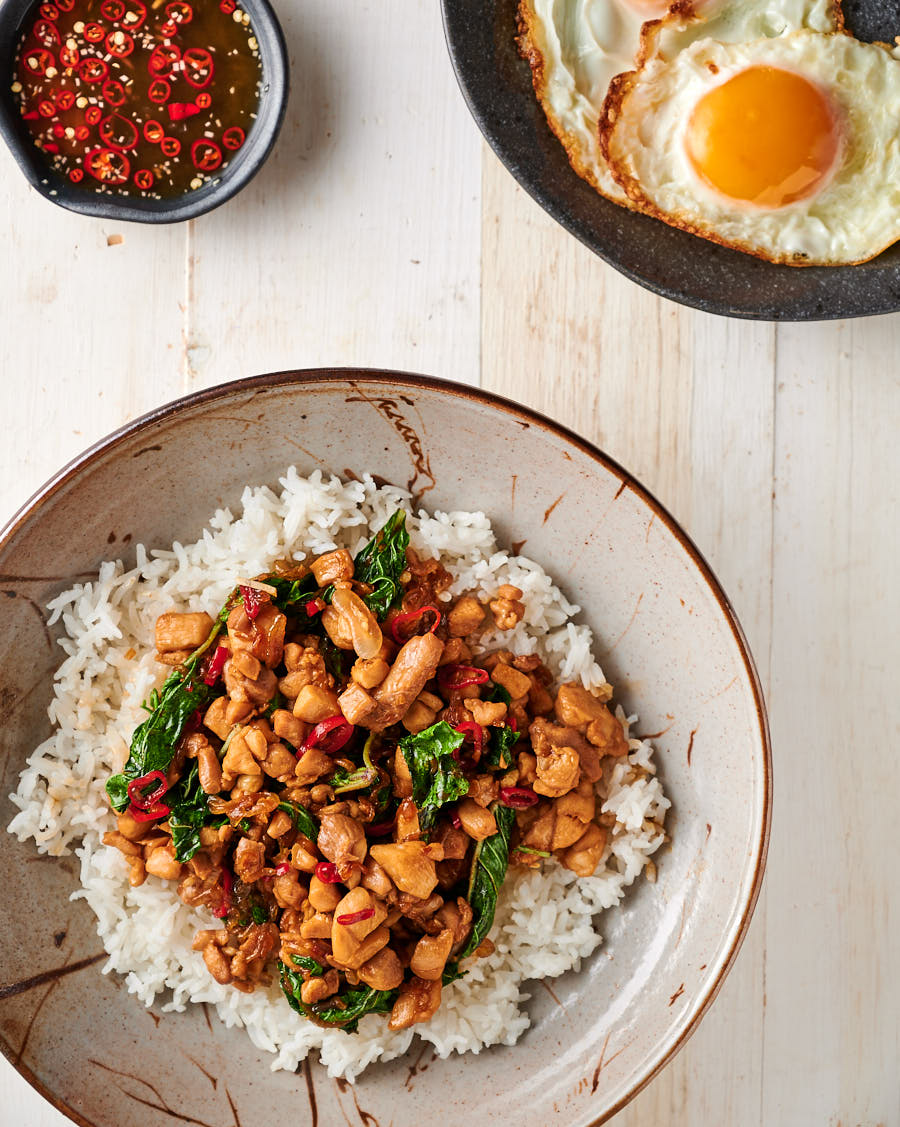 Pad kra pao is easy, fast and delicious
I love this type of recipe. Easy and delicious. Weeknight speed. Weekend taste. You need to be ready. But if you are it comes together in no time.
Not as easy as picking up the phone and ordering. But if you're here you probably don't care. A little work is worth it.
And it's fun to cook. Especially the Thai style egg. You don't get to do that everyday. Thai basil chicken. Pad kra pao. Call it what you want. But do try it if you like Thai flavours. It could become a house favourite.
Thai basil chicken – pad kra pao
Thai basil chicken is street food at home. Seriously tasty street food at home.
Ingredients
12

oz

chicken thighs

boneless, skinless and chopped into small pieces

1

cup

shallots

thinly sliced

1

tbsp

garlic

minced (chopped, not crushed)

2

tbsp

fish sauce

1

tbsp

dark soy

– thai black soy is better here if you can get it.

2

thai red chilies

thinly sliced

2

red finger hot chilies

thinly sliced (or use more thai red chilies if you like really spicy)

1

tsp

sugar

2

cups

holy basil

– you can use regular thai basil but it is not the same

3

tbsp

vegetable oil

2

eggs
Instructions
Do your prep
This is street food cooking. It goes fast. Really fast. Make the nam pla prik (see note) if you are serving it. Chop your chicken. Slice your shallots. Mince your garlic. Slice your chilies.

Combine the fish sauce, sugar and dark soy. Set aside. If you are making more than 2 servings do all your prep. But don't cook more than two servings (the whole recipe) at once. It won't cook right if you try to double this recipe.
Fry your eggs Thai style
Heat the 3 tbsp of oil in a wok over medium high heat.

When the oil starts to shimmer add one egg. It should sputter and maybe puff up. Let it cook for until the whites are about half done. Now spoon a bit of the hot oil onto the egg white. It should puff up at this point. As soon as the white is set remove the egg from the wok.

Repeat with the second egg. Set aside. You are going for eggs with a bit of crispy on the edges. Check out the pictures to get a feel.
Make your Thai basil chicken
Turn your heat to medium. Add the garlic. Cook, stirring constantly, until the garlic just starts to colour up. If you burn the garlic start again.

Add the chicken, chilies and shallots. Stir fry until the chicken is done. This takes around 4-5 minutes. But that depends on how big the chicken pieces are. And how powerful your stove is. Cook the chicken until it's done.

Add the soy fish sauce sugar mixture. Stir to combine. Add the basil and stir it into the chicken. As soon as the basil wilts it's ready to serve.

Thai basil chicken is great with rice and a bit of nam pla prik (see notes).
Notes
Nam pla prik is just garlic, chilies, fish sauce and lime. It takes about 1 minute to make. I like even amounts of fish sauce and fresh lime juice. From there add as much garlic and chili as you like. A pinch of sugar and stir. Just as easy as that. 
I usually do enough for 2. Juice of a lime. Around the same amount of fish sauce (around 1-2 tbsp). Maybe 1/3 clove of garlic finely minced and one or two thai red chilies. Around 1/2 tsp of sugar and stir. Make it your own. Adjust the garlic, chilies and sugar. Make it your own…
Nutrition
Serving:
2
servings
|
Calories:
434.75
kcal
|
Carbohydrates:
14.38
g
|
Protein:
29.32
g
|
Fat:
29.96
g
|
Saturated Fat:
19.59
g
|
Cholesterol:
260.63
mg
|
Sodium:
1843.49
mg
|
Potassium:
723.2
mg
|
Fiber:
1.9
g
|
Sugar:
8.22
g
|
Vitamin A:
2360.4
IU
|
Vitamin C:
134.9
mg
|
Calcium:
103.89
mg
|
Iron:
3.57
mg