Eggplant curry makes an awesome vegetarian main course or side dish for any Indian meal. Big flavours of onion, garlic, ginger and spice. And that lush restaurant style sauce. This is one seriously tasty vegetable curry.
Baingan masala. Eggplant curry. Brinjal bhaji. Aubergine curry. It goes by many names. Doesn't matter what you call it. It's sure to satisfy.
I worked hard coming up with this one. Took me forever. They make it at my local Indian restaurant. But they wouldn't give me any tips. Not a single one. So I kept tinkering. And I finally got it.
Baingan masala not baingan bhaji
That was my problem. My local restaurant calls it baingan bhaji. But it's not. I looked at recipe after recipe. Couldn't find anything close. Every recipe was mush. Like cream of eggplant. Not right. Tasty. But not what I was looking for.
The version I was after had pieces of eggplant. And skin. Texture. And taste that just was not like any recipe I tried.
It's tough to figure things out when you have barely any clues. I ordered it again. And again. Poke at it. Test a theory. Then another. Slow going. My friends thought I was a bit mad. I am a bit mad actually. They weren't surprised. Not really.
But finally I figured it out. And now I can make it any time I want. I'm tempted to go back to that restaurant and tell them I don't need them anymore.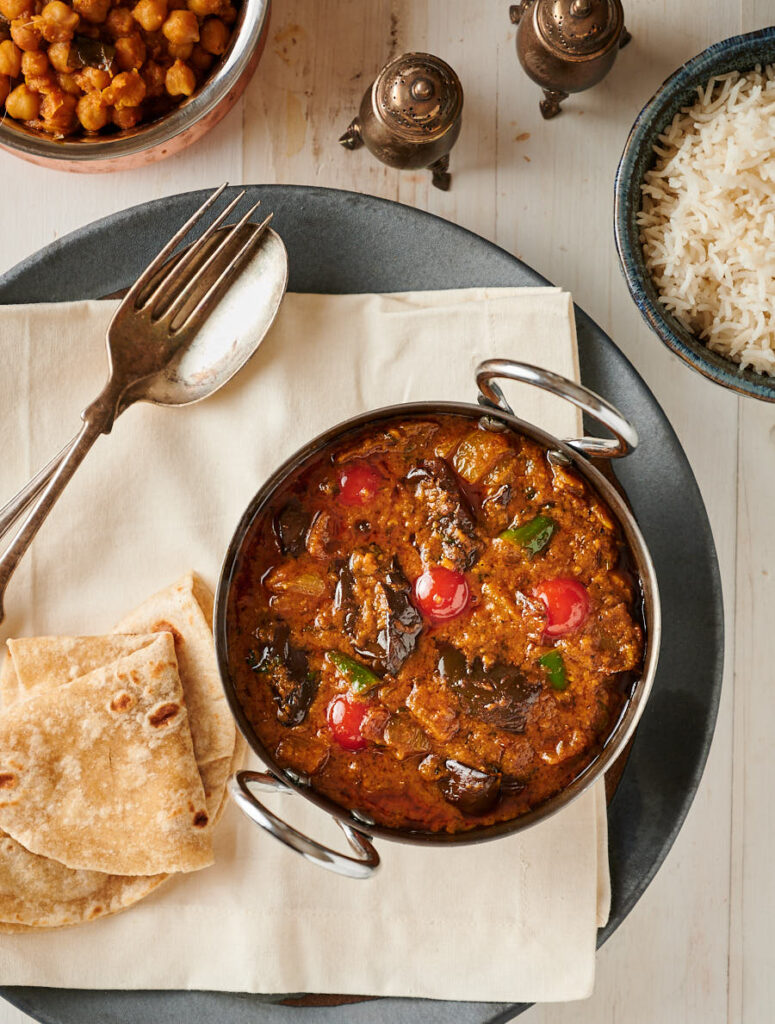 Eggplant matters when you make eggplant curry
That should not be a surprise. It's eggplant curry. Or aubergine curry if that's what you call it. Either way the eggplant you choose is important.
For Indian eggplant curry you need to use Indian eggplant. Those big Italian eggplants are just not right. Good for parm. Not so good for eggplant curry.
I get them at my local Indian grocer. The sign above them says brinjal. But they are also known as ratna. They are small. Like a big egg. Purple. Usually beat up. In a box in the back. Shopping at Indian grocers is a whole experience where I live.
I'm picky about this because you get a good mix of eggplant to skin. And the skin matters in this recipe.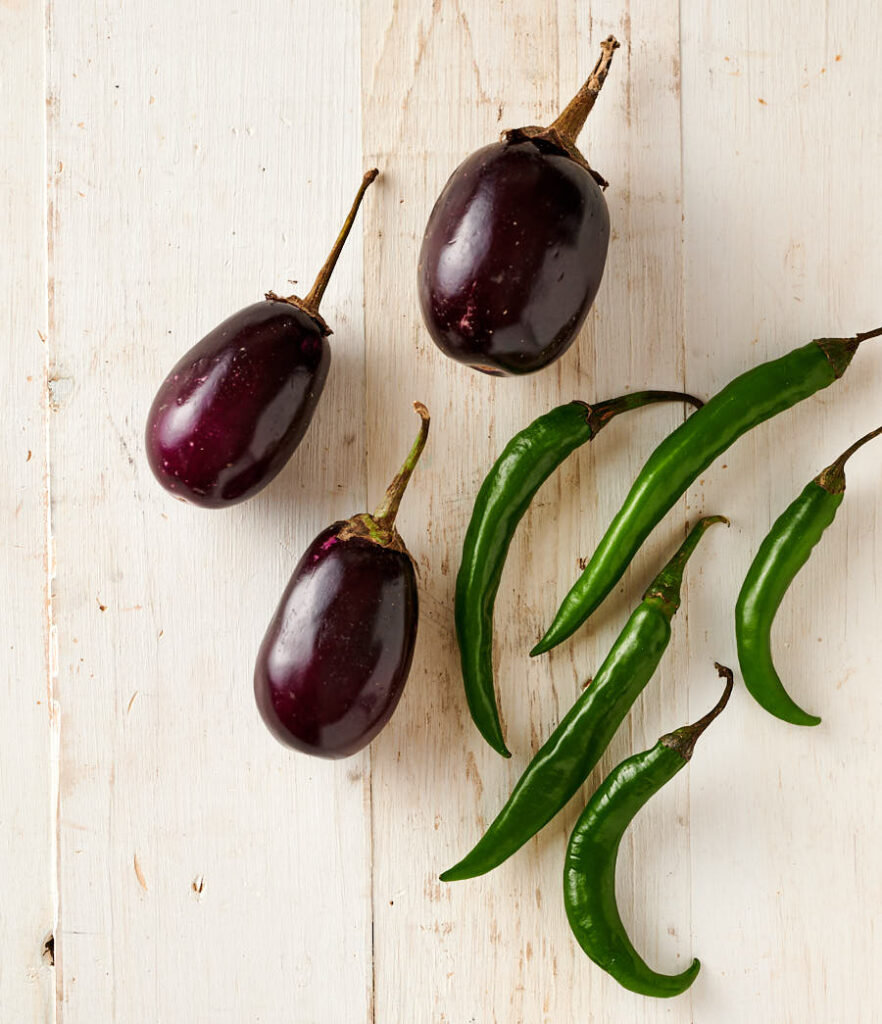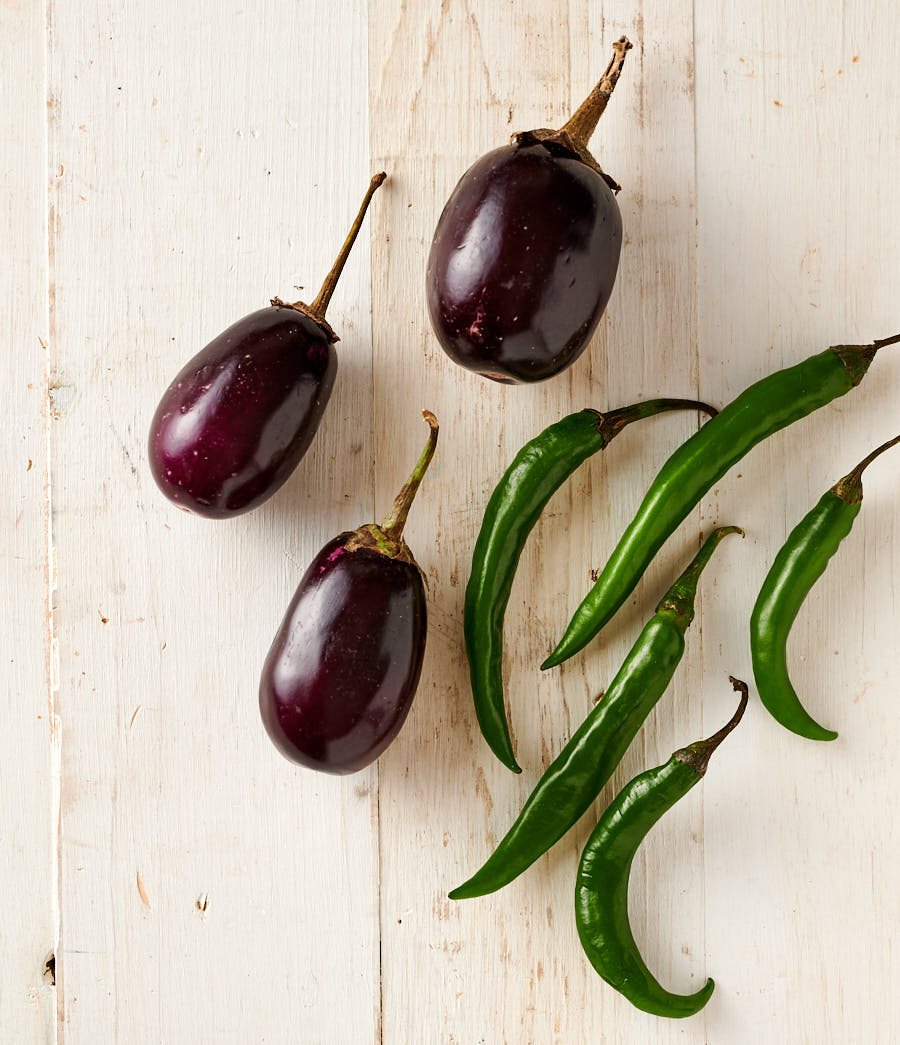 Roasted works for eggplant curry
Eggplant is a sponge for oil And it's really good when it soaks up a bunch of oil. But deep frying is a pain. Stinks up the whole house.
I do deep fry. Because sometimes you just have to. But for this dish you don't. So I don't. You can if you want to. Free country. If you don't mind your house smelling like a deep fryer have at it.
I roast the eggplant for this curry. It works. Just coat the cut up eggplant with vegetable oil. And roast. Easy. And it doesn't smell.
The one problem is the skin gets tough. But there's a trick. Pull the eggplant from the oven. And put it into a tupperware. Seal the tupperware. And let it sit on the counter.
The eggplant steams a bit in the tupperware. The skin softens up. It softens up some more in the curry. So you get a mix of textures. The creamy eggplant. Up against an ever so slightly toothy skin. It works.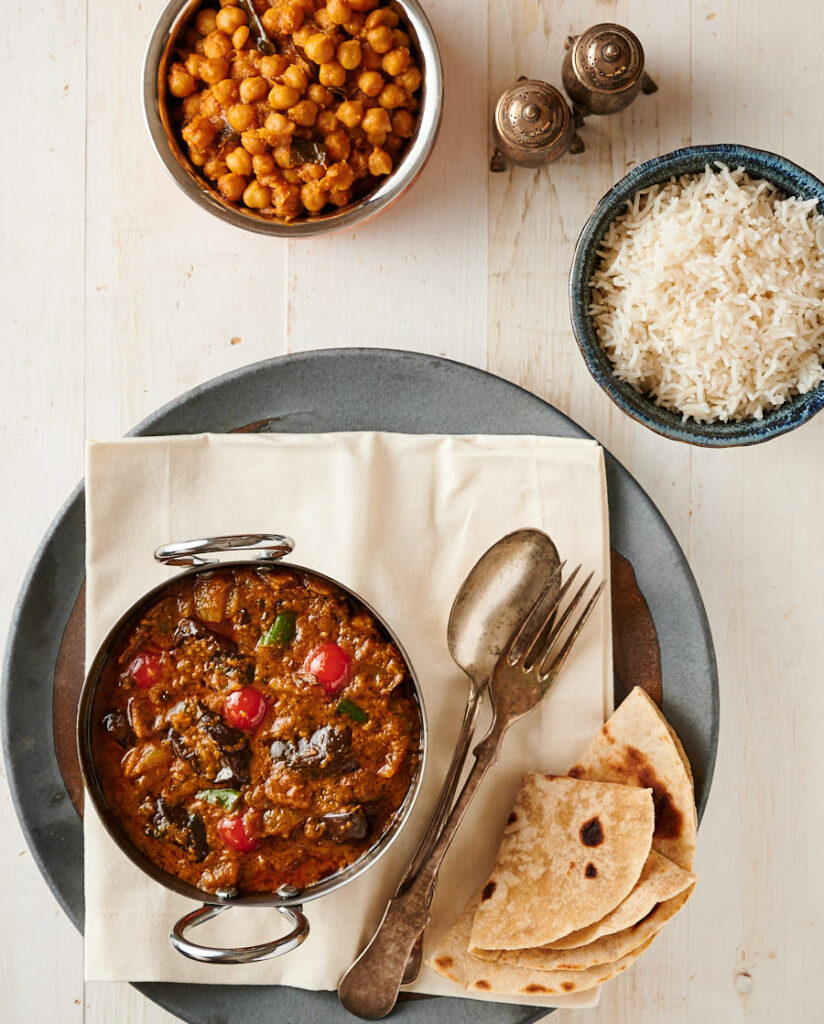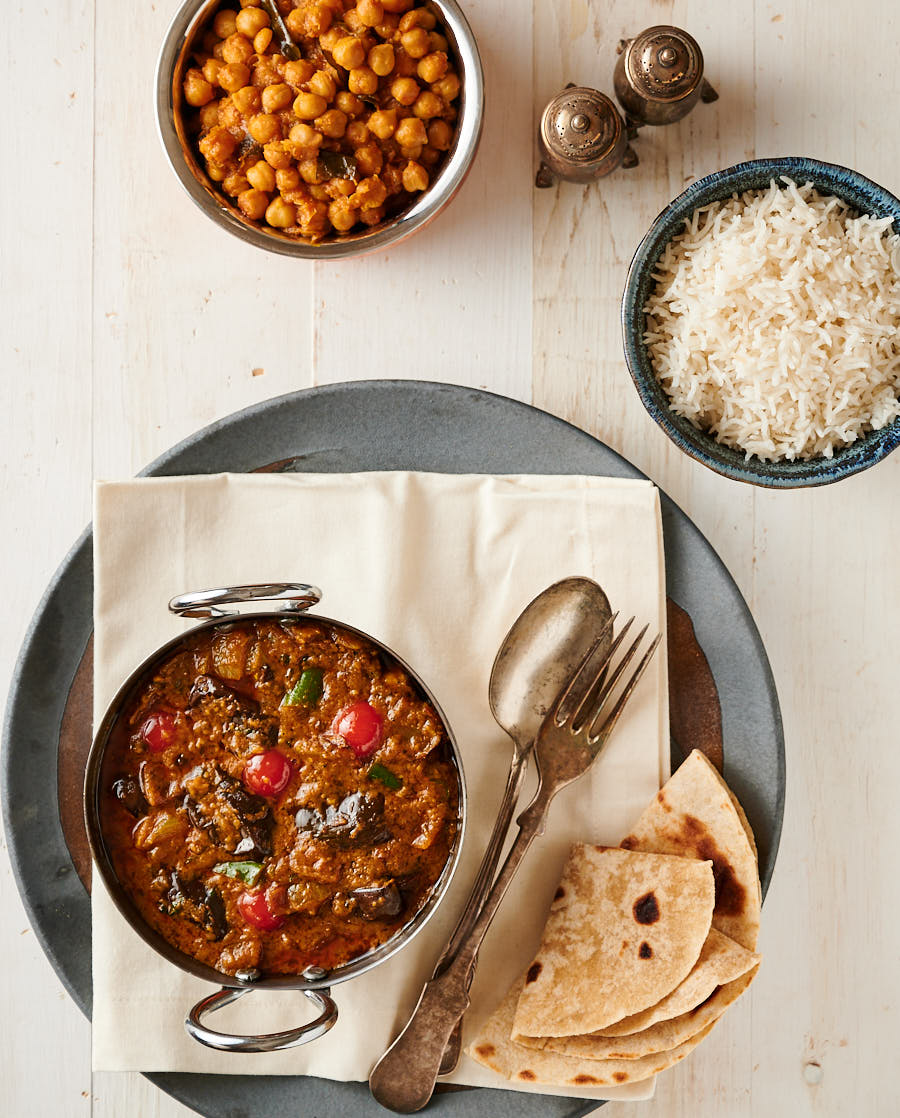 This is Indian restaurant style cooking
To get the restaurant flavours you can't just talk the talk. You need to walk the walk. So you need to cook the same way they do in restaurants.
That means using curry base. And restaurant style spice mix. And high heat. Lots of prep. Everything ready to go.
Then it's about technique. And timing. It's not hard. I've written a whole primer on Indian restaurant technique. Read that and you'll be good to go. Ready to tackle any Indian restaurant style recipe.
There are lots of recipes out there that say "restaurant style". A lot of them aren't even close. You need to walk the walk.
And wear old clothes. This is messy stuff. Splatter. Turmeric. Clothing destruction cooking. But it's fun. And it works.
Eggplant curry. Baingan masala. Brinjal bhaji. Whatever you want to call it, it was a tough one for me to figure out.
But now I know. And so do you. Try it. You won't be disappointed.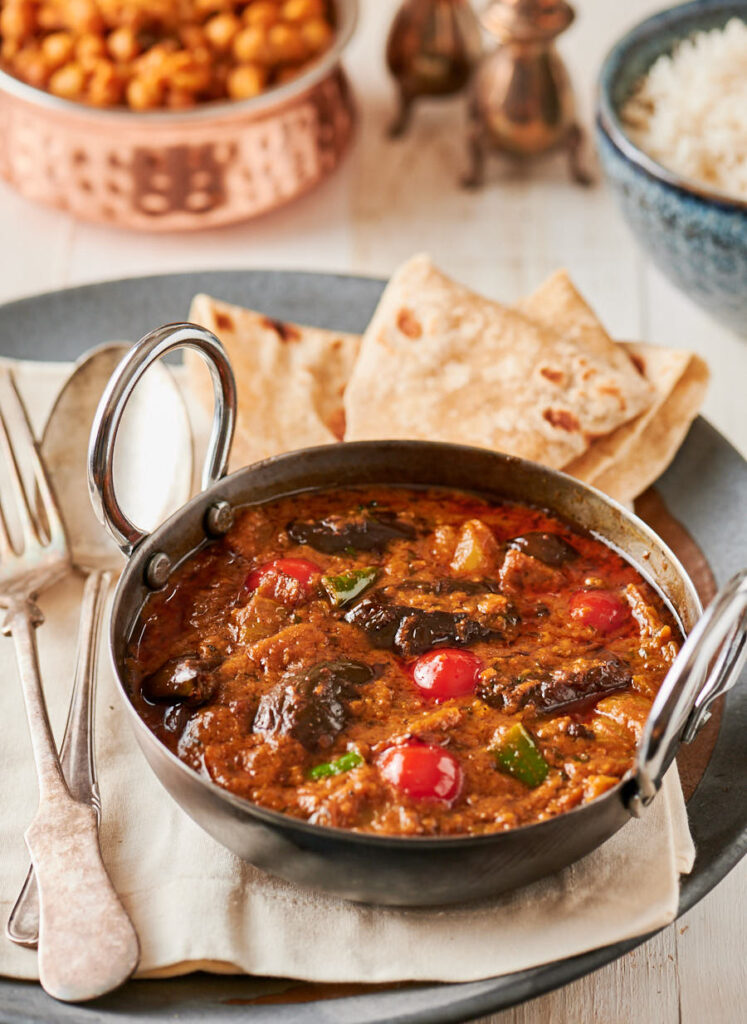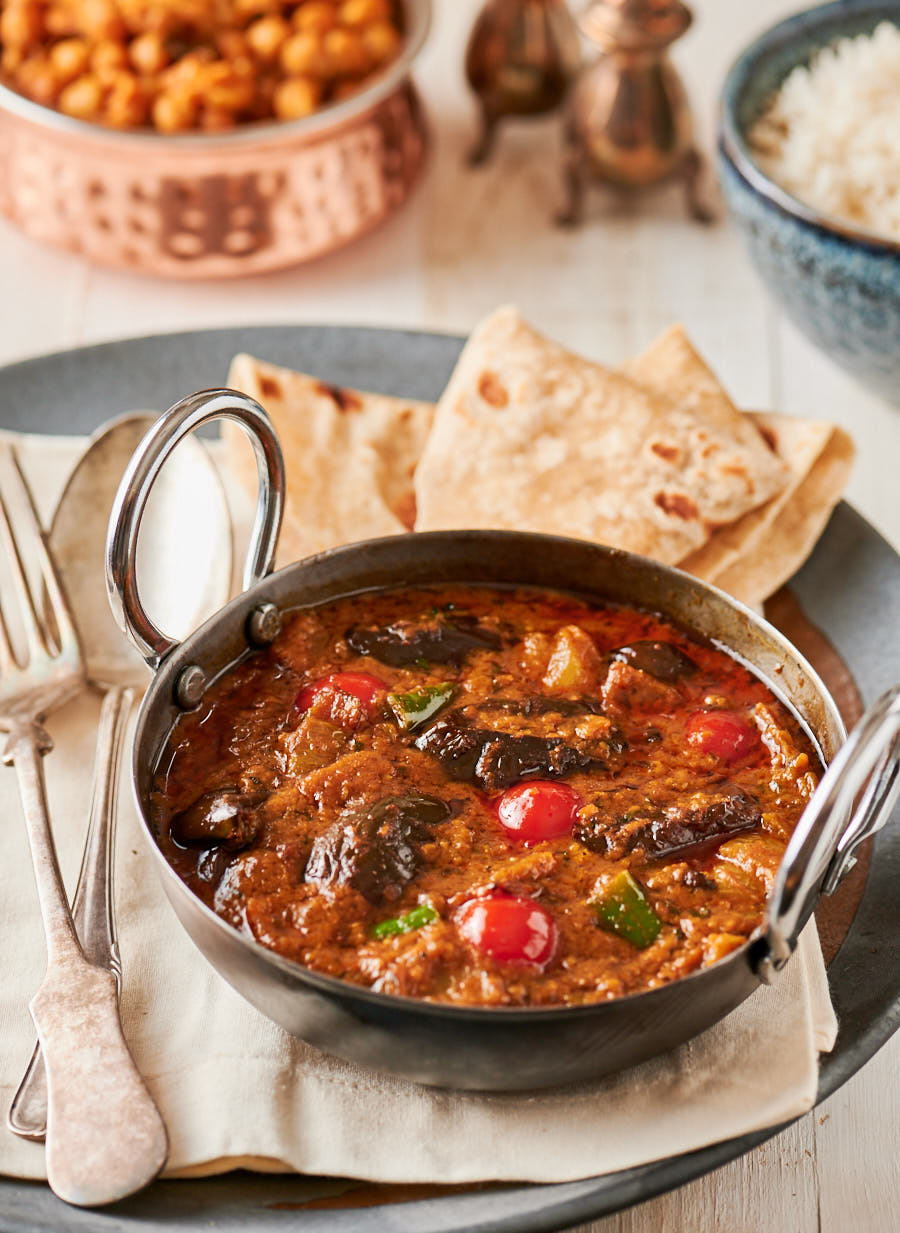 eggplant curry – baingan masala
Meltingly tender eggplant and a luscious sauce loaded with big Indian flavours make this one sure to please.
Ingredients
Spice mix
2

tsp

Indian restaurant spice mix

– recipe link below

1

tsp

kasoor methi

– fenugreek leaves

1

tsp

kashmiri chili powder

1/2

tsp

amchoor powder

– dried mango powder

1/2

tsp

kosher salt
Eggplant curry
3-4

Indian eggplants

aka ratna or brinjal

3

tbsp

vegetable oil

1/2

tsp

cumin seed

1/2

onion

coarsely chopped

1

tbsp

garlic ginger paste

1

green chili

sliced lengthwise and cut into 3/4 inch pieces

15

oz

curry base

– recipe link below

1

tbsp

cilantro stems

finely chopped

5-6

cherry tomatoes

sliced in half

vegetable oil to coat the eggplant
Instructions
Roast the eggplant
Pre-heat your oven to 350 degrees

Remove the stem from the Indian eggplant. Cut each eggplant into 4 wedges lengthwise. Think of cutting an egg in half for deviled eggs and then half again. Cut it that way.

Toss the eggplant in a little vegetable oil. You don't want to drown it but make sure every piece is coated.

Place on a cookie sheet or pizza pan, skin side down. Sprinkle with salt.

Roast in the oven until the eggplant is soft and just starting to colour. This should take about 25 minutes.

When the eggplant comes out of the oven the skin will be hard. You don't want that. Place the hot eggplant in a small tupperware and cover. Set aside on the counter for 30 minutes. The skin will soften.
Make the baingan masala
Pick a skillet that can take heat. Something with an insulated handle is good. Put on some shabby clothes. Cooking Indian restaurant style is messy stuff.

Place the skillet over medium low heat.

Add 3 Tbsp of oil. When it starts to shimmer add the onions and cook until the edges of the onions start to colour. This should take 3-4 minutes. Add the cumin seed and green chilies and cook another 30 seconds or so.

Move the onions to one side. There should be a fair bit of oil in the bottom of the pan. Add the spice mix and stir to thoroughly coat the spices in oil. It should start to bubble a bit. Cook the spices for about 30 seconds. Watch your pan carefully. You don't want to let your spices burn.

Add the garlic ginger paste and chopped cilantro stems and stir the spices, garlic ginger paste and onions to combine. Cook about 30-45 seconds.

Turn the heat up to medium high. Add 3 oz of curry base. Stir to combine. Let cook about a minute. You should see craters forming and a bit of oil separating out.

Now add 6 oz of curry base. Stir to combine and cook about 90 seconds. You want to see the same little craters.

Add the remaining curry base. Stir to combine. Reduce the heat to medium low.

Add the eggplant, stir to combine and let simmer about 3 minutes. Then add the cherry tomatoes and let simmer another minute or two.

Garnish with a bit of chopped cilantro if desired. Serve with rice or Indian flatbreads. This makes a great vegetable side dish or vegetarian main course.
Nutrition
Serving:
2
servings
|
Calories:
310
kcal
|
Carbohydrates:
28
g
|
Protein:
4
g
|
Fat:
22
g
|
Saturated Fat:
17
g
|
Sodium:
1263
mg
|
Potassium:
940
mg
|
Fiber:
13
g
|
Sugar:
15
g
|
Vitamin A:
434
IU
|
Vitamin C:
22
mg
|
Calcium:
46
mg
|
Iron:
2
mg