Malaysian curry laksa or curry mee is one seriously tasty meal in a bowl. Big curry flavours. Coconut milk. Lemongrass. Chicken. Or shrimp. Or both. And noodles. There's nothing here not to love.
It's spicy. Creamy. Deeply satisfying. It's soup that eats like a meal. One big bowl of delicious. Call it what you want. It's just good eating.
Curry mee please
I love everything about curry laksa. Even the name is perfect. Curry mee.
Walk into a Malaysian restaurant and say "curry me". This is what you'll get. And you'll leave happy.
You could also ask for laksa lemak. That's another name for it. I think it depends on where the cook is from. Different names. Same great dish.
It's taken me too long to do this recipe. My bad. I'm an Asian soup addict. I'm a curry addict. This is all of that rolled into one. I should have shared it years ago.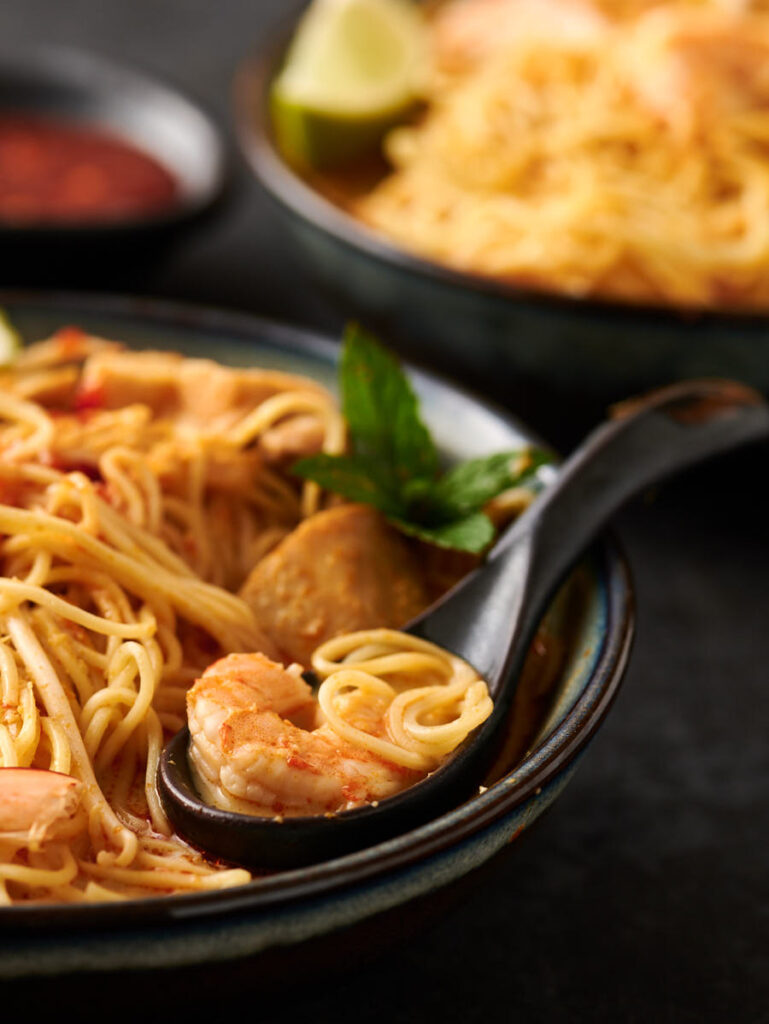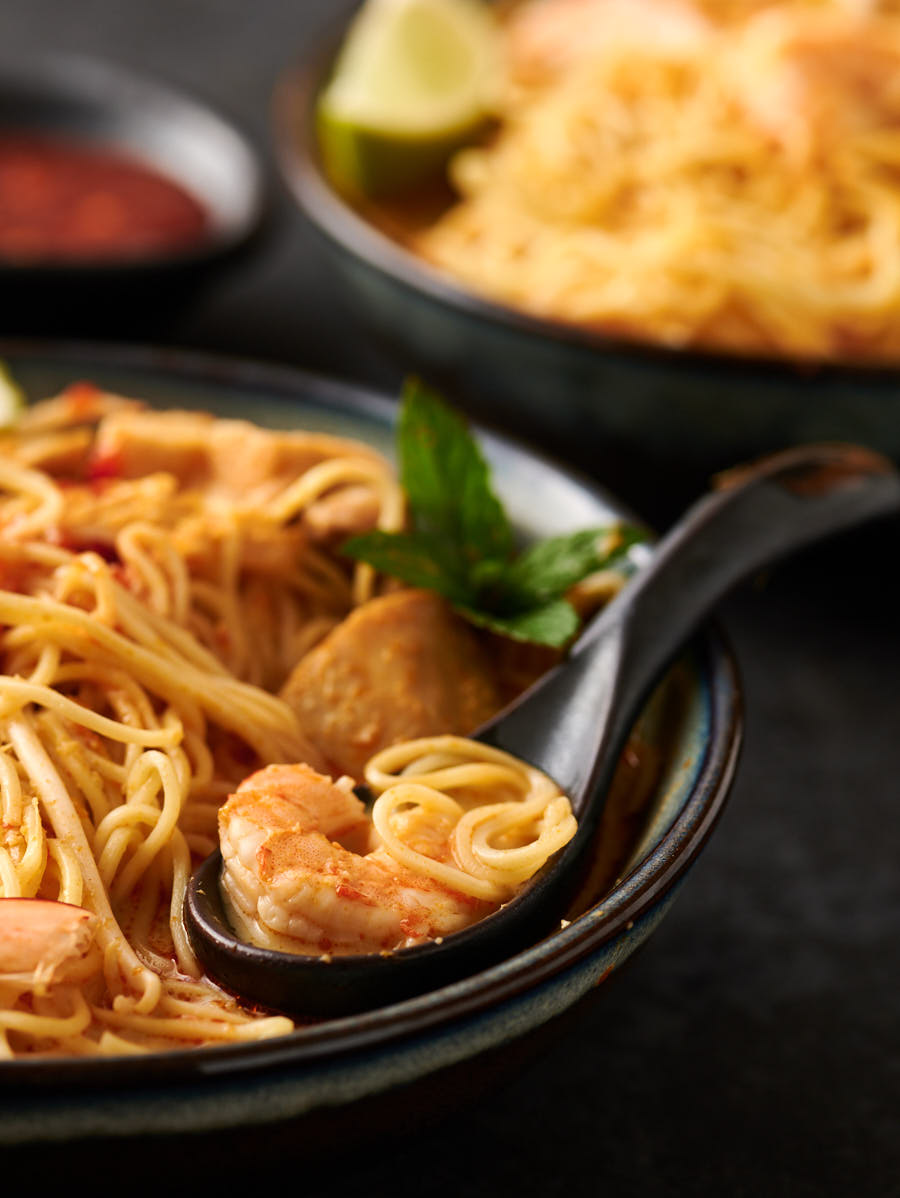 Curry laksa is what happens when India visits Malaysia
I'm not a historian. And I'm probably wrong about this. But to me curry laksa tastes like Indian slammed up against south east Asian flavours. With some Chinese noodles tossed in for good measure.
So I approach curry mee a little different than most. I put some Indian technique into the mix. Not a lot. Just one little trick.
When I cook Indian I bloom the spices in oil. Right at the start. And there's a reason. I cannot stand raw spice flavour. Even a hint of it. Blooming the spices takes care of this. It's a small thing but it makes a big difference.
Plus I find it amps up the flavour. The oil soluble compounds in the spice create a crazy delicious spiced oil. More flavour is always better in my books.
I add the paste to the oil and bloomed spices. Fry that up. Just like an Indian masala. Then add some liquid. Cook the chicken in the mix. It's Indian with lemongrass.
If you left the lemongrass out and added some green chilies at this point you'd have a simple Indian chicken curry. See what I mean? India comes to Malaysia. A star is born.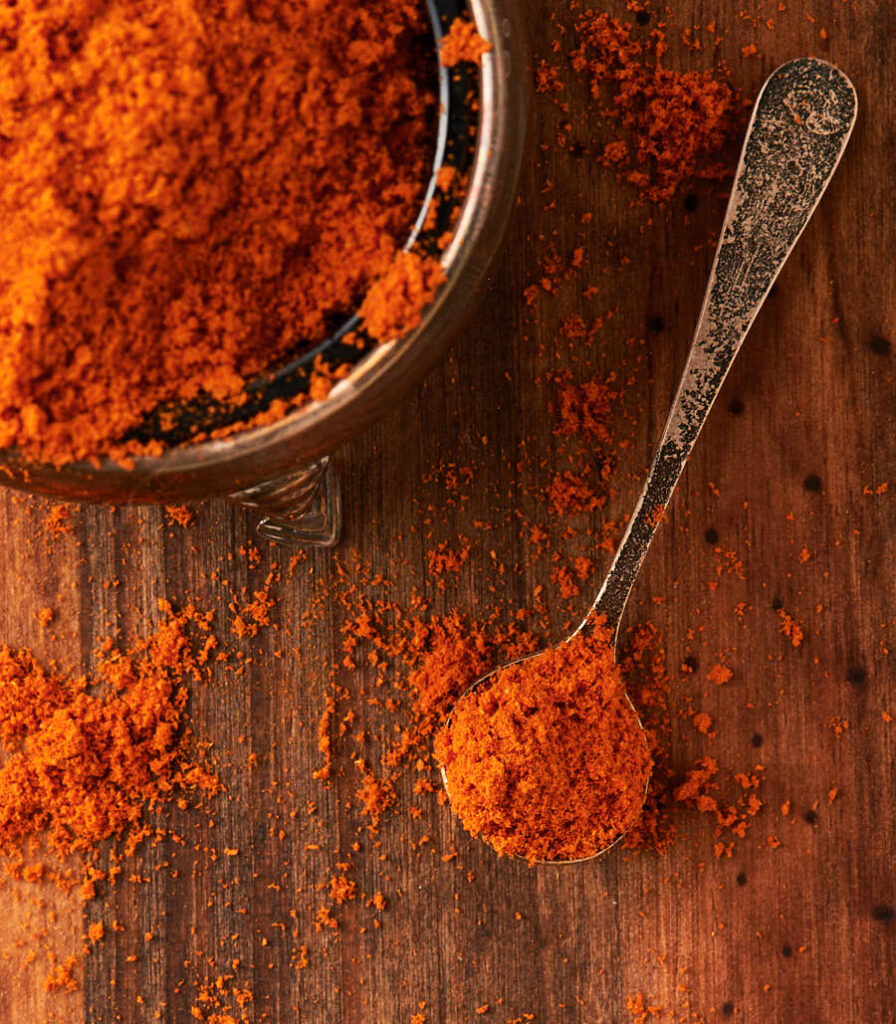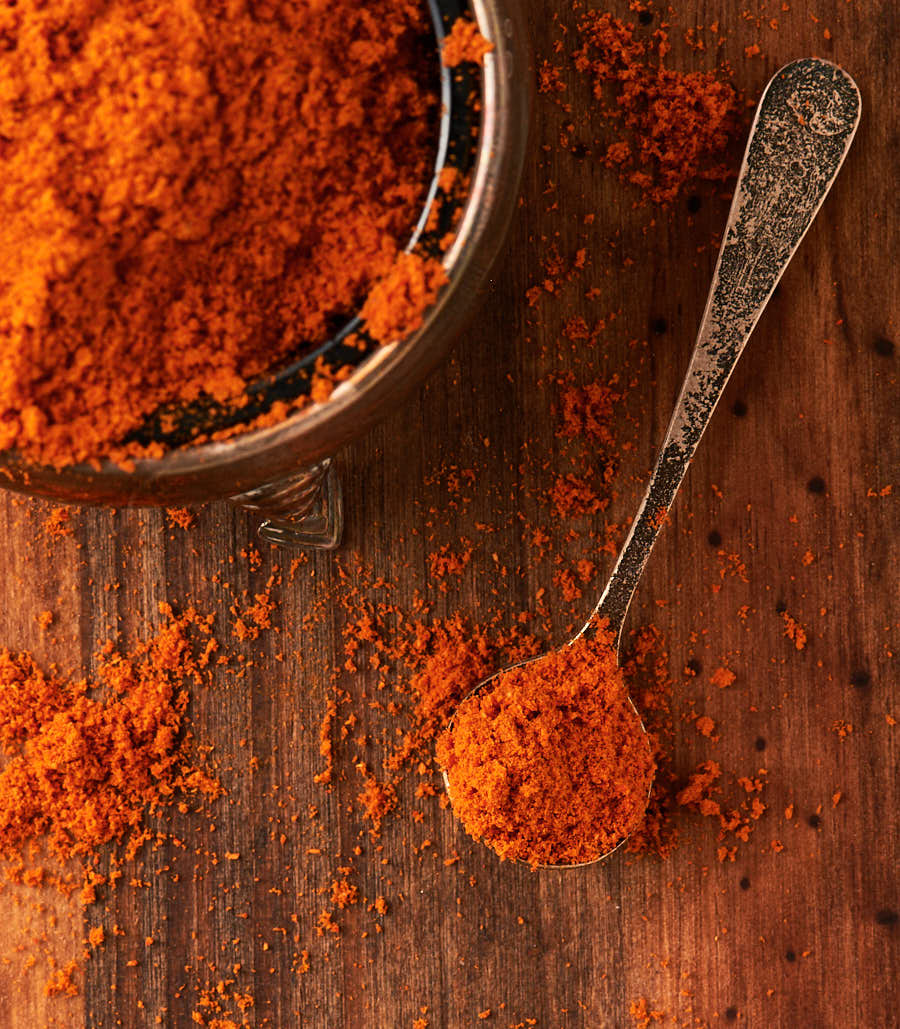 All curry powders are not the same
Indians love to say there's no such thing as curry powder. Maybe it's because there's no such thing as a curry in Indian cooking. That's a western generalization of Indian cuisine. No such thing as curry. So no such thing as curry powder? I really don't know.
What I do know is there are tons of specific spice mixes or masalas in Indian cooking. Garam masala is the most famous. But there's one for just about everything. Chaat masala. Chana masala. Nihiri masala. The list goes on and on.
There are Malaysian curry powders too. And that's the stuff you want for curry laksa. Malaysian meat curry powder. Says so right on the bag. Just another spice mix. A really good one.
Get the Malaysian meat curry powder. It's the right blend for curry laksa. While you are there check out all the other masalas they stock. Take a picture.
And the next time an Indian tells you there's no such thing as curry powder show them the picture and ask them to explain.
Before I get blasted. I am half Indian. Been eating Indian my whole life. Just having some fun here…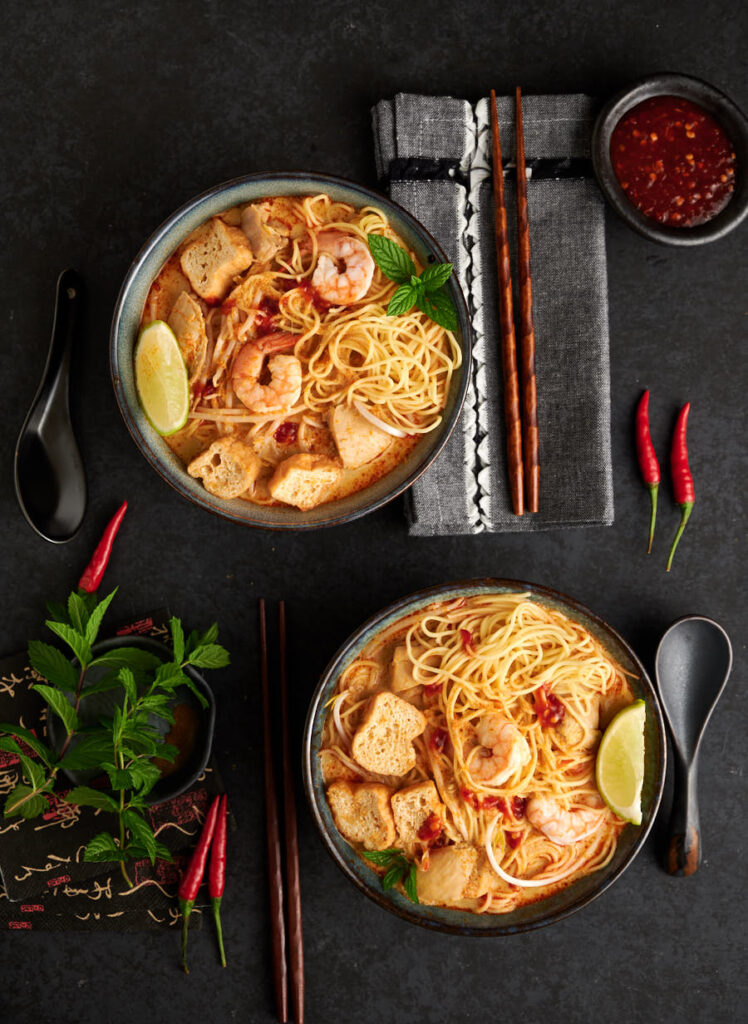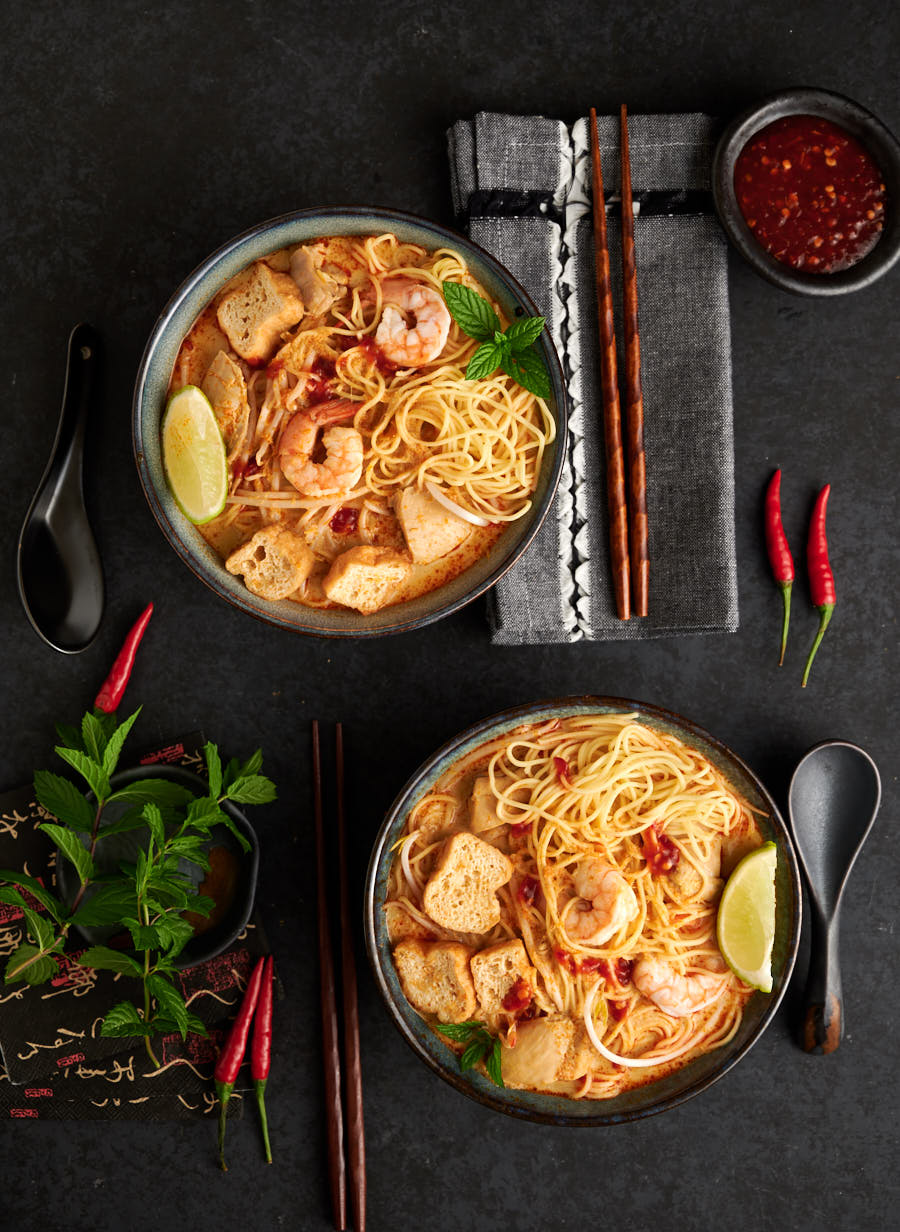 Egg noodles for curry laksa
All noodles are not created equal either. You want egg noodles for laksa. Not the broad egg noodles at the supermarket. Chinese egg noodles. Fresh ones.
Be careful. You would think yellow noodles are all egg noodles. But they're not. Some are yellow because they have eggs. Some are yellow because they have food colouring.
So read the ingredients. If they say they contain eggs you have the right ones.
They come in all different shapes and sizes too. Some like vermicelli for curry laksa. Others like larger noodles. Or flat ones. I mix it up. Sometimes vermicelli. Sometimes not. Up to you. Go with what you like.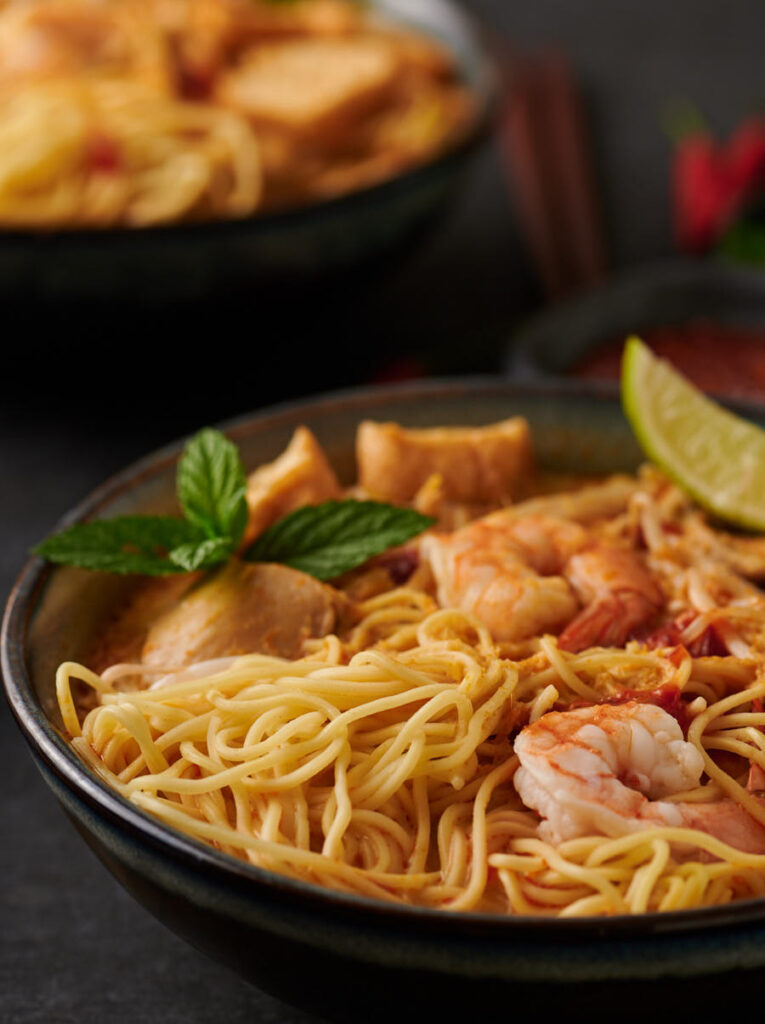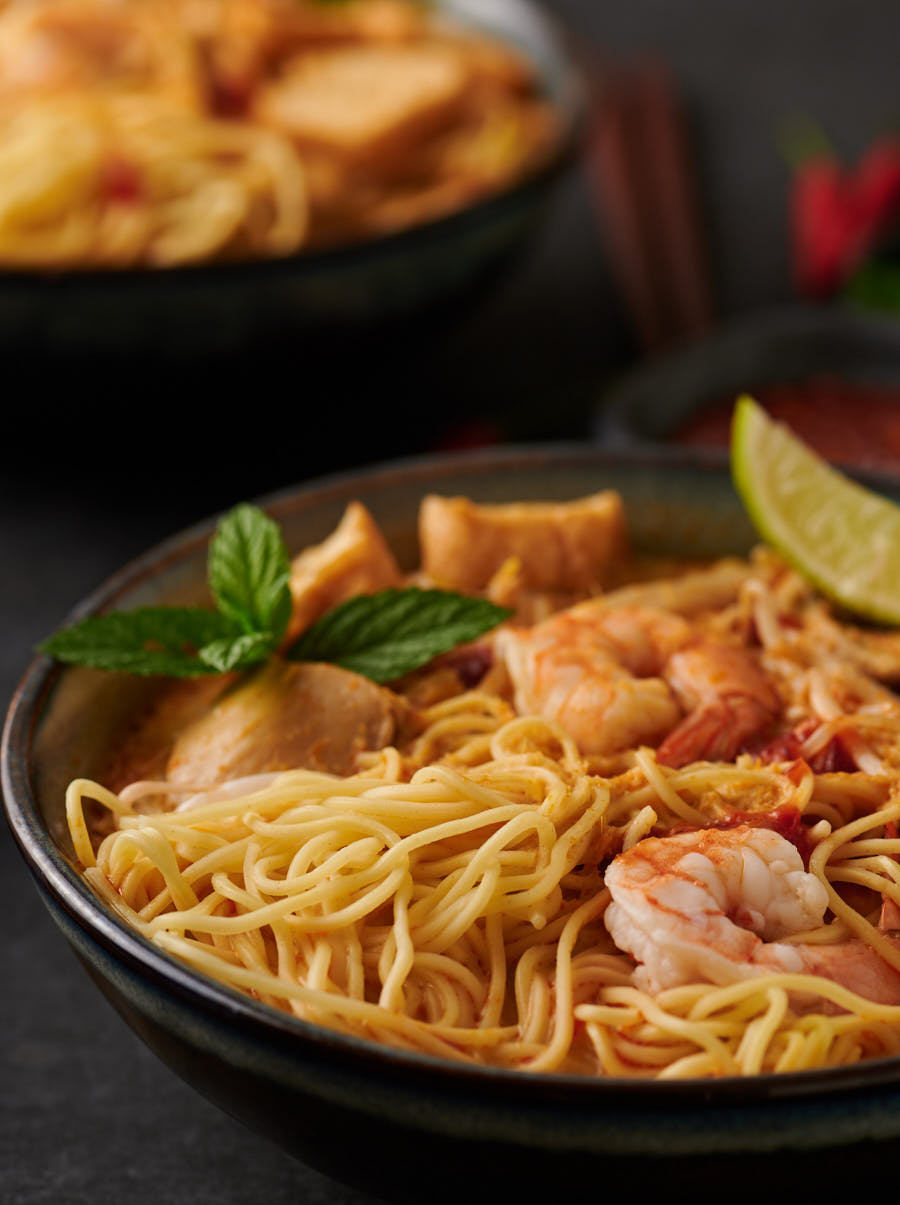 Just a whole lot of goodness in a bowl
Call it curry laksa. Or curry mee. Or even laksa lemak. Call it what you want. Doesn't matter. What matters is that it's laksa delicious.
If you like Indian. And Asian soups. And coconut. Then you will love curry laksa.
Malaysian curry laksa – curry mee
Malaysian curry laksa is a delicous noodle soup that eats like a meal.
Ingredients
Shallot lemongrass paste
1

cup

shallots

chopped

1

stalk

lemongrass

– outer leaves discarded. Chopped.

2

tbsp

garlic ginger paste

or 3 cloves of garlic and a 3/4 inch piece of ginger, chopped

enough water to puree
curry laksa
1/4

cup

vegetable oil

4

tbsp

malaysian meat curry powder

– yes seriously, get the right curry powder. It's important.

1/2-2

tsp

kashmiri chili powder

1/2 tsp is nicely spiced. 2 tsp is pretty hot.

6

chicken thighs

boneless, skinless. Cut into 3/4 inch pieces.

12

oz

shrimp

pre-cooked for perfect shrimp (see note)

5

cups

chicken stock

4

cups

coconut milk

2 15 ounce cans is close enough

4

tbsp

fish sauce

2

cups

bean sprouts

1

lb

Chinese egg noodles

cooked per package instructions.

sambal and fresh lime to garnish
Instructions
Make the shallot lemongrass paste
Combine the chopped shallots, chopped lemongrass and garlic ginger paste in your blender. Add a couple tablespoons of water. Try to puree. Keep adding water a tablespoon at a time until it goes. This really depends on your blender. I can't tell you what's right for yours.

Once it is pureed scrape it out into a bowl.
Cook your noodles
Follow the instructions on the package. When done drain them through a colander and then rinse in cold water. Set aside.
Make the curry laksa
Pick a pot big enough to hold all the ingredients. A dutch oven is a good choice here.

Add the oil to the pot and heat the oil over medium low heat.

Add the Malaysian meat curry powder and kashmiri chili powder. Stir constantly for about 30-45 seconds. You need to be careful here. You don't want to burn your spices but you do want to cook them out. This is called blooming the spices and it's where magic happens.

Add the shallot lemongrass paste. Stir to combine. Continue cooking for 5-7 minutes, stirring regularly.

Add the chicken stock. Bring to a simmer and add the chicken. Cook for about 5-8 minutes until almost done. If you didn't pre-cook the shrimp (see note) add them now. Cook until they just turn pink.

Add the coconut milk and fish sauce. Stir to combine. Bring back to a simmer.

Divide the cooked noodles into 4 bowls. Toss in some bean sprouts. Add pre-cooked shrimp if you are going the pre-cooked shrimp route. Ladle the hot curry laksa soup overtop. Garnish with sambal and lime wedges. Enjoy.
Notes
This recipe serves six moderate portions or four monster portions. You know your appetite. 
Pre-cooking shrimp – I like to pre-cook shrimp so they are perfectly done in the final dish. It's easy. Thaw and peel the shrimp. Bring 4 cups of salted water to a boil. Remove from heat. Add the shrimp. Cover. Let sit to cook (6 minutes for 31-40 count, 7 minutes for 26-30 count or 8 minutes for 21-25 count). Transfer the shrimp to an ice bath to stop them from cooking more. All you need to do is drop them into the bowl and ladle the soup overtop. This will warm them through.
Nutrition
Serving:
6
g
|
Calories:
724
kcal
|
Carbohydrates:
31
g
|
Protein:
44
g
|
Fat:
50
g
|
Saturated Fat:
38
g
|
Cholesterol:
262
mg
|
Sodium:
1566
mg
|
Potassium:
994
mg
|
Fiber:
3
g
|
Sugar:
3
g
|
Vitamin A:
148
IU
|
Vitamin C:
9
mg
|
Calcium:
165
mg
|
Iron:
10
mg