Chicken bhuna is a well spiced curry in a thick, rich sauce. Big tastes of Indian spice, onions and tomatoes. It's just good home cooking – Indian style.
It's a little different though. Almost a dry curry. Chicken coated in sauce. No gravy really. Think chicken dunked in a spicy tomato puree. Chicken cooked in its own juices.
Terrible description. I know. But it's the best I can come up with. You'll see what I mean if you make it.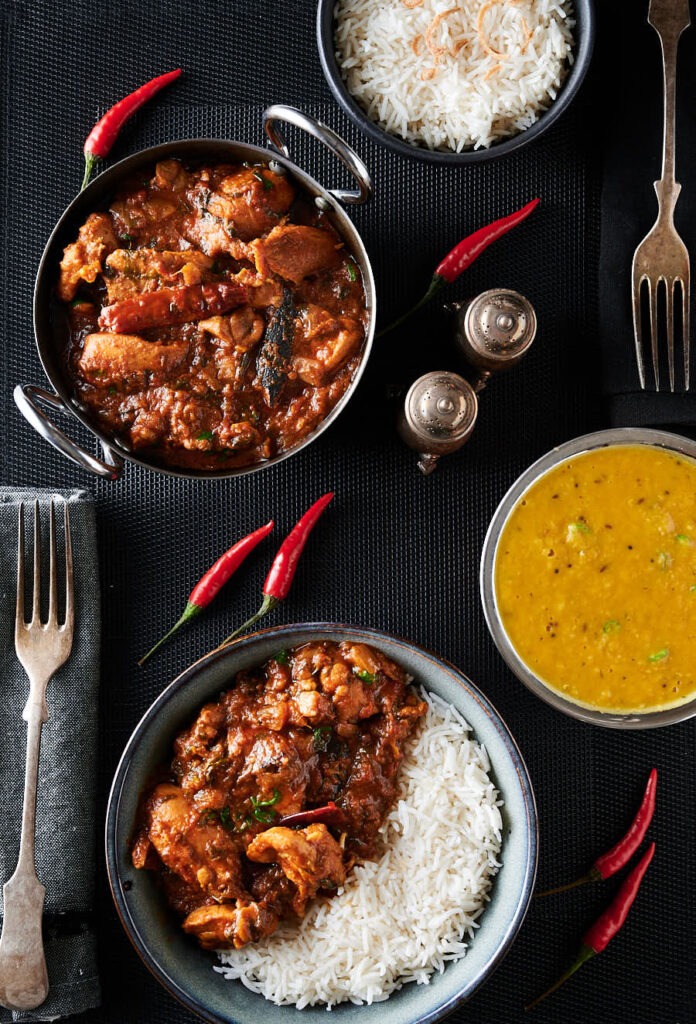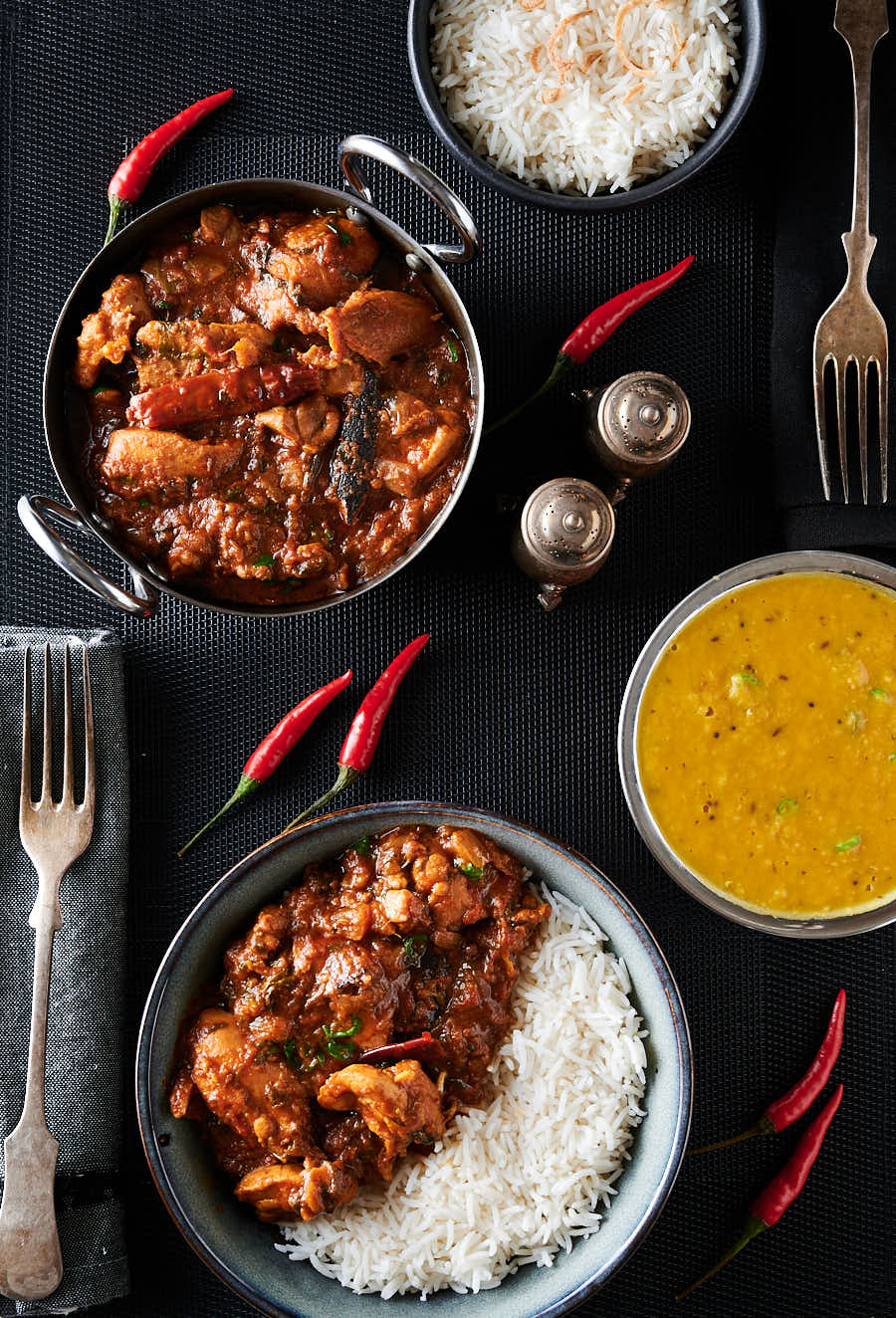 Chicken bhuna isn't really a dish at all
I'm going to get some pretty good comments for this. I really don't think it's a dish. Everybody's recipe is different. Really different.
It doesn't even have a standard spelling. Chicken bhuna. Chicken bhoona. I've even seen bhunao.
According to Collins dictionary it's a dish where spices are dry roasted and then moistened with liquid. Not sure where that comes from. Doesn't even make sense. Has nothing to do with any recipe I've ever seen.
What I see everywhere is "a thick, well spiced curry". Seriously? What is that exactly? I've looked pretty hard to try to understand. Books. Internet. Video. I think it's a secret. Only the chosen bhuninati know the truth.
As far as I can tell bhuna is actually a technique. You can make just about any curry a bhuna. Wikipedia says chicken bhuna is a curry cooked in oil with no additional water. That I believe.
So if this isn't your idea of chicken bhuna please point me to the definitive description. Because I can't find it. Chicken coated in delicious sauce. That's what I'm going with. That's what this chicken bhuna recipe is about.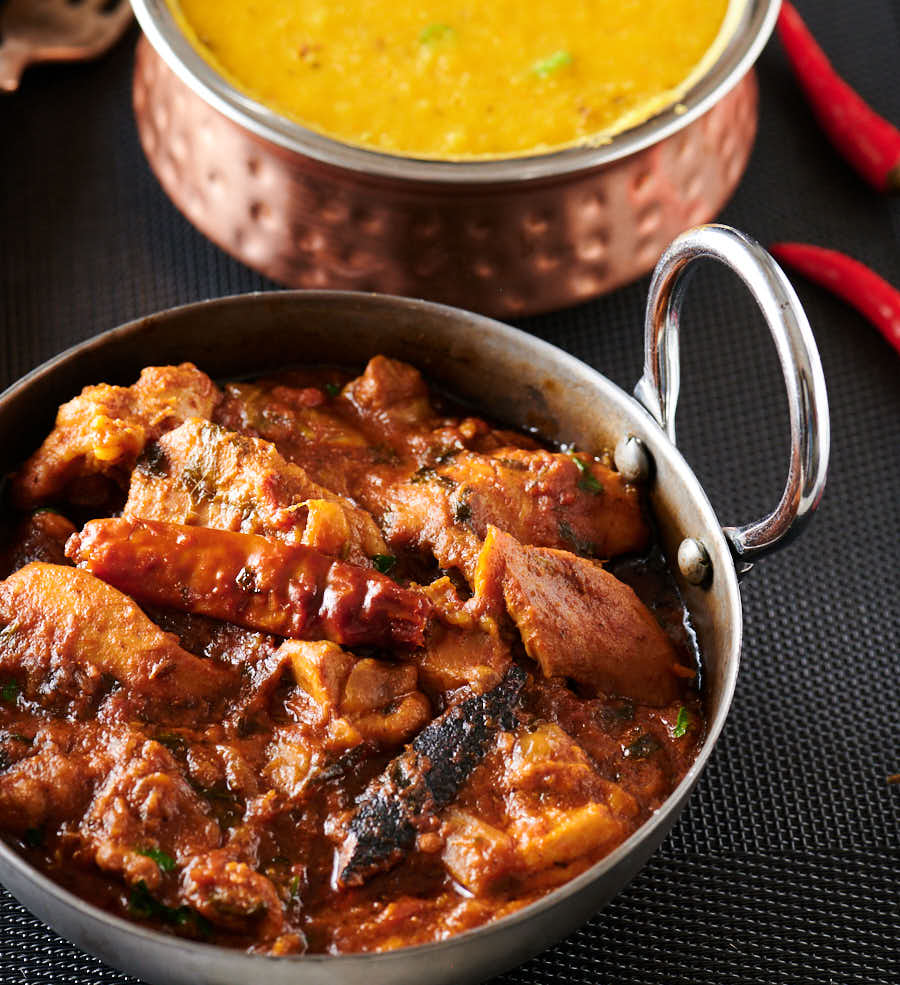 Don't go crazy browning the onions
Heresy. I know. I am going against everything I say in every Indian recipe on this blog.
But in this case you don't want your onions deeply browned. I'm not saying to sweat them until they are translucent. That would be crazy talk. But just take them to the point where the edges are brown.
And use bigger pieces for chicken bhuna. The onions aren't supposed to completely disappear into the sauce here.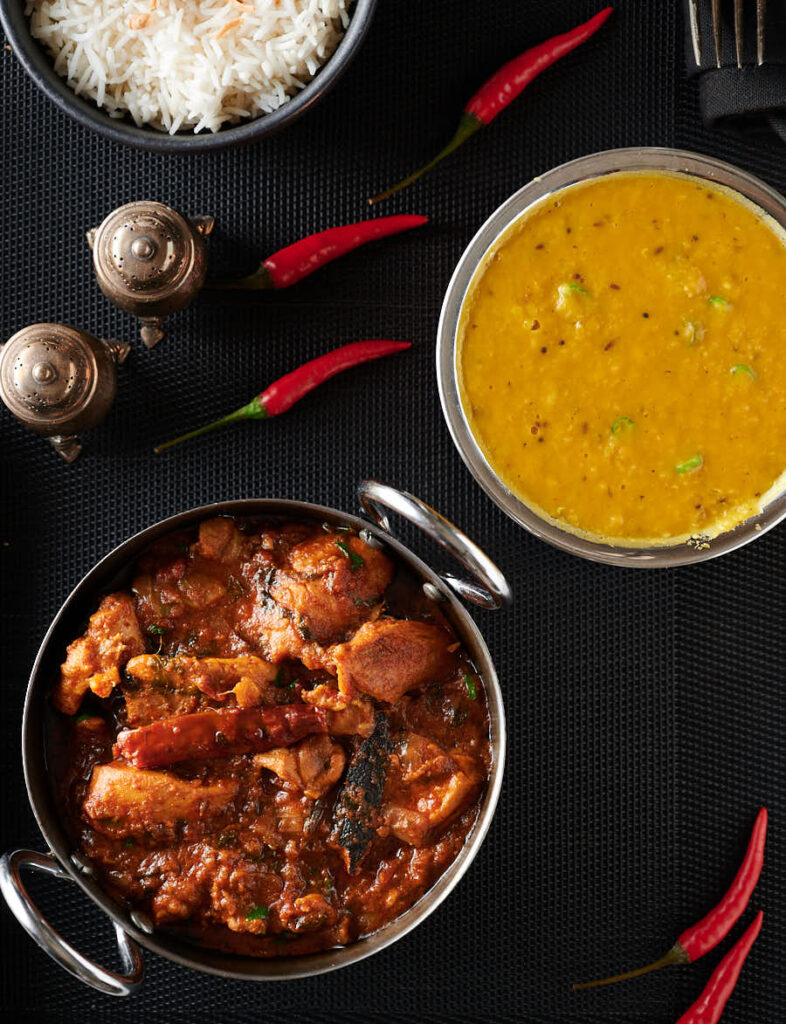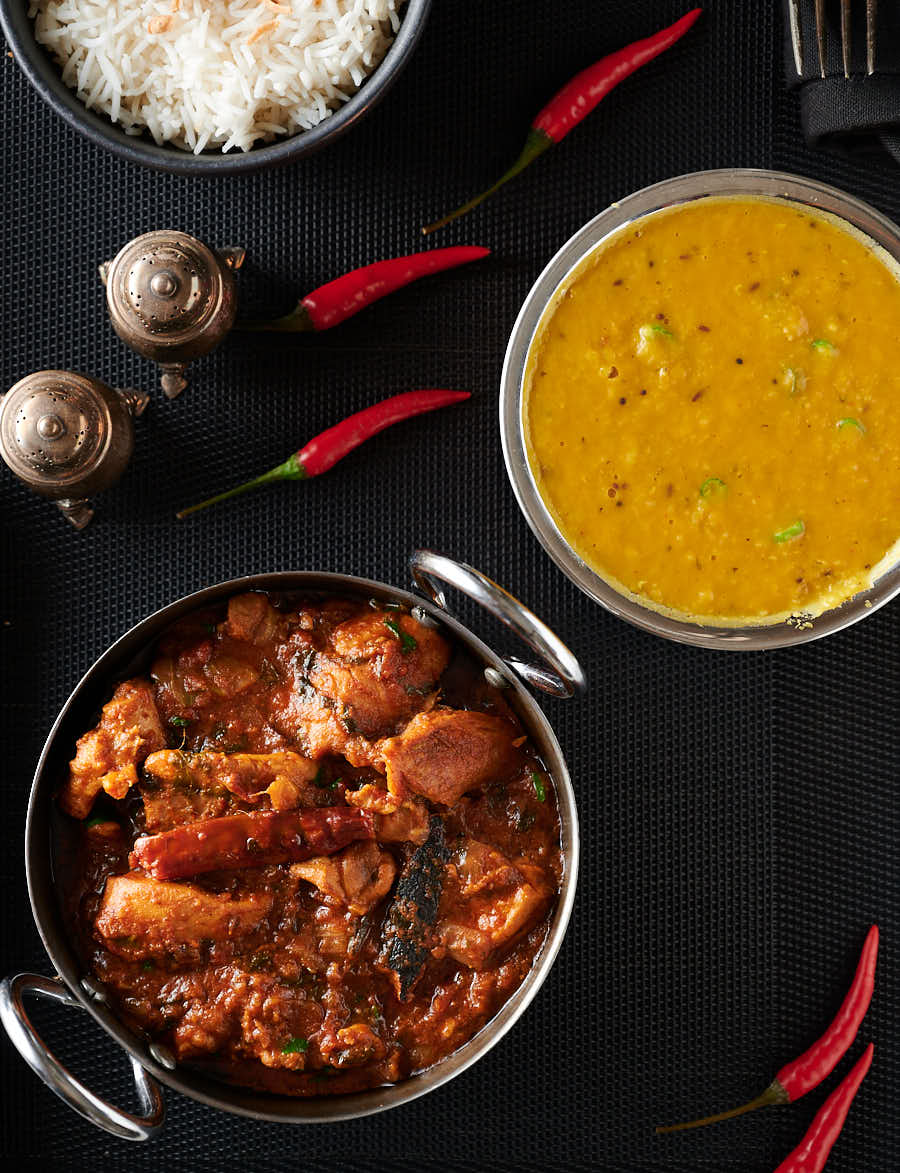 Make chicken bhuna your own
Think of this recipe as a baseline. There's no standard. So you can't go wrong.
I like it this way. There's a nice mix of powdered and whole spices. Pretty good heat. A little heavy handed on the tomatoes. Tamarind for that hint of tang.
That's my way. But there's no right or wrong. It's good with green chilies. Some people like green or red peppers. Yoghurt. Even bigger pieces of onion. Lemon juice instead of tamarind. Or both for extra tang.
Play with it. Make this one the way it's written. Or makes it your own. Just make it. It's tasty stuff.
chicken bhuna curry
Chicken bhuna is delicious, well spiced chicken cooked in its own juices.
Ingredients
powdered spice mix
2

tsp

coriander powder

2

tsp

kashmiri chili powder

2

tsp

paprika

for colour

2

tsp

kasoor methi

fenugreek leaves, crumbled between your fingers

1/2

tsp

turmeric powder

1

tsp

kosher salt
whole spice mix
2

inch

piece of cinnamon bark

also known as cassia

3

cloves

whole

1

black cardamom

whole

1

tsp

cumin seed

3

red chilies

dried

1

Indian bay leaf

also known as tej patta – optional
chicken bhuna curry
8

chicken thighs

boneless, skinless

2

large

onions

chopped into 1/2 inch dice

4

tbsp

vegetable oil

2

tbsp

garlic ginger paste

1 1/2

cups

pureed tomatoes

I use whole canned tomatoes with their puree if I can't get decent fresh tomatoes

1

tbsp

tamarind paste

or lemon juice

2/3

cup

cilantro

chopped. A good handful really. No need to be super precise here.
Instructions
Prepare your spices
Combine all the dry powdered spices and salt in a small bowl.

Combine all the whole spices in another small bowl
Make the chicken bhuna
Heat the oil in a pot with a lid that is large enough to hold all the ingredients over medium heat. When the oil starts to shimmer add the onions.

Cook the onions until they are browned on the edges. You aren't going for the deep brown onions this time. This should take 10 to 15 minutes.

Add the garlic ginger paste. Cook about a minute more.

Push the onions to one side. Give them a squeeze with a wooden spoon or spatula to get the oil into the pan. Add the whole spices and cook until you see little bubbles forming around the spices.

Pay attention to this step. Turn the heat to medium low. Add the powdered spice mix. Stir to combine thoroughly with the oil. You are going for a spicy oil slurry. You should have enough oil but if it looks dry add another tablespoon.

Cook the powdered spices for about a minute, stirring regularly. You need to be careful here. If you have enough oil the spices shouldn't burn. Burnt spices is the kiss of death. You have to start over if you burn them. If you have any doubts just push the pot off the burner.

Now stir the spice slurry into the onions. Mix it all up. Cook for about a minute more.

Add the pureed tomatoes. Stir to combine. Reduce heat to low, cover and simmer for about 10 minutes.

Add the chicken. Give it a stir and bring to a lively simmer. Cover loosely, reduce heat to get a gentle simmer and cook, stirring occasionally until the chicken is cooked through. Chicken thighs are perfectly cooked at 170F. Use your instant read thermometer. You have an instant read thermometer right? If you don't, you are just guessing.

The chicken should be done in 20-25 minutes. Keep an eye on it. Give it a gentle stir every 5 minutes or so. You want this to be a pretty dry curry. The chicken will throw liquid as it cooks. If it looks really saucy take the lid off completely to finish cooking.

Add the tamarind or lemon and a good handful of chopped cilantro. Stir to combine. Cook for a couple more minutes. If it's too thick add a splash of water. Once you have reached your desired consistency taste and adjust salt.

Serve with roti or rice or both.
Notes
You can make this with bone-in, skinless chicken thighs as well. Just adjust the cooking times upwards by around 10-15 minutes. It's a little messier to eat but bone-in is real home cooking.
Homemade garlic ginger paste is way better than the stuff you get in a jar. If you want to up your game think about making it. It keeps for weeks in the fridge.
Nutrition
Serving:
4
servings
|
Calories:
465
kcal
|
Carbohydrates:
22
g
|
Protein:
43
g
|
Fat:
24
g
|
Saturated Fat:
14
g
|
Cholesterol:
194
mg
|
Sodium:
911
mg
|
Potassium:
1073
mg
|
Fiber:
5
g
|
Sugar:
11
g
|
Vitamin A:
1354
IU
|
Vitamin C:
63
mg
|
Calcium:
94
mg
|
Iron:
4
mg