There's something happening. Something awesome. Indian pizza. Stop right there. Think. Think butter chicken pizza. It's as good as you imagine.
Be happy. It's amazing. And you can make it. Desi pizza. It's a thing.
Tandoori chicken. Butter chicken sauce. A little red onion. A few green chilies. Mozzarella. And crust.
Pizza. With sledgehammer flavour. A little bite. A little spice. And tandoori chicken. Just. Crazy. Good.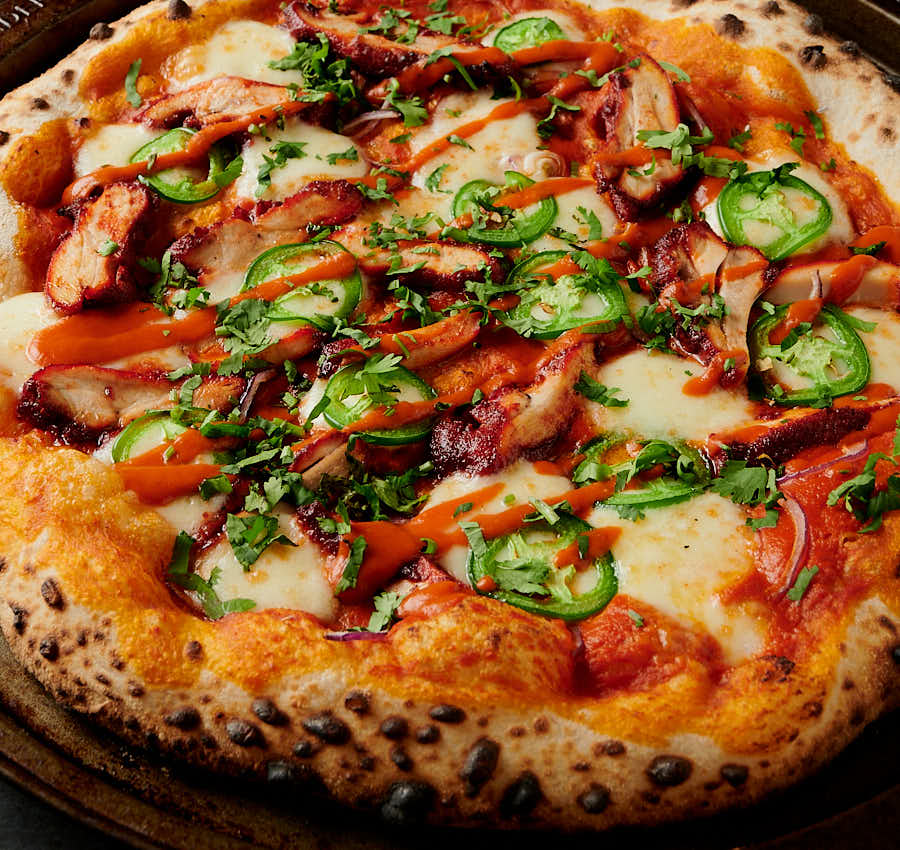 My name is Romain and I have a problem
I'm a pizza junkie. Obsessed. I make my own dough. Takes two days.
I've had a pizza oven for 15 years. Way before there were Oonis. Or Roccboxes. Or whatever the latest oven is.
I think the crust is more important than the toppings. Yes. For real. It's all about the crust.
I have spent more than a decade working on my crust. I'll spend the next decade trying to perfect it.
And I know I'll never get there. It's a journey. The destination does not matter.
It's a bit crazy. I know. But it's a happy crazy. If you are nodding your head as you read this I think we can be friends.
Indian pizza is full on amazing
I'm mostly making Indian pizza these days. My addiction has changed. It's all about the desi pizza these days.
I'll take a butter chicken pizza over prosciutto and arugula. Tandoori chicken pizza over mushroom and olive oil. Keema and onion over my beloved margherita.
Never thought I'd say the words. It's blasphemy. I know. They are coming for my Neapolitan pizza card. I'll be OK though. It was an imaginary card anyway.
Could be a phase. Don't know. But I don't think so. I may go back to traditional pizza. Eventually.
But I won't stop making Indian pizza. Not ever. It is just that good.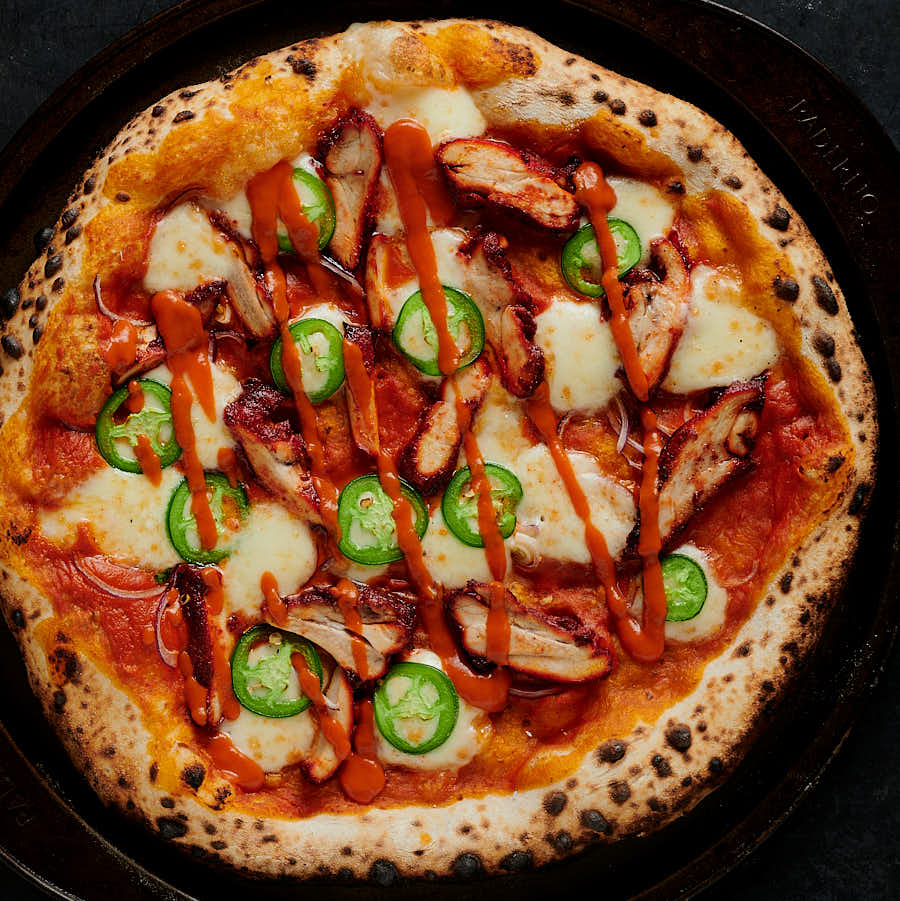 Everything matters in butter chicken pizza
There's not a lot to pizza. At the surface. Dig a little deeper and it gets as complex as you want it to be.
It's simple conceptually. That's the magic. And the danger. There's nowhere to hide. Everything has to be perfect. The crust. The sauce. The toppings. The fire.
So I thought. Why not make it even harder? And I came up with this. Butter chicken pizza is not a simple pizza. It's like making dinner twice.
The sauce is important. It's always important. But it's really important here. Sets the tone. Brings the whole thing together. Without it this is chicken pizza.

Tandoori chicken brings a little bite. An edgy flavour. Balances the lush sauce and rich cheese.
And then there's the crust. The crust defines the pizza.
Bad crust. Amazing toppings? That's a recipe for bad pizza. Great crust. Bad toppings? That's an OK pizza.

Great crust. Great toppings. I think you can figure out what that makes. I call that pizza nirvana.
And it's not really that much harder. You make a sauce. You make some chicken. And you fire a pizza. Easy. If you can make pizza you can make this.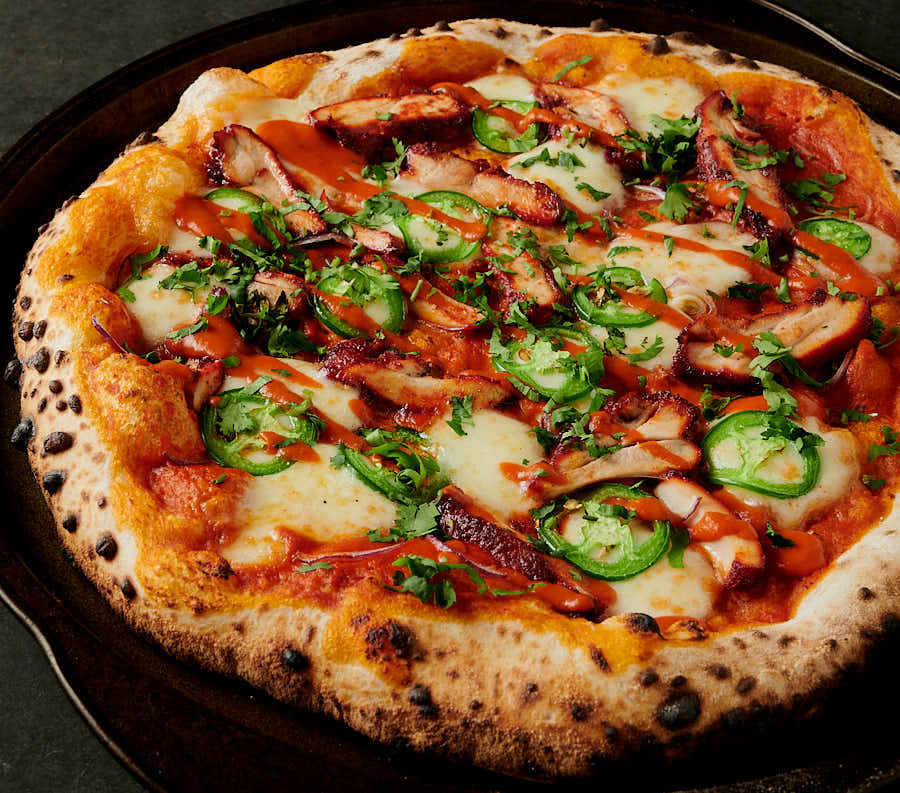 There are no onions in butter chicken
That's a tough one for people to get their heads around. There are no onions in the butter chicken you love. Trust me. I've done the research.
There are onions in almost everything Indian. But not butter chicken. Except maybe at takeaways. Restaurant style.
But even that's not guaranteed. Lots of better restaurants are making their butter chicken without onions. It's a thing. Another thing.
I'm about to suck and blow here. No onions in butter chicken. I'm bought into that. Absolutely. Except for this pizza.
I love red onion on desi pizza. And butter chicken pizza is no exception. So I add thinly sliced red onions. It's wrong. But it's so right.
You don't have to do it though. Don't let me drag you down.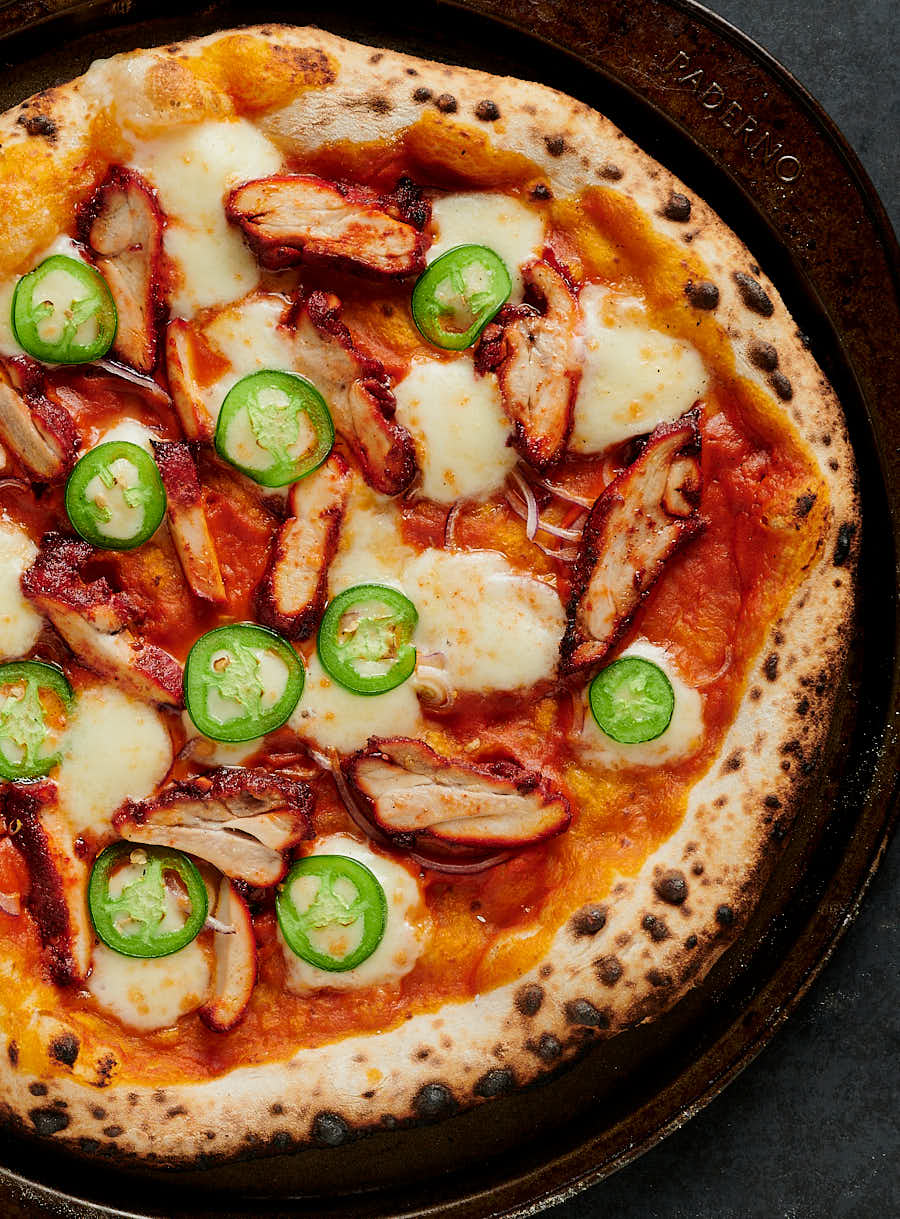 Cheese matters
The butter chicken in this pizza has no butter. No cream. And no cashews.
No cashews because I'm allergic. That's the reason I have to leave them out. You can add some raw cashews into the pot along with the tomatoes. A half cup is about right.
No butter or cream is intentional. It's all about balance.
There's no cheese in butter chicken. And in a ying and yang sort of way there's no cream or butter in butter chicken pizza.
The cheese stands in. Rounds things out. Brings balance. Cream and butter would drag the flavour down. So I leave it out.
I prefer fresh mozzarella for butter chicken pizza. Fior di latte. I like the balance. The way the cheese doesn't cover the whole pizza.
But it works with regular mozzarella too. A little different. But good. It's really, really hard to wrong with desi pizza.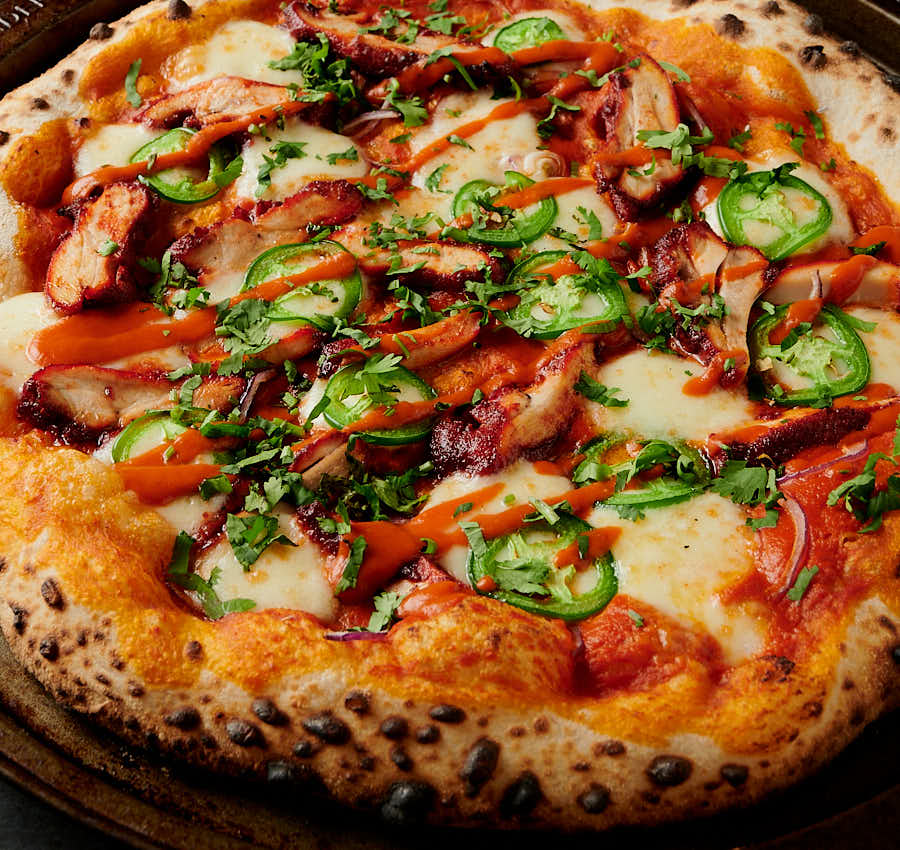 Pick the dough that's right for you
I have a recipe for pizza dough here on Glebekitchen. Takes two days to make. It's the best I can do. It's made for high temperature ovens. 750F plus.
But it isn't great in a conventional oven. I've tried it. 500F. Not something I would serve. Comes out pasty white. And a bit crunchy. Like a giant cracker. Don't try it that way. It doesn't work. I promise.
The key thing is to make the dough that works for you. The one that suits the oven you are using.
Have a pizza oven? You probably have a favourite dough. Use that. Or try a 2 day room temperature glebekitchen pizza dough. It's a game changer.
I'm sounding like a pizza snob here. Which is understandable. I am a pizza nerd. Bit of a snob maybe.
But I'm not pizza elitist. Everyone should make great pizza. Whatever oven they have.
If you are trying to make butter chicken pizza in a conventional oven use whatever dough recipe you know will work. Just make butter chicken pizza. Please.
You can use this recipe to make butter chicken too
This pizza uses butter chicken deconstructed. Butter chicken sauce. Tandoori chicken. Guess what happens when you mix them together? Yup. Butter chicken.
This is a stripped down version of my full blown posh restaurant butter chicken. Tweaked for pizza. But it makes a pretty convincing butter chicken as well.
Make the sauce. Make the tikka. Toss the tikka into the sauce. Bring to a simmer and cook until the chicken is heated through.
Add 1/3 cup heavy cream. Remove from heat. Add 3 tbsp of butter and 2 tsp honey. Adjust salt to taste. That's it. Easy.
If you make too much for pizza just make butter chicken. Nobody will complain. I promise.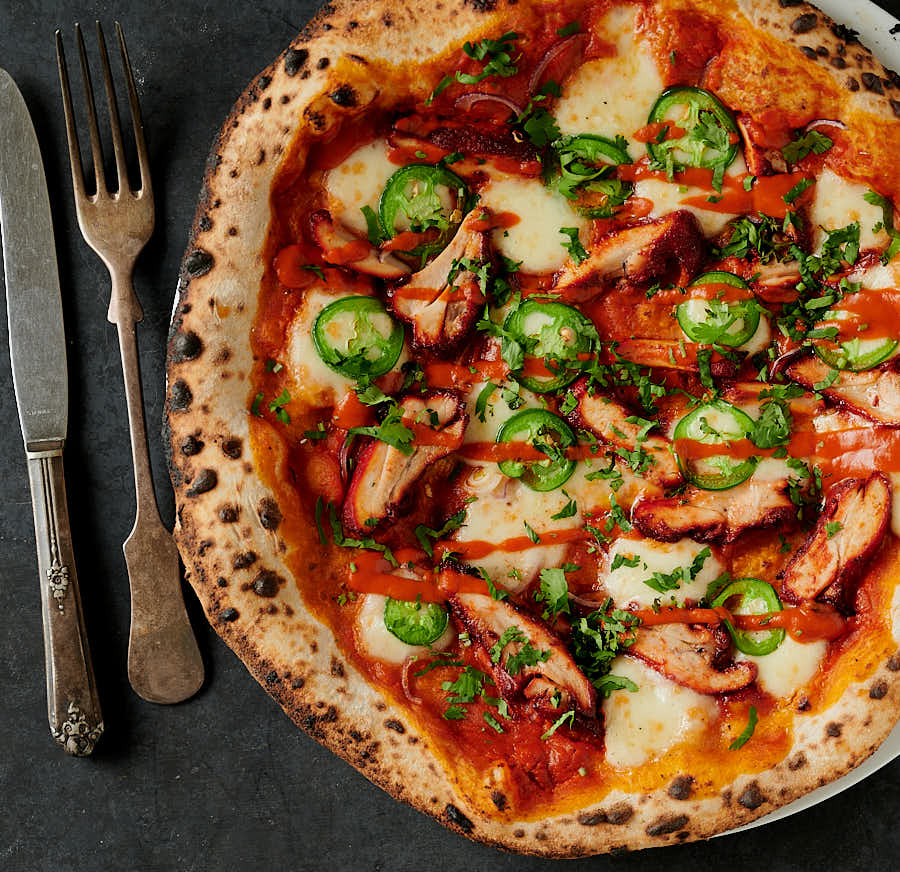 It's time to get into desi pizza
Love pizza? Love Indian food? They are magic together. I'm not a fan of fusion. Not usually. But this is the stuff of legends.
Desi pizza is a thing. For good reason. It may not be everywhere. Not yet anyway. But it is coming. And I can't wait.
If you've had it you know. And if you haven't? I think it's time you fixed that…
Butter chicken pizza
Try desi pizza and you'll never go back.
Ingredients
Butter chicken sauce (makes 3 1/2 cups so freeze the extra or make butter chicken)
1

28 oz can

tomatoes

You want a brand with only tomatoes and salt. Basil really doesn't work well here.

2

green chilies

jwala aka finger hot, seeded (or 1/2 of one medium jalapeño)

2

tbsp

garlic ginger paste

1

tbsp

kashmiri chili powder

– a mild chili powder available at Indian grocers (see note)

2

tsp

kasoori methi

– also available at Indian grocers. You should make the trip.

1 tsp

kosher salt

2/3 tsp regular table salt

1/2

tsp

tandoori masala

– guess what? You can get this at an Indian grocer… There's a link to a recipe in the notes as well.

3

tbsp

neutral oil

vegetable, canola etc
Quick chicken tikka
1

lb

chicken thighs

boneless, skinless left whole

2

tbsp

tandoori masala

– try to get one that isn't mostly salt

1

tbsp

garlic ginger paste

2

tsp

kasoori methi

1/2

tsp

kosher salt

– but only if your tandoori masala isn't already well salted

a bit of naga pickle

if you like spicy (optional)

enough neutral oil (e.g. canola) to make a slurry

2-3 tbsp
Butter chicken pizza
2

pizzas worth of dough

– if you have a pizza oven try the glebekitchen recipe. It took me 10 years to get it to where I'm happy. For a regular oven use what works for you.

8

oz

fior di latte

fresh mozzarella. Torn into 3/4-1 inch pieces

butter chicken sauce

chicken tikka

thinly sliced red onion

thinly sliced green chilies

– I actually like jalapeños over jwala green chilies for this. Your call.

finely chopped cilantro
Instructions
The butter chicken sauce
Hand crush the tomatoes, removing the stems as you go. If you own a food mill use that instead. A food mill is a great thing to own if you're into pizzas.

Cut the chilies in half and remove the seeds and membrane (pith). Discard the stems.

Heat the oil in a pan large enough to hold all the ingredients over medium low heat.

Add the garlic ginger paste. Fry until it stops sputtering.

Turn the heat to low. Add the kashmiri chili powder, kasoori methi, tandoori masala and salt. Stir to get everything combined and gently fry the spices for about 45-60 seconds. This is called blooming spices and it's a fundamental technique in Indian cooking. This is why you added 3 full tablespoons of oil. Less and it gets really hard to do.

Add the crushed tomatoes and their juices. Stir to combine.

Toss in the green chilies and simmer, covered, for about 30 minutes.

Let cool. Puree in a blender. You want a nice smooth sauce.
Make the chicken tikka
Combine all the ingredients except the chicken. Stir to combine. You should have a slurry texture.

Add the chicken and coat evenly with marinade. Use tongs. Commercial tandoori masalas have food colouring in them. Food colouring and fingers make a terrible combination.

Refrigerate for 1-4 hours. You don't need to wait if you are jammed for time. Just go straight ahead. Marination is a surface phenomenon with the exception of salt. You do not need to marinate chicken tikka for 48 hours. Don't let anyone tell you otherwise. There's no food science to support it…

Preheat your oven to 400F convect or ready your grill. Cook until you get an internal temperature of 165F. The chicken will cook a little more on the pizza.

Let cool and cut into pieces (about 1/4 inch thick). Set aside.
Assemble the pizzas
I like to drizzle some of the butter chicken sauce over the pizza as it comes out of the oven. A squirt bottle is good for this. It's a flashy touch. A bit of fun. Up to you. If you want to do it have it ready before the start.

Open your pizza dough. If you can possibly avoid it don't use a rolling pin. Use your hands. And always protect the cornice (the edge or rim of the pizza). You want the edges to rise above the rest of the pizza. I do anyway.

Spoon the butter chicken sauce onto the middle of the pizza and spread it out. I use two spoons for this. One to spoon and one to spread. That way I don't cross contaminate my sauce if I'm keeping leftovers.

Scatter the chicken tikka overtop. Follow that up with the fior di latte. Strew some red onions and green chilies overtop

Cook the pizza as you usually do. At 750-800F that should take about 90 seconds.

To serve drizzle with butter chicken sauce and top with a little finely chopped cilantro.
Notes
If you can't find kashmiri chili powder you can use 1/2 tsp cayenne pepper and 2 1/2 tsp paprika. 
You can make great tandoori masala at home. But you'll have to go to an Indian grocer I bet…