If you want to re-invent your meatloaf, Korean meatloaf with gochujang glaze is a great way to do it.
Think juicy pork, Korean spice and a ton of umami. There's nothing not to like here.
This isn't traditional Korean cooking. Not even close. It's a Korean flavour freight train crashing into Americana. In a crazy, beautiful way.
Korean meatloaf takes a classic into delicious new territory
Maybe someday there will be an American style diner in Seoul. I can see it. It'll be packed with trendy locals looking to try something new.
And this Korean meatloaf will be the signature dish. Netflix will make a movie. Foodies will love it.
Or maybe a Korean food truck in Los Angeles will make this famous. It will make the morning show on all networks.
OK – I don't know. But I do know it's hands down my favourite meatloaf recipe. Period.
Truth be told, I am not a big meatloaf fan. It is really hard to make a good meatloaf. At least for me. Too dry. Too dense. Or too bland. No sauce. Or sauce that doesn't work.
I have tried a bunch. Never found one that really works. Until now. It took Korean meatloaf to make me a believer.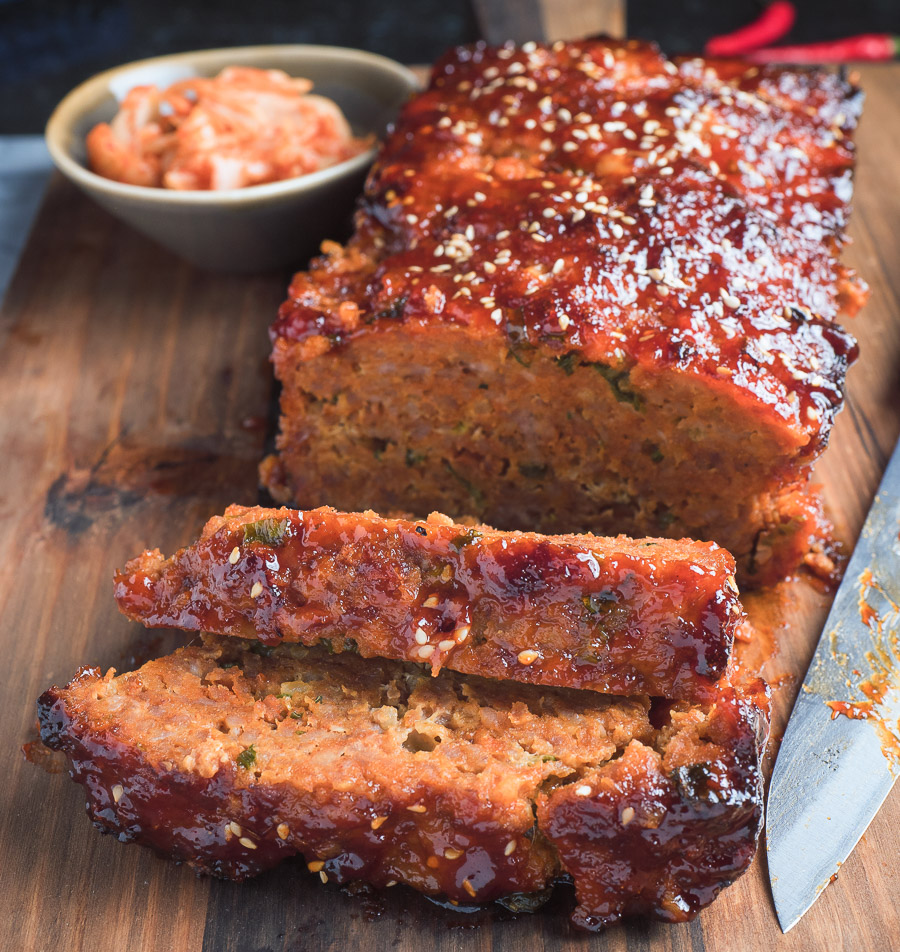 Gochujang glaze and mustard pickles
Gochujang is becoming one of my favourite ingredients. If you haven't heard about it, think miso with chili.
Not a ton of chili.  Not super spicy at all. Just enough to wake things up. It's worth seeking out.
The mustard pickled onions put it over the top. Don't leave them out. It's like horseradish with roast beef.
That little touch of zing just wakes everything up. I had my doubts the first time I tried it. I was wrong. Dead wrong.
Just make the leap of faith. I did. And I'm glad I did. I missed including them in the pictures.
Don't read anything into that. This blog is about what I make for dinner. I was hungry. I forgot. Sorry…
Korean meatloaf with gochujang glaze. For when boring just doesn't do it for you.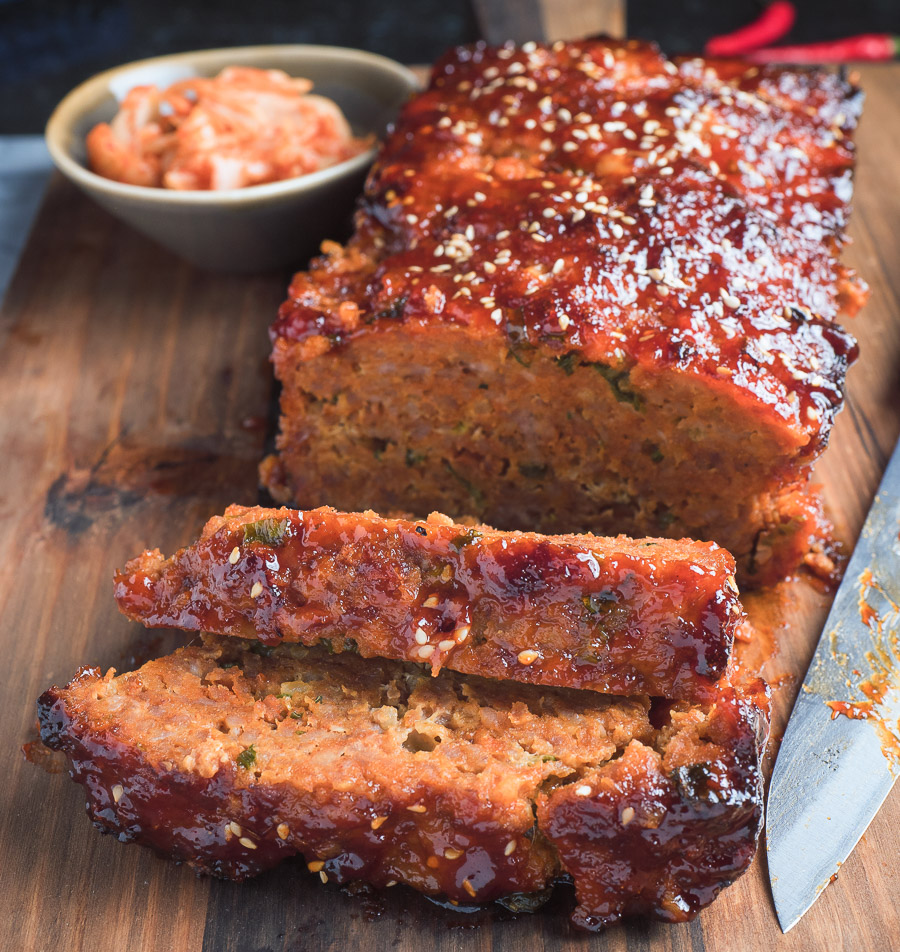 korean meatloaf with gochujang glaze
Korean meatloaf with gochujang glaze brings big Korean flavours to a blue plate family favourite.
Ingredients
Korean meatloaf
2

lbs

ground pork

1 1/2

cups

panko bread crumbs

1

large onion

- finely diced

8

cloves

garlic

- crushed

2

tbsp

gochujang

5

green onions

- minced

2

tsp

kosher salt

2

large eggs

- lightly beaten to combine

2

tsp

vegetable oil

sesame seeds to garnish if desired
Gochujang glaze
3

tbsp

apricot jam

2

tbsp

gochujang

1

tbsp

rice wine vinegar

1

tbsp

honey

2

tsp

soy sauce

1

tsp

sesame oil

1/2

tsp

granulated garlic powder

or 2 cloves garlic, minced
Instructions
Pre-heat your oven to 350F.

Film a pan with the vegetable oil. Add the minced onions and cook slowly until translucent. This takes about 10 minutes.

Add the garlic to onions and cook another 2 minutes. Remove the onion mixture from the heat, transfer to a bowl and place in the refrigerator to cool.

Combine the cooled onion mixture with the minced green onion, gochujang, eggs and kosher salt. Stir to combine thoroughly.

Put the ground pork and breadcrumbs in a large bowl. Add the onion gochujang mixture and mix gently. You want it evenly red. You don't want it packed into a brick. A light hand is what you are looking for here.

Transfer the meatloaf mix to a 9.5 inch by 5 inch loaf pan (or free form it on a cookie sheet - your call).

Place the meatloaf in the oven. Cook until you get to an internal temperature of 140F, about 40 minutes. Pros use instant read thermometers. You should too.

While the meatloaf cooks make the glaze. Combine all the ingredients and stir thoroughly.

When the meatloaf reaches 140F remove it from the oven and spoon the glaze overtop evenly.

Return the glazed meatloaf to the oven and cook until it reaches an internal temperature of 160F. This takes somewhere around 10-15 minutes. Try not to overshoot. Overcooked meatloaf is dry meatloaf. Nobody likes that. Serve with mustard pickled onions.
Notes
This recipe is adapted from KFood by Da-hae and Gareth West. If you are getting into Korean food, KFood is a super interesting take on it. 
Nutrition
Serving:
6
servings
|
Calories:
561
kcal
|
Carbohydrates:
27
g
|
Protein:
30
g
|
Fat:
36
g
|
Saturated Fat:
13
g
|
Cholesterol:
163
mg
|
Sodium:
1111
mg
|
Potassium:
603
mg
|
Fiber:
1
g
|
Sugar:
10
g
|
Vitamin A:
230
IU
|
Vitamin C:
8.3
mg
|
Calcium:
77
mg
|
Iron:
2.8
mg
mustard pickled onions
This doesn't sound Korean. It doesn't taste Korean. But it goes unbelievably well with this Korean meatloaf. Makes no sense but it totally works.
Ingredients
1

large white onion

- thinly sliced. About 3 cups worth.

1/2

cup

white sugar

1/2

cup

rice wine vinegar

1/4

cup

dry English mustard

- Keens or Colemans
Instructions
Soak the onion in cold water for 5 minutes. Drain well.

Heat the rice wine vinegar and sugar over low heat, stirring regularly until the sugar has dissolved completely. No need to let it come to a boil. As soon as the sugar melts, you're done.

Let the rice wine vinegar mixture cool. Then stir in the mustard.

Toss the mixture with the onions. Let it stand 6-8 hours at room temperature or overnight in the refrigerator. Do not taste it immediately. Just don't do it. The mustard is hot. It mellows as it stands but at first it will blow a hole in the back of your head. Think about the last time you had too much wasabi. Same effect exactly.
Nutrition
Serving:
6
servings
|
Calories:
82
kcal
|
Carbohydrates:
18
g
|
Sodium:
119
mg
|
Potassium:
41
mg
|
Sugar:
17
g
|
Vitamin C:
1.5
mg
|
Calcium:
10
mg
|
Iron:
0.2
mg