There are sandwiches and then there are epic sandwiches. Vietnamese Banh Mi is an epic sandwich. Crisp French baguette with gochujang mayo drizzled all over sliced warm pork belly. Are you drooling yet?
I love a good sandwich. There are lots. But this one has a special place in my heart. Not quite the exalted status I place on the Montreal smoked meat. But close.
Probably because I love pork belly. And I love baguette. And I love gochujang mayo. So there's nothing here for me not to love.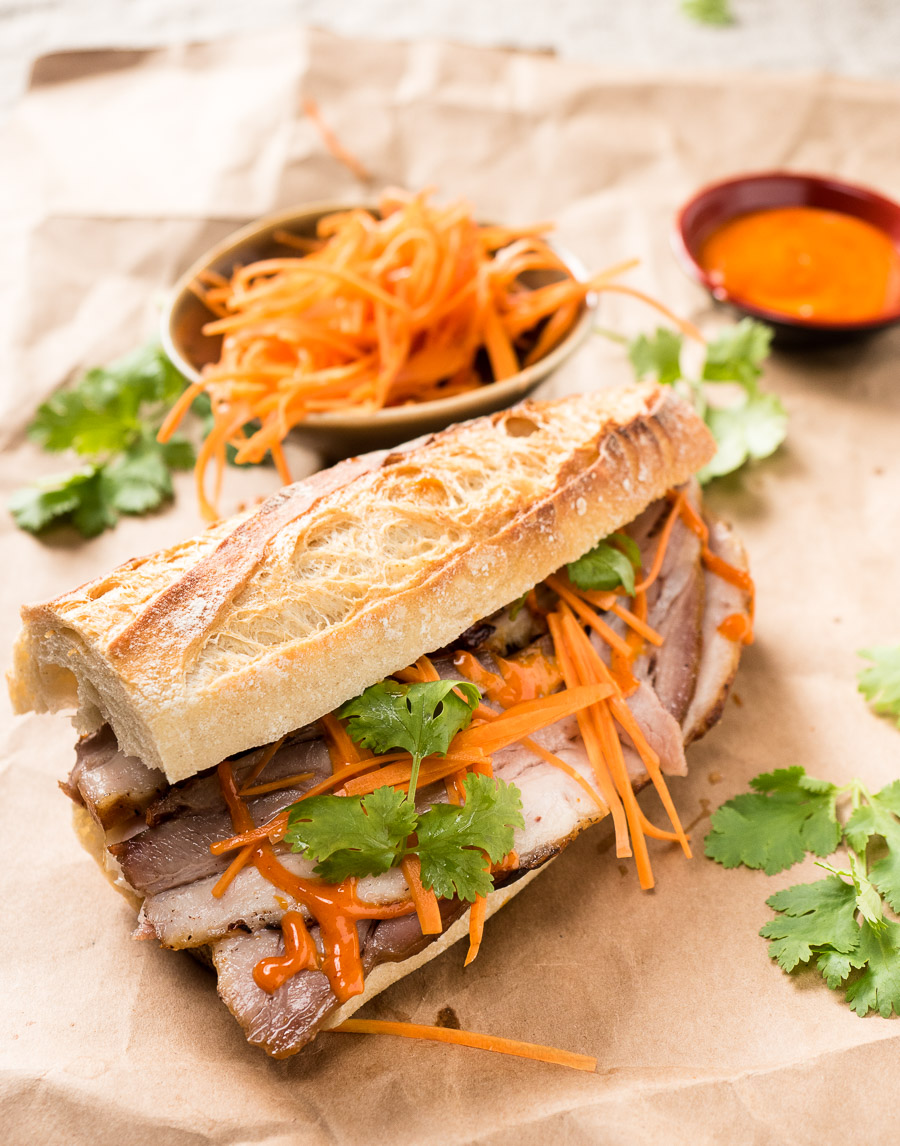 International banh mi
The traditional Vietnamese banh mi is made with just about anything. Pate. Grilled Pork. Chicken. Meatballs. You name it.
This Banh Mi is a little simpler. Straight forward. But the flavours are huge. Absolutely huge. It's not straight Vietnamese either.
Gochujang mayo is Korean. The pork belly is David Chang. The bread is full on French. So more of an international banh mi really.
I got the idea from leftovers my wife brought back one night. She was at a funky new restaurant in town. I wasn't that hungry but I took a bite.
Thirty seconds later I was googling the menu to see what I was eating. I had to figure it out. It was love at first bite.
That's when I learned about gochu mayo. And I was instantly converted. Gochujang is a fermented soy chili paste that's everywhere in Korean cooking. Mix it with a little mayo and you have the next sriracha mayo. You have to try it.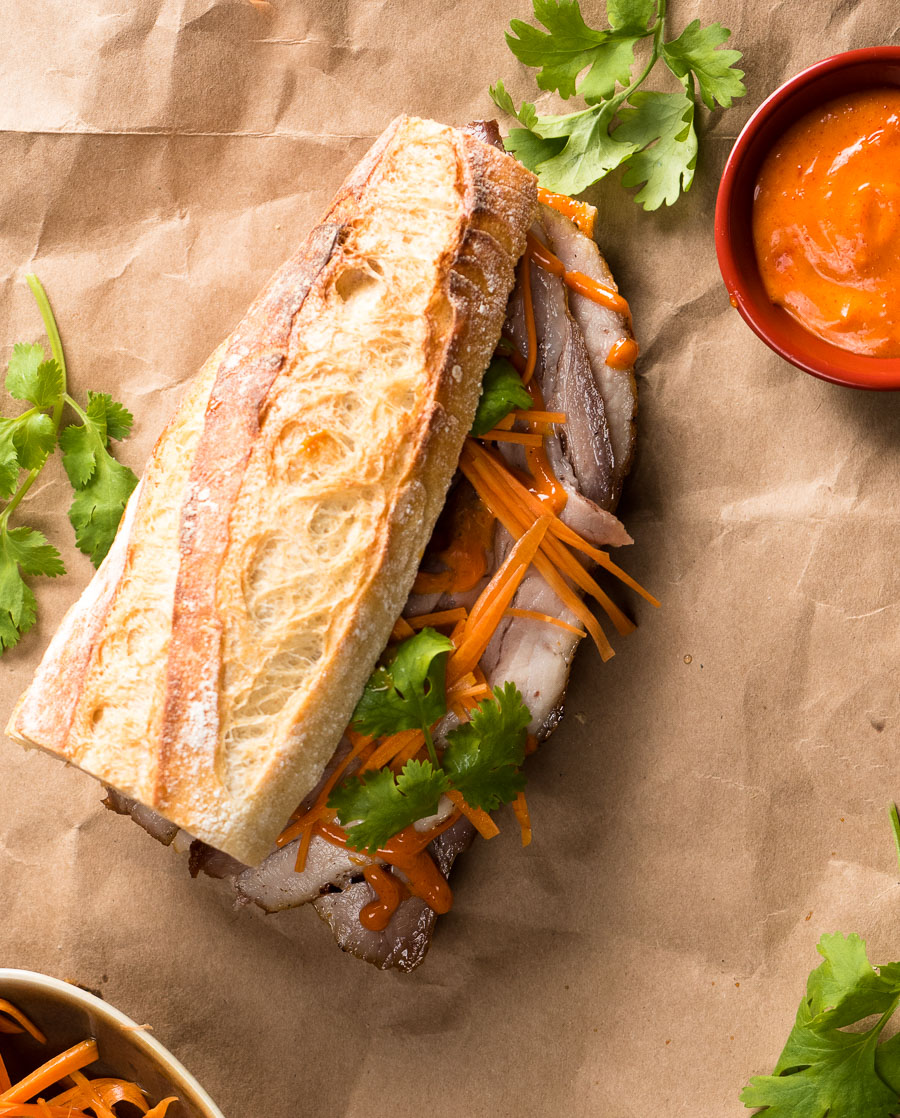 Momofuku pork belly
The other thing that drives this completely over the top is pork belly. And not just any pork belly. Momofuku pork belly – as taught to me in their kitchen. The real recipe. Perfectly done pork belly. Best pork belly I know how to make.
Banh mi is a sandwich. So the choice of bread is important critical. Bad bread. Bad sandwich. Simple as that. Fresh French baguette works well. Make the effort to get some. It's so worth it. Wonder bread isn't going to do it…
The garnishes are simple. A bit of quick pickled carrot. Some fresh cilantro. Maybe a bit of shallot if you like.
It's the gochujang mayo and pork belly that make this banh mi what it is. They put it over the top. Way over the top. Takes banh mi to epic status.
And who doesn't want an epic sandwich?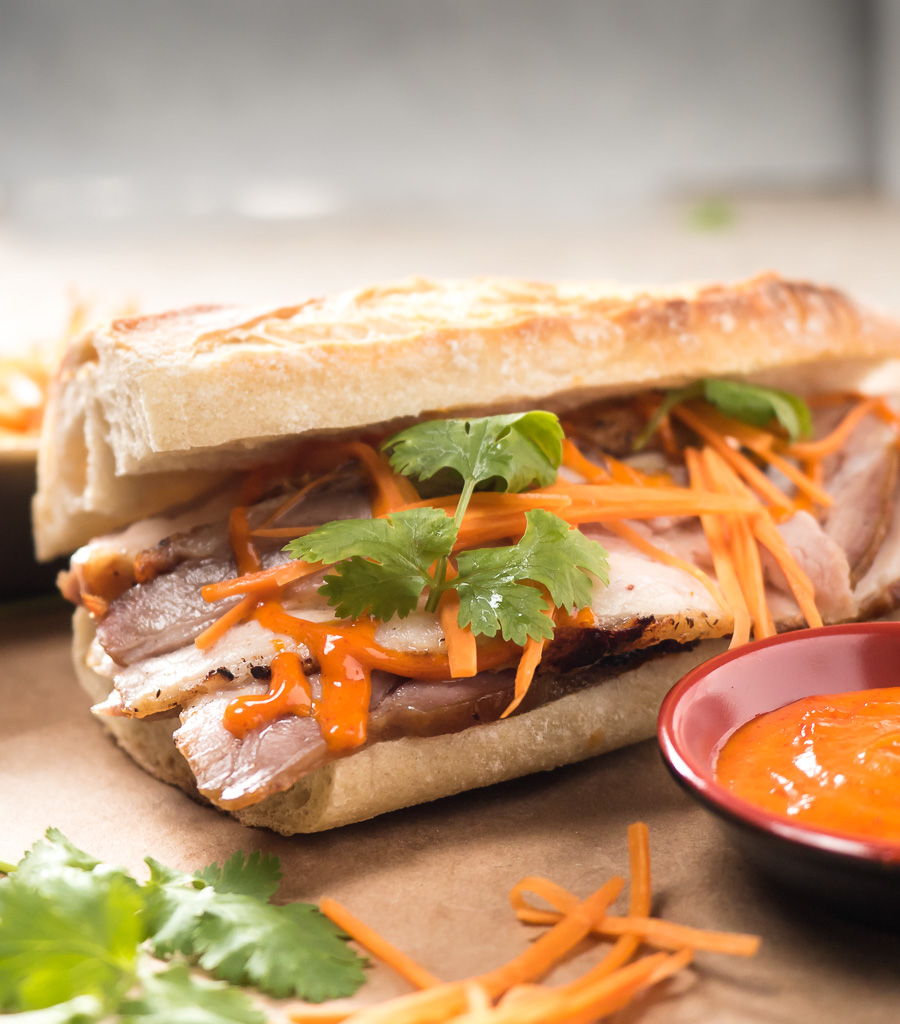 Vietnamese banh mi with gochujang mayo
Vietnamese banh mi with gochujang mayo will take some planning to pull off. It's perfect if you have some leftover momofuku pork belly but it's worth making pork belly just for this sandwich
Ingredients
6

oz

sliced pork belly

- Momofuku style is good but all pork belly is good pork belly.

1

half

baguette

or demi-baguette if you can find it

2

tbsp

gochujang mayo

or more if you like

pickled carrot

cilantro
Quick pickled carrots
2

cups

carrots

julienned as fine as you can get them

1/4

cup

white sugar

1/2

cup

rice vinegar

1

cup

water

1/2

tsp

salt

1

thai red chili

cut in half lengthwise (optional)
Instructions
Have your ingredients on hand and ready to go. Make the gochujang mayo and the pickled carrots.

Warm the sliced pork belly. A steamer works very well for this. Or pan fry a piece whole and slice it.

Slice the baguette lengthwise.

Slather the bread top and bottom with gochujang mayo. Layer some cilantro along the bottom. Place the pork on top of the cilantro. Drizzle with a bit more Gochujang mayo. Top with the pickled carrot.
Quick pickled carrots
Combine all the ingredients except the carrots in a small saucepan. Heat until the sugar melts and the mixture is warm.

Place the carrots and optional red chili in a small jar (or bowl if you aren't going to keep the extras) and pour the warm liquid over the carrots. Make sure the carrots are completely submerged. 

Let cool at room temperature for about an hour then transfer to the fridge. The carrots are ready as soon as they are cold. It doesn't hurt to leave them in the fridge for longer if you have the time.
Notes
Gochujang mayo is just that. Combine 1 Tbsp gochujang with 4 Tbsp mayonnaise and stir to combine. If you can get Japanese kewpie mayo use 2 Tbsp regular mayo and 2 Tbsp kewpie mayo. Adds a nice tang.
Nutrition
Serving:
1
servings
|
Calories:
1071
kcal
|
Protein:
16
g
|
Fat:
110
g
|
Saturated Fat:
36
g
|
Cholesterol:
134
mg
|
Sodium:
235
mg
|
Potassium:
314
mg
|
Iron:
0.9
mg