Laal maas is a creamy, rich and spicy lamb curry from Rajasthan. If you've never heard of it, it's time to fix that.
This is a homestyle curry. Not restaurant style. Slow cooking. Gentle simmering. Tender, flavourful lamb. And a crazy delicious sauce.
I do a lot of restaurant style Indian recipes on this blog. But don't think I don't love home cooking. It's not what you get from your local joint. This is what people cook at home. For family. For friends.
If you've been making restaurant style curries. And you like a spicy lamb curry. Then laal maas is something you need to try.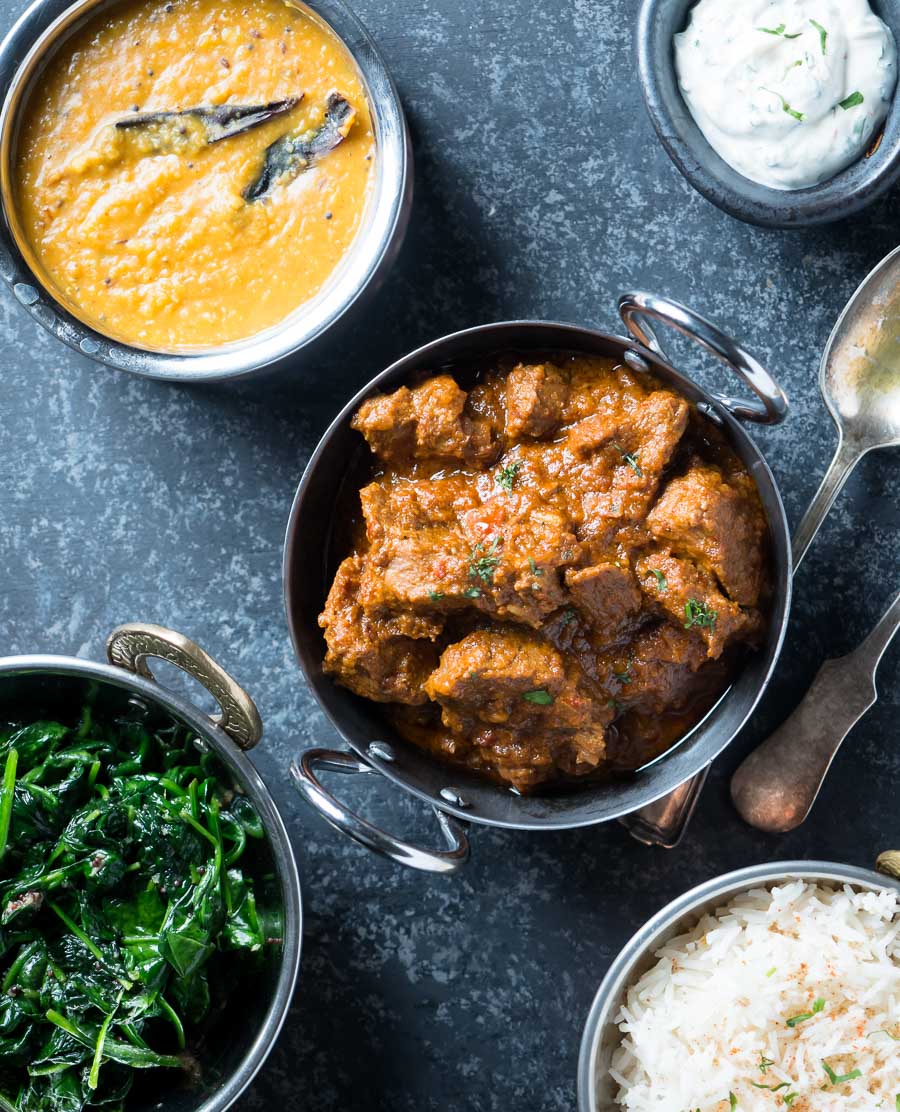 Kashmiri chilies keep the fire down
Don't be put off by the amount of chili in this recipe. It sounds like a lot. But it's not that hot. I'd say medium hot. Tingle your tongue hot. Not burn a hole in the back of your head hot.
Technically laal maas is supposed to be a fiery lamb curry. I like hot. But not everybody does. So I tone it down a bit. If you want hotter then add more chili to the curry paste. Or mix in a bit of hot Indian chili powder in with the paste. Easy as that.
Kashmiri chilies are why it's not screaming hot. Be sure you get the right ones. They give the curry a nice colour. And they aren't that hot. Lots of flavour though. That's why I'm a fan.
You can get them at any Indian grocer. Just ask them. They will fix you up.
Laal maas starts with a curry paste
This one does anyway. That's one thing I have picked up from restaurant style cooking.
There's a pretty good South Indian restaurant in town. They have shared some tips and tricks. For some of their curries they start with a paste.
Their vindaloo is based on a paste. They won't give me the recipe but I can guess. In fact, I'm working on a vindaloo paste  right now. Stay tuned.
The idea of a chili paste is pretty common in Mexican cooking. I do it when I'm making chili. Puree the chilies along with some aromatics. Then fry it up to smooth out all the flavours. Works great.
So I make my laal maas with a paste. Not conventional. But a great way to do it. Streamlines the recipe some. And the flavours work well.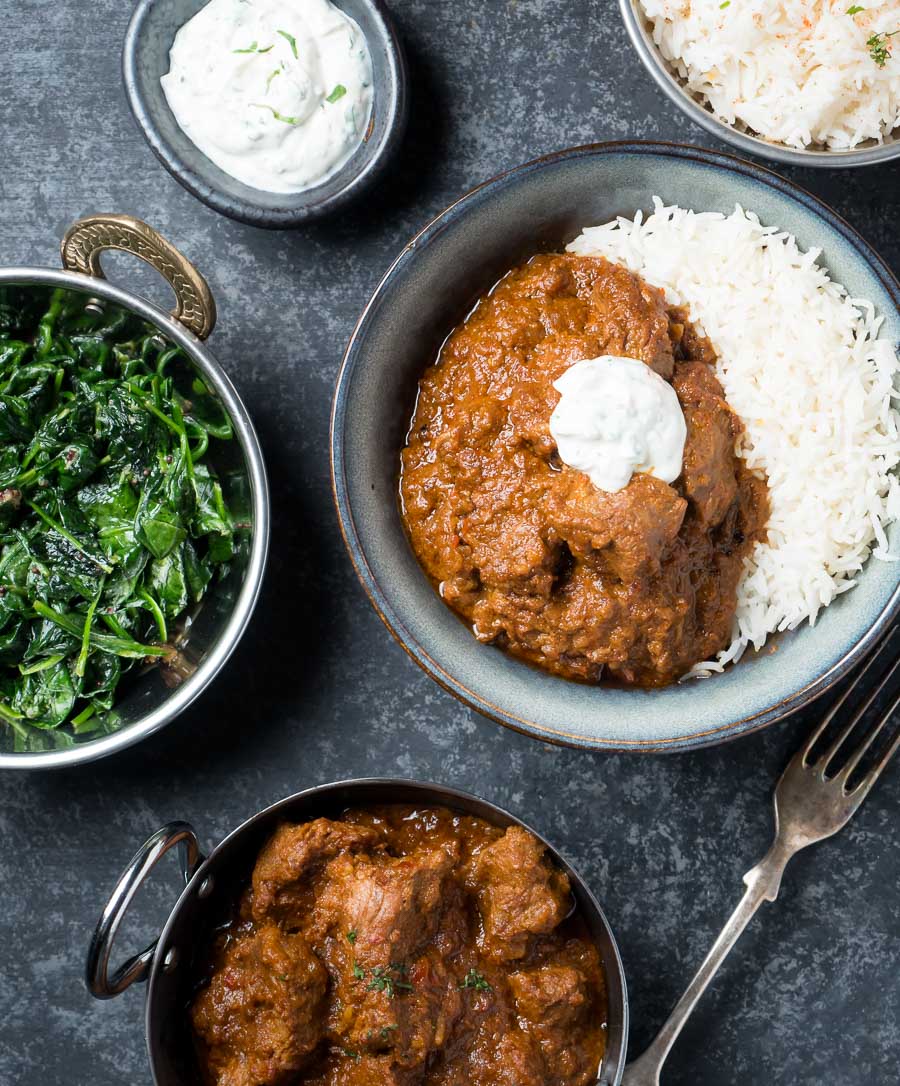 Lamb shoulder for braises
Leg of lamb makes a great roast. Indian style or not. But I don't think it makes the best laal maas. Or any lamb curry for that matter. Certainly your butcher isn't cutting up leg of lamb and calling it lamb stew. No way. They would lose money.
But that's not why I prefer lamb shoulder for curries. For any stew really. I like tougher cuts when I braise. Beef short ribs. Chuck. Pork shoulder.
See what I mean. You knew it too. Lamb is no different. Shoulder is cheaper too. It's just a win win.
Laal maas can be made with goat meat as well. That's actually what they usually use. They call it mutton but they mean goat.
If I could get fresh goat without driving clear across town I would make it with goat as well. But lamb curry rocks so I'm not too worried.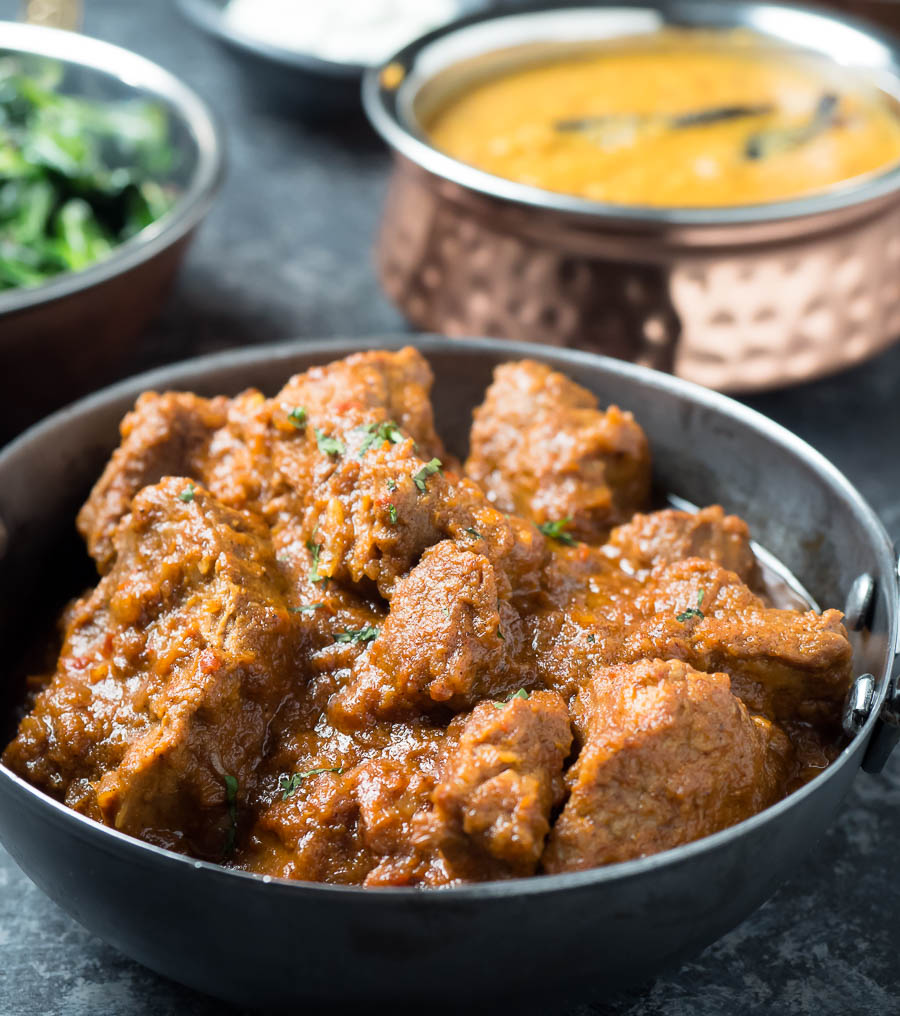 What's with the pictures of really red laal maas?
I look at food pictures all the time. And I don't understand what's going on with some of the laal maas recipes out there.
There are 15 whole red chilies in the curry paste. There's a full tablespoon of kashmiri chili powder. And a tablespoon of paprika. And it's not bright red.
This laal maas is kind of reddish brown. Nowhere near the red I see out there.  Either they are putting in a cup of kashmiri chili or they are using food colour. My guess is food colour. Or photoshop. Don't see how they get there otherwise.
Glebekitchen is what you see is what you get. Don't expect a bright red curry if you make this recipe. Not going to happen. Sorry. Want red? Get food colour I guess…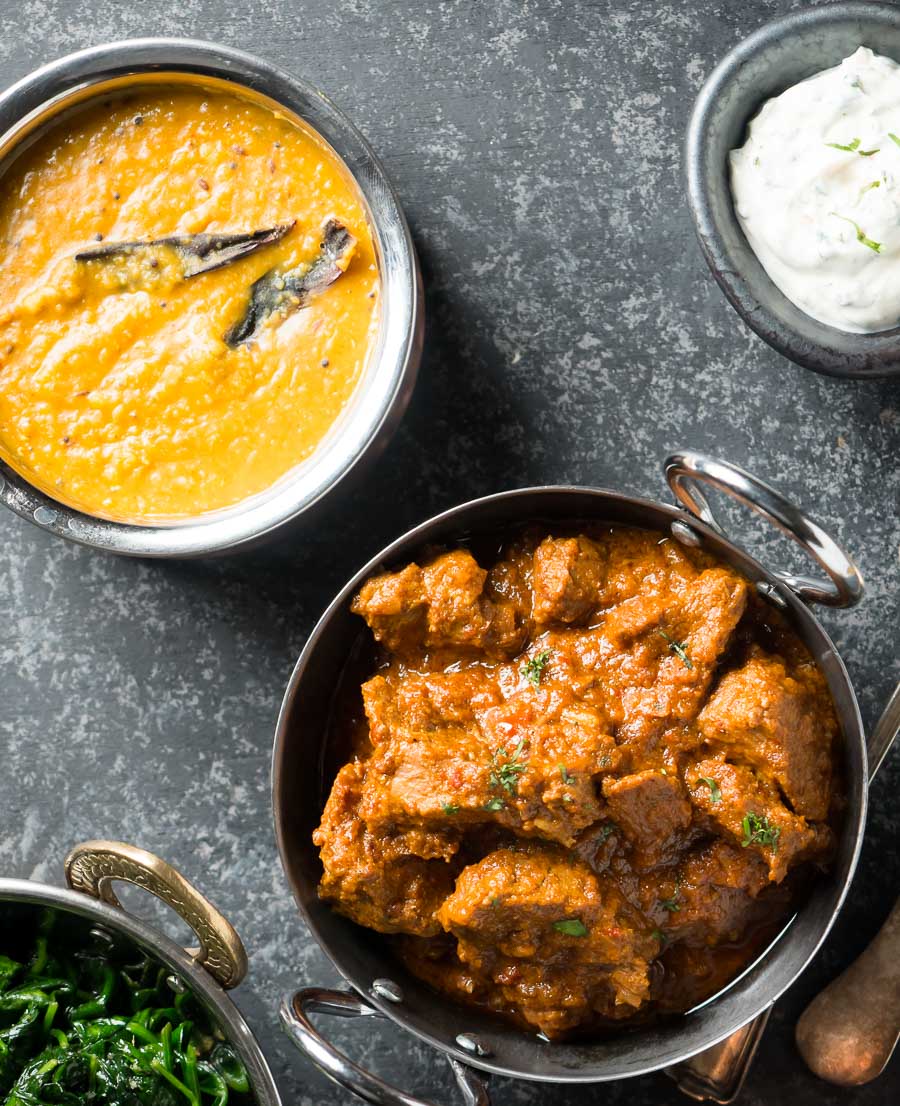 A kick from the spicy raita
Raita is usually cooling. Something to put out the fire. Sometimes with cucumber and lemon. Sometimes just cilantro and salt. But usually a place to hide from the fire.
Not here though. Just the opposite. A couple crushed kashmiri chilis in the raita gives it some bite. It's a little twist. If you think the curry has enough bite leave the chili out. Maybe add a little lemon juice instead. Make it your own.
Laal maas. Spicy lamb curry. Homestyle. Try it sometime. It's just tasty, tasty Indian comfort food.
laal maas
Laal maas is a spicy lamb curry from Rajasthan India that's sure to be a crowd favourite.
Ingredients
laal maas curry paste
15

kashmiri chilies

the dried ones

8

cloves

garlic

1

tbsp

coriander powder

1

tbsp

cumin powder

2-3

tsp

kashmiri chili powder

1

tbsp

paprika

1

tsp

turmeric

2

tsp

kosher salt

2

tbsp

neutral oil

enough water to form a paste
lamb marinade
2/3

cup

plain yoghurt

2

tsp

garam masala

1

tsp

salt

3

lbs

lamb shoulder

cut into 1 inch chunks
laal maas
4

cups

onions

finely chopped

6

tbsp

neutral oil

total

3

black cardamom

5

green cardamom

2

tbsp

tomato paste

the marinated lamb

the laal maas curry paste

1

cup

water
spiced raita
1/2

cup

plain yoghurt

1/4

tsp

salt

1-2

kashmiri chilies

crushed

3

tbsp

chopped cilantro
Instructions
Make the laal maas curry paste
Seed and stem the dried kashmiri chilies. Just break them in half and give them a shake. A few seeds won't kill you.

Place the chilies in hot tap water and soak until rehydrated. This takes about 30 minutes.

Combine the rehydrated chilies along with the rest of the paste ingredients in a blender or food processor. Add a bit of water. Puree. Keep adding water until a paste forms. Really have at it. The skins from the chilies are pretty hard to break down.
Marinate the lamb
Combine the lamb, garam masala, yoghurt and salt. Mix. Cover and refrigerate for one hour.
Make the laal maas
Pre-heat your oven to 325F.

Pre-heat a dutch oven large enough to hold all the ingredients over medium heat. Add 4 tbsp of oil.

Add the black and green cardamom and cook for 20-30 seconds.

Add the onions and cook until they are well browned. Regulate the heat to prevent burning. Stir them often.

Push the onions to the side around the edges of the pot. Add the remaining two tbsp oil to the middle of the pot. Pour in the laal maas curry paste and fry until it darkens. This takes a couple minutes. Stir constantly and regulate the heat to avoid the paste burning. Watch your onions.

Once the curry paste has darkened slightly mix it in with the onions. Add the tomato paste. Cook the onion/paste mixture over medium low heat for 4-5 minutes.

Add the lamb and marinade. Stir to mix everything together. Cook about 5 minutes over medium low heat. Don't forget to give it stir every minute or so.

Add one cup of water. Stir to combine.

Cover and place the dutch oven in the 325F oven. Cook until the lamb is tender. This takes somewhere around 90 minutes to 2 hours. It depends on the size of the chunks. It's ready when it's ready.

Remove the pot from the oven. If the curry is a little thin simmer uncovered until you get the consistency you want. Spoon off the excess oil. But remember, there is flavour in that oil so leaving a bit behind is not the worst thing you can do...

Taste and adjust salt. Serve with spiced raita.
Spiced raita
Combine the yoghurt, salt, crushed chili and cilantro. Mix to combine. Let sit at room temperature while you cook your curry.
Nutrition
Serving:
6
servings
|
Calories:
464
kcal
|
Carbohydrates:
19
g
|
Protein:
33
g
|
Fat:
28
g
|
Saturated Fat:
5
g
|
Cholesterol:
97
mg
|
Sodium:
1448
mg
|
Potassium:
844
mg
|
Fiber:
4
g
|
Sugar:
8
g
|
Vitamin A:
1335
IU
|
Vitamin C:
11.5
mg
|
Calcium:
139
mg
|
Iron:
4.7
mg