Larb is a Laotian or Thai pork salad loaded with big flavours of lime, chili and fresh herbs.  Hot. Sour. Spicy. There is lots to love here.
It's is easy to make too. Crazy big tastes that come together in no time flat. Want something to impress? Have no time to cook? Larb to the rescue. Really easy. Really tasty.
Larb is meat salad
Think about it. A meat salad. I have a hard time reconciling those two words. But that's what it is. Wonderful concept really.
And it's about as hard as making any other salad. Toss some ingredients in a vinaigrette. Serve. Eat. Done.
Technically larb can be served with raw or cooked ground pork. I'm going to err on the side of safety and go with the cooked version. It makes a wicked beef tartare too.
But for pork I'm going to stick with cooked. I'm just not adventurous enough I guess. That's OK. I can live with that.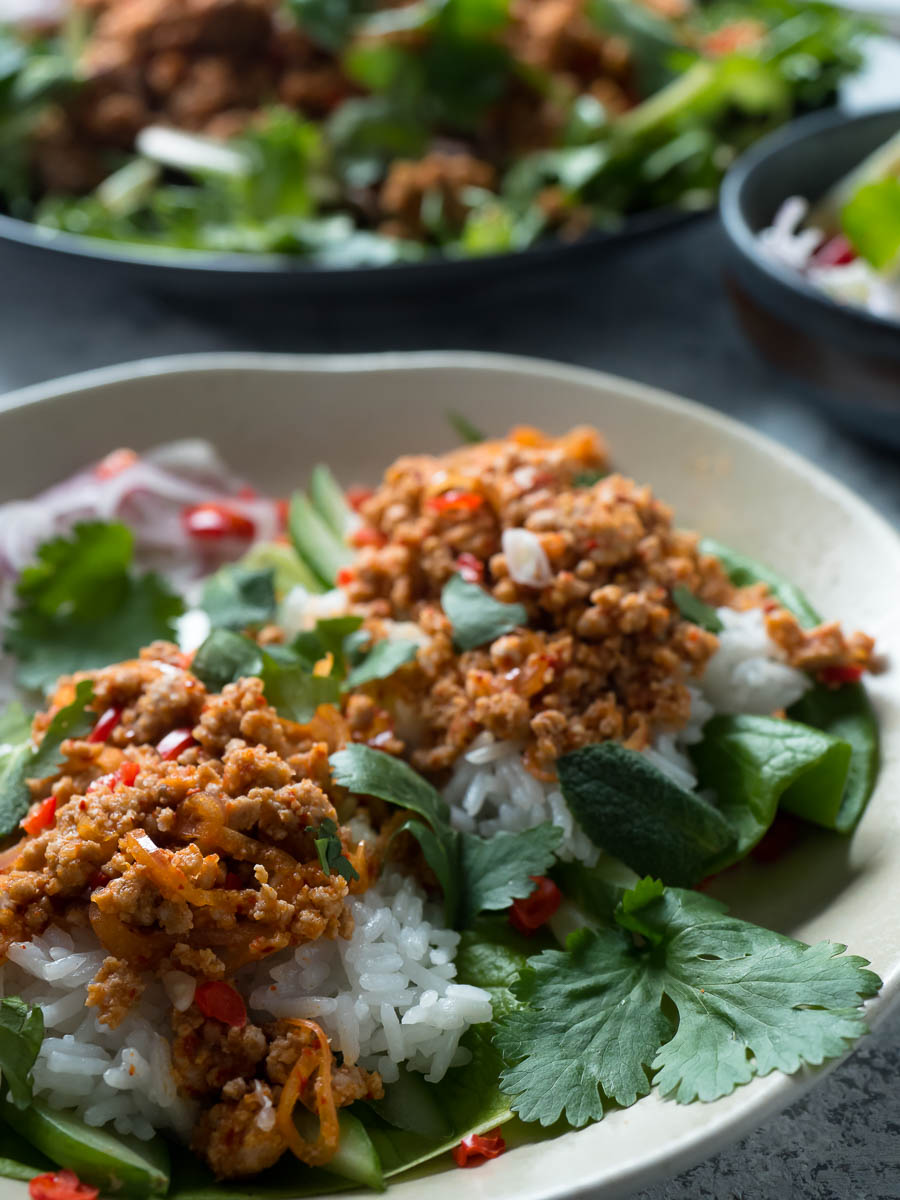 To brown or not to brown
This is a tough one. And you will have to decide for yourself. Larb is usually done with poached pork. That's a nice way of saying boiled. That's usually enough to make me run in the other direction.
But not here. It works. The seasoning is strong. You don't really notice. The texture is good.
In the Shan state they do a version that's fried. Browned. Maillard reaction. This is where my instinct usually take me. But the texture isn't as good. A bit toothier. It's a trade-off. You decide.
I've done it poached here. You can brown it instead. Same recipe otherwise. Just fry it off at the start and follow the recipe from there. It really is a tough call.
Rice powder is important
Do not make this and leave out the rice powder. Just don't do it. Think of it as the flavour glue. It adds to the texture. But the magic is as a thickening agent.
Gets all that salty, sour goodness to stick to the pork. So you don't get a puddle of flavour in the bottom of the bowl. Just do it. Please.
It's easy to make. Take some jasmine rice. Toss it in a dry skillet. Roast it until it's golden brown. Let it cool. Grind it in a spice maker. Don't fear the rice powder.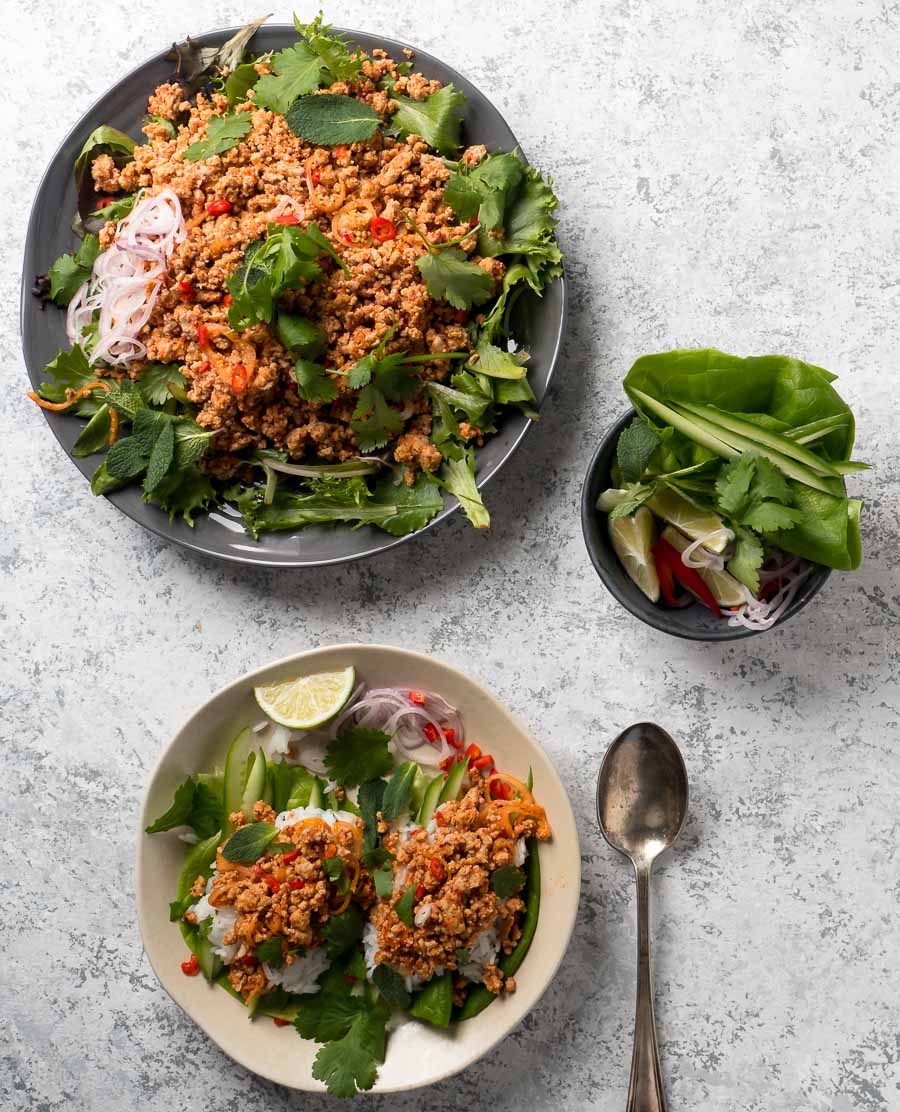 Lettuce wraps make larb fun food
Who doesn't like a lettuce wrap? A bit of larb. A bit bit of sticky rice. Some fresh herbs. A bit of minced fresh chili. You know you want it. I know I do.
Or serve it with rice. Simple. Rice. Pork. Chilies. That's good living. Rice noodles work too. Hot larb with stir fried rice noodles is completely unconventional but works well.. Toss in a little sambal oelek  for a spicy pork noodle dinner.
Any way you serve it larb is a wonderful, incredibly simple dish to make. Sometimes simple and pure is best. This is one of those times…
Thai larb salad
Thai larb salad is easy and crazy delicious. It makes great lettuce wraps or just eat it with sticky rice or noodles
Ingredients
Cook the pork
1

lb

ground pork

1

cup

water

1

tbsp

fish sauce
Thai larb pork salad
1/4

cup

shallots

sliced thin

3

tbsp

rice powder

3

tbsp

fish sauce

4

tbsp

lime juice

fresh

1/2

tsp

sugar

black pepper

a few grinds to taste

1

tbsp

gochugaru

cilantro, mint leaves, red chilies

to garnish

lettuce and sticky rice

to serve
Instructions
Rice powder
Pre-heat a small dry skillet over medium low heat. Add about a 1/4 cup of white rice and toast until golden brown. This takes 3-4 minutes depending on how hot your pan is. Don't let it burn.

Let the rice cool fully (take it out of the pan if you are in a hurry) and transfer it to a spice grinder. Grind to a powder consistency. Or use a mortar and pestle if you'd like. You will have more than you need for this recipe.
Pre-cook the ground pork (or chicken)
Combine the pork, water and fish sauce. Really break up the ground meat. You don't want big clumps. It will cook unevenly. Bring to a simmer.

Simmer until the pork or chicken is cooked. This takes around 6-7 minutes. Drain the pork.
Make the larb
Toss the pork with the rice powder and gochugaru. Add the shallots, fish sauce, lime juice, sugar and black pepper and stir to combine.

Garnish with what you like. Red or green chili, cilantro and mint all work nicely. Serve with sticky rice and lettuce. Make lettuce wraps. Or don't. Just eat it with rice or cool rice noodles. All good.
Nutrition
Serving:
4
servings
|
Calories:
316
kcal
|
Carbohydrates:
3
g
|
Protein:
20
g
|
Fat:
24
g
|
Saturated Fat:
8
g
|
Cholesterol:
81
mg
|
Sodium:
1512
mg
|
Potassium:
433
mg
|
Sugar:
1
g
|
Vitamin A:
595
IU
|
Vitamin C:
5.3
mg
|
Calcium:
28
mg
|
Iron:
1.5
mg