Chicken vindaloo is on every Indian restaurant menu because it's seriously delicious. And you can make it just like restaurants do. At home.
It's popular for a reason. It's a perfect balance of hot and savoury. A little sour. With just a hint of sweet. Good eating for all curry lovers.
Vindaloo is a Goan dish
If you are looking for authentic, this is not it. Vindaloo comes from Goa. It's a pork curry. Maybe the only famous pork curry. Heavily influenced by the Portuguese.
The Portuguese sailors came with preserved pork and garlic in red wine. The Indians took that and ran with it. And came up with something magic.
The Portuguese also brought chilies with them. All I have to say about that is "Thank you Portugal".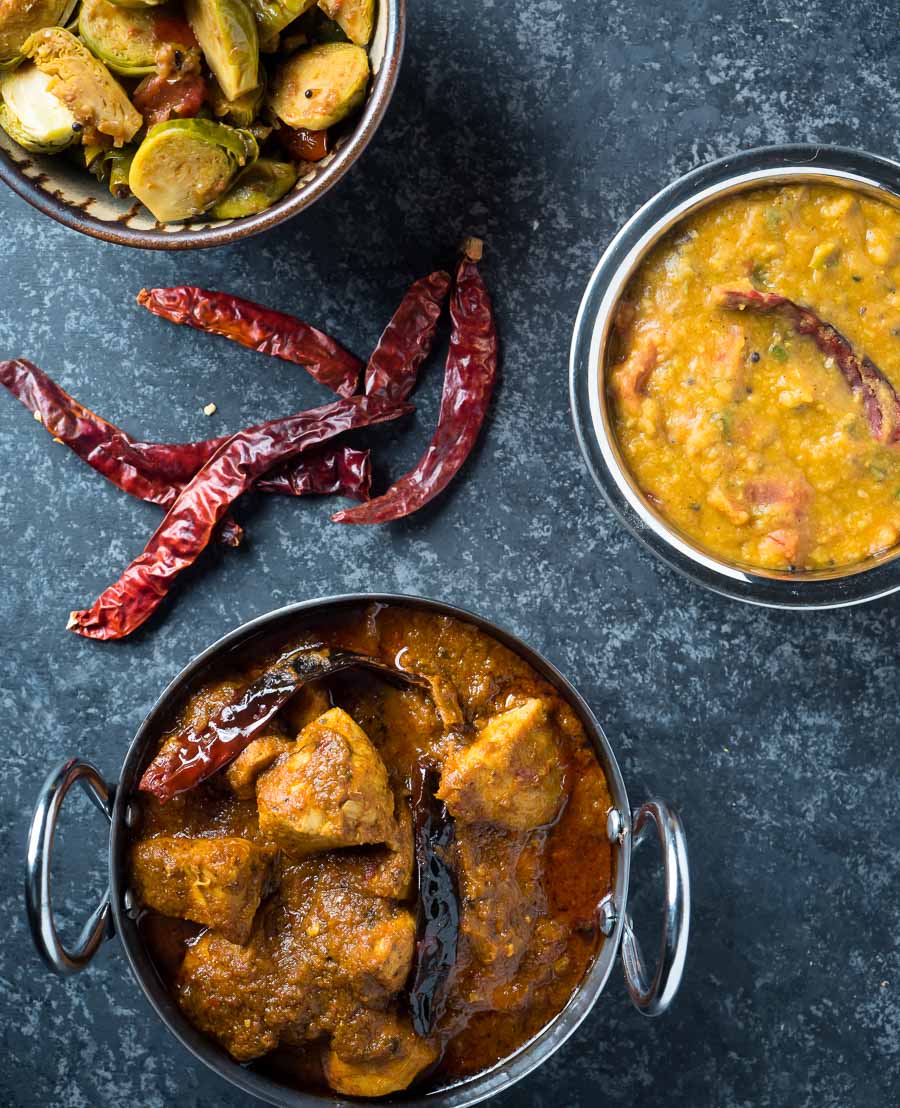 This chicken vindaloo is the restaurant style version
Fast forward about 500 years. Restaurants in the UK started serving up a curry dish that had a hot and sour tang.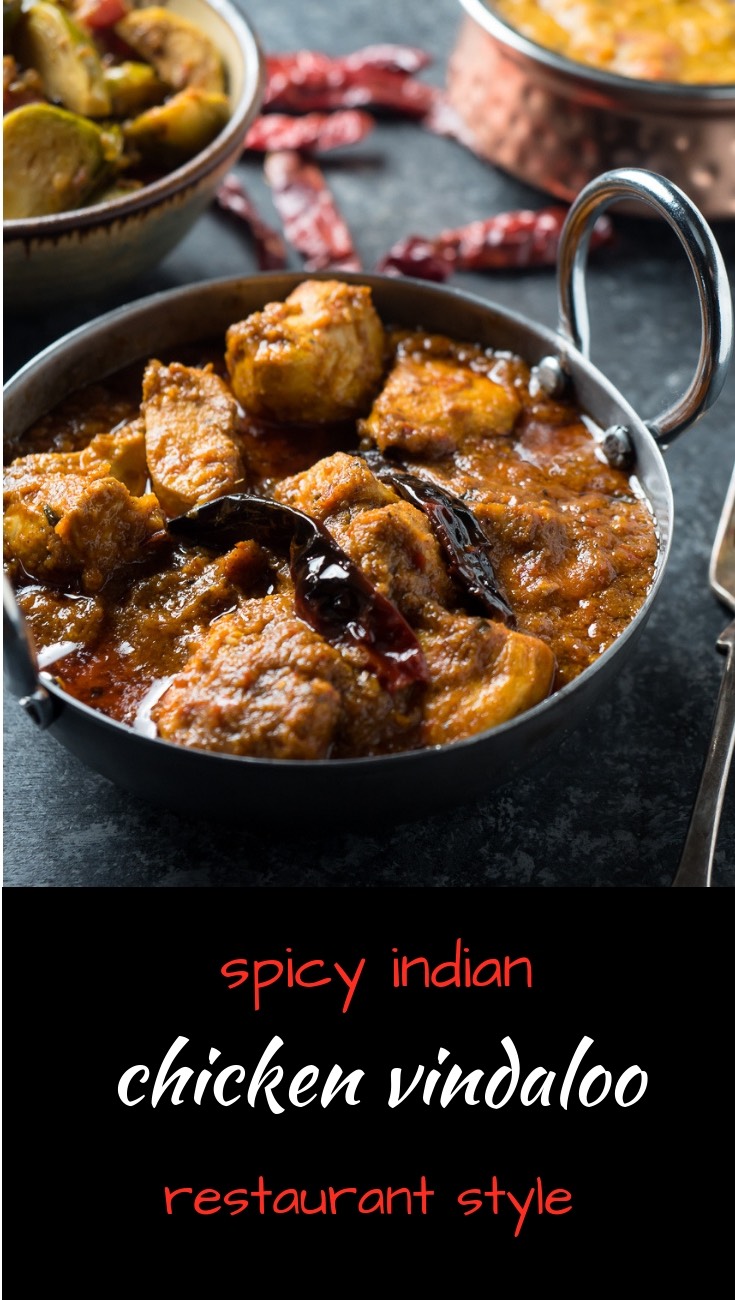 Not sure it really shares much else with the authentic version. But it's what is called vindaloo now. Outside of India anyway. It goes from spicy to insane depending where you order it.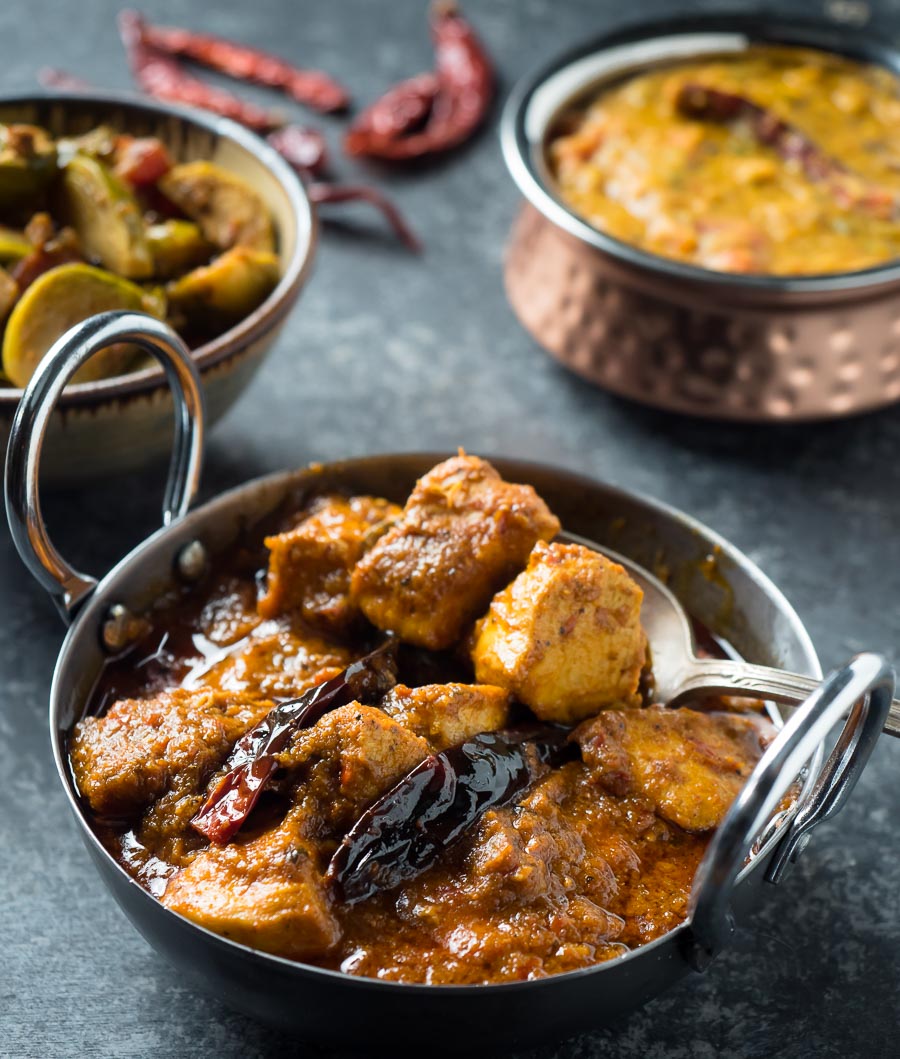 Flavour first, fire second
I'm a believer that a good curry needs to have rounded flavours. Most everything on this blog is medium spicy. Sometimes hot but rarely blazing.
I want balance. Flavour is always job one. Never hot for the sake of hot. It's not hard to make a spicy curry. Just add more chili. Tasty is more challenging. But it's more important too. Make this as hot as you want. But focus on flavour first.
Chicken vindaloo starts with a paste
I've been tinkering with vindaloo for years. Pretty pleased with my version even. But I couldn't quite get the depth of flavour I wanted.
So I started asking questions at my favourite local Indian restaurants. And they all said the same thing. "We make a paste". So I started messing around with pastes.
It was when I got going on the laal maas recipe that it snapped into focus. Rehydrated chilies. Not chili powder. Fried in oil to round out the flavours. Like Mexican cooking. And it worked. It worked well. So now this is my go to chicken vindaloo. Using this vindaloo paste.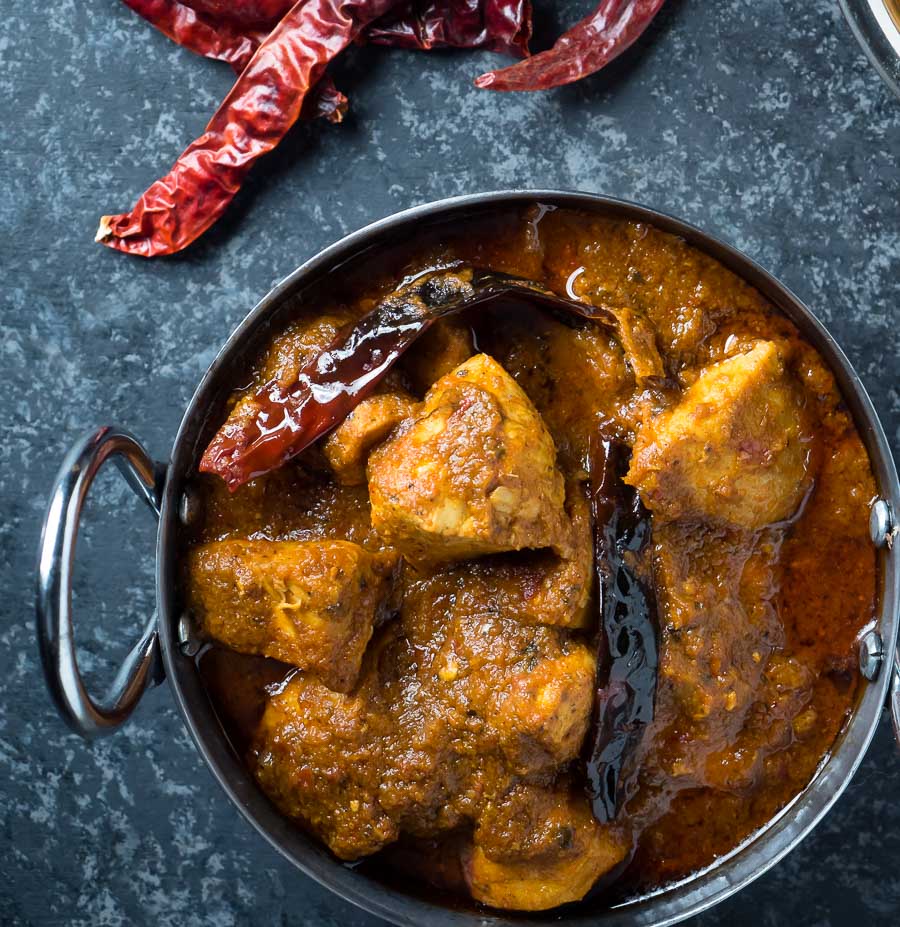 This is restaurant style cooking
Restaurant style cooking means you are making it the same way they do. Same techniques. Same ingredients. It's different from homestyle.
So if you haven't done this before it is a good idea to have a read of this primer to cooking Indian restaurant style. It's worth the time.
Chicken vindaloo with vindaloo paste. Restaurant style. Took me forever to figure it out. Now I know. And so do you.
chicken vindaloo – restaurant style
Vindaloo paste makes this a well rounded, flavourful curry.
Ingredients
2

tbsp

vegetable oil

2

dried kashmiri chilies

1

tsp

Indian restaurant spice mix

– recipe link below

1

tsp

kasoor methi

– dried fenugreek leaves

1/2

tsp

kosher salt

1/3

cup

vindaloo paste

1

tbsp

tomato paste

diluted in 2 tbsp water

15

oz

curry base

– recipe link in the notes

2

tsp

tamarind paste

12

oz

chicken

pre-cooked
Instructions
Combine the Indian restaurant spice mix, kasoor methi and salt in a small bowl. Preheat your curry base. Dilute the tomato paste.

Heat your frying pan (don't use non-stick) briefly over medium heat. Add the oil. It's ready when the oil starts to shimmer.

Add the Kashmiri chilies and cook for about 10 seconds. Flip them and cook another 10 seconds.

Turn down the heat and add the spice mix, kasoor methi and salt. This is the critical step. Stir it constantly for 30 seconds. If it starts to darken lift the pan off the heat. You want the spice mix to cook in the oil but not burn.


Add the vindaloo paste. Fry, stirring constantly, until it starts to darken. This should take about 2 minutes.

Turn the heat up to medium high. This is important. The heat is what makes the onion base work. It gives the dish its Indian restaurant flavour. Add the diluted tomato paste and stir until bubbles form. This takes around 30 seconds to one minute depending on the heat.

Add 3 oz of curry base. Stir until bubbles form (little craters really), around 30 seconds. It's like a lively boil. Watch the video to see what I mean…

Now add 6 oz of curry base and stir briefly. Let it cook until the bubbles form again. Let it cook about 2 minutes.


Add the rest of the curry base and let cook until the bubbles form. Stir in the tamarind paste. Turn the heat down to low and add the pre-cooked chicken. 

Let the curry simmer for about 5 minutes. If it gets too thick add a bit more curry base. Do not add water.


Garnish with cilantro and serve with rice or Indian flat bread.
Nutrition
Serving:
2
servings
|
Calories:
412
kcal
|
Carbohydrates:
12
g
|
Protein:
15
g
|
Fat:
33
g
|
Saturated Fat:
14
g
|
Cholesterol:
61
mg
|
Sodium:
712
mg
|
Potassium:
359
mg
|
Fiber:
2
g
|
Sugar:
5
g
|
Vitamin A:
1085
IU
|
Vitamin C:
3.1
mg
|
Calcium:
14
mg
|
Iron:
1.5
mg