Mexican pork and black bean stew. This is one of those crazy satisfying recipes that insinuates itself into your list of favourites.
This is not just another chili recipe. It's different. Really good in that sneak up on you sort of way.
This is old school Mexican cooking
I learned to cook Mexican reading Diana Kennedy. She unlocked Mexican cooking for me in her "Cuisines of Mexico" way back when nobody had a clue. Kind of the Julia Child of Mexican back in the day.
She taught me about getting away from that nasty grocery store chili powder. The differences between different types of chilies. That Mexican oregano is not the same as European oregano. When to use epazote.
I learned chipotles are the thing of absolute wonder (this was a long time ago – way before there were restaurants called Chipotle). Fundamentals of Mexican cooking. It was completely mind blowing for this Northern boy.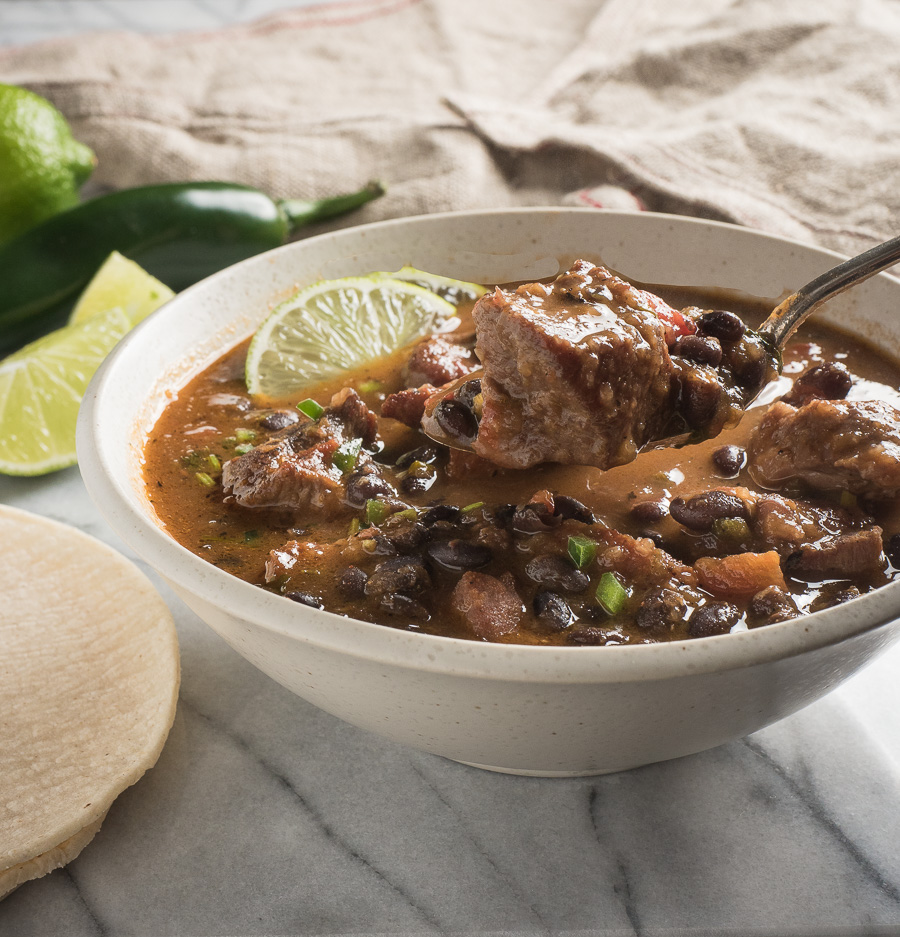 Rick Bayless brought it into focus for me though. I have watched every episode of Mexico One Plate at a Time at least twice. Read at least two of his books cover to cover.
This black bean stew is about layering flavours
Dry roasting the onion and garlic. The fire roasted tomatoes. Frying the onion mixture. That's Rick Bayless.
He would be mad I didn't use pork lard instead of oil. Sorry about that Mr. Bayless. Next time. I was out and the butcher was closed… But at least this black bean stew brings all those lessons into one big bowl of delicious.
Mexican pork and black bean stew is all about layering flavours. That's what makes it work.
The deeply browned pork. The charred onions. Earthy black beans. A bit of acid from the fire roasted tomatoes. A bit more from the lime. Bright notes from the cilantro and jalapeño.
These are complex and satisfying flavours. Just good. Crowd pleasing. It's a family favourite waiting to happen…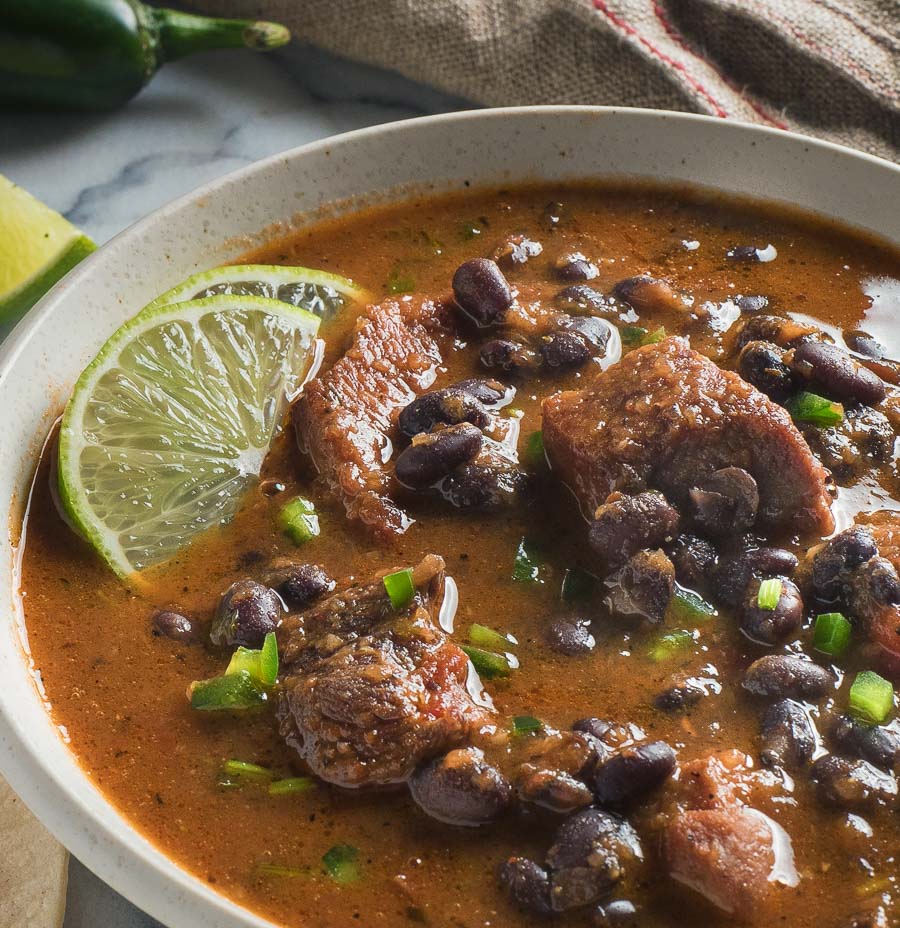 mexican pork and black bean stew
Mexican pork and black bean stew is a play on the famous Cuban black bean stew. Big Mexican flavours in a dish inspired by a classic.
Ingredients
4

lbs

boneless pork shoulder

cut into one inch cubes

2 1/4

cups

dried black beans

or 3 15 ounce cans, drained

2

large

white onions

sliced into one inch thick slices

8

cloves

garlic

1

28 ounce can

fire roasted tomatoes

- I like Muir Glen if you can get them

2

tsp

cumin

2

tsp

New Mexican red chili powder

- any mild pure chili powder works. Cayenne is not mild!

2

tsp

salt

(plus more at the end to season to taste)

1/2

cup

diced jalapeno

- seeded with all membranes removed

4

tbsp

vegetable oil

- any neutral oil will do

1/2

tsp

Mexican oregano

- don't substitute Italian oregano. If you don't have it, leave it out.

4

cups

low sodium chicken stock

1/2

lime, juiced

1

handful

chopped cilantro
Instructions
If using dried black beans cook until tender. I use a pressure cooker with lots of water for 22 minutes. After they pressure cook I let them simmer another 15-20 minutes until just tender. You can cook them any way you like or just use canned.

If you think of it, salt the pork liberally the night before. If not, no big deal. But it's a nice touch if you do.

Heat the oil in a large (like 6-7 quart) pot or dutch oven. Brown the pork in batches. It will take 3 or 4 batches to get through all of them. Don't crowd your pork. Add more oil as required. Remove the pork and set aside.

While the pork is browning, heat a comal or cast iron frying pan over medium heat. Dry roast the onion slices and garlic. You want them to be a bit charred. Not full on burned. Just a bit of dark brown and softened through. This adds a nice depth of flavour.

Coarsely chop the onion. Add the onion, garlic, cumin, chili powder, Mexican oregano, salt and half the tomatoes with half the juices to a blender. Puree until smooth. Put the tomatoes and their juices in the bottom. This will make it easier on the blender. Add a bit of water if it won't go.

Add enough oil to get to about 4 Tbsp if needed. You should already have enough but if you don't top it up a bit. Add the jalapeño and fry gently until softened, about 1 minute. Add the onion mixture, turn the heat up to medium and fry for 6-7 minutes, stirring occasionally.

Return the pork to the pot along with any accumulated juices. Add the chicken stock. Dice the remaining tomatoes and add them to the pot. Don't add the remaining tomato juice in the can. Reduce the heat to low and simmer until the pork is tender, about an hour to 70 minutes.

Add the black beans and simmer 10 minutes.

Add a squeeze of lime and the cilantro and simmer another 5 minutes. Adjust salt. You will probably need to add somewhere around another tsp or so.

Serve with additional lime wedges, a bit of finely diced jalapeño and corn tortillas.
Notes
Jalapeños vary tremendously in heat. Most of the heat is in the membranes but it's a good idea to taste the jalapeño before you add the whole amount. If they are crazy hot roll back the amount...
Nutrition
Serving:
8
servings
|
Calories:
575
kcal
|
Carbohydrates:
40
g
|
Protein:
66
g
|
Fat:
16
g
|
Saturated Fat:
8
g
|
Cholesterol:
136
mg
|
Sodium:
756
mg
|
Potassium:
1856
mg
|
Fiber:
9
g
|
Sugar:
3
g
|
Vitamin A:
260
IU
|
Vitamin C:
5.1
mg
|
Calcium:
109
mg
|
Iron:
5.6
mg