Miso chicken with maple and ginger takes every day chicken and turns it into something special. Japanese flavours meets roasted chicken in a sure-fire hit.
For when you need something really tasty but don't feel like doing a ton of work.
Meet miso – it's a serious flavour bomb
I'm a miso fan. It's one of those flavours that works with everything. Doesn't overpower. Complements flavours. Creeps up on things and makes them better. Think I'm over the top? Maybe. But try it and then decide.
If you don't know about miso it's fermented rice and barley. Big in Asian cooking. If nothing else you can jump on a trendy bandwagon. Fermented anything is hot right now. Think kombucha. Or kimchi. All the rage.
There's different types. Some are stronger tasting than others. I use shiro miso here. White miso. It's mild. Works really well in miso soup. And in miso chicken.
You can make salad dressings with miso. The recipe is actually pretty close to miso chicken marinade. Swap out the sake and mirin for a little rice vinegar and lime juice.
Or mix it with mayo and use it in sandwiches. Or drizzle miso mayo on a hot dog. Seriously. Hello Japadog.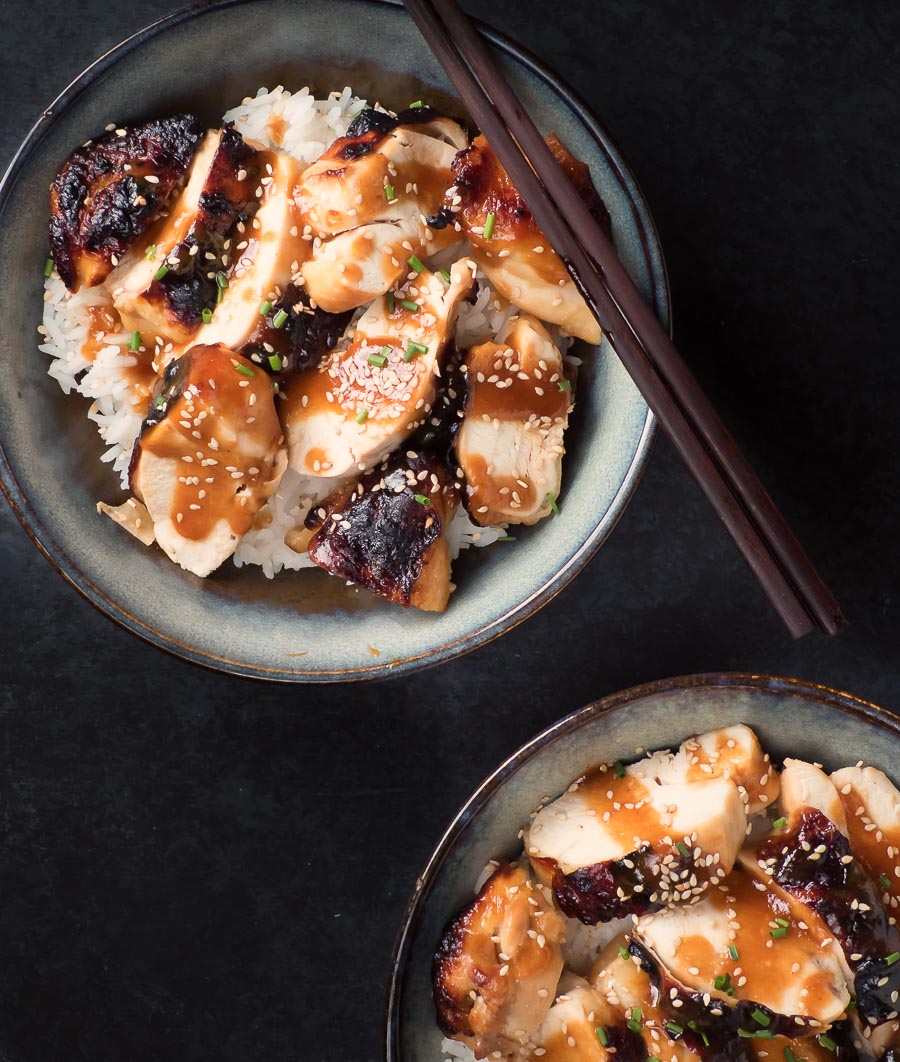 Even if you never make any of these other dishes, it's worth getting some miso for this chicken. It's hard to describe. Loaded with umami (thanks to the miso). A bit sweet. A little bite from the ginger. It just comes together nicely.
Miso chicken with maple – Japan meet Canada
It's a mix of classic French technique and Japanese ingredients. Not fusion though. The ingredients are pretty true to Japanese.
Except maybe the maple. You could use sugar. That would be more authentic. But I'm Canadian so it's maple syrup.
The key is roasting the marinated chicken and then deglazing with the leftover marinade. That way you get the classic Japanese flavours.
But you also get the fond from the chicken into the mix. A bit of extra flavour that ties it all together. A little thing perhaps. But it makes a big difference.
Miso chicken with maple and ginger. Maybe not the most authentic of miso chicken recipes. But a tasty one. Try it with rice.
Or cut it up and let people pick at pieces as an appetizer. Or with mixed greens tossed in a miso dressing. Any way you serve it, it's going to be a hit.
miso chicken with maple and ginger
Miso chicken with maple and ginger is an easy way to really crank ho hum chicken breasts up to 10.
Ingredients
4

chicken breasts

boneless but with the skin

3

tbsp

white miso

- look for shiro miso

2

tbsp

sake

2

tbsp

mirin

1

tbsp

maple syrup

1

tbsp

vegetable oil

2

tsp

sesame oil

1

tsp

ginger

grated. A micro-plane works well.

sesame seeds, chives or green onions to garnish
Instructions
Combine the miso, sake, mirin, maple syrup, sesame oil and ginger. Stir to combine.

Pour the marinade over the chicken and refrigerate at least one hour. You can go up to 8 hours. There is no acid in the marinade so there's no issue with the chicken cooking (think ceviche). Reserve the marinade when you are done marinating the chicken. Don't throw it out. This is important.

Pre-heat your oven to 375F.

Remove the chicken from the marinade and place into a dish that can go from the oven to the stove-top. You don't want a pan that is much bigger than the chicken. A frying pan with heat resistant handles is great for this.

Roast until the internal temperature of the chicken reaches 160F. Remove the chicken from the pan and set aside.

Place the frying pan (or whatever you are using) over medium heat. When it starts to bubble stir up any browned bits in the pan. Add the reserved marinade and bring to a lively simmer. This kills any bacteria so make sure you see bubbles in the pan.

If your sauce seems dry add a little drizzle of chicken stock. You don't get a lot of sauce here. It's just a drizzle so don't go crazy.

To serve, slice the chicken and drizzle the sauce overtop. Garnish with sesame seeds and chives or green onions.
Nutrition
Serving:
4
servings
|
Calories:
368
kcal
|
Carbohydrates:
10
g
|
Protein:
49
g
|
Fat:
12
g
|
Saturated Fat:
4
g
|
Cholesterol:
144
mg
|
Sodium:
803
mg
|
Potassium:
874
mg
|
Sugar:
5
g
|
Vitamin A:
70
IU
|
Vitamin C:
2.7
mg
|
Calcium:
24
mg
|
Iron:
1.2
mg