Nadan chicken curry or nadan kohzi is a peppery chicken curry from the Kerala region of India. It's got all the big South Indian flavours going on. Pepper, green chilies, coconut and curry leaves. Just really tasty.
You see nadan chicken curry on South Indian inspired restaurants. Funkier places. It's getting more popular. And it's about time. South Indian cuisine has it going on.
I'm not saying give up on Madras and chicken tikka masala. But I am saying there is more. Way more. And you need to try it.
Nadan chicken curry starts with caramelization of the onions
This is homestyle nadan curry. Traditional. It's about the caramelization of the onions. That's always critical in Indian cooking. Take your time doing it. You don't want them to burn. A nice brown colour. This will take about 20 minutes. But you have to do it. Or it won't work.
After that it's easy. Add some garlic and ginger. Spices go in next. Fry that up to bloom the spices. Then it's just come coconut milk and chicken. Let it simmer until the chicken is done and eat.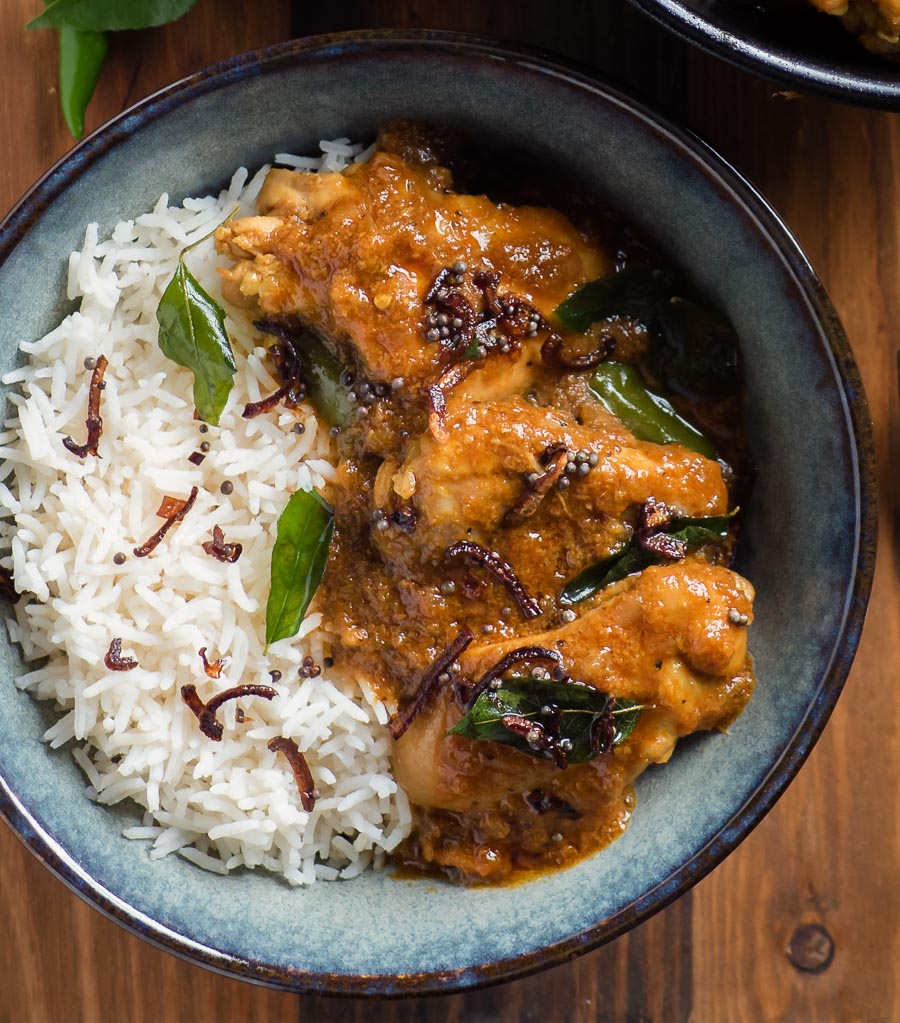 South Indian style chicken curry
South Indian cooking is a little different. Not the same as what you may be used to. There may be a few things that aren't super familiar. Don't let that stop you. This is a whole new world of wonderful waiting for you to discover.
Coconut is a big one. Lots of coconut in South Indian food. Gives everything a lusciousness. Not like Thai curries though. All Indian.
Coconut oil adds a little something extra. It's not critical but it's a nice touch. If you can't get it just use vegetable oil. Not the end of the world.
Curry leaves are the thing. They don't taste like anything else. And dried doesn't work. You can make this without the curry leaves. I will still be good. But you won't get the full experience.
If you live somewhere where there is a reasonably large Indian population you should be able to find them. Most any Indian grocer will have them. I've even seen them in regular grocery stores. Not often, mind you. But I have seen them.
Worst case, go to your local Indian restaurant and ask them where they get their ingredients. I'm sure they will share if you tell them you want to cook nadan chicken curry.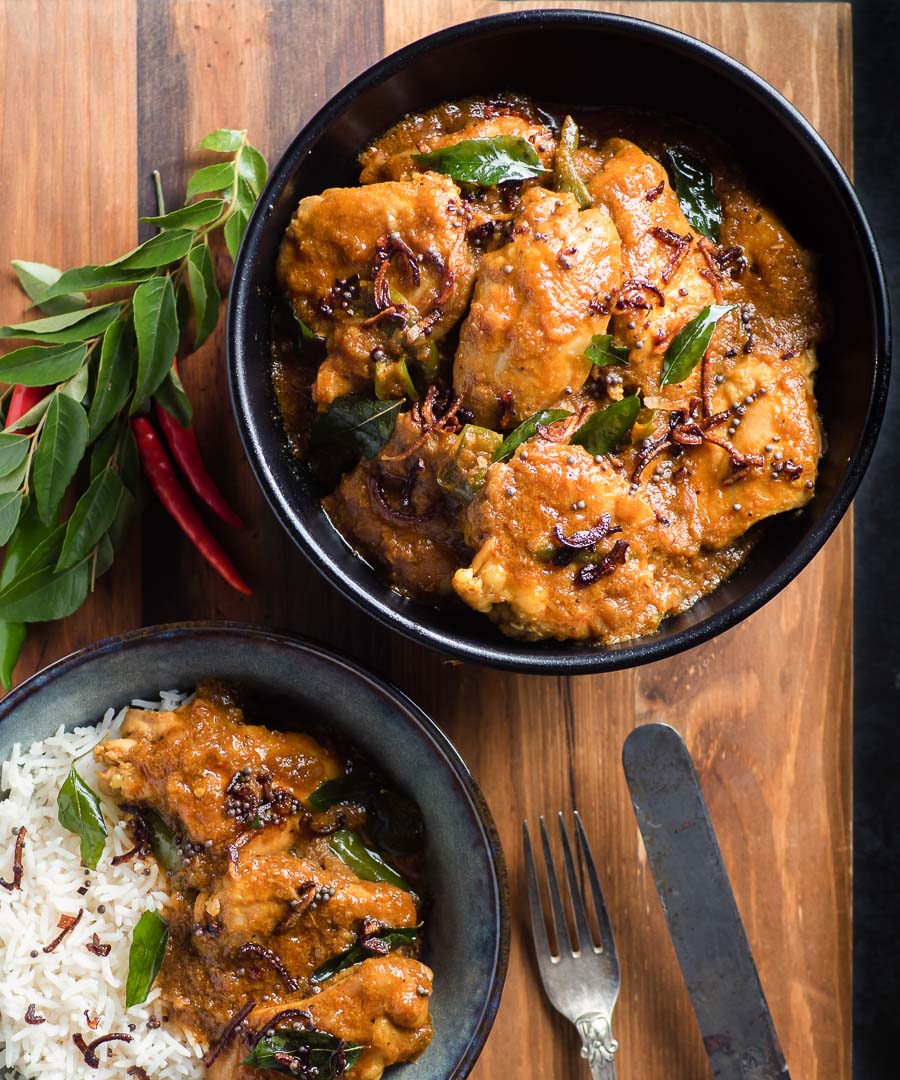 The tempering adds the final burst of flavour
Tempering is a fancy term for a little something extra at the end. That last layer of flavour. It's not uncommon in Indian cooking although a lot of recipes skip this step for some reason.
It's not a lot of extra work and it's totally worth it. You just add a bit of oil into a skillet and fry up some whole spices and other seasonings. In this case it's some mustard seeds, shallots and the curry leaves. Instant wow.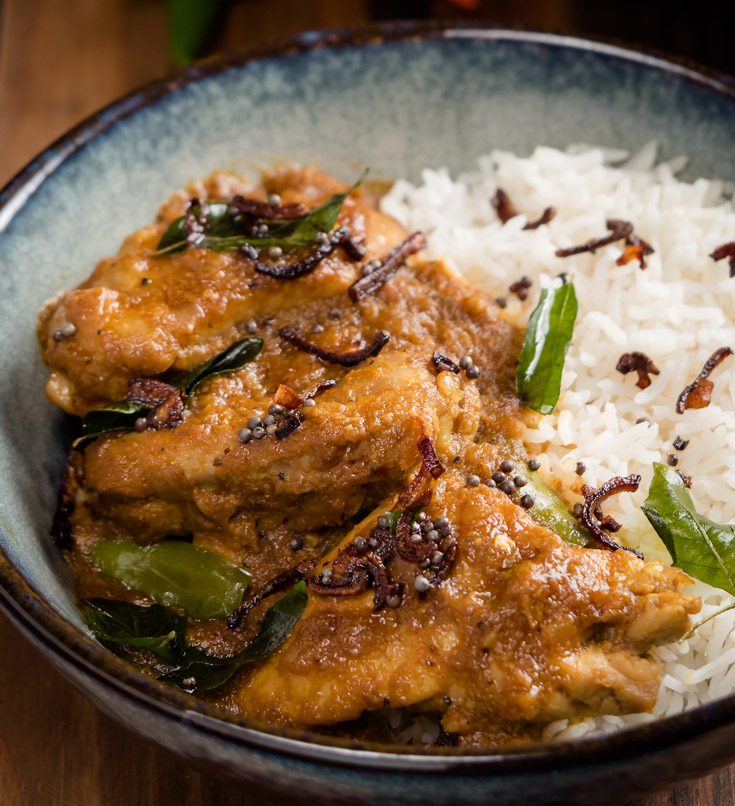 This is a curry that needs to be on restaurant menus
I don't really understand why Indian restaurants all insist on being the same. You could pretty much order off one menu in another restaurant. It's just odd.
Imagine if all Italian restaurants only served 15 dishes. That would suck. And yet Indian restaurants all seem to be following pretty much exactly the same formula. See what I mean?
Makes. No. Sense.
And yet we put up with it. We don't have to. It's time to be heard.
Make nadan chicken curry. And then go to your local Indian restaurant and ask them. "Hey! Where's the nadan kohzi?" See what they say. I'm betting you'll be seeing it on their menu soon after that.
Bet you didn't know nadan chicken curry could start a revolution…
nadan chicken curry
Nadan chicken curry is an Indian dish that's sure to please.
Ingredients
Spice mix
1

tbsp

coriander powder

2

tsp

mild kashmiri chili powder

1

tsp

garam masala

1

tsp

coarse black pepper

1/2

tsp

turmeric

1

tsp

salt
Nadan chicken curry
8

boneless, skinless chicken thighs

- each thigh cut in half

4

tbsp

coconut oil

or vegetable oil

2 1/2

cups

red onion

- finely diced

3

tbsp

garlic ginger paste

or equal amounts of garlic and ginger, finely chopped

4

green chilies

- coarsely chopped

1/2

cup

chicken stock

or water

2/3

cup

coconut milk
Final seasoning
1 1/2

tbsp

coconut oil

1/2

tsp

mustard seeds

1

shallot

sliced

15-20

fresh curry leaves
Instructions
Nadan chicken curry
Combine the coriander, kashmiri chili, garam masala, black pepper, turmeric and salt. Set aside.

Place a pot over medium low heat. Add the coconut oil and onion and cook the onions, stirring occasionally, until they are well cooked and starting to turn golden. This takes about 20 minutes. If it takes less your heat is too high.

Add the garlic ginger paste or minced garlic and ginger along with the green chilies. Cook, stirring constantly, for 1 minute.

Stir in the spice mix and continue to stir. Watch that the spices don't burn. Cook for 1 minute.

Add the chicken, chicken stock and coconut milk. Cover and simmer until the chicken is nearly done. About 15 minutes.

Remove the lid and continue to cook for an additional 10 minutes.

Add the final seasoning mixture and serve with rice or Indian flatbread.
Final seasoning
While the chicken cooks, heat the coconut oil over medium heat.

Add the mustard seeds and cook until they start to crackle.

Mix in the shallots and curry leaves. Cook until the shallots turn brown.
Nutrition
Serving:
4
servings
|
Calories:
592
kcal
|
Carbohydrates:
17
g
|
Protein:
46
g
|
Fat:
37
g
|
Saturated Fat:
25
g
|
Cholesterol:
215
mg
|
Sodium:
1011
mg
|
Potassium:
877
mg
|
Fiber:
4
g
|
Sugar:
6
g
|
Vitamin A:
455
IU
|
Vitamin C:
13.9
mg
|
Calcium:
63
mg
|
Iron:
4
mg