Neapolitan lasagna is a delicious baked pasta dish made with a rich rag and fresh mozzarella. It is a lasagna for when your regular lasagna just won't do.
Lasagna is the king of pastas. There's something magical about how the layers of pasta and sauce and cheese come together to make something so satisfying. Wonderful stuff.
So many wonderful types of lasagna
And there are lots of styles to choose from. Heavy to light and everything in between.
One of my faves is super simple. Delicate layers of the thinnest pasta kissed by a simple tomato sauce and a dusting of parmigiano. Nothing more than that. Try it sometime. Not flashy. But so good.
Lasagna bolognese is without a doubt the best known. A rich beef ragu and velvety béchamel. Wonderful stuff.
There's the classic American Italian version. Heavy on the cheese. Yes please. I love them all.
Neapolitan lasagna – the one you need to check out
And then there's Neapolitan lasagna. Not so well known. Maybe you've never heard of it? It's in a class of its own. Time to try it out. Seriously.
It's different. Not crazy different. But different. There's no grated cheese. The sauce is not your every day sauce.
It's brighter. Cleaner tasting. But loaded with that rich goodness you want. It's in my top two lasagna recipes. Along with that tomato sauce and parmegiano version.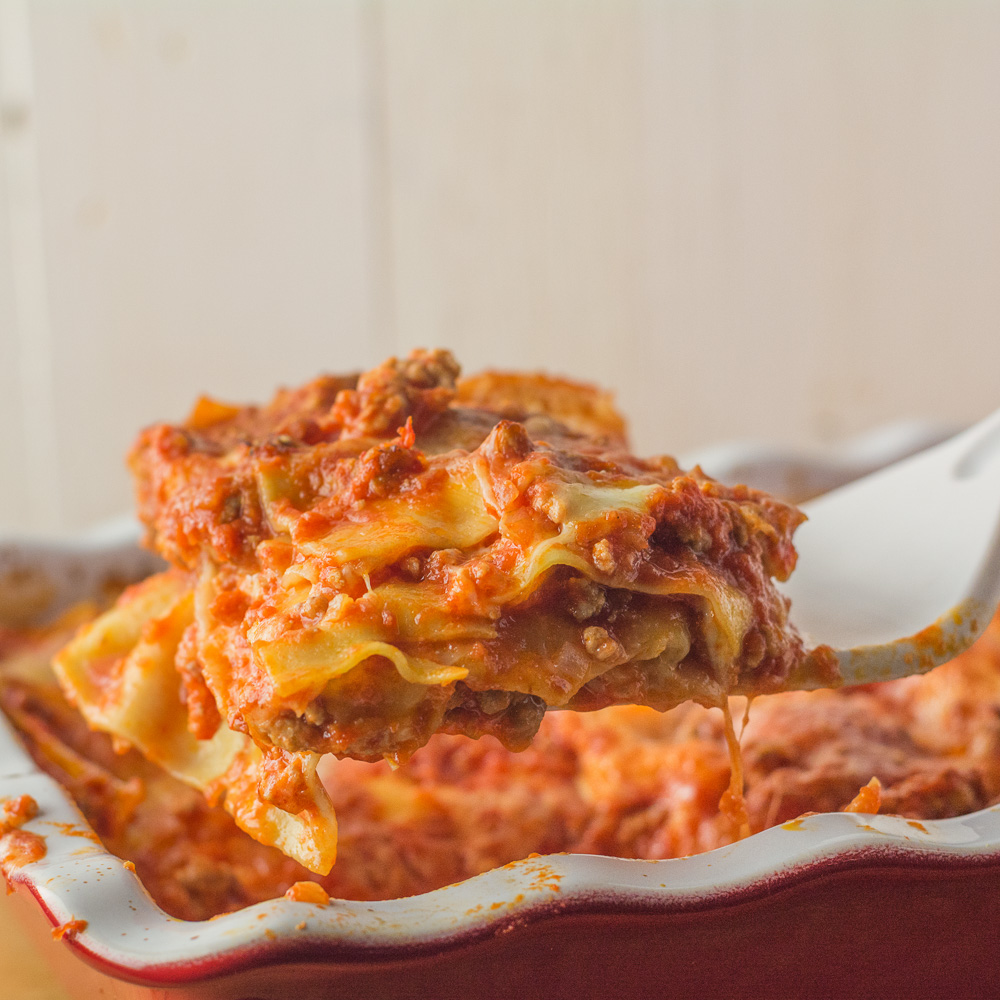 Good Neapolitan lasagna starts with the sauce
Sauce makes a lasagna. Doesn't matter what kind you're making. It's fundamental. Ho-hum sauce will kill your best efforts.
Neapolitan ragu is the right sauce for this lasagna. It's different. Lighter than a ragu Bolognese. Not so rich. But every bit as delicious.
There's no beef. Pork, veal and sausage take its place. Pork and veal for richness. Sausage for that burst of flavour you can't get any other way.
There's lots of tomato. That's where the fresh tastes come from. But no garlic. No herbs. Crazy but it works. It's worth making just to toss with spaghetti.
Fresh mozzarella or fior di latte
Fresh mozzarella is not the same as the mozzarella you get at the supermarket. Not the stuff you shred.
It's fresh. Creamy. Sold in balls floating in whey. It's the stuff they put on Neapolitan pizza. Think bocconcini if you know what that is. But bigger balls.
It's made with cow's milk. Same as regular mozzarella. Sometimes it's made with water buffalo milk. That stuff is great. But the price is high. Really high. Too rich for my blood anyway.
Look for it in Italian delicatessens. Or really good grocery stores. Once you get a taste for it you'll need a regular supply.
Noodles matter too. Try to find good quality Italian no-cook lasagna noodles. They say "crudo" on them. Fresh lasagna noodles work well. Or make paper-thin homemade noodles. That's work but worth it for the ultimate wow.
Neapolitan lasagna is one of the great ones. Try it some time when you have guests. Spread the word. They will thank you for it.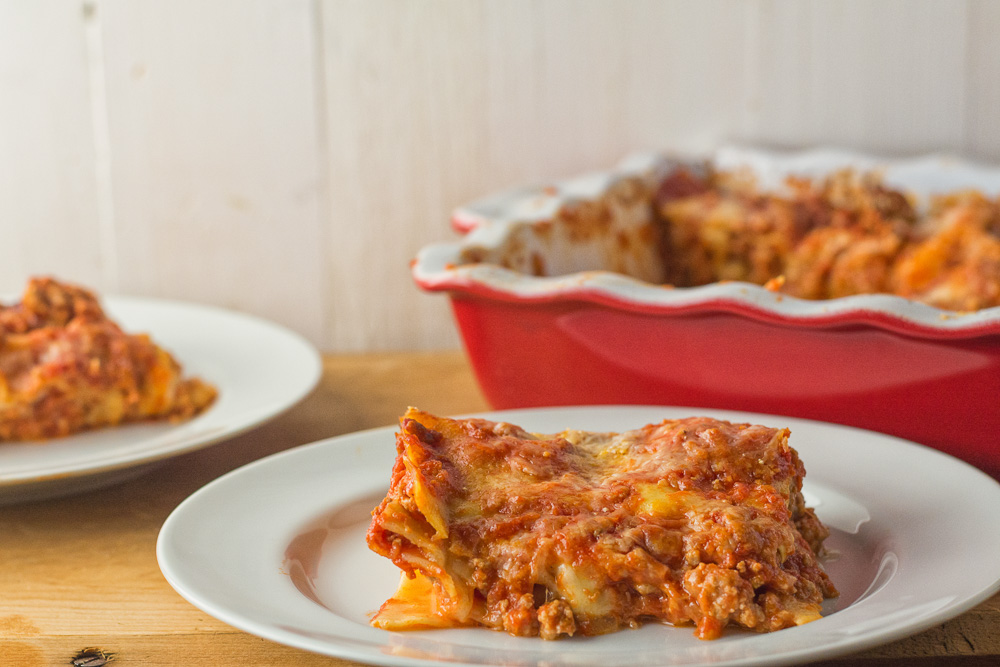 neapolitan lasagna with fresh mozzarella.
Lasagna with fresh mozzarella is a great alternative to your regular lasagna. Look for fresh mozzarella or fior di latte at your local Italian delicatessen.
Ingredients
16

no-boil lasagna noodles

preferably Italian

1

batch neapolitan ragu

- recipe link below

1

lb

fresh mozzarella

(also known as fior di latte) cut into 1/2 inch cubes.

3

cups

parmigiano reggiano

fresh grated
Instructions
Preheat your oven to 350F. Do this before you start assembling the lasagna.
Assemble the lasagna
Spread 1/5 of the ragu in the bottom of the lasagna dish.

Cover the ragu with noodles.

Add the next 1/5 of the ragu onto the noodles.

Top the ragu with 1/3 of the fresh mozzarella and 1/4 of the parmigiano.

Layer the next row of lasagna noodles on top.

Repeat this whole process (1/5 of the ragu then the cheese and noodles) twice more for a total of 4 layers.

Spoon the remaining ragu over the top layer of noodles.

Sprinkle the remaining 1/4 of the parmigiana to cover.
Cook the lasagna
Cover the lasagna with aluminum foil.

Bake in your pre-heated oven for 30-40 minutes (you remembered to pre-heat your oven, right?).

Remove the aluminum foil.

Bake, uncovered, for an additional 10 or 15 minutes.

Remove the lasagna and let rest 15 minutes. Serve.
Notes
The Neapolitan ragu recipe can be found here.
Prep and cook times are for the lasagna itself. Allow time to make the ragu in your planning.
Nutrition
Serving:
8
servings
|
Calories:
895
kcal
|
Carbohydrates:
53
g
|
Protein:
53
g
|
Fat:
49
g
|
Saturated Fat:
21
g
|
Cholesterol:
151
mg
|
Sodium:
1699
mg
|
Potassium:
852
mg
|
Fiber:
3
g
|
Sugar:
7
g
|
Vitamin A:
900
IU
|
Vitamin C:
11.8
mg
|
Calcium:
800
mg
|
Iron:
3.8
mg