Rao's meatballs. If you've ever had them you know. Possible the best meatballs ever. These are those meatballs and this is that marinara sauce.
The one from the fabled little restaurant in Harlem. The restaurant Madonna can't get a table at.
I've been to Rao's (the copycat one in Las Vegas) and I've had the meatballs. They are epic meatballs. Seriously. Tender, moist, flavourful.
Rao's meatballs are possible the best meatballs ever
Rao's meatballs are the best meatballs I have ever tasted. They are simple but somehow magical at the same time. It's totally worth the effort to make these at home.
The version floating around the internet is close I think except for two little details. The internet version has you make the meatballs 1 1/2 inches in diameter. And you only simmer the meatballs in the marinara for 15 minutes. In the restaurant, Rao's meatballs are bigger. Way bigger.
And they taste like they've had a good long simmer in the marinara. You barely know where the meatball starts and marinara ends.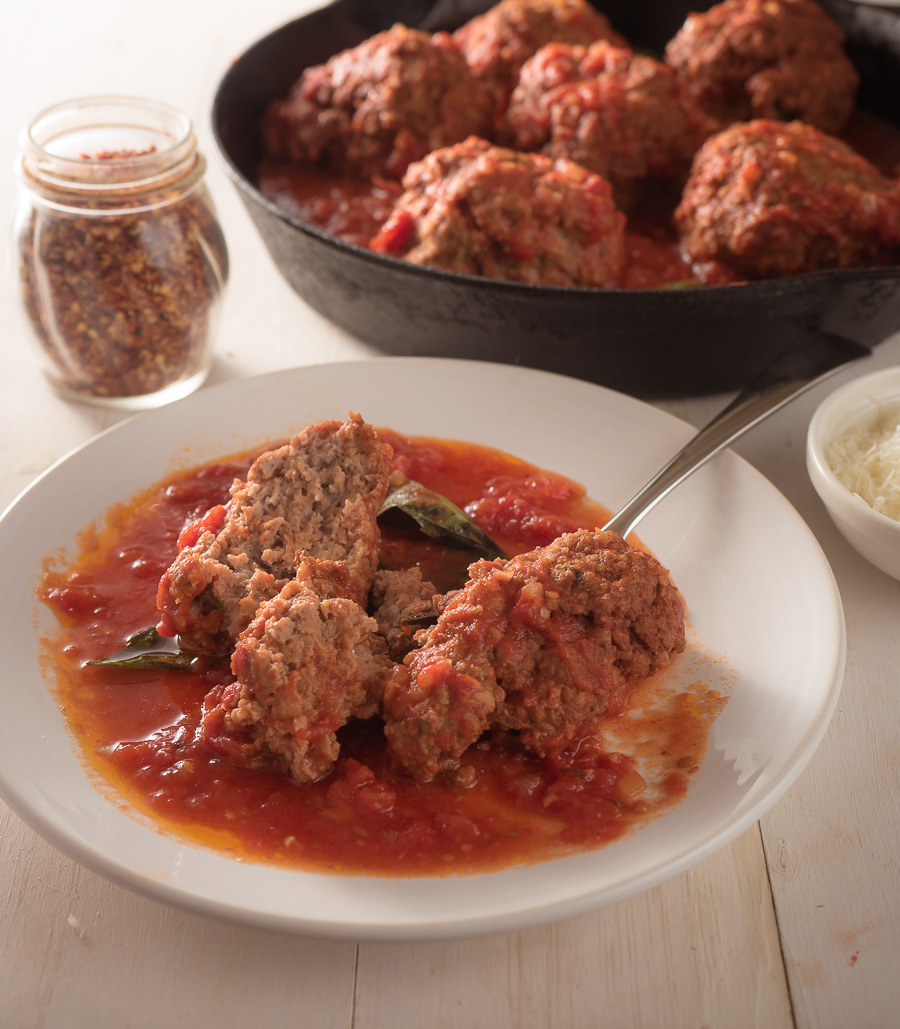 There's one thing they don't tell you
I have the Rao's cookbook. In it, the recipe is pretty much word for word the recipe in the New York Times. But something's missing. They aren't quite magical.
That something is time. You need to simmer them longer. That's where the magic starts to happen. The real key to this recipe. To get the full Rao's experience you need to simmer them in the marinara. For an hour. Or more.
San Marzano tomatoes are key for Rao's meatballs
San Marzano tomatoes are a big part of this recipe. Try not to skimp here. There aren't a ton of ingredients in this recipe so there isn't really anywhere to hide. Once you try genuine San Marzano tomatoes I think you'll understand.
This is your mama's spaghetti and meatballs. Or maybe it's your nonna's. Or maybe you've never had meatballs this good. Rao's meatballs are famous for a reason…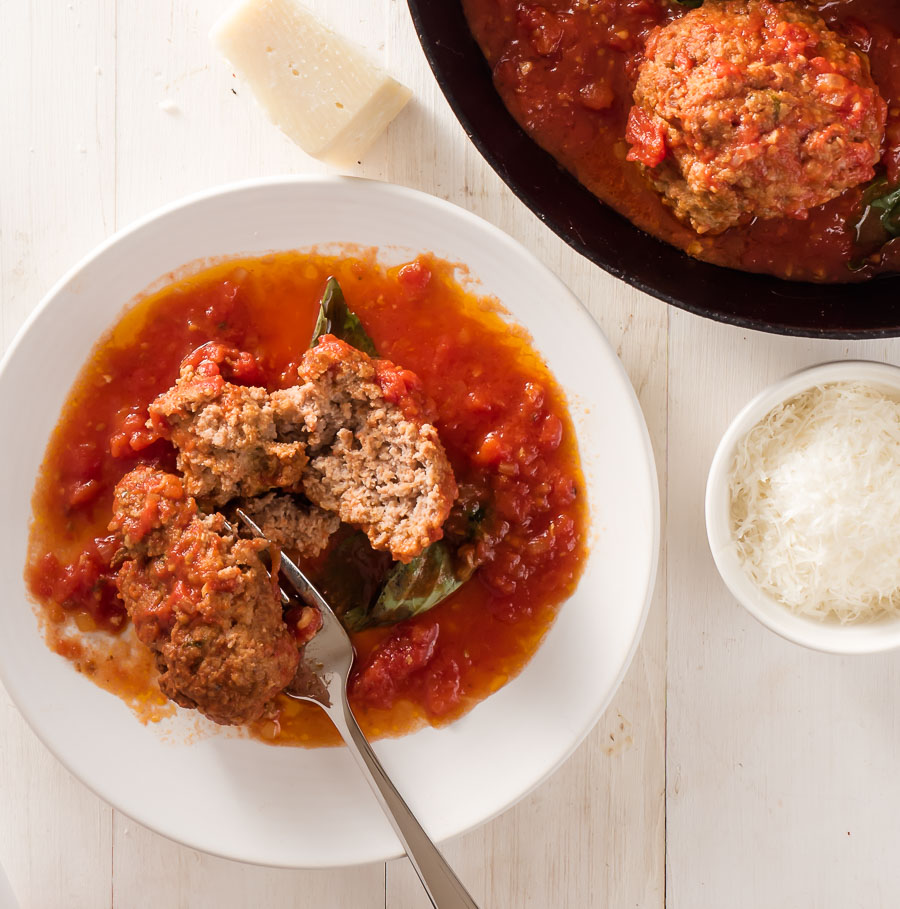 Rao's meatballs in marinara sauce
Rao's meatballs are famous for a reason. Big, tender, and floating in the best marinara sauce you've ever tasted.
Ingredients
The marinara
2 28

oz cans

San Marzano whole tomatoes

1/4

cup

olive oil

2

oz

pork fat back

- coarsely chopped (can substitute pancetta)

1/4

cup

finely diced onion

2

cloves

garlic

- finely minced

salt to taste

- about a tsp, depending on how salty your tomatoes are
The meatballs
1

lb

lean ground beef

1/2

lb

ground pork

1/2

lb

ground veal

1

cup

grated pecorino romano cheese

- a microplane works well here

2

eggs

2

cups

unseasoned breadcrumbs

2

Tbsp

Italian parsley

finely chopped

2

cups

lukewarm water

2

tsp

salt

1/2

tsp

ground black pepper
The rest
1 1/2-2

cups

vegetable oil

to fry

1

lb

spaghetti

additional pecorino romano

to serve
Instructions
The marinara
Hand crush the tomatoes, removing the tough piece of core in each tomato (the stem end). You could just put them through a food mill but using your hands is fun.

Heat the olive oil over medium low heat in a 5-6 quart dutch oven or pot of similar size.

Add the fat back or pancetta and cook until the fat is rendered. If you use fat back, remove the rinds.

Add the onions, regulating the heat so they turn translucent but do not brown. Cook for about 3 minutes. Add the minced garlic and cook another 30 seconds.

Pour in the crushed tomatoes, add the salt and simmer, loosely covered, for about an hour.
The meatballs
While the marinara simmers prepare the meatballs.

Break up the pork, veal and beef in a large bowl to start mixing them together (it doesn't have to be perfect - just get it started). Add all the remaining ingredients except the water. Mix using your hands to roughly combine. Add the first cup of water and mix. Continue to add the water until you get the mixture to be fairly moist. You are going for a meatball that holds together but isn't at all dry. Most of the time it takes the full two cups or very close to it.

Form the meat mixture into 8 large meatballs about 2 1/2 - 3 inches in diameter.

Place the meatballs in the fridge for around 30 minutes to set up.

Shallow fry the meatballs in a non stick skillet until golden brown. You will be cursing me if you don't use non-stick. I find a 10 inch diameter pot with 1 1/2 cups of oil gets you to the point where half the meatball is submerged when cooking 4 at a time. Cook until golden then nudge them over with a slotted spoon to cook the other side.

Drain on paper towel and then add them to the marinara. 8 meatballs will just fit in a single layer in a 5-6 quart dutch oven.
Making them Rao's meatballs
Simmer about one hour, loosely covered. Your marinara will have simmered two hours in total.

To serve, cook spaghetti per the instructions on the package. Drain and toss with a bit of the marinara. Serve with grated pecorino romano as a first course.

Serve the meatballs with the marinara sauce, sprinkled with more pecorino romana as a second course. One giant meatball alone on a plate with a puddle of marinara sauce is a bit of an unorthodox presentation but live a little.

Bask in the adulation of your guests...
Nutrition
Serving:
4
servings
|
Calories:
1530
kcal
|
Carbohydrates:
141
g
|
Protein:
82
g
|
Fat:
69
g
|
Saturated Fat:
27
g
|
Cholesterol:
264
mg
|
Sodium:
2440
mg
|
Potassium:
1803
mg
|
Fiber:
10
g
|
Sugar:
16
g
|
Vitamin A:
930
IU
|
Vitamin C:
23.7
mg
|
Calcium:
539
mg
|
Iron:
11.3
mg