Tarka dhal. That wonderful, creamy, spiced lentil dish that goes beautifully with every Indian meal. It definitely needs to be on your list when you think about cooking Indian.
Tarka dhal is super simple to make. You cook some lentils with a little turmeric. Cook them until they are mush. And then you make a seasoning. That's the tarka.
It's as easy as frying up a bit of onion and spices. Mix it up and eat. It's delicious. Satisfying. And healthy. Hard not to like that. And nobody knows about it. At least where I live.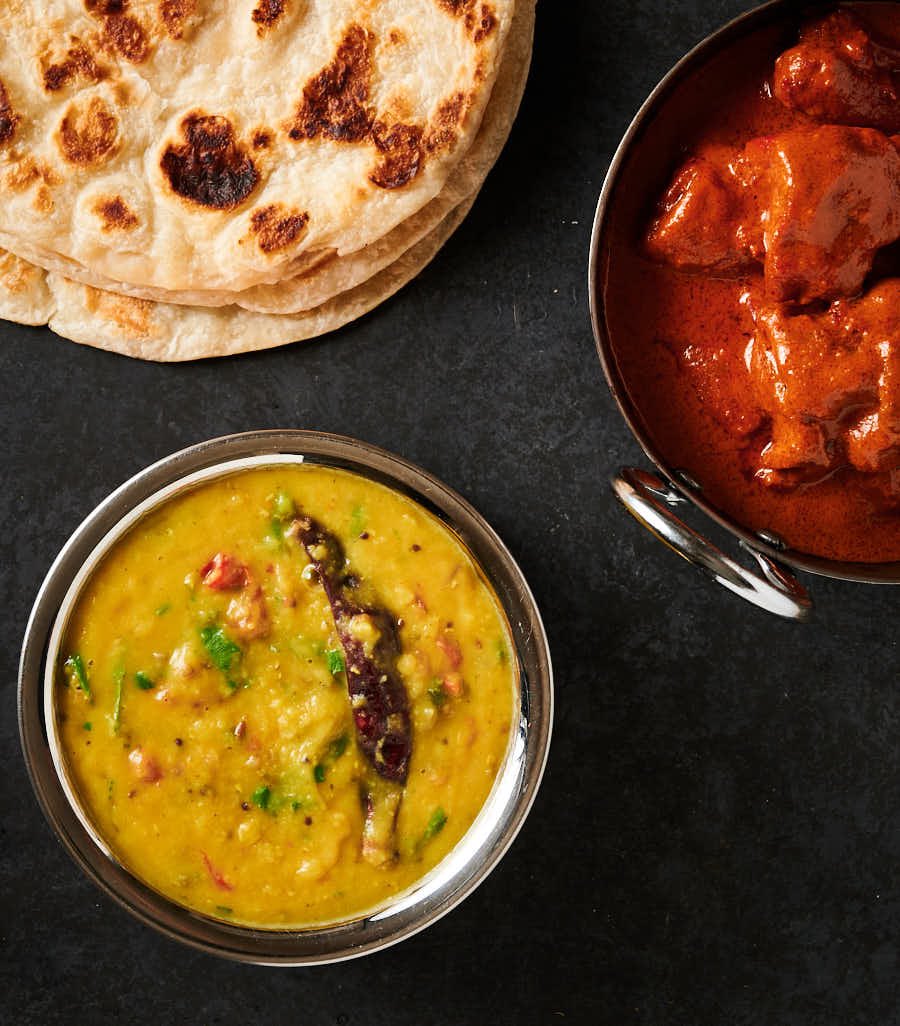 You need to try tarka dhal
It's a funny thing. This is how it goes when I go out for Indian with friends.
"Let's get a dopiaza."
"OK, and a jalfrezi."
"Sure, and how about a madras?"
Then I pipe up. "How about a tarka dhal?"
"Tarka what? Is that lamb? I don't like lamb."
"Just trust me."
Nobody ever wants to order tarka dhal. Nobody seems to know what it is. I always get pushback. Then they taste it. "What did you say these lentils are called? They're awesome." Every time.
Tarka is the seasoning
Tarka is an Indian technique. It's a way of seasoning. Some people call it a tempering. Whatever you call it, it's a great little trick to add to your repertoire.
Fry some spices in hot oil. That infuses the spice flavour into the oil Add some onions and maybe tomato. Maybe a dried chili or two.
Take it off heat and stir it into whatever you want seasoned. In this case it's dhal. Tarka dhal. Pretty obvious once you know.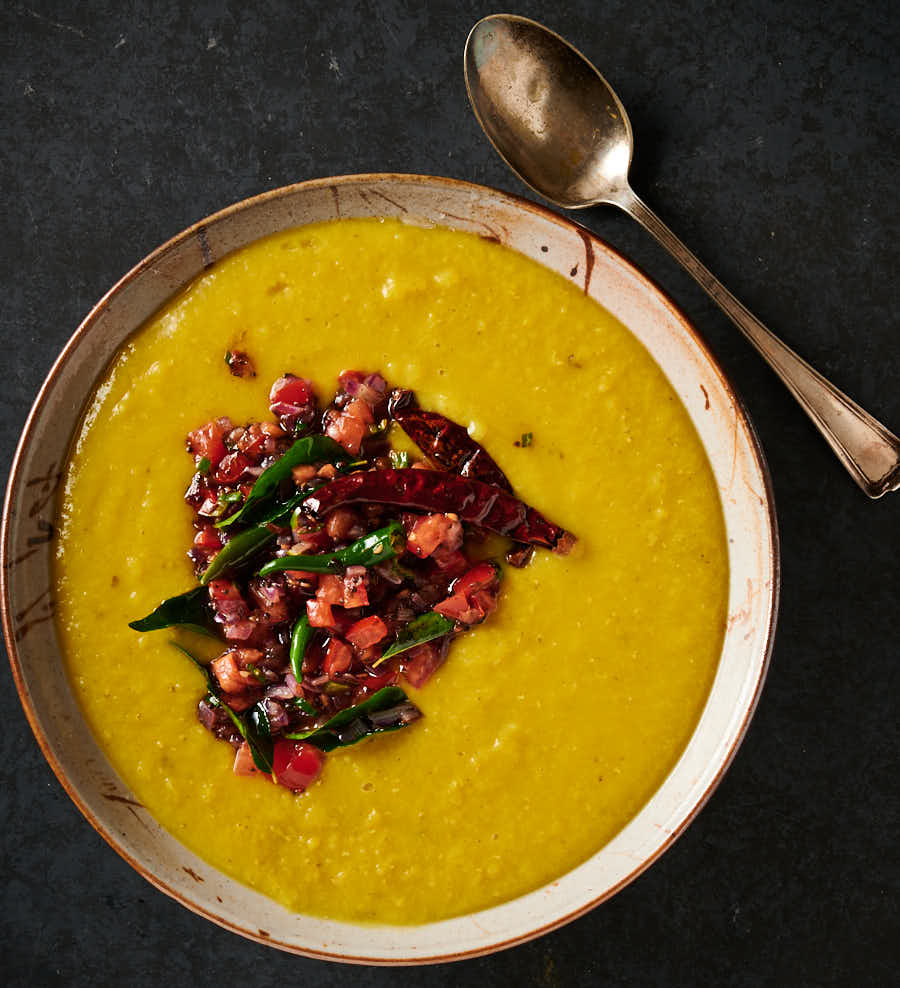 This tarka dhal has south Indian flavours
I love fresh curry leaves. I use them a lot. I'm lucky. It's easy to find them where I live. But not everyone can find them. That's OK. If you can't get them don't worry. Not the end of the world. It will still be delicious.
Curry leaves add a bit of a south Indian twist. They are great in all sorts of Indian dishes. Sambar. Curries. Even as a garnish in this Kerala fried chicken.
Choosing your lentils
I like masoor dhal for this recipe. They are the little red split lentils You can get them at Indian groceries or you can buy red split lentils at your regular grocery store. They are the same.
Toor dal also works well here. For that you will need to go to an Indian grocer. At least where I live.
Either way the goal is to cook the lentils until they virtually disintegrate. Mush. I don't ofter suggest cooking things to mush but in this case it's what you want.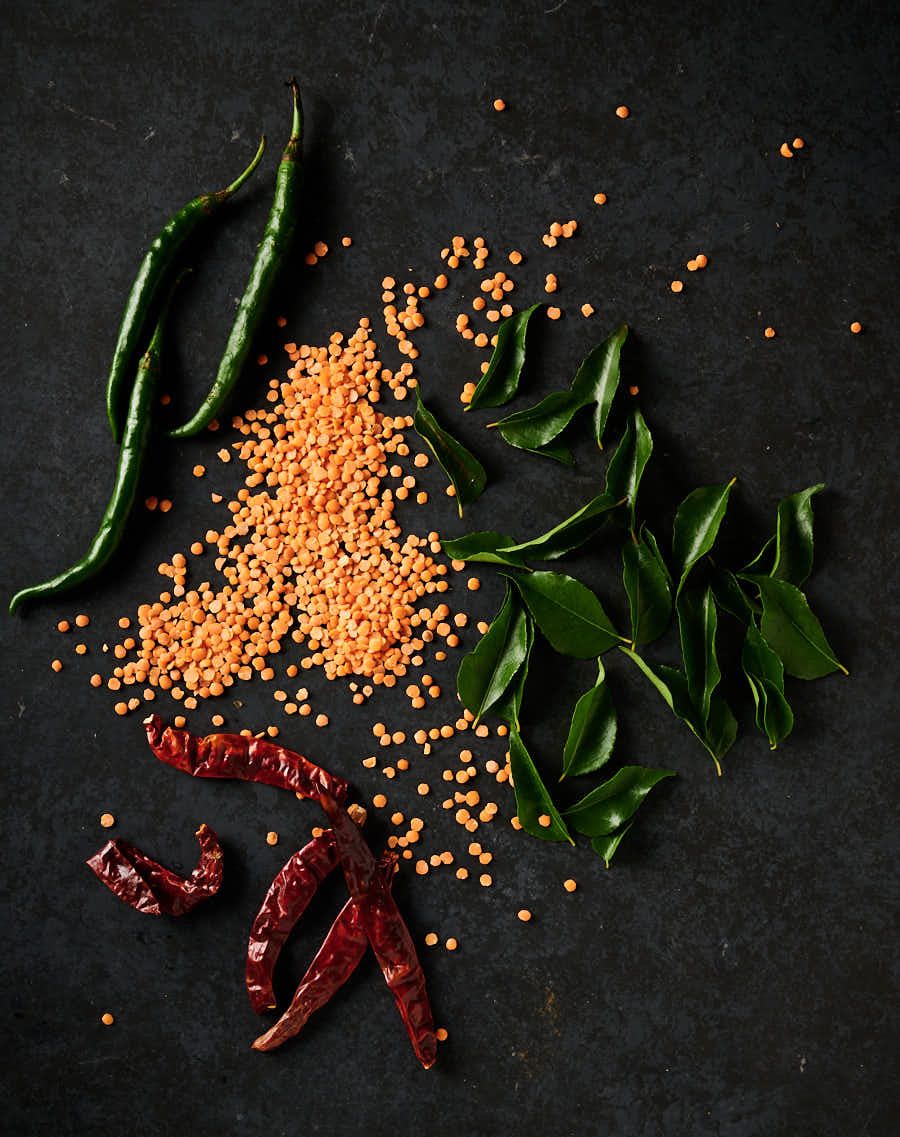 Vegetarian or vegan friendly
India has one of the biggest populations of vegetarians in the world. They have been figuring out how cook incredible vegetarian food for centuries.
So it should be no surprise that tarka dhal makes a great vegetarian entree. You can easily build a vegetarian menu around it.
Or serve it up as a side dish. It's great with rice. Or with Indian flat breads. You can even thin it out and serve it as a soup. I do that with leftovers.
Tarka dal is easy to make. It's healthy. Satisfying. And it's delicious. What more do you want?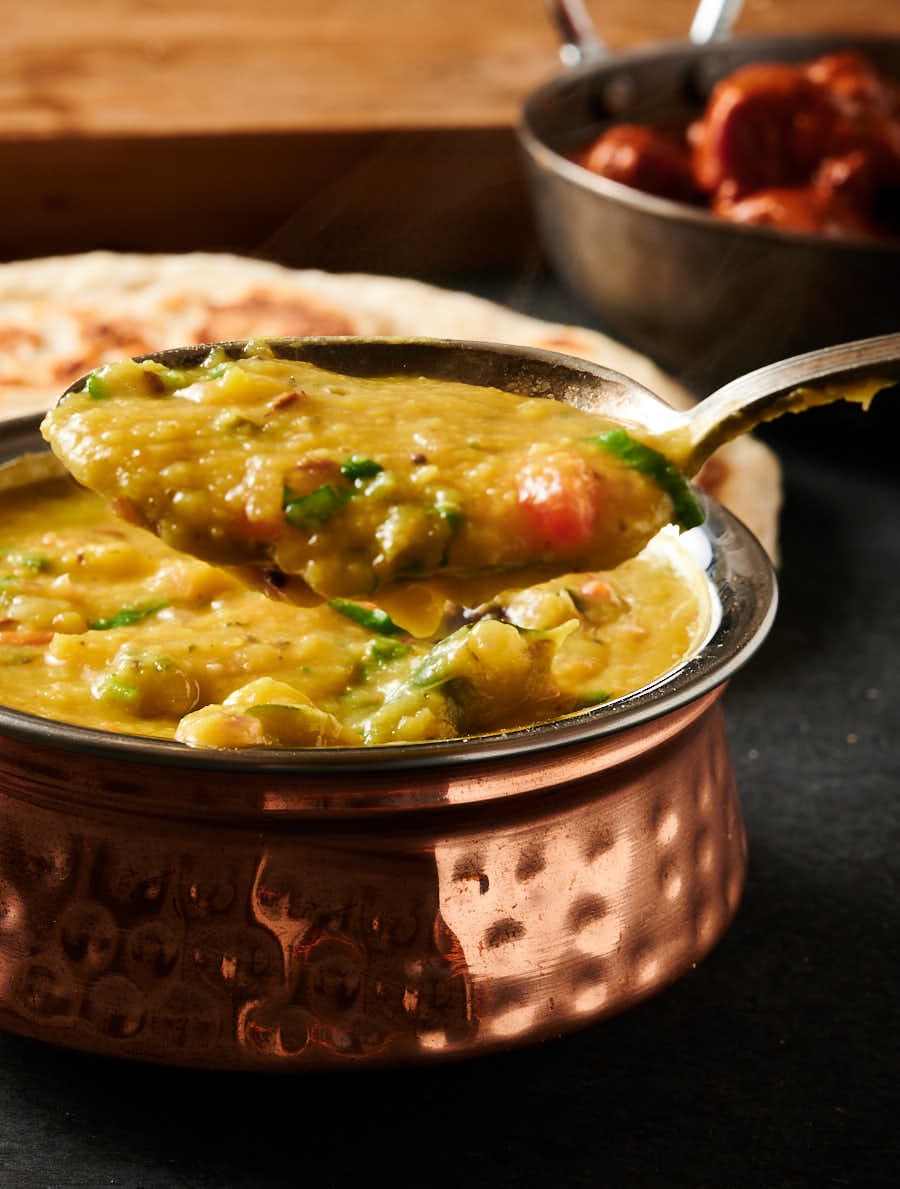 tarka dhal
Tarka dhal is a delicious complement to any Indian meal. It also makes a great main for any vegan Indian menu. If you can't get the curry leaves, just leave them out.
Ingredients
The dhal
1

cup

masoor dahl

3 1/2

cups

water

plus more as needed

1/2

tsp

turmeric

1

tsp

salt
The tarka
3

tbsp

oil

vegetable or other neutral oil

1

onion

finely diced

2

kashmiri chilies

optional

1

tsp

mustard seed

1

tsp

cumin seed

4

green chilies

de-seeded and chopped

10

or so fresh curry leaves

1

tsp

dried methi

– dried fenugreek leaves

1

tbsp

tomato paste

in 2 Tbsp water or some fresh tomato, diced

1

tbsp

lemon juice

– about 1/6 of a lemon

handful of cilantro

chopped
Instructions
The dahl
Combine the masoor lentils, water and turmeric.

Bring to a lively simmer uncovered. Uncovered is key. I've had lentils boil over on me more times than I can count. Now I start them uncovered. Problem solved.

Once the lentils come to a simmer, reduce heat to low and cover.

Cook lentils until they completely break down into a creamy consistency. You will not be able to discern individual lentils. This should take somewhere around 40 minutes.

Add the salt. You will adjust the seasoning at the end.
The tarka
Heat the oil over medium heat.

Add the kashmiri chilies if using. Cook until the edged just start to bubble.

Flip the kashmiri chilies. Add the mustard seeds and cumin seed and fry briefly. They should crackle a bit and dance around.

Turn the heat down a bit and add onion. Cook until the onions are translucent.

Add the green chilies, curry leaves and methi and continue to cook for around 2 minutes.

Stir in the tomato paste or fresh tomatoes if using. Cook for 20-30 seconds then add the tarka to the dahl..

Stir to thoroughly combine.

Adjust consistency to your taste with little bit of water (I like it a bit runny).

Add the cilantro and lemon juice to taste.

Adjust salt. Around a half a tsp give or take. Creep up on it. You can add salt. You can't take it away.

Enjoy.
Nutrition
Serving:
6
servings
|
Calories:
196
kcal
|
Carbohydrates:
23
g
|
Protein:
8
g
|
Fat:
8
g
|
Saturated Fat:
1
g
|
Sodium:
325
mg
|
Potassium:
347
mg
|
Fiber:
11
g
|
Sugar:
3
g
|
Vitamin A:
160
IU
|
Vitamin C:
41.2
mg
|
Calcium:
36
mg
|
Iron:
2.7
mg