Spanish lamb stew. A lighter stew. A stew for spring and summer. Winter is about beef and red wine. Summer is about lamb and white wine. Everything in balance Everything in season.
Spanish lamb stew is about the lamb and the paprika. Do yourself a favour and use the best of both you can get your hands on. The flavours are delicate so there's nowhere to hide. Bad ingredients – bad results. No way around it.
The Spaniards and Hungarians take their paprika seriously. The Hungarians have 8 categories of paprika before you even get into smoked or not. Forget what you know about no-name paprika. That's dust. Real paprika has flavour. Some have heat. Some have smoke. They all have character.
This is a brothy stew. Almost a really hearty soup. It stands on it's own. Maybe a little crusty bread on the side. It's become one of my favourites. I hope it does the same for you.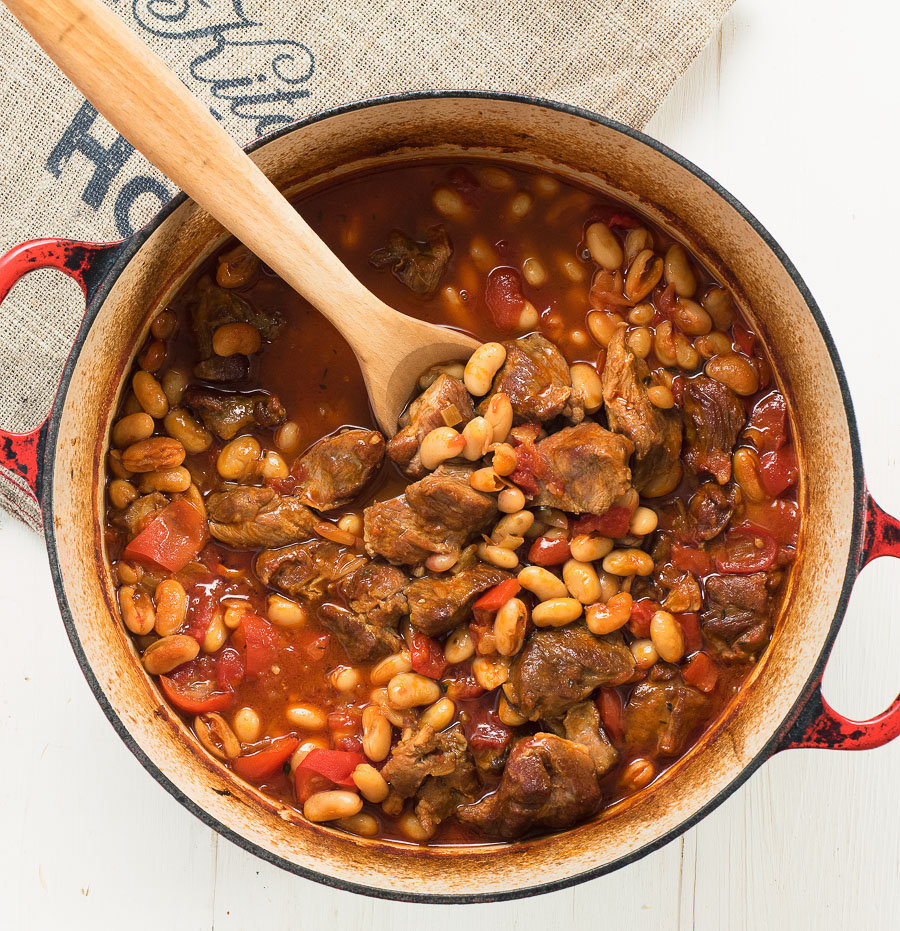 spanish lamb stew
Spanish lamb stew is a lighter, cleaner tasting stew. It's a stew for spring and summer. The paprika is a key ingredient so please don't use cheap, tasteless paprika or paprika that has been in your cupboard for months.
Ingredients
2.5

lbs

lamb stew

- preferably from the shoulder

3

Tbsp

olive oil

1

large onion

finely diced

1

red pepper

finely diced

3

cloves

garlic

crushed

A sprig or two of fresh thyme

1

Tbsp

good quality mild smoked Hungarian or Spanish paprika

1

28 oz can

plum tomatoes

drained and chopped - discard or drink the juice

1/2

cup

white wine

2

cups

lamb or chicken stock

1

Tbsp

sherry vinegar

2

19 oz cans

white kidney beans

salt to taste
Instructions
Pre-heat your oven to 325F.

Heat the oil in a dutch oven large enough to hold all the ingredients.

Season the lamb generously with salt and pepper.

Working in batches to avoid overcrowding the pan, brown the lamb. You don't want to go crazy here. Just a golden brown. Regulate your heat carefully.

Remove the lamb from the pot and spoon off all but about 2 Tbsp of fat.

Add the onions and red peppers and cook until the onions are soft and translucent, about 4-5 minutes.

Stir in the garlic, paprika and about a tsp of salt. Cook for an additional 1-2 minutes, stirring every few seconds.

Add the tomatoes, stock, white wine and vinegar. Return the lamb and any accumulated juices to the pot and bring to a simmer.

Cover and place in the pre-heated oven. Cook for about 75 minutes.

Add the white kidney beans and return to the oven. Cover and cook another 30 minutes.

After 30 minutes, check the lamb. If it isn't yet tender, cook another 15-20 minutes.

Remove from oven and check the liquid level. You want some broth. Add a bit if it needs it.

Adjust the salt. Do this in stages. It's easy to add salt. Hard to remove it. Add a bit. Stir. Taste. Keep going until you get it right.

Serve with crusty bread or nothing at all.