Next time you want to mix up your grilling, try Thai grilled chicken with sweet chili sauce. Smoky, sweet and spicy, it's a south-east asian flavour explosion. Seriously. Try it.
I'm always looking for better ways to grill chicken. Different ways. Anything to avoid serving grilled chicken with BBQ sauce. Thai grilled chicken fits the bill.
I'm not saying grilled chicken with BBQ sauce is bad. It's a staple. It's easy. The fact that every supermarket sells 6200 types of BBQ sauce tells me it's popular.
It also tells me everyone is doing it. Run of the mill. Boring even. Burn a little chicken. Hide it with some Bull's Eye BBQ sauce. Sound familiar?
Thai grilled chicken is about big flavours
Doesn't have to be like that. Thai grilled chicken isn't boring or run of the mill. It is a double layer of big flavours. A good soak in a blend of red thai curry paste, garlic and ginger makes sure of that.
Add the kiss of smoke and you have something special. Grill marks. Crispy skin. Summer grilling heaven.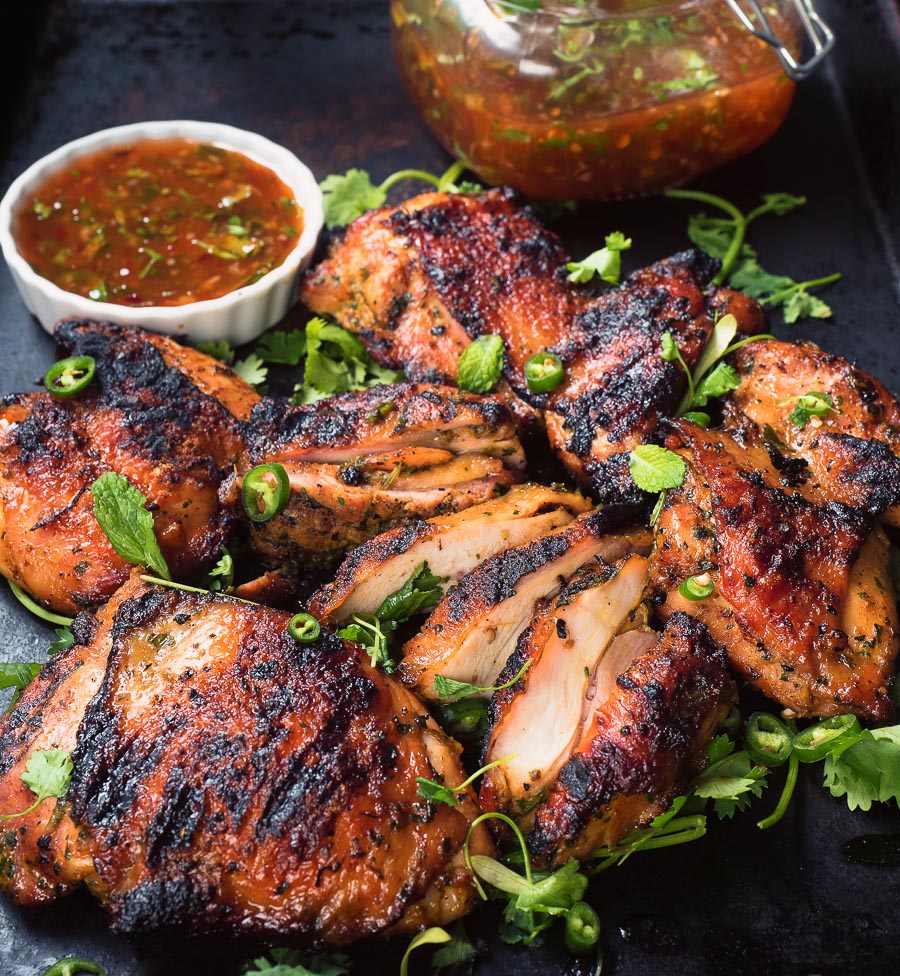 Add Thai chili dipping sauce to push it over the top
This Thai grilled chicken and marinade can stand on its own. No doubt. Big flavours at their best. You don't need anything else. Nobody will be disappointed if you serve it on its own. No danger there.
But if you want to make something crazy. Make something people will rave about. Then add the dipping sauce. Big bold marinade meets big bold dipping sauce.
This dipping sauce isn't just for this chicken dish. You can use it as a dip for anything grilled. Or deep fried. Or on a sandwich. It's sweet, sour, salty and a bit hot. All the big south east Asian flavours in one place.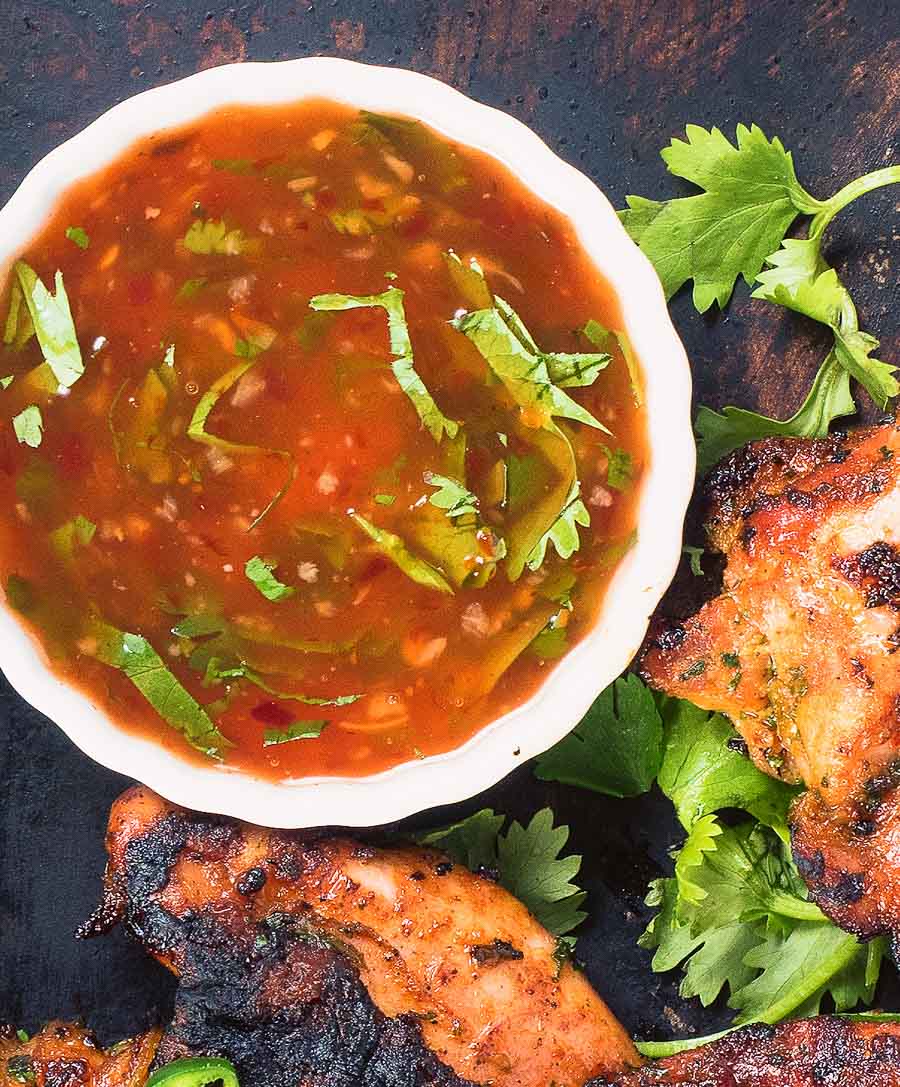 Grilling technique is key for perfect Thai grilled chicken
Grilling technique figures here as well. Charcoal is better but gas will work too. A mix of direct and indirect heat. Start your chicken over indirect heat. You want the temperature high. Like 450-500F.
When it's almost done put a few pieces over the direct heat. Let it char a bit. Get some grill marks. Watch it closely though. There's sugar in the marinade. Sugar burns easily.
When they are just right move them back to the indirect zone and repeat with a few more pieces. Keep going until all the chicken is just the way you want it.
Flavourful marinade. Smarter cooking technique. A really, really good home-made sauce. A bit of smoke. Thai grilled chicken with sweet chili sauce isn't a whole lot more work. But it's a whole lot tastier.
thai grilled chicken with sweet chili sauce
Kissed with smoke, this Thai grilled chicken with sweet chili sauce is sure to please.
Ingredients
Chicken
8

pieces

chicken

I used boned, skin-on chicken thighs

2

cloves

garlic

crushed

1

tsp

grated ginger

5

good sized sprigs of cilantro

leaves, stems and even roots if you have them

2

Tbsp

soy sauce

1

Tbsp

fish sauce

1

Tbsp

sugar

1/2

tsp

ground black pepper

- white is more authentic if you have it

1 1/2

Tbsp

Thai red curry paste

2

Tbsp

neutral vegetable oil
Sweet Thai chill sauce
3

Tbsp

sambal oelek chili paste

2

cloves

garlic

minced

1/2

cup

rice wine vinegar

2/3

cup

white sugar

2/3

cup

water

1

tsp

salt

4

tsp

cornstarch

good handful of chopped cilantro
Instructions
Chicken
Combine all the ingredients except the chicken in a food processor and pulse until you get a smooth paste.

Toss the marinade with the chicken and set aside for up to an hour.

Prepare your grill for indirect heat. Place a drip pan under the chicken. Grill, skin side up, for about 10 minutes. Turn the chicken and continue to grill another 5 minutes. Keep the grill lid down for this step.

Working with two or three pieces at a time, place the chicken over direct heat and grill to crisp and colour the skin. The lid stays up the whole time. It will flare up so be ready to move it out of the way. Repeat until all the chicken is coloured up.

Return the chicken to indirect heat, cover again and cook until an instant read thermometer registers 160 for white meat and 170 for dark meat. Allow the chicken to rest briefly and serve with sweet Thai chili sauce.
Sweet Thai chili sauce
Combine all the ingredients except the cilantro. Stir to combine thoroughly and heat, over medium low heat until it comes to a gentle boil.

Reduce heat and simmer for 5 minutes.

Cool.

When cool, add the chopped cilantro and stir to combine.
Notes
The sweet Thai chili sauce is from Mai Pham's The Best of Vietnamese and Thai Cooking. I have never found a better one. It's a really good book. If you can find a copy, grab it.
When you add the cornstarch the sauce will turn this horrible pasty white colour. Don't freak out. It will go clear once it reaches the boiling point.
The Thai red chili paste is available in most grocery stores and all Asian markets. My favourite is a brand called Maesri but pretty much anything will work.
Nutrition
Serving:
4
servings
|
Calories:
253
kcal
|
Carbohydrates:
45
g
|
Protein:
2
g
|
Fat:
7
g
|
Cholesterol:
1
mg
|
Sodium:
1447
mg
|
Potassium:
115
mg
|
Sugar:
38
g
|
Vitamin A:
205
IU
|
Vitamin C:
4.7
mg
|
Calcium:
8
mg
|
Iron:
0.4
mg