In Mexico they make crispy pork carnitas in giant pots of barely simmering pork lard. They don't change the lard. It just gets more and more flavourful as literally tons of pork shoulder pass through it. It's perfect. The pork seasons the lard and the lard seasons the pork. Pure pig goodness. This is a scaled down version. No giant pots. No cooking tons of pork a week. But a little bit of pure pork goodness nonetheless.
I like this version a lot. I like my sous vide carnitas approach too. The sous vide approach gives you a really meltingly tender carnitas. This is toothier but it's big on crispy pork carnitas flavour. I think this one edges out the sous vide version. My wife thinks the opposite.
This isn't a slow cooker recipe. I don't think you can get the pork right using a slow cooker. I'm not saying you can't get something wonderful from your slow cooker if you keep the liquid to an absolute minimum. But I am saying I don't think they are really crispy pork carnitas like they make in Mexico.
This one doesn't quite do it either but it's a lot closer. I bet this is the technique used in restaurants serving carnitas as one of many things on the menu. My version is a scaled down restaurant version. I'm guessing they do it in a low oven in big insert pans. Two or three pork butts at a time. Here it's an oven safe baking dish. But it's pork lard. Not a lot of pork lard. But pork lard. Everybody should have some pork lard next to the duck fat in the fridge. Doesn't take up a lot of room. And it's so good. Make room for it by throwing out that giant bottle of Sriracha. What do you need that for?
This recipe is based on the Serious Eats recipe. It's not too far off. There's a dry brine. Pork lard instead of vegetable oil. Cooking times were about an hour longer. The pork was crisped up using a cookie sheet to maximize crisping surface area. But fundamentally it's the same recipe. Take some pork. Add some onions and orange. Don't be afraid of the orange. Sounds strange but it's a background flavour. Pour in some fat. Cook. Shred. Broil. It's just as straight forward as that.
Crispy pork carnitas are great taco fixins. Awesome nacho topping. The secret to crazy good grilled cheese. Or in killer mac and cheese. But they are best just shovelled into your mouth as they come out of the oven. Seriously addictive stuff.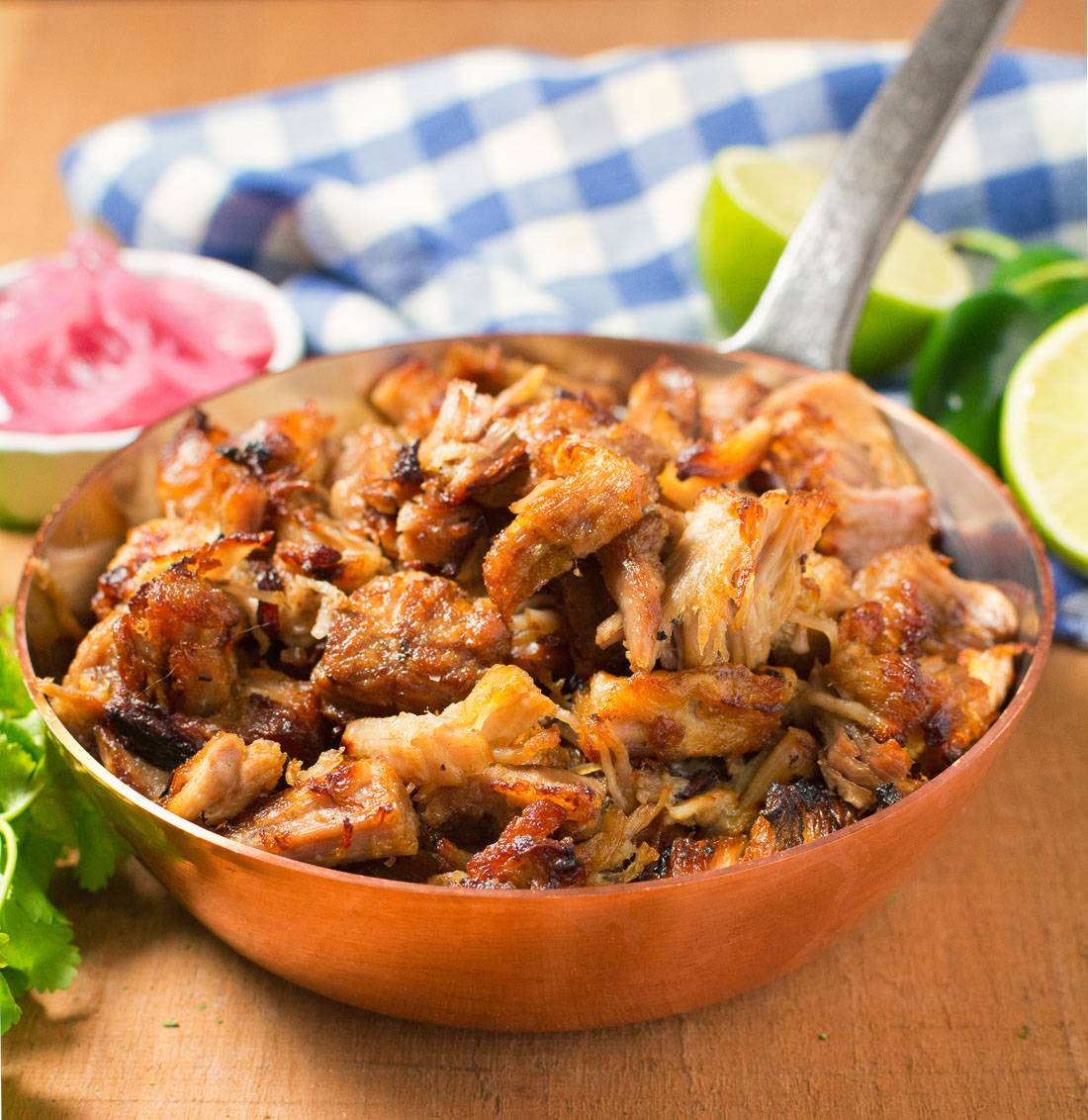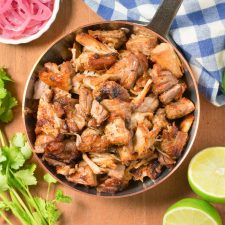 crispy pork carnitas
Serve crispy pork carnitas in tacos, on nachos, in a grilled cheese sandwich or with eggs. Anywhere you can think of really. It will probably work.
Ingredients
3

lbs

boneless pork shoulder

cut into 2-3 inch cubes

1

orange

halved

2

onions

quartered

2

bay leaves

4-5

cloves

garlic

split

1

cup

rendered pork lard

melted (vegetable oil can be substituted if you can't get lard)
Instructions
Dry-brine the pork
One or two days before you want to serve the carnitas, slice the pork shoulder in half (for a 3 lbs roast).

Salt liberally.

Wrap and refrigerate.
Make the carnitas
Pre-heat your oven to 275F.

Cut the pork into large 2-3 inch cubes.

Place the pork, bay and quartered onions in an oven proof dish just barely big enough to hold the ingredients. Make sure there's a bit of extra height so you don't spill hot oil onto your floor (yes, I did that the first time I made these)

Squeeze the juice of the orange over the pork then nestle the two rinds in with the pork and onions.

Pour enough pork lard overtop to just cover the meat.

Cover tightly with foil and cook until the pork is fork tender. This takes about 4 hours. This step will vary from oven to oven. Temperature control in ovens is not all that precise.

When the meat is fork tender use tongs to remove the pork. Shred the pork. A couple forks works well for this.

Pour 6-7 Tbsp of the pork lard over the top of the shredded pork. Save the rest to do other things. It's now become about the best thing there is on the planet for frying eggs FWIW.

The pork will give off some liquid as well. Use a fat separator. Serious eats suggested making a cooked salsa with this leftover liquid. Not a bad idea at all.

When you are ready to serve, set your oven to broil with the rack about 4 inches from the element. Place the pork and fat on a sturdy cookie sheet. Broil until crisp (4-5 minutes), then give it stir to expose the not yet crispy side and crisp that up too.

Taste and season. Depending on how much salt you added for the dry-brine you may or may not need more salt.