I live in Canada. I have a taco addiction. That's a bit of a problem. There are no taco trucks here. No mom and pop taquerias. There are a couple of places doing great tacos in town but there are lineups. For tacos. That's why I make my own. Loaded carnitas tacos are how I get my taco fix at home. And you can too.
Carnitas are the star of this particular taco. Lousy carnitas – lousy tacos. Well, that's not the only place to fall down with tacos. Lousy tortillas – lousy tacos. But let's not get distracted. I make carnitas a couple different ways. Sous-vide carnitas are really good. Make them ahead of time and just fry them up to order. Or you can go old-school and make more traditional pork carnitas. They are really, really good too.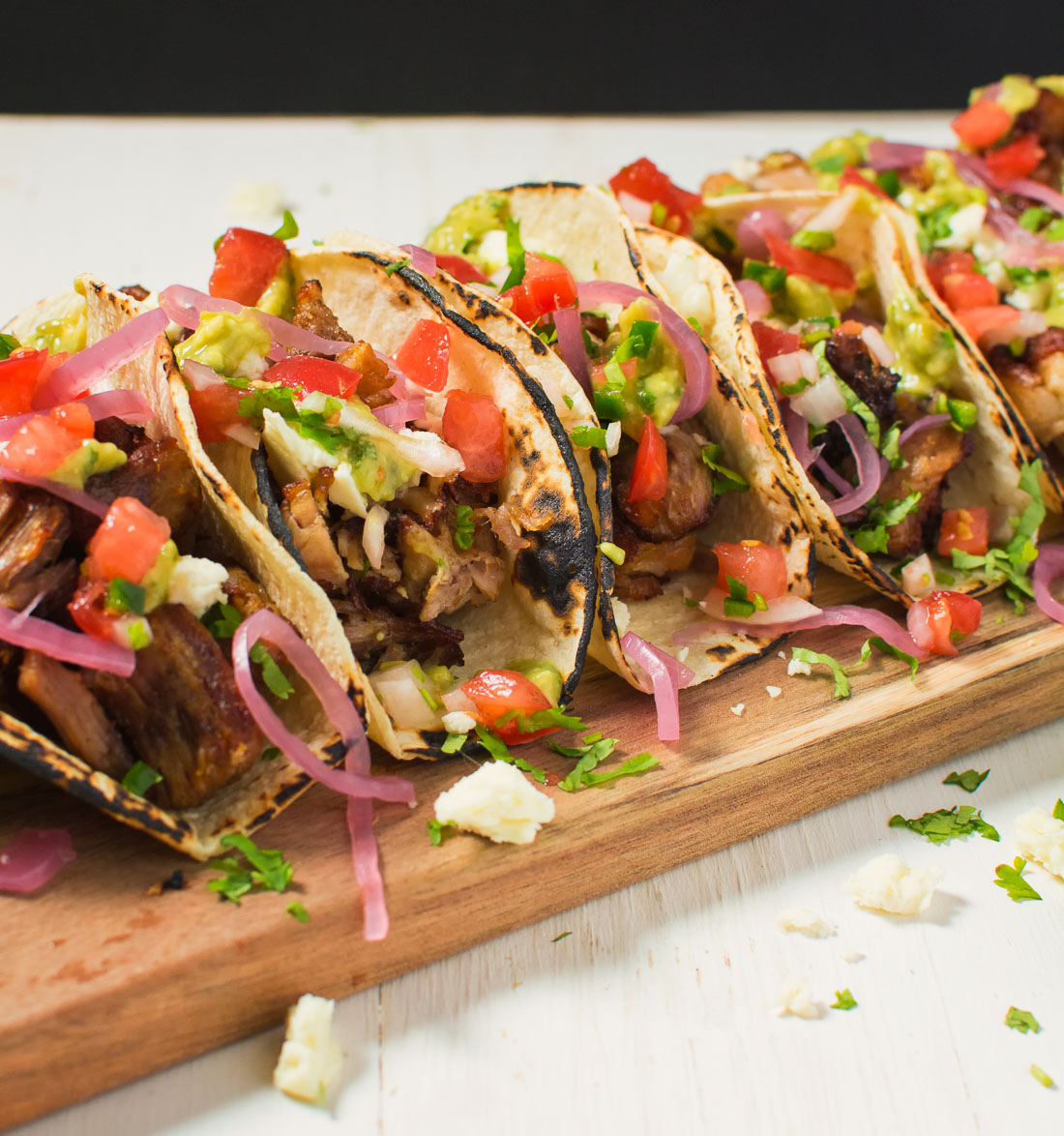 Once you have your carnitas sorted out and you have some decent corn tortillas it's time to turn to the filling. I like a few garnishes in these loaded carnitas tacos. Pickled onions – check. Queso fresco – check. Home made pico – check. And avocado tomatillo salsa. That's a great salsa for pork.
Avocado tomatillo salsa is a nice addition to loaded carnitas tacos but it's great on burgers and sandwiches too. Boil 2 or 3 tomatillos with a bit of jalapeño and a clove of garlic. Drain, toss it in a food processor with an avocado and a big handful of cilantro. Blitz it all together. Add salt to taste. And the cool thing is it doesn't turn brown in no time like guac. It lasts hours. A day or more even.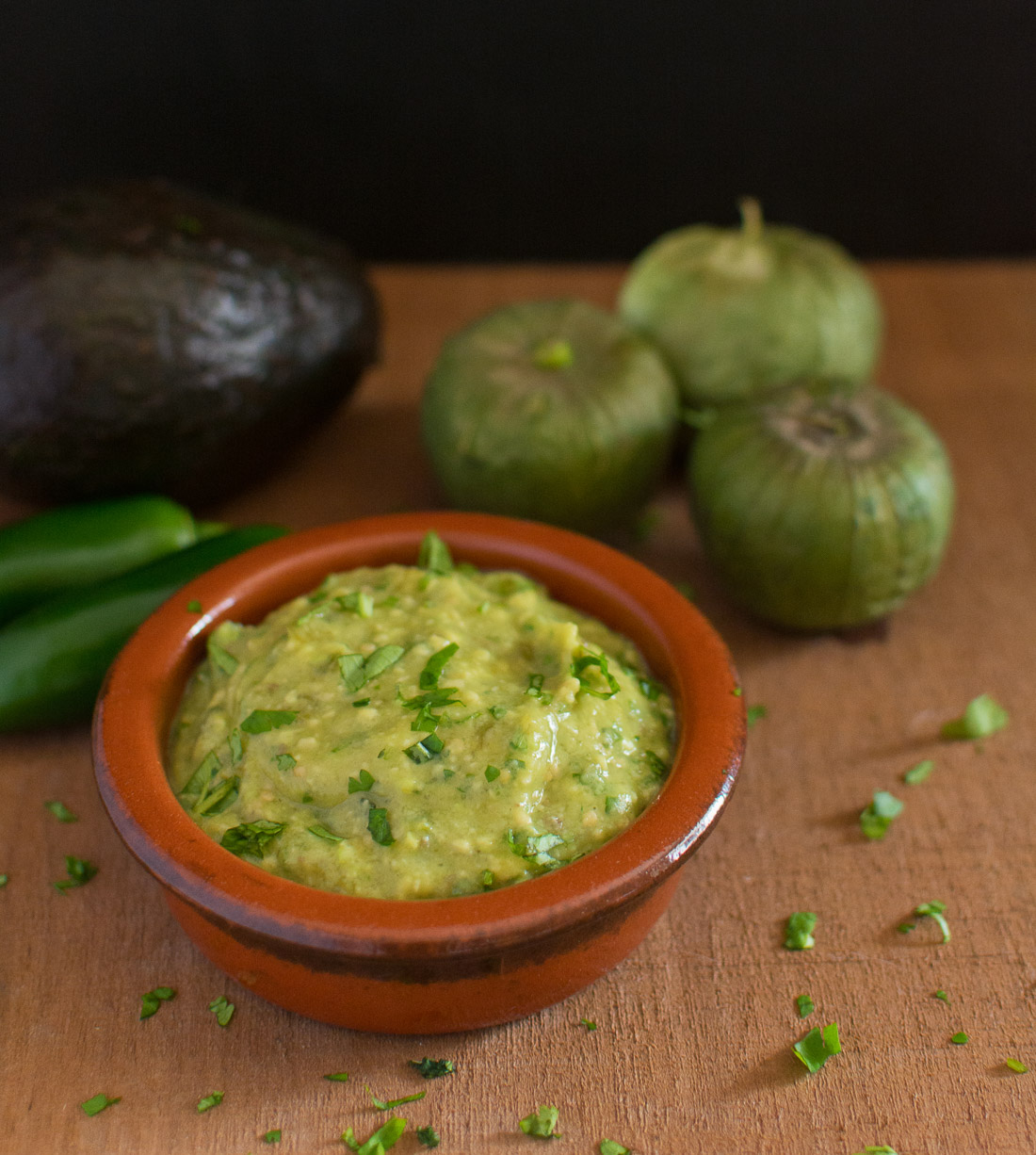 Then all that's left it to build them. A tortilla, some carnitas and then the toppings you love. It's how I deal with my addiction. You can too.
loaded carnitas tacos with avocado tomatillo salsa
Loaded carnitas tacos make a delicious and really quick weeknight meal. Just make sure you make the carnitas on the weekend so they're ready when you need them.
Ingredients
Avocado tomatillo salsa
3

fresh tomatillos

husked

1/2

jalapeño

seeded. You can go up to one whole jalapeño

1

clove

garlic

1

ripe avocado

peeled and seeded

6

sprigs of cilantro

minced

salt to taste
Loaded carnitas tacos
Pork carnitas

sous vide or old-school (see above for links)

12

corn tortillas

Pickled onions

Queso fresco

Pico de gallo

Avocado tomatillo salsa
Instructions
Avocado tomatillo salsa
Cover the tomatillos, jalapeño and garlic with water in a small saucepan.

Bring to a simmer and cook until the tomatillos darken, about 15 minutes.

Drain and let cool.

Combine the tomatillos, jalapeño, garlic, avocado and cilantro in a food processor and pulse until smooth.

Salt to taste.
Build the tacos
Wrap the corn tortillas in a clean dish cloth, dampen the cloth slightly and microwave until hot.

Top tortillas with carnitas and top with the garnishes of your choice.
Notes
The carnitas take time to prepare. Make sure you allow for it. Read the recipes before you plan your meal.