Sausage with peppers. A classic American-Italian dish. Fry some sausage. Add peppers and onions. A bit of garlic. Some dried oregano and basil. Pile it on a hoagie. Melt some cheese. That's downtown.
Roast sausage for colour. Sweat peppers and onion slowly until melting. Add white wine. Reduce. Now the tomato. Simmer. Add the browned sausage. Simmer a bit more to bring the flavours together. Serve on polenta enriched with butter, cream and fresh grated parmigiano-reggiano. Simple, clean tastes. That's uptown.
Internal temperature of the sausage is key. 150-160F is where the magic happens.  Lower and the sausage is underdone. Higher and it starts to dry out. Nail it and it's juicy and delicious. This is true no matter how you cook your sausage. Something to keep in mind next time you grill.
The polenta makes a nice foil for this dish. The tang and richness of the cheese balances nicely against the acid of the tomato. It's not essential but it's a nice touch. You could also pile this on a hoagie with melted cheese. That's midtown.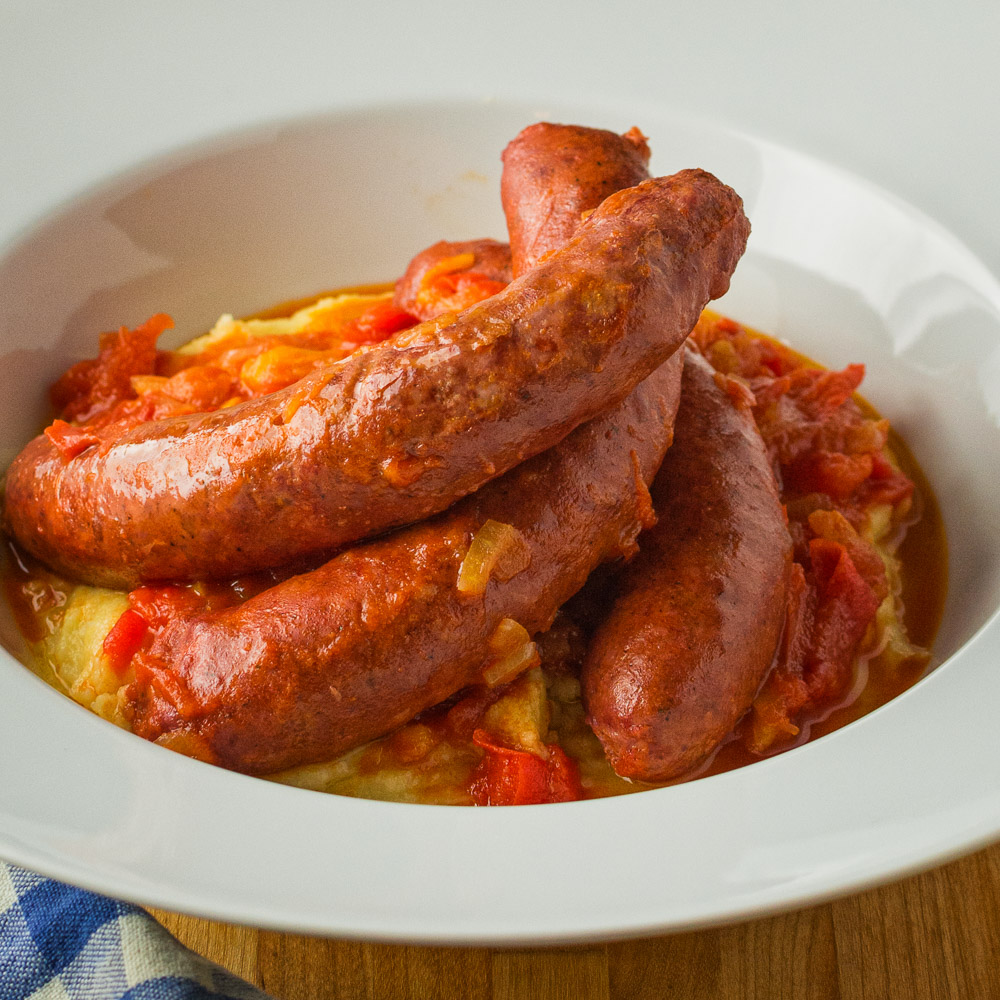 sausage with peppers and polenta
This upscale version of sausage with peppers focuses on clean flavours and simple ingredients.
Ingredients
4

hot or sweet Italian sausages

- how you like it

3

Tbsp

olive oil

1

large onion

halved and then thinly sliced into half rings

2

red peppers

sliced thinly

1/4

cup

white wine

15

oz

canned diced tomatoes

salt
Instructions
Pre-heat oven to 400F.

Thinly slice onions and red peppers.

Heat olive oil in a pot large enough to hold all the ingredients.

Add the onions and peppers and cook, over low heat for 3-4 minutes, stirring frequently.

Cover and cook for 15-20 minutes, until onions and peppers and thoroughly softened.

Add white wine. Boil to reduce to a syrupy glaze.

Add tomatoes and simmer 15-20 minutes.

Now is a good time to start to cook the polenta.

Place sausages on a sheet pan and roast for 5-7 minutes turning once.

Place sausage in the tomato red pepper mixture and simmer until the sausage reaches an internal temperature of 150-160F, around 10 minutes.
Notes
Cooking times are approximate. Different sized sausages require different cooking times. Times suggested here work for medium sized sausage. Use your instant read thermometer...
creamy polenta with parmesan
Add the polenta to boiling stock slowly. Otherwise you will get lumps.
Ingredients
2

cups

chicken stock

1/2

cup

polenta

- this is corn meal

2

Tbsp

butter

2

Tbsp

heavy cream

1/2

cup

parmigiano reggiano

grated
Instructions
Bring the chicken stock to a boil.

Add the cornmeal slowly, stirring constantly. Slowly! You don't want lumps.

Reduce heat to low and cook, stirring every few minutes, until the texture turns creamy. This takes around 30 minutes. Dig into the corners of the pot when you stir.

Remove from heat. Mix in butter, cream and cheese.

Serve quickly. Polenta waits for no-one.