Sometimes you need a steak but you can't get to your grill. It might be raining. It might be covered with a foot of snow like mine is. Pan frying steak is a great way to get your fix no matter what's going on outside. Steak salad with cilantro lime vinaigrette is a little taste of summer any time you want it.
Pan frying steaks can be a bit tricky but there's a restaurant trick. There always is. That perfectly done steak that's pink from side to side can be done at home using a sous-vide. Really great steakhouses probably don't use them but the fancy restaurants that have steak on the menu? They probably do.
Sous-vide technology has come way down in price. The immersion circulator types like Anova go on sale for around a hundred bucks. And they're compact. Just the circulator/heater. The actual water bath is a big pot. The one you already own and store in your kitchen. You can use a food saver to seal the steaks. Or use ziplock bags and squeeze the air out as best you can. Zip it up almost all the way and use a straw to get this done. Just stick the straw in the bag and suck. Easy.
This is a steak salad recipe but there's absolutely no reason this technique can't be used to make any steak dish. The sear process throws a decent fond so you can make fond based sauces just as easily. These immersion circulators really do add to the home cooks arsenal. Look into them when you have a chance.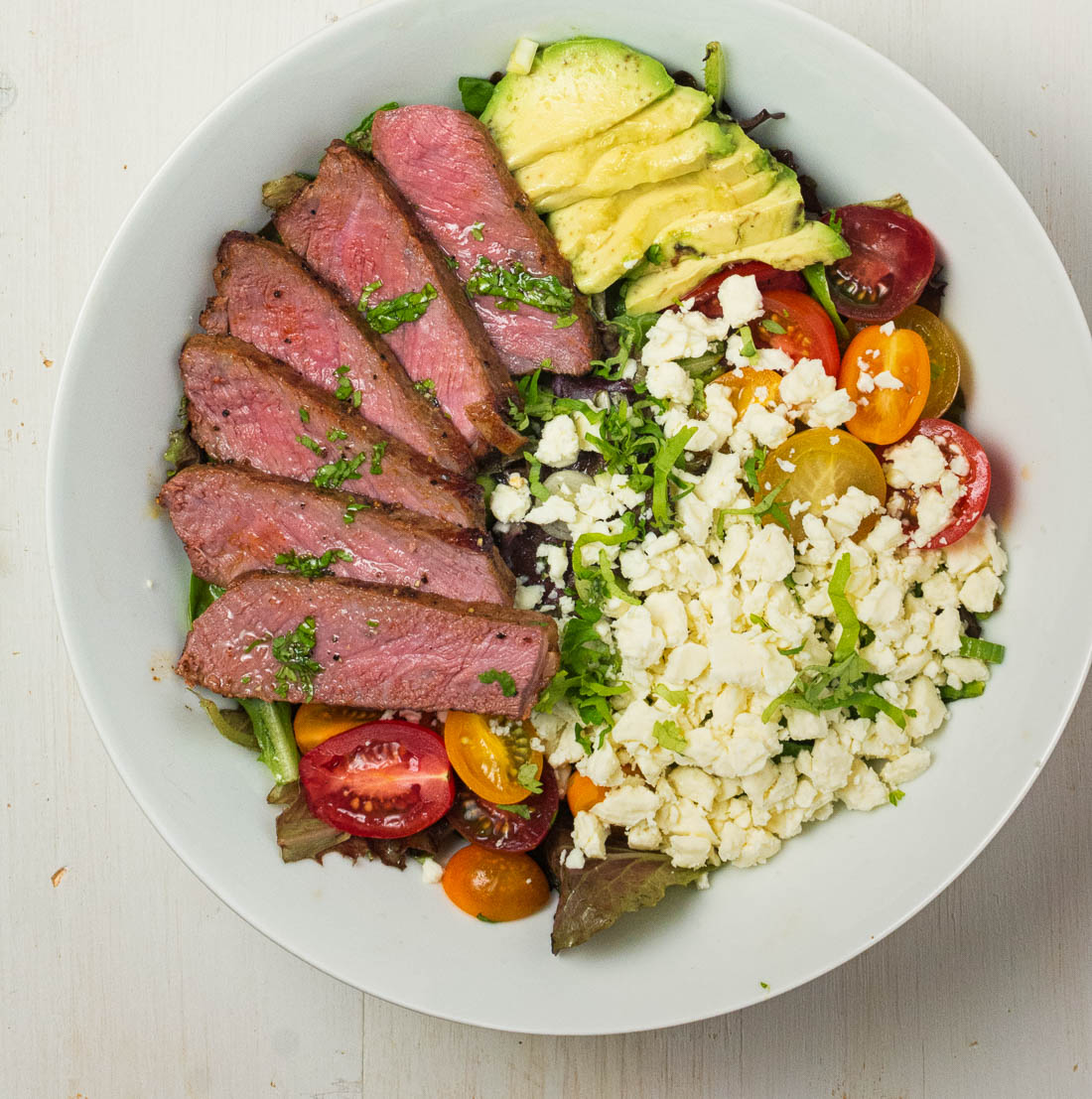 steak salad with cilantro lime vinaigrette
This steak salad with cilantro lime dressing is a little taste of summer all year long. I use New York striploins but any decent cut of steak will do just fine.
Ingredients
2 12

oz

steaks

- new york, sirloin etc

8

cups

mesclun

- mixed greens

2-3

green onions

sliced

1

cup

cherry tomatoes

halved

1

avocado

sliced

1

cup

queso fresco

- you can substitute feta, crumbled

Cilantro lime vinaigrette

- recipe follows
Steak seasoning
granulated garlic

chili powder

salt

coarse black pepper

- butcher's grind works here
Cilantro lime vinaigrette
1

Tbsp

lime juice

- fresh squeezed

2-3

Tbsp

vegetable oil

- depends on how big your lime is

2

tsp

honey

2-3

Tbsp

finely sliced cilantro leaves

stems discarded

1/4 - 1/2

tsp

salt

to taste

1/4

tsp

black pepper

1/8

tsp

granulated garlic
Instructions
Cilantro lime vinaigrette.
Warm the bowl (this helps to get the honey to dissolve)Combine all the ingredients for the cilantro lime vinaigrette. Stir until the honey dissolves. Adjust salt and honey to taste.

Steaks
Vacuum seal the steaks individually. If you don't have a food saver gizmo yet, use ziplock bags. That works.

Sous vide the steaks for 2 hours at 122F for rare, 128F for medium rare. They will cook a bit more when you sear them.

Season the steaks liberally with salt, pepper, granulated garlic and chili powder.

Heat a heavy frying pan over medium high heat. Film the bottom with olive oil (butter can burn, it's good but it's trickier to do).

Sear the steaks on both sides until brown.

Next sear the edges (you want them to brown up as well). The steaks were cooked through when they hit the pan so you don't need to worry about them being done.

Remove from pan, tent with foil and let rest 5 minutes.
Salad
Combine the greens, green onion and cherry tomatoes. Toss with cilantro lime vinaigrette to taste and divide into 4 bowls.

Slice the steaks. Don't let any accumulated juices get away.

Top the dressed greens with avocado slices, sliced steak and crumbled cheese. Drizzle any accumulated juices over the steak and drizzle a bit more vinaigrette over top.