Yucatan pickled onions are one of those great condiments. They can be used all over the place. Tacos – obviously. In sandwiches. On burgers. With grilled meats, poultry or fish. Pretty much anything that isn't dessert.
And they're super easy to make. Foolproof really. They keep well in the fridge. For weeks. Ready to brighten whatever you're eating. I like to keep some on hand all summer long.
Yucatan pickles onions are a snap to make
Super easy to make might even be an understatement. Slice some onions. Combine all the ingredients except the onions in a little sauce pan. Bring to a boil. Toss the onions into the pan. Simmer for one minute. Cool. Eat. That easy. Nothing to it at all.
But they are so good. Once you have them in your fridge you'll understand. Need a bit of extra flavour to make sandwich great. Check. Some zing to absolutely any kind of burger. Check. Need a snack staight out of the jar. Big check.
You can add some zing to Yucatan pickled onions if you want. Pickle a seeded jalapeño into them and it's a whole different experience. A bit of habanero works too but make sure you devein it.
Unless you like screaming hot. But that would make them less of a condiment and more of a test. How tough are you? Can you handle these incendiary pickled onions. Kind of odd but whatever works for you…
You can also add some fresh lime juice. They're pickles, not a chocolate souffle. You can mess with the recipe and it will turn out just fine.
This particular recipe yields pretty tender onions. If you want more crunch, bring all the ingredients except the onions to a boil. Put the onions in a bowl and pour the boiling liquid and seasonings over the onions. Let them stand at room temperature until cool.
Use them everywhere. Use them often. They will become a staple.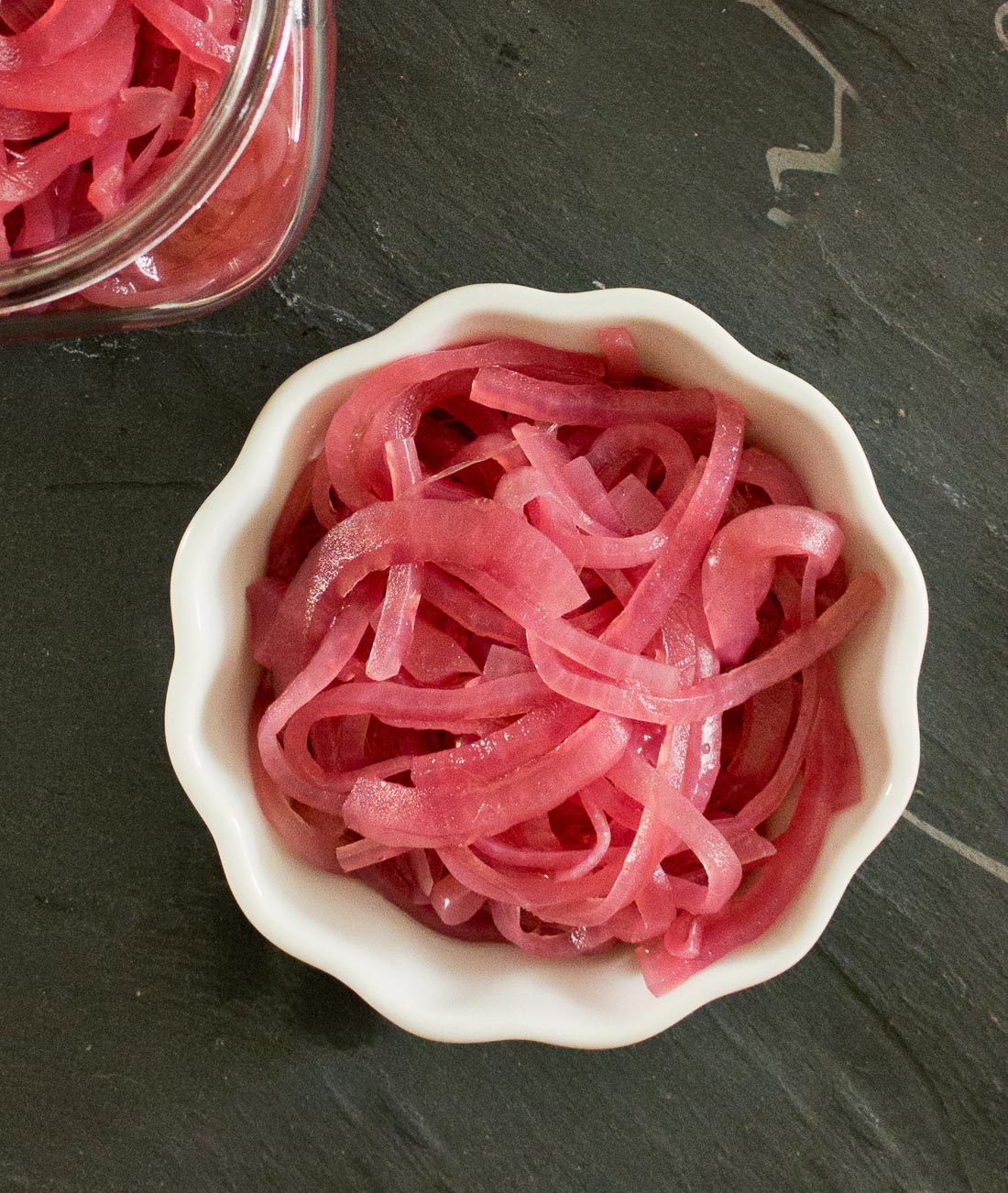 yucatan pickles onions
Yucatan pickled onions add a burst of flavour to tacos, sandwiches, burgers and grilled meats. Add jalapeño or habanero if you want a bit of heat.
Ingredients
2

large red onions

sliced about 1/8 inch thick

2

cloves

garlic

cut in half

1 1/4

cups

cider vinegar

1 1/4

cups

water

1

clove

5

allspice berries

whole

1/4

tsp

black peppercorns

whole

3

Tbsp

sugar

1

tsp

salt
Instructions
Bring all ingredients except the onions to a boil in a saucepan large enough to hold the onions.

Add the onions and cook for 1 minute.

Remove from heat and let cool to room temperature, stirring occasionally.

Store in a sealed jar in the fridge.

Let the onions stand for at least 4 hours or overnight before serving
Nutrition
Serving:
20
g
|
Calories:
15
kcal
|
Carbohydrates:
3
g
|
Sodium:
118
mg
|
Potassium:
26
mg
|
Sugar:
2
g
|
Vitamin C:
0.9
mg
|
Calcium:
4
mg
|
Iron:
0.1
mg