Korean chicken wings. Crispy Korean fried chicken wings with gochujang drizzle. Seriously delicious stuff. For when you want to impress.
Korean fried chicken wings are crazy delicious
This is the kind of stuff I dream about. Korean fried chicken wings are so crispy they are loud when you bite into them. Loud. That's music to my ears.
These wings are way better than most restaurants make. This is what would happen if good restaurants served Korean chicken wings. The coating is ultra-crispy. The chicken super tender.
The sauce sweet and salty and spicy. I actually surprised myself the first time I made them. I'm going way out there on this one. I know. But they are that good. Crazy good.
And the beautiful thing about these Korean fried chicken wings is they are pre-cooked before they ever hit the deep fryer. No worrying that they are done. How? Sous-vide. That's how.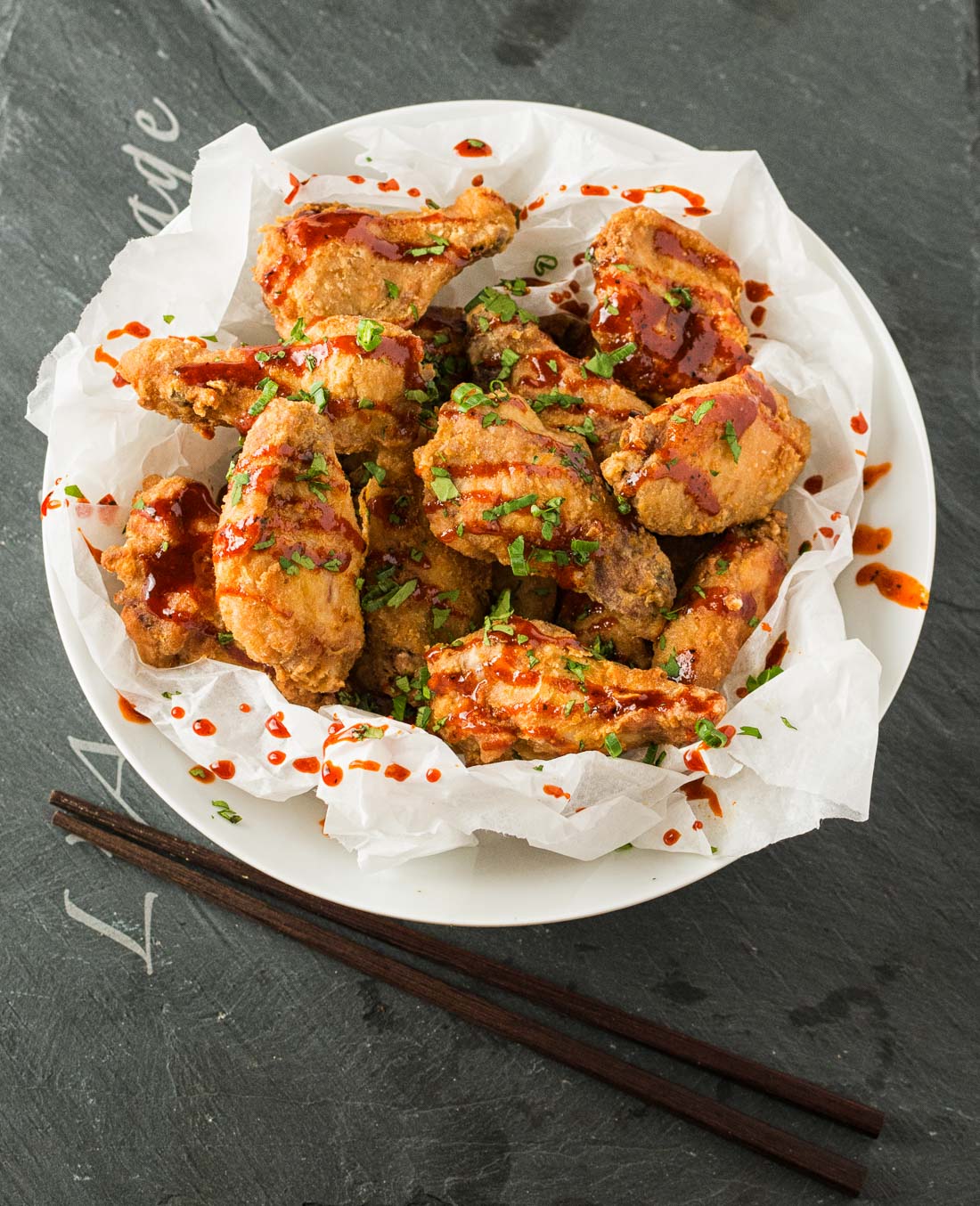 Sous vide for perfectly cooked wings every time
This is one of those annoying blog posts where the author tells you get this piece of equipment if you want to make this. I'm a bit embarrassed to be writing it actually.
But here goes. Get a sous vide machine. Just do it. It's time…
They have come way down in price. You can get one for around a hundred bucks. And they put you on an even footing with restaurant kitchens.
It's a secret weapon restaurants have been using for years. Now you can have it too. It's a handy little tool to have around.
Sous vide lets you cook perfectly. Every time. You can cook your steaks exactly right. Every time. You can make perfect Korean fried chicken. Every time. Getting it?
Restaurants need to get it right every time. Now you can do the same. Every time. That's the wonderful thing about it. Consistency.
Deep fry for shatteringly crispy
The great thing about this recipe is the chicken is cooked before you start deep frying. No worrying about whether the chicken is done here. It's done when it come out of the sous vide.
The frying is all about creating crunch and colour. Three minutes per batch. No waiting. Perfect for parties.
And once you get it down it doesn't just need to Korean chicken wings. You can take these almost anywhere you want. Teriyaki. Sweet Thai red chili. Anything asian inspired with a bit of sugar will work.
Korean fried chicken wings with gochujang drizzle. Easy. Final cook of 3 minutes. Perfect for parties. Wow your friends.
korean chicken wings with gochujang drizzle
These Korean chicken wings are ultra-crispy, super-tender wings with a spicy Korean dipping sauce. The best thing - they are absolutely foolproof and take only minutes for the final fry before serving.
Ingredients
The chicken
2

lbs

chicken wings

cut into pieces, tips discarded

1/2

cup

flour

1/2

cup

corn starch

2

tsp

kosher salt

1

tsp

baking soda

oil for deep frying
The Korean BBQ sauce
1

Tbsp

rice vinegar

1

Tbsp

mirin

2

Tbsp

gochujang

1

Tbsp

soy

1

tsp

sesame oil

1/4

tsp

black pepper

2

Tbsp

sugar
Instructions
Sous vide the wings
Vacuum seal the wings.

Cook, sous vide, for 2 1/2 hours at 144F.

Remove from the water bath.
Make the gochujang drizzle
Combine the rice vinegar, mirin, gochujang, soy, sesame oil, black pepper and sugar in a small saucepan. Bring to a gentle simmer, stirring to combine. Let cool.
Fry the wings
Heat one inch of vegetable oil in a wok or cast iron pan. Alternately prepare your deep fryer. The target temperature is 375F but anywhere between 350F and 400F is OK. The chicken is already cooked. This is all about crisping up the skin.

Thoroughly combine the flour, corn starch, salt and baking soda.

Remove wings from the vacuum pack and toss with flour mixture. Place coated chicken wings on a wire rack while the oil heats.

Fry the chicken wings in batches. If you are brave, just slip the chicken into the oil with your hands. If you aren't brave, use tongs. Tongs are more cumbersome but they works fine.

Fry the chicken to colour them. They are already cooked. The frying is all about getting the coating right. That's the beauty of this recipe. It takes about 3 minutes for them to colour up nicely.

Remove wings from oil with a slotted spoon. Drizzle with gochujang sauce and serve hot and crispy.
Nutrition
Serving:
4
servings
|
Calories:
881
kcal
|
Carbohydrates:
73
g
|
Protein:
48
g
|
Fat:
41
g
|
Saturated Fat:
11
g
|
Cholesterol:
188
mg
|
Sodium:
3209
mg
|
Potassium:
478
mg
|
Fiber:
1
g
|
Sugar:
15
g
|
Vitamin A:
425
IU
|
Vitamin C:
5
mg
|
Calcium:
40
mg
|
Iron:
4.1
mg