Indian restaurant lamb curry. Big flavours. And that lush gravy you get when you go our for Indian food. This is how they do it.
This Indian restaurant lamb curry is nameless. There's no long standing traditional dish behind it. It's a bit of an accident really but a really tasty one.
Lamb curry is about the spicing
I set out to make a particular curry one night. Didn't have the ingredients I thought I had so I had to improvise. And I came up with this lamb curry.
Since then it's become one of my house curries. Regular fixture in my kitchen. I guess it has a name. It's the glebe kitchen house curry.
I used lamb here but it works really well with chicken. Beef works too. That's the thing about this style of cooking. You can mix things up and it will still be good. But lamb is my favourite. So it's a lamb curry.
And for vegan options fried eggplant, mixed vegetables, potatoes or paneer would work nicely. Most Indian restaurant curries are like that. Well, except chicken tikka masala I guess…
This is my house Indian restaurant lamb curry. It's a good starting point to make your own house curry. Something you don't like? Leave it out.
Want it a bit zingy? Add some lemon or tamarind. Like it sweet? Add some extra sugar. Hotter? Bring it on. Have fun cooking. That's the important thing.
Restaurant lamb curry means restaurant technique
Do your prep before you get started. Make your curry base and have some heated and ready to go. Pre-cook your meat. Measure out your ingredients. Have everything ready. Put on some old clothes – a bit of splatter is part of the fun.
If you have not yet read the guide to Indian restaurant technique yet, do it now. It has pictures to help you understand the recipe. There's also a guide to Indian ingredients in that post.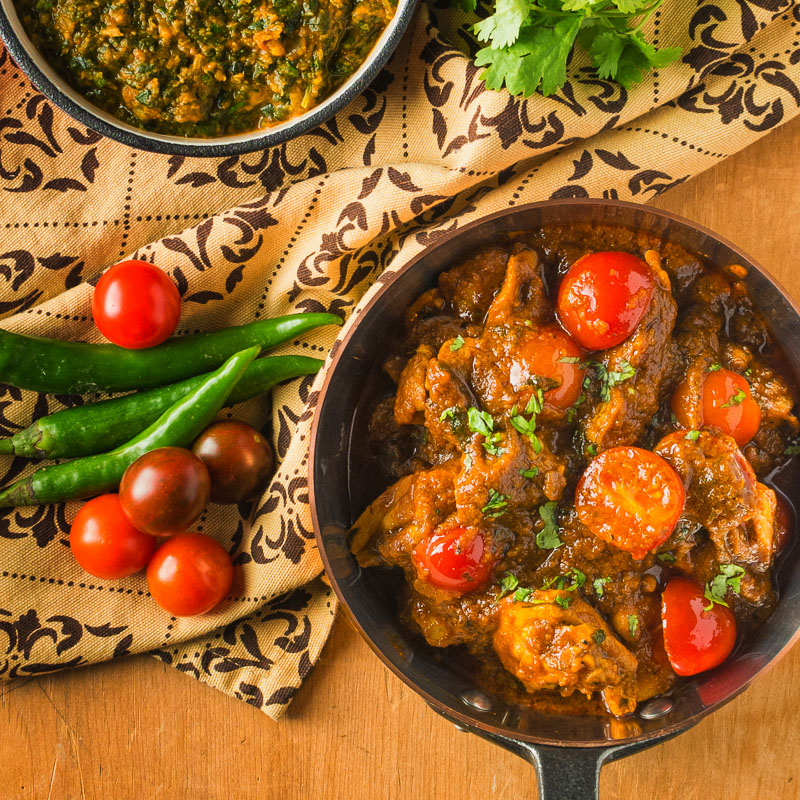 indian restaurant lamb curry
This is a house indian restaurant lamb curry recipe. It's medium hot and flavourful. It's also a great starting point if you want to start experimenting with Indian restaurant curry.
Ingredients
The spice mix
2

tsp

indian restaurant spice mix

- recipe link below

1

tsp

kashmiri chili powder

or 1/4 tsp cayenne mixed with 3/4 tsp paprika

1

tsp

kasoor methi

- dried fenugreek leaves

1/2

tsp

tandoori masala

1/2

tsp

kosher salt

1/4

tsp

coarse black pepper

- butcher's grind works well
The curry ingredients
3

Tbsp

oil

2

inch

piece of cassia bark or cinnamon stick

1

black cardamom pod

or 2-3 green cardamom pods

1

bay leaf

2

Tbsp

onions or shallots

minced

1

Tbsp

garlic ginger paste

- recipe link below

1 1/2

Tbsp

tomato paste

with enough water to dilute to the consistency of pasatta

2

Tbsp

cilantro leaves and stems

finely chopped

15

oz

curry base

- recipe link below

10-12

oz

pre-cooked lamb

- beef or chicken work as well

1/2

tsp

sugar

5

cherry tomatoes

halved
Instructions
Make the spice mix.

Dilute the tomato paste with enough water to get to the consistency of passata.

Heat your frying pan (don't use non-stick) briefly over medium heat. Add the oil.

When the oil starts to shimmer add the cinnamon stick, bay leaf and cardamom pods. Toss the whole spices around the pan for about 15 seconds until bubbles start to form around them. They may crackle a bit.

Add the onions or shallots and chopped cilantro and stir constantly until the edges of the onions start to brown. This takes about a minute.

Next comes the garlic ginger paste. Add it into the pan and cook it, stirring constantly, until it stops sputtering.

Turn down the heat and add the spice mix. This is the critical step. Stir it constantly for 30 seconds. If it starts to darken lift the pan off the heat. You want the spice mix to cook in the oil but not burn.

Turn the heat up to medium high. This is important. Add the diluted tomato paste and stir until bubbles form (the oil will likely separate). This takes around 30 seconds to one minute depending on the heat.

Add 3 oz of curry base. Stir until bubbles form (little craters really), around 30 seconds. Watch the edges of the pan. The curry can stick here. Sticking is OK. Burning is bad. Just scrape anything that forms back into the curry. If it really burns, chuck it and start again...

Now add 6 oz of curry base and stir briefly. Let it cook until the bubbles form again. This takes 1-2 minutes.

Add the rest of the curry base and let cook until the bubbles form. Turn the heat down to low and add the pre-cooked lamb, beef or chicken.

Mix in the sugar.

Let the curry simmer for about 5 minutes. If it gets too thick add a bit more curry base. Don't add water. Add the cherry tomatoes and cook until they are heated through.

Garnish with a bit of chopped fresh cilantro and serve.
Notes
The recipe for curry base is here.
The recipe for indian restaurant spice mix is here. 
The recipe for garlic ginger paste is here.
If you haven't read about Indian restaurant technique yet, do that before you start cooking.
Have all your ingredients prepped and ready to go.
If you are making multiple curries, have your curry base warming in a pot on the stove. If you are just making one, microwave it to warm it up right before you start cooking.
Indian restaurants pre-cook their meat so it's ready for service. This recipe assumes the same. To pre-cook chicken, simply simmer it with a bit of curry powder and salt in chicken stock for about 10-15 minutes - until it's barely cooked.
To pre-cook lamb or beef, do the same but plan for 1 to 1/2 hours for lamb and 2 hours or more for beef. You are making stew meat so you are braising until tender. You will need to keep an eye on the level of the stock. For beef use beef stock.
Nutrition
Serving:
2
servings
|
Calories:
672
kcal
|
Carbohydrates:
16
g
|
Protein:
25
g
|
Fat:
55
g
|
Saturated Fat:
16
g
|
Cholesterol:
103
mg
|
Sodium:
967
mg
|
Potassium:
749
mg
|
Fiber:
4
g
|
Sugar:
4
g
|
Vitamin A:
820
IU
|
Vitamin C:
13.1
mg
|
Calcium:
42
mg
|
Iron:
4.1
mg