Indian restaurant madras curry is one of the great ones. Madras curry is on every single restaurant menu for a reason. It's absolutely delicious.
It's on the hotter end of the scale. A spicy curry. It can even be a really spicy curry. Some restaurants go a little overboard I find. I like blazing hot madras curry. But not everybody does.
So this version isn't so hot – medium spicy really. That's the nice thing about cooking it yourself. You control the heat.
Like it blazing hot? Add more kashmiri chili powder or use one the hotter Indian chili powders. Want your kids to eat it? Roll the kashmiri chili back a bit. It's up to you.
This is how they do it in restaurants
This madras curry is done in the restaurant style. Like you get when you eat out. Pretty much exactly. It's all about the prep. Cooking it takes 10 minutes.
Restaurants don't have big pots of curry sitting around hoping somebody will come and order it. They cook to order.
It's totally different from home style cooking. Homestyle is about low and long braises. Restaurant style is about speed and efficiency. But with lots of flavour.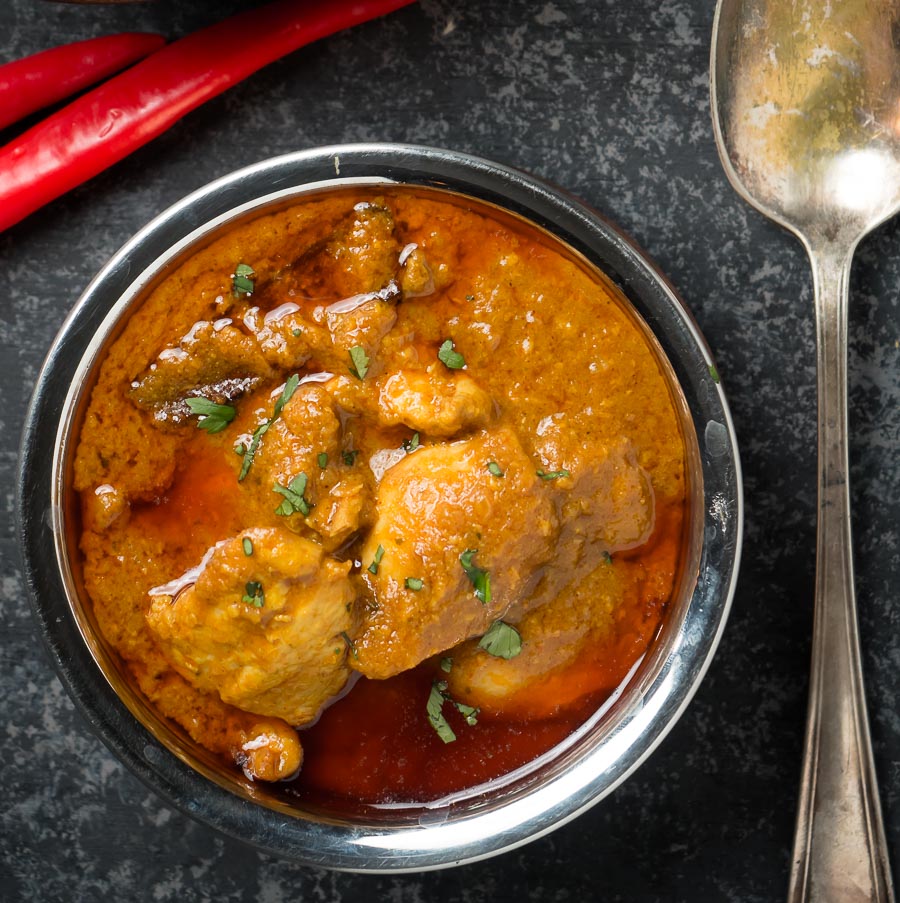 Curry base is the secret
Curry base is a game changer. It's the way they do it. The foundation of Indian restaurant style cooking. Amazing stuff.
Indian curries generally rely on caramelized onions. That's what makes them what they are. You need to get that into your dish. And curry base is how restaurants do it. For madras curry. For pretty much all curries.
There's not much to curry base. It's basically a whole lot of boiled onions with some flavouring. Tastes like a weak onion curry soup. Bland.
You'd never guess that something so bland can become so good. That's where the technique comes in.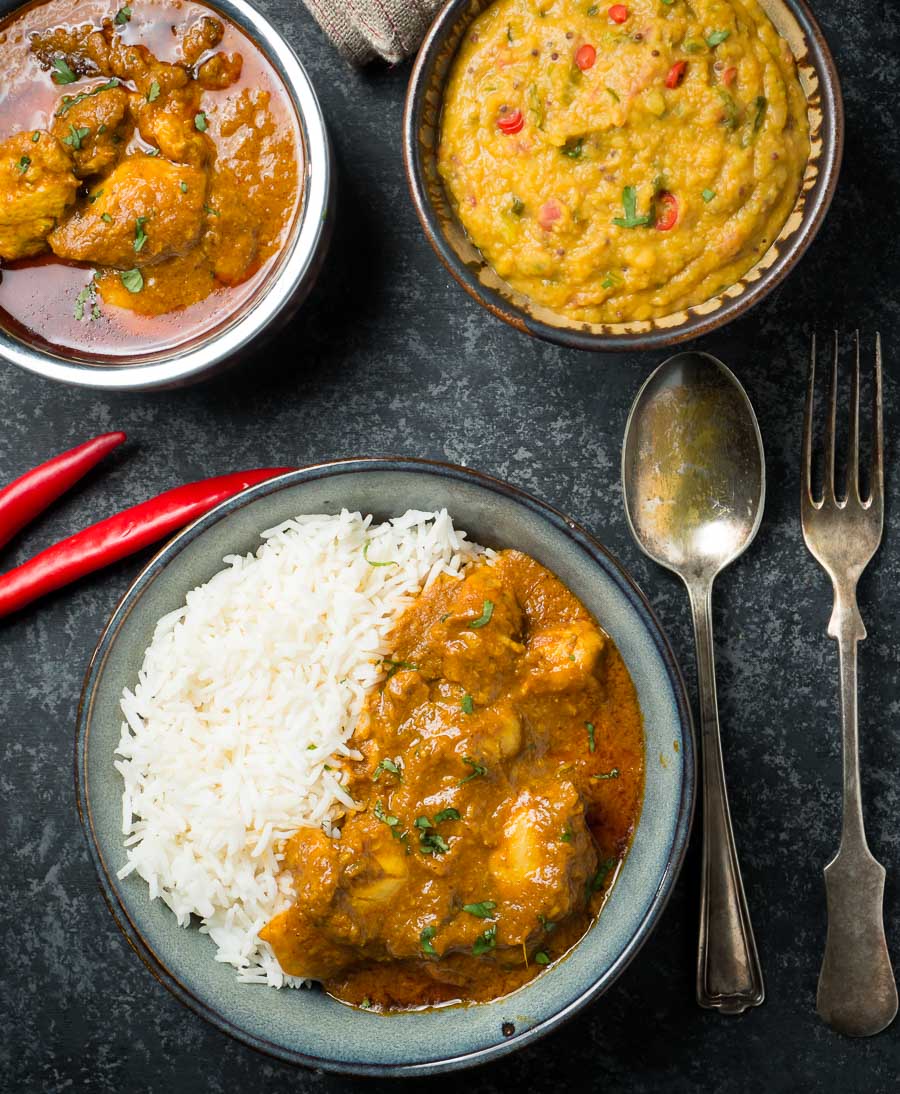 High heat and enough oil makes Indian restaurant madras curry work
The key to making this work is heat. High heat. At the right time. When the curry base hits the pan you want it caramelize. Fast.
It's a balancing act. The oil can't be too hot when you bloom the spices. They will burn. Medium heat. Garlic ginger paste goes in next. Tomato after that.
Once you have some wet ingredients in your pan your spices are safe. That's when you crank it. High heat.
Curry base goes in a bit at a time. You don't want to cool your pan down too much. Maybe half a ladle at first. Then a full ladle. Then the rest. Somehow it works if you do that.
Read the Indian restaurant curry technique guide
There's a post that covers the technique and the ingredients you need here. Do yourself a favour. Read it. It will help you understand what you are trying to do.
The recipe below does cover madras curry accurately. If you've made a few curries in this style you should have no problem. But if you are just getting started read the guide. It makes things so much easier.
Do your prep before you get started. Make your curry base and have some heated and ready to go. Pre-cook your meat. Measure out your ingredients. Have everything at hand. Put on some old clothes – making restaurant curries is messy stuff.
Watch the video
Chicken madras doesn't have to be chicken
Almost all the restaurant style curries on glebekitchen can be made how you like. This is a chicken madras. But you can make it with lamb or beef just as easily. You can even make it with chickpeas or masoor dal for a vegetarian option.
Chicken madras is my favourite but lamb is a close second. And a madras curried dal is third. That's me. You can do what you want. Make this your madras curry. Whatever you want. Just make it.
Madras curry is a spicy dish that's sure to please. At the top of my list. If you are a fan this is for you. If you haven't tried it before now is the time.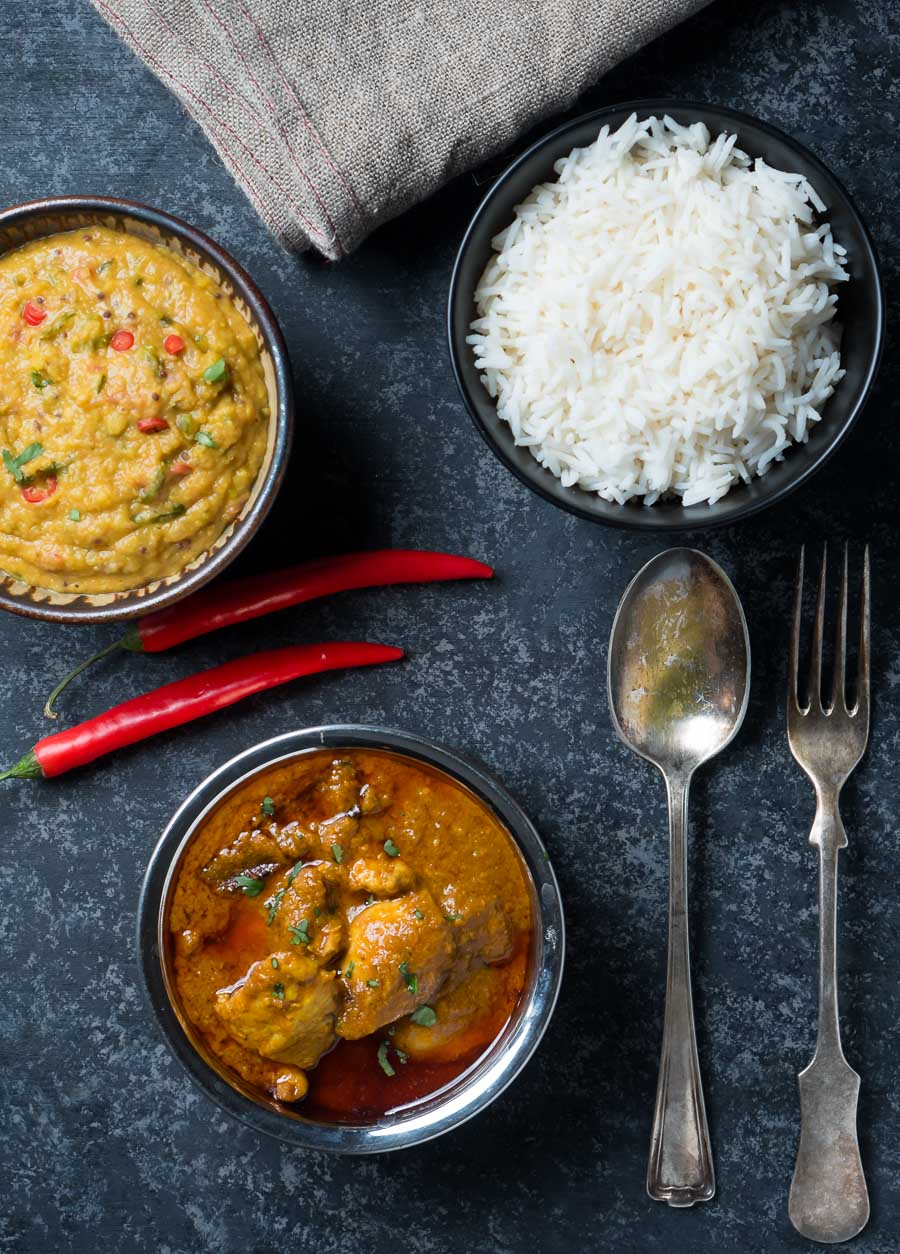 indian restaurant madras curry
Indian restaurant madras curry is a classic dish on the menu of just about every Indian restaurant out there. Now it can be on your menu too.
Ingredients
The spice mix
1

tsp

indian restaurant spice mix or curry powder

– recipe link below

2

tsp

hot madras curry powder

or use more indian restaurant mix powder if you don't have any madras curry powder

1

tsp

kashmiri chili powder

or 1/4 tsp cayenne mixed with 3/4 tsp paprika

1/2

tsp

kasoor methi

– dried fenugreek leaves

1/2

tsp

kosher salt
The curry ingredients
4

Tbsp

oil

2

inch

piece of cassia bark or cinnamon stick

2

Tbsp

onions

minced

1

Tbsp

garlic/ginger paste

– recipe link below

1

Tbsp

tomato paste

with enough water to dilute to the consistency of pasatta

15

oz

curry base

– recipe link below

10-12

oz

pre-cooked chicken or lamb

1

Tbsp

coconut milk powder

in enough water to get to coconut milk consistency (optional)

1

tsp

fresh lemon juice

– about 1/6 of a lemon
Instructions
Make the spice mix.

Dilute the tomato paste with enough water to get to the consistency of passata.

Dilute your coconut milk powder enough with water to get it to the consistency of coconut milk.

Heat your frying pan (don't use non-stick) briefly over medium heat. Add the oil.

When the oil starts to shimmer add the cinnamon stick. Toss is around the pan for about 15 seconds until bubbles start to form around it. It may crackle a bit.

Add the onions and stir constantly until the edges of the onions start to brown. This takes about a minute.

Next comes the garlic ginger paste. Add it into the pan and cook it, stirring constantly, until it stops sputtering.

Turn down the heat and add the spice mix. This is the critical step. Stir it constantly for 30 seconds. If it starts to darken lift the pan off the heat. You want the spice mix to cook in the oil but not burn.

Turn the heat up to medium high. This is important. The heat is what caramelizes the onion base and gives the curry it's Indian restaurant flavour. As you become more comfortable with this technique try pushing it. Add the diluted tomato paste and stir until bubbles form (the oil will likely separate). This takes around 30 seconds to one minute depending on the heat.

Add 3 oz of curry base. Stir until bubbles form (little craters really), around 30 seconds. Think lively boil. Watch the edges of the pan. The curry can stick here. Sticking is OK. Just scrape it back into the base. Burning is bad.

Now add 6 oz of curry base and stir briefly. Let it cook until the bubbles form again. This takes 1-2 minutes.

Add the rest of the curry base and let cook until the bubbles form. Add the lemon and diluted coconut milk powder. Turn the heat down to low and add the pre-cooked lamb, beef or chicken.

Let the curry simmer for about 5 minutes. If it gets too thick add a bit more curry base. Don't add water.

Garnish with a bit of chopped fresh cilantro and serve.
Notes
The recipe for curry base is here.
The recipe for indian restaurant spice mix is here. 
The recipe for garlic ginger paste is here.
If you haven't read about Indian restaurant technique yet, do that before you start cooking.
Have all your ingredients prepped and ready to go.
If you are making multiple curries, have your curry base warming in a pot on the stove. If you are just making one, microwave it to warm it up right before you start cooking.
Indian restaurants pre-cook their meat so it's ready for service. This recipe assumes the same. To pre-cook chicken, simply simmer it with a bit of curry powder and salt in chicken stock for about 10-15 minutes – until it's barely cooked.
To pre-cook lamb or beef, do the same but plan for 1 to 1/2 hours for lamb and 2 hours or more for beef. You are making stew meat so you are braising until tender. You will need to keep an eye on the level of the stock. For beef use beef stock.
Nutrition
Serving:
2
servings
|
Calories:
535
kcal
|
Carbohydrates:
8
g
|
Protein:
29
g
|
Fat:
39
g
|
Saturated Fat:
7
g
|
Trans Fat:
1
g
|
Cholesterol:
135
mg
|
Sodium:
806
mg
|
Potassium:
516
mg
|
Fiber:
2
g
|
Sugar:
2
g
|
Vitamin A:
485
IU
|
Vitamin C:
4
mg
|
Calcium:
46
mg
|
Iron:
3
mg